It's very rude of the Glastonbury organisers to put the Festival on just after my deadline for this month. Lol.

Hopefully, those of you who attended enjoyed yourselves; there was a great line up with acts like: Adjagas. The Subways, The Undertones, John Butler Trio, The Thrills, The Zutons, Elvis Costello, Doves, The Killers, White Stripes, Hayseed Dixies, Taj Mahal, Goldie Lookin' Chain, Kaiser Chiefs, Ash, The Coral, Keane, New Order, Coldplay, Yeovil Town Band, Bellydance Superstars and the Desert Roses, James Blunt, Jools Holland, Van Morrison, Brian Wilson, Garbage, Primal Scream, Basement Jaxx That was the Pyramid stage only !

Then there was these other stages and area with performers Acoustic Tent, Avalon, Cinema Field, Circus, Cabaret & Theatre Fields, Dance Village, Fringe Events and Schedules, Glade Area, JazzWorld Stage, John Peel Stage, LeftField Tent, Other Stage.

If Glastonbury charged £200 per ticket it would still be cheap when you consider the amount of things going on and the top named acts performing.

Talking of Festivals, a this is the season for them, don't forget 28TH AUGUST - CLAPHAM COMMON – LONDON where you will find featuring Happy Mondays, Stereo MC's, The Farm, Fatboy Slim, Snow Patrol, Armand Van Helden, Elbow, Cuban Brothers, etc etc

Also there are the Hyde Park Concerts namely the two on the 8th July QUEEN + Paul Rodgers, and the one on the 9th July, REM, which should be a killer!

I have never seen QUEEN or REM live so it would be nice if I could get an invite. Which I doubt!

London seems to be awash with live music; there are also the concerts in at the beautiful Kenwood Lakeside, Hampstead Lane, London. 2nd July ELVIS COSTELLO - 9th July KENWOOD SUMMER PROM - 16th July GREASE IN CONCERT – 23rd July IBRAHIM FERRER – 30th July WILL YOUNG

Well, I suppose I ought to mention the biggest of them all Live8 in Hyde Park!

It looks like when the event takes place on 2nd July it will have mirror concerts in most of the major cities of the world, which no doubt mean that it will have a larger audience than the first Live Aid.

The tickets are like gold dust! There has been a lot of controversy over people selling tickets on EBay for extortionate amounts of money.

Whilst I personally disagree with people making money out of charitable things, it is something that we will never stop. Let's face it that is why Live8 is raising money and awareness top the plight of millions of starving people in Africa, because corrupt leaders get aid form the West but do not allow it to filter through to the needy people! I won't get on my soapbox or you might think I am trying to be like Geldof!

Basically what I am saying about the ticket 'touting" is that greed is everywhere. If everyone thought a little less about themselves and more about each other it would be a much nicer world. Well I can dream!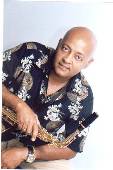 Andy Moreno



ANDY MORENO

Here is a relatively unknown artiste who contacted me so as promised I am giving him some space.

Andy studied music in Cuba and worked with musicians and singers of jazz and 'salsa" like Isaac Delgado, Gonzalo Rubalcaba, Tony Taño, etc. He toured Europe, America and Mexico with the band 'Convergencia" which gave him the needed exposure that he needed and was critically acclaimed, he says he really enjoyed the audiences to give concerts me in countries like Finland, Norway, Italy, Germany, Sweden, Switzerland and Mexico.

Presently living and performing in Gran Canaria, Spain where he has performed in the prestigious Auditorium "ALFREDO KRAUS" where the festival of jazz that is celebrated annually.

Presently he is promoting his new album "From my Roots" which is the result of the combination of Cuban's rhythm with elements of jazz and electronics.

It is exciting stuff so check him out on http://www.sonicbids.com/epk/epk.asp?epk_id=25466


Here are some of the main album releases in July, which you can enjoy on holiday

4th July
Missy Elliott, The Subways, Mathew Herbert, Kevin Mark Trail

11th July
Charlotte Church, Kelly Clarkson (I love this Album), Orange Juice

18th July
Iggy Pop, Madness, The Mitchell Brothers

25th July
Alanis Morissette, The Raveonettes


2 PAC

It's amazing to think that 2PAC who was murdered in 1998 is still having his music released and has had his first No1 in the UK.

He must have been very prolific when he was alive!


ELTON JOHN

I See Elton John has extended his contract with Caesars Palace in Las Vegas and will perform his show, The Red Piano, at the venue until 2008.

It's funny; I remember when he retired nearly 30 years ago!

Originally scheduled for 75 shows over a three-year period, Elton completed the original commitment in less than 18 months. The new agreement will see an additional 150 shows from now until 2008.

Elton said that he loved playing Las Vegas and that the American Audiences were very appreciative. This maybe due to the fact that the Americans feel that he was part of Princess Diana's life and feel that they can feel her presence when he sings 'Candle in The Wind'.

The Red Piano was performed exclusively at Caesars Palace and was directed and designed by David LaChappelle.

Well that's the lot this month, keep the e-mails coming in


[email protected]



And don't for get to check out the following sites:
For the budding artiste and songwriter

Bandit A&R Newsletter
Helping unsigned acts/songwriters target their material to the right people.

[email protected]

/ http://www.banditnewsletter.com

Songlink is for Songwriters who need to place their songs www.songlink.com

If you are a performer and you want to showcase to the industry then this is for you www.kashmirklub.com

Also don't forget the song for little Sarah, who was so brutally murdered www.asongforsarah.co.uk