Cover Story

Our cover gal this month is the lovely actress/presenter/producer/journalist/author RANI SINGH. Born and raised in London, Rani comes from a distinguished family of diplomats and politicians. In fact it was her uncle, a senior government officer and area commander serving in the Indian military intelligence, who rescued the Dalai Lama from Tibet in a dramatic coup when the Chinese invaded the country.

Best known for her role in EastEnders as shopkeeper Sufia Karim, Rani became one of the most famous female Asian faces on British TV and longest serving Asian character in soap. Some of Rani's more recent roles were in BBC1's comedy drama Roger Roger (December 2003), with guest appearances as a 'high calibre, familiar face' in both The Bill (Spring 2004) and BBC1's Casualty (Jan 2005). Rani also appeared in primetime BBC1 television drama Life Isn't All Ha Ha Hee Hee , alongside Meera Syal and Laila Rouass, of Footballers' Wife's fame. She is also currently filming a major feature film to go soon on general release, where she is joint lead with a big name Bollywood star.

Letter from the Editor

We were promised a heat wave and so far so good….it is helluva HOT as I write this letter, but then of course all that could change: after all, we Brits never take the sunshine for granted - we are just thrilled when we have a dose, which for a while at least puts a smile on our faces…..

May was a busy month for actress FENELLA FIELDING who became a British icon in the sixties as Valeria in "Carry On Screaming". Having completed a recording from the works of Colette, she put finishing touches on an independent film of the supernatural "Wishbaby". The glamorous Fenella stars as bag-lady Eve. But what interested me most, and I'm sure many of our readers, is that mid-month found Fenella in Portmeirion, North Wales, dedicating a plaque informing visitors that the cult television show THE PRISONER was filmed there. Fenella is famous for her role as the village voice in the show. We never see her, but her voice permeates nearly all the episodes in the old Butlin's style: "Good morning, good morning, good morning. Rise and shine!" My American friend, New Yorker CATHY FRUMERMAN was also there, having stopped off first in London with hubby Bruce. When visiting the capital, the lovely couple (my fave New Yorkers) usually invite me for lunch at Fortnum & Mason in Piccadilly and I return the favour by inviting them to my place for dinner. This year I threw a small drinks party for them prior to their Portmeirion trip. Cathy is author of 'ON THE TRAIL OF THE PRISONER, a Walking Guide to Portmeirion's Prisoner Sites'. This is a fabulous book featuring lots of images and a truly excellent guide to one of Britain's most famous cult TV shows….and it takes an American to keep the memory alive!!!

Visit http://home.earthlink.net/~walestales/03-3.htm to read interview with Cathy, see images and learn more about her book and research. Or purchase the book at: http://www.bobshannon.com/specials/bookclub3.html

Talking of books…..I recently read ALL THAT GLITTERS, The Crime and the Cover-Up by RAYMOND CHANDLER. I thought it was topical as MICHAEL JACKSON was on trial last month. This book was authored by the uncle of JORDIE CHANDLER, another young boy who claimed that Jackson abused him about ten years ago or thereabouts, in fact Jordie is the one who was paid something like a million dollars by Jackson to keep quiet.

What really stood out was an interview Jordie had in 1993 with a psychiatrist before Jackson got to him, which features on the back cover.

"He said that we had a little box, and this was a secret – and it's a box that only he and I could share. You put the secret in the box and nobody can know about what's in the box but him and me. He said that we weren't conditioned, but if this box were revealed to other people, like regular people of today's society, they're conditioned and so they would believe it was wrong. And so that's why I shouldn't reveal what's in the box."

Along with my Crime Ed JACQUELINE DAVIS, I agree that last month's verdict was unbelievable. How on earth did Jackson get away with it! You simply must read this book, it will shock and surprise you, and I for one believe that Raymond Chandler, a lawyer, did not in any way fabricate any of the contents, and what I would like to know is why his evidence wasn't used in this latest trial. And another thing, if you or I were to dangle an infant over a balcony and cover its face with a scarf whilst feeding it – we would have the child taken from us and put into care…yet this monster (face) continues to get away with it!

ALL THAT GLITTERS is available at UK publishers CHANADON www.chanadon.co.uk priced £8.99. A super read for your holidays….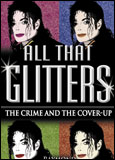 All That Glitters



Well, that's it, I'm off to get some sunshine…see you next month - have a good one! BTW, I'm doing a special 'Pink Page' for my female readers next month…all things 'PINK'.

Georgina xxx

Georgina Bruni
Editor in Chief
[email protected]