CELEBRITY FASHION, FITNESS, HEALTH AND BEAUTY /
DECEMBER 2006 – JANUARY 2007.

The latest JAMES BOND film, CASINO ROYALE is truly spectacular and exceeding all box office records. This Bond (DANIEL CRAIG) is brasher, bolder and bloodier than ever and so is the film with more drama and less humour this time (although the Japanese card player's name, Mr Fukutu elicited a huge ripple of laughter at the premiere.) The prem was a fab affair spread over 3 cinemas with all sorts of twinkling stars and, for some inexplicable reason, loads of leopardskin frox, the best one being GIRLS' ALOUD's SARAH HARDING 's VERSACE number. DANIEL CRAIG is a great actor and makes a really tough, no nonsense Bond. Veteran theatrical agent RICHARD JACKSON, who was escorting lovely former BOND girl VALERIE LEON to the prem, whispered in my ear "he'll always be remembered as Bond now." Frankly, my dear, I'm sure he doesn't give a damn! Those of you who read this column regularly will know that I have been promoting the hunky MR CRAIG for some time, not least because he used to be the cocktail barman at MICHAEL AND LINDA BELL's amazing PORTOBELLO GOLD bar and restaurant which our esteemed Ed in Chief GEORGINA and I like to frequent and everybody loves a good barman-to-superstar tale. All the actors in CASINO ROYALE, including popular regular DAME JUDI DENCH and evil villain MADS MIKKELSEN, are amazing and new Bond girl EVA GREEN is of course our cover girl this month. MS GREEN is an elegant, slim but voluptuous French ANDIE MCDOWELL type and super classy. Here she is again for your delectation, guys.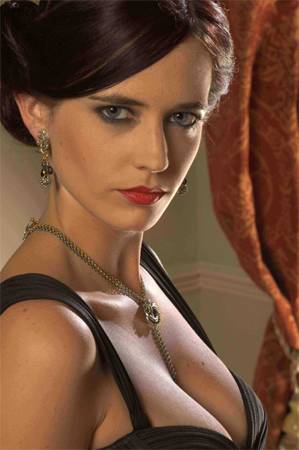 EVA GREEN.

C.r.: JAY MAIDMENT / CASINO ROYALE 2006, DANJAQ, LLC, UNITED ARTISTES CORPORATION, COLUMBIA PICTURES INDUSTRIES INC.



Btw the stunning necklace EVA GREEN is wearing is an Algerian Love Knot necklace which is an integral part of the film's romantic sub plot between BOND and EVA's character VESPER LYND who actually breaks 007's heart this time. The specially commissioned piece was designed by talented designer SOPHIE HARLEY and was created from twisted gold and silver chains with an intriguing silver pendant featuring gold symbols and motifs and a triple strand chain which nestles seductively between the bazookas! Being gold and silver this amazing piece can be worn with everything and can be matched to the equally stunning earrings also designed by SOPHIE HARLEY: beautiful pieces which make perfect presents. However if you are not quite ready to cough up £1,400 for the made to order love knot necklace, take a look at some of SOPHIE HARLEY's other, extremely reasonable collections at: www.sophieharley.com or phone 020 7430 2070 for a brochure. My favourite SOPHIE HARLEY collection is PAPILLION ROSE, whose delicate gold and silver pieces with precious and semi-precious stones and coloured enamels are truly feminine and her brand new children's collection, LITTLE TREASURES is fun, cute and appealing for both youngsters and older jewellery fans. Apart from the CASINO ROYALE commission, SOPHIE has also designed to order for HRH THE QUEEN and her A list clients include JOSS STONE, MENA SUVARI, KATE BECKINSALE, JERRY HALL, SAFFRON BURROWS, COLIN FIRTH, MAGGIE SMITH, NAOMI CAMPBELL, members of THE ROLLING STONES and DAME JUDI herself.


If you are looking for sophisticated day and evening wear, unusual presies and wonderful perfume, you must check out RACHEL COUTURE at 65 Knightsbridge, SW1 (020 7235 3709.) Talented designer RACHEL ELBAZ stocks her own collection of simply divine evening dresses and bridal gowns plus her sister CLAUDINE's designs as well as various top names including VALENTINO and CHARLES JOURDAN (exclusive to RACHEL in London.) The party frox are to die for and the wedding dresses had my wonderful publisher TATIANA VON SAXE planning her third marriage when she laid eyes on them at a recent jolly reception at RACHEL COUTURE organised by RACHEL's elegant celeb psychic friend VALENTIN BORISSOV and attended by various glitterati including BIENVENIDA, COUNTESS SOKOLOW (HELL'S KITCHEN), LIZ BREWER (LADETTE TO LADY) and MICA PARIS's gorg new paramour, male model JAMES PASSMORE. I was lucky enough to be asked to show for RACHEL at this frolic and that's the closest I've got to a VALENTINO in a while! One particular VALENTINO number had a certain former diplomat foaming at the mouth as he studied exactly how the dress stayed on! Ah well, it's all in the cut and RACHEL's and CLAUDINE's own designs are also beautifully styled to be revealing but not too much so. But a picture is worth a thousand words and here is the red VALENTINO dress which is just one of many stunning garments chez RACHEL. My 'Mystic Spray Tan', btw, is courtesy of the excellent TANNING SHOP, Camden Hill Road, Kensington, W8 / 020 7938 1932.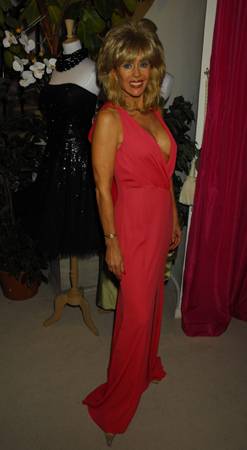 SALLY showing VALENTINO dress at RACHEL reception. C.r.: JAMES CURLY / REX FEATURES




Still on the social events front I attended my best ever baby shower for lovely model and socialite DENISE HEWITT at THE BEAUCHAMP Bar and Restaurant (44 Beauchamp Place, SW1 / 020 7581 8886) organised by the charming proprietor GUSTAV GROF. DENISE was expecting her third child, baby FREDDIE and here she is looking every inch a yummy mummy–to-be in a glam SELENE DESIGN maternity top with THE MARQUESS OF BATH (ALEXANDER.) The delightful ALEXANDER, who arrived with wifelet number 68 (of an estimated 76!) TRUDIE JUGGERNAUT SHARMA, was looking extremely flamboyant in one of his trademark colourful waistcoats, as you can see.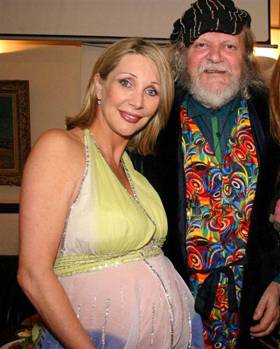 DENISE HEWITT and ALEXANDER BATH. C.r.: MARIA BERGMAN 5350




This is a good time of year to try all those wonderful treatments and things you have been promising yourself for ages. If you have never had your 'colours done' you absolutely must; you will be amazed at what the right colours, both clothes and make-up wise, can do for you. For instance did you know that if you are a 'cool' type, warm yellowish colours will make your skin look sallow? Do you in fact know which type you are? Previously it has been hard to find a convenient colours consultant but the good news is that marvellous MICHAELA JEDINAK, colours and style expert par excellence has launched her consultancy JOY OF COLOUR on the Web at:
www.joyofcolour.com

This is an absolutely brill way of finding out how to bring out the best in you, colour and style wise. You just fill in a comprehensive form which includes details of your hair style, face shape, lifestyle, etc and email it to MICHAELA with an up to date photo (no make up and hair scraped back, please, so she can see the real you before advising you on what suits you best.) The fee is reasonable and knowing what really suits you and what does not will save you scads of money in the future. If your hair and skin colour change dramatically in the summer sun, send MICHAELA a summer pic as well. She is absolutely brilliant and can make everyone look better in clothes and make-up colours that flatter rather than competing with or detracting from one's own colouring. A great new service.


Likewise if you have never had your eyebrows done by KAMINI, the 'Eyebrow Queen', you must. KAMINI is an extraordinary lady who brought the ancient Indian hair removal system of 'threading' to the western world and honed and developed it into her own unique technique, known only to her and her daughter and fellow practitioner, ALPNA. Luckily for us all KAMINI has recently come to London, opening her beautiful light, airy KAMINI SALON at 14-16, Lancer Square, off Kensington Church Street, W8 (020 7937 2411.) The salon offers all sorts of wonderful therapeutic treatments but it is for 'de-fuzzing' that KAMINI is best known. She really disapproves of plucking the brows which is bad for the hair growth and once you have been KAMINI'd you will never go back to the tweezers! She can tell instantly what shape brows you need to open up your eyes and suit your face shape and she can thread away your stragglers in just a few minutes. I had the KAMINI treatment myself and was amazed at how much better my brows looked after just one session. What's more KAMINI then attacked my fuzzy blonde tache and got rid of that too in minutes, relatively painlessly. Now I am sleek as an otter on my upper lip and hope to be kissed soon! I will definitely be keeping up my KAMINI de-fuzzing on a regular basis (usually about every 4-6 weeks to start with) and will keep you informed of my progress, dear readers, while the 'Eyebrow Queen' trains my brows to perfection (sometimes, she says, you actually need to grow some hairs in to achieve the perfect shape.) Look out, ROGER MOORE, I will now have to learn how to lift my newly elegant brows one at a time!

KAMINI's celeb clients include RACHEL STEVENS, SHEHEREZADE GOLDSMITH, LINDKA CIERACH and SOPHIE DAHL. Seems like an ideal opportunity to publish that super sexy full length pic of SOPHIE in the OPIUM ad that my male readers are always requesting and here she is in all her glory, boys: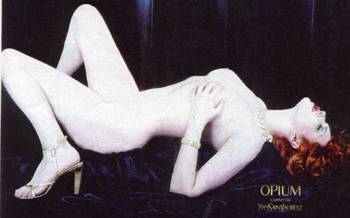 SOPHIE DAHL for OPIUM. C.r.: DIOR




Thank you for all your emails, readers. I cannot always answer personally but will address your problems in this column where possible. To those of you who have "tired looking eyes" there are a couple of great new products out there. The always excellent SKIN DOCTORS have brought out the aptly named Eyecircle, a light cream containing Haloxyl, a cutting edge peptide and a blend of natural vitamins including Waltheria Indica, designed especially to get rid of dark circles under the eyes in men and women. Our guinea pig MEGGIE said: "I massaged the Eyecircle cream into my dark circles under my eyes every morning and night for 6 weeks and now I can't see them any more: hurrah! Plus my under eye skin feels much tighter. I also tried SKIN DOCTORS' Retanew which contains Retinol all over the rest of my face and neck every night and it's definitely got rid of my wrinkles and crow's feet as well as some of my hated freckles! The Retanew also seems to have helped with my pores which were enlarged and now aren't, which is great."

So there you have it, ladies and gents. SKIN DOCTORS products are available from larger BOOTS or ring 0845 408 2998 for stockists and mail order.


Another excellent product for reducing the look of under eye circles and puffiness is MD FORMULATIONS' Brighten and Tighten Eye Serum from their new Temps Collection. The product is applied via an easy to use roller ball pen and helps to tighten bags, deflate puffiness, brighten the dark circles and soften wrinkles. The Serum contains a Special Sesame Tightening Complex for smoothing, optical diffusers to brighten shadows, Arnica extract for healing, caffeine and peptides to flush away toxins and puffs and Aloe Vera to soothe the delicate skin around the eyes.

The Temps Collection's sister product is their Wrinkle Filler and Deep Crease Relaxer which is self explanatory. Again this is a pen which dispenses just the right amount of product and contains advanced optical diffusers to smoothe and fill in creases, skin plumpers to fill out wrinkles and peptides to relax wrinkle-prone areas. Our tester GLO said; "I don't know exactly how the products work but they have made the whole of my face look brighter and softer and my under-eye bags and circles are definitely disappearing. I have been using both products 2 or 3 times a day for under a month and am very happy with the results."

For stockists of the MD FORMULATIONS Temps Collection products please call: 0870 850 6655.


PRO-MEDIC have just launched an excellent new product called Hylactive Gel which can be used on the face as well as all over the body and is a brill 'thirst quencher' for dry skin especially in cold, windy weather. Hylactive Gel contains enriching ingredients, Hyaluronic Acid and Dexpanthenol which help to maintain the skin's essential moisture which can decrease with age and drying conditions. Our tester ROBIN said: "this is a lovely rich cream with a fantastic, unusual smell. I use it on my face, body and legs every day twice a day and my skin feels really soft now. Even my husband has noticed how soft my skin feels now and he never notices anything usually!" Well done, ROBIN, I think we will all be buying some Hylactive Gel to entice the gentlemen in our lives! Available from:
www.beautyisskindeep.com
or:
02380 676733.


My Make-Up Products of the Month this time are DEBRA ROBSON-LAWRENCE's great Line and Seal Cosmetic Pencils. Leading semi-permanent make-up artiste DEBRA, who has a starring role in my latest book (see bottom of column), is always at the cutting edge on the make-up front and these little 'miracle pencils' are no exception. In fact the Line and Seal pencils are clinically proven to provide 24 hour staying power for eyes and brows and 12 hours of pouting potential for lips. They are 100% waterproof and smudge proof and will ensure that you always look your best all day every day: a brill time-saving idea from a talented therapist. The pencils come in various different colours and recently won COSMO's Beauty Award for 'Best of the Best'. Check them out at:
www.permanent-makeup.com


If you are a frisky lass who gets involved in unscheduled sleepovers from time to time you will be needing a LUCKY KIT LIGHT which is the latest must-have package in a slim-line flip-top box for glam party girls. The pocket size pack contains all you will need for a night with a mate or with a male, i.e. a pretty-pink hair band, a tooth brush and paste, breath freshening drops, a make-up remover wipe, moisturiser, small size mascara, a condom and a black G-string with a pretty-pink bow. Says it all really: have fun but, as the LUCKY KIT LIGHT blurb mentions, "the condom is only there if you're sure!" Makes a fun presy too but only to girls who will not take it the wrong way.
Available from:
www.luckykits.com

Thank you for your emails about PARVEEN, the fashion designer with the fab 'treasure trove' atelier chock full of elegant day and evening wear and fab accessories at reasonable prices at 48 Dorset Street, W1 (020 7486 8480). PARVEEN's celeb clients include HEATHER MILLS MCCARTNEY, WILNELIA FORSYTH, VALERIE CAMPBELL and many more. Here is another gorg PARVEEN evening dress, this time in stunning red, worn by the equally lovely MS. CAMPBELL SENIOR: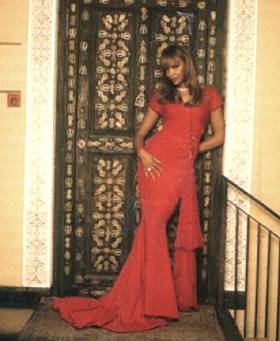 VALERIE CAMPBELL wears PARVEEN COUTURE. C.r.: private collection




The great LESLIE PHILLIPS, OBE, one of this country's best-loved and most talented actors, has at last written his autobiography and very good it is too. The book is called 'HELLO' after LESLIE's famous catch phrase and is published by ORION (£18.99). The urbane and witty Thespian who has been called 'the greatest living Englishman' tells the tale of his 80 plus years and all his numerous films, including the popular DOCTOR and CARRY ON series and his more serious film and theatre work, not to mention all the stars he has worked with over the years. Whoever would have thought that it was clever LESLIE who first spotted the young LIZ HURLEY's potential. The hardback book has several glossy photos and is a rollicking good read. "Not a lot of people know this", as that other greatest living Englishman MICHAEL CAINE would say, but my second film part was with LESLIE and TERRY-THOMAS in an interesting little production called SPANISH FLY in the seventies. The film was produced by PETER JAMES who is now an ace thriller writer as well as a producer and it was described in SCREEN INTERNATIONAL as "the worst British film since the end of the 2nd World War"! How that could possibly be true with TERRY, LESLIE and moi in it I simply cannot think! However we all had a great time on location in Menorca and I can tell you that LESLIE is a jolly nice chap, a fact which comes across loud and clear in the hugely entertaining HELLO.

My photo shows cuddly LESLIE snuggling up to the even cuddlier JORDAN when the pair presented the 2003 COMEDY AWARDS together.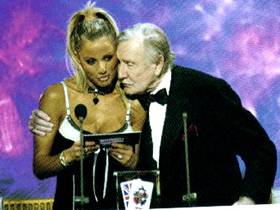 LESLIE PHILLIPS and JORDAN. C.r.: ORION



Another charming gentleman who has a new book out is the amazing ANTON MOSIMANN, the superstar TV chef who has cooked for HRH PRINCE CHARLES and HRH THE DUKE OF EDINBURGH and owns the beautiful dining club, MOSIMANN's. ANTON's latest cookery book, MOSIMANN'S FRESH is sub titled A Taste of Cuisine Naturelle and focuses much on that particular fresh and healthy style of cooking which he created in 1982. ANTON maintains that you do not have to cover good, fresh food in butter, cream and sauces to give a dish 'taste' and 'cuisine naturelle' is of course so much healthier. Nowadays we all understand the benefits of eating fresh food wherever and whenever possible and the recipes in MOSIMANN'S FRESH can inspire even the lousiest cook like me to prepare healthy dishes with the exquisite presentation which is one of the great ANTON's trademarks. Some of the recipes are relatively simple and they are all so easy to follow that even I managed a Raw Mushroom Salad at first go! Now I plan to move on to Fillet of Pork with Chinese Leaves or maybe even Grilled Mignons of Venison with Cranberries. Yum yum! A truly wonderful cookery book by a master and it makes a perfect present too.


And now something special for HOLLY of West London which might prove useful to anyone who occasionally ventures into the capital. Yes, HOLLY, there are lots of good second hand dress shops, designer and otherwise, in London and the best one I have found in your area is the aptly named DEUXIEME, 299 New King's Road, SW6 4RE (020 7736 3696) owned by the delightful CAMILLA who is assisted by the equally delightful LISA. DEUXIEME is another absolute treasure trove of goodies with everything from sophisticated long evening dresses to furry apres ski boots on offer at amazing prices. Many of DEUXIEME's wares, including the boots, shoes and other accessories as well as the actual clothes, have never been worn and all are in excellent nick. Check it out: fab value.


Thank you for reading my page. You can email me at:


[email protected]



Do visit my personal website at:
www.sallyfarmiloe.com

and buy my latest book and best-selling vid below!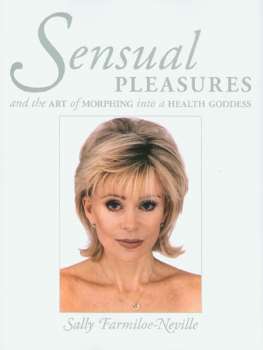 SENSUAL PLEASURES AND THE ART OF MORPHING INTO A HEALTH GODDESS (£16.99) is available from the following outlets:

Delancey Press -

[email protected]

or 0845 4589911
ISBN: 0780953911998

LOO TIME VIDEO available from:

[email protected] and:

http://www.121music.com/pages/video_01/home.html