FESTIVE GREETINGS from The Slender Gourmet who is cruising exotic places on the FRED OLSEN Liner the BOUDICCA.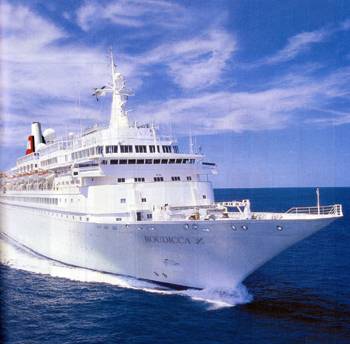 I shall be sailing from Southampton to the Caribbean via Tenerife and returning via the Azores. My Tea Leaves predict that I shall meet a romantic gentleman – the itinerary promises Whales and Dolphins. I will report in great details in the next issue of your favourite website.


For those in a Retirement mood how about living on a Residential Cruise Ship.




The MAGELLAN has a Heliport on board which means you can rendezvous with friends and relatives on land, as she circumnavigates the Globe every 24 months. Start collecting your Millions for a Billionaires Lifestyle.

THE INTERNATIONAL WINE AND FOOD SOCIETY.
Capital Branch. www.capital-iwfs.org.uk

They have lovely Events, some of them, in private Members Homes. Curry Evenings – Turkish Tasting – I went to their CAVIAR Tasting at The Lansdowne Club. A Director from the London Fine Foods Group talked us through 6 Caviars. We were each given a small palate to spoon out a discreet number of eggs to taste aided and abetted with belinis and liberal sips of Champagne.


PAPAGENO RESTAURANT, (The Show After The Show).
29-31 Wellington Street, Covent Garden, London. Tel: 020 7836 4444

Set in the heart of Theatre Land, this Restaurant is Theatre itself, flamboyant, friendly and colourful, like its owner, King Richard who is passionate about Wine, Food and Opera.

If Music were the food of Love, EAT up.

The magical notes of Mozart's Magic Flute entranced my senses as I sipped Champagne; nib bled crudities and studied the Menu. Allegro Moderato - I chose The Big Boss Seafood Selection.

A great evening - a huge Thank you to King Richard and his Courtly Staff.

HAPPY BUBBLES - Joan - The Slender Gourmet (Eat It On – Exercise it Off).