This time of the year is always busy and this year even more so. Copenhagen - its in Denmark people! Or if you're American its 'Daneland' and if you're Welsh its 'Is that near London? or as they say locally 'Whrrbummnshfjgyrtidjmdnchfufdkfnsokskdueiek'- hosted this year's MTV Awards. I love Copenhagen so it was a great excuse for me to visit one of my favourite cities. Having survived the flight there with Air France -who normally are pretty good, but on this instance the female pilot nearly killed us all. I've never ever been in a flight like that before. The decent was almost vertical, my seat belt was the only thing touching me at the time. My rear end was off the seat! She did this three or four times and when we eventually touched down we skidded from side to side five or six times. Everyone was visibly shaken, and no apology from the pilot.- Once we disembarked from the smoldering aircraft the cold hit me. It was 1 degree Centigrade! Well, at least the pilot hadn't killed us. I took the train to the City centre -proper trains by the way, totally silent. No clanking about whatsoever unlike the trains at home- By the time I got back to my hotel a short walk away from the train station I felt like one of Borat's children. The next day after I collected my accreditation for the awards we waited for our press bus to take us to the venue. Once there it was typical MTV. Lots of girl PR's -I counted eleven- with clipboards and radio mouthpieces and not one had a clue whatsoever with what was going on. We had to explain to them how press registration works, and that we needed to go inside to cover the event. We all had press passes with pre-allocated numbers, so to stop a big scrum for the press positions -you need a good spot to take good pics and not the back of someone's head- we asked to call us in numerically. This was too much for the PR's to comprehend and they started registering everyone on a first come first serve basis and thus, there was a chaotic big push and their desk was nearly crushed. The event itself was good fun to do though sadly there weren't that many photogenic celebs. What was needed was more women in low cut funky dresses -like we got last year- to make the papers. Though I like artists like SNOOP DOG, he'll never make many papers if any. Other guests included NELLY FURTADO, P DIDDY, Bond star DANIEL CRAIG, Biggest name of the night was JUSTIN TIMBERLAKE who hosted the event and managed to bag the award for Best Male -singer.- The after-party was great fun as it had plenty of free drinks -like the press room which had various fridges full of beers for us- though sadly bugger all Champagne. -Am I being greedy? No, didn't think so either- One of the party areas had JULIET LEWIS and The Licks playing live, so I quickly left for the more entertaining room with the two pole dancing ladies. It was something to do dear readers. We can't all work in offices you know.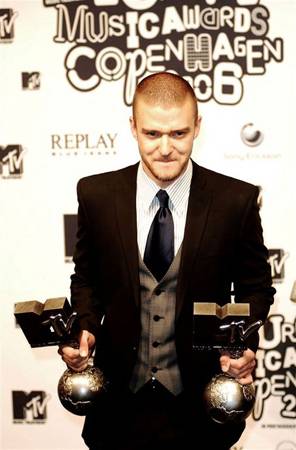 Justin Timberlake



Jagsshemash! Horses urine is niiiiiiice! I keeps my retard brother in a cage. My country is advancings fastly now womans only walking three feets behind mens. It used to be six feets! No peeps its not the secret diary of a Muslim - it would be far worse- militant. It was Borat! The UK premiere of Borat took place in Leicester Square, London. Borat made a hilarious entrance with a massive woman - four- drawn cart. He said it used to be drawn by "six womans" but two escaped in Romania. The cart was surrounded by a myriad of peasants including his eleven year old son with his young -ten year old- pregnant wife. Don't know what the big deal is about that particular fact, as this is a common occurrence in the north of England and Scotland. In Wales they're even younger I hear, and instead of women pulling the cart, its men with sheep on board. Don't know why that would be. Don't accuse me of lowering the tone dear readers I'm only passing on information. The premiere looked like a peasant's convention -or the port of Dover on any day- and Borat was flanked by his 'prostitutes'. The film itself was fantastically funny and at last we could laugh to our hearts content without the hindrance of the quasi fascist politically correct freaks who are always telling us what to think and say. Watch it and enjoy.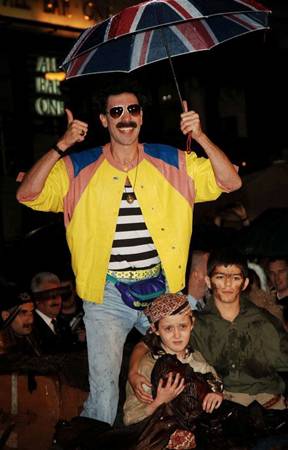 Borat



The World Music Awards this year came to Earls Court, London. Well, well, what can I say. What is it about these events that PR companies cannot organize? They have had a year to sort things out and they have failed. We were told to collect our press accreditation at 3pm the day before the awards. At 3pm no one was there at Earls Court media desk. In fact no one bothered to turn up at all to give the press their passes!!!! The next day, -day of the awards- we received emails apologizing for the PR no show. Finally we were able to collect our passes and go to work.


Michael Jackson



The stars started arriving but not quickly enough. There were ten to fifteen minute gaps between arrivals! At that rate we were going to be there all night. At most awards and premieres the celebs are all in within an hour. Various celebs arrived including LINDSEY LOHAN, PARIS HILTON, JADE JAGGER, RACHEL HUNTER, JORDAN -AKA Katie Price-, NELLY FURTADO, NATALIE IMBRUGLIA, EVA HERZIGOVA, KATIE MELUA and almost FOUR hours later MICHAEL JACKSON arrived and there was a huge rush by his minders and several TV crews who surrounded the plasticine faced star and we could hardly see his hat, never mind him. After a few expletives the main throng of busy bodies around Wacko dispersed and we were finally able to photograph him. The frenzy started and I was fortunate that I had my colleague Dan Barton who is a whizkid filing pictures to the newspapers, so he was wiring pictures as soon as I was taking them. The end result was sweet because my pics were in the front cover of The Sun newspaper the next day -model Jordan pic- as well as in page 5 with hubby PETER ANDRE. I had a MICHAEL JACKSON pic full page in the same paper on a later edition -close up face shot- with the headline 'WHAT A MESS'.


Michael Jackson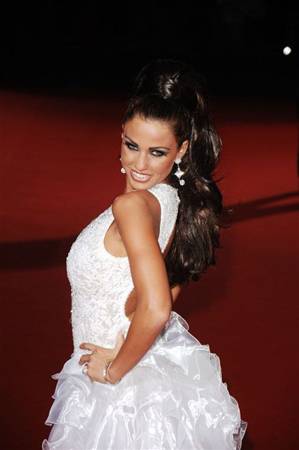 Jordan



He did look like he was shot at close range with a shotgun with play-doh and talcum powder filled cartridges. He spent a few moments with the fans but soon went inside and later gave a horrendous performance. Eeeeehee! Sorry couldn't help it. He only sang a couple of lines and not well at all. He was boooed off! How the mighty -ish- fall. LINDSEY LOHAN host of the event, had a night to forget as she fell over whilst on stage and prior to that had to deal with the audience booing her every time she went on stage. She gave up in the end and other guests had to fill in for her! I want my money back!! Oh yeah, I didn't pay. Oh you know what I mean.
Well peeps, that's it for now.

Over and out, see ya next year


JOE ALVAREZ



[email protected]



Words and all pictures copyright Joe Alvarez 2006.

You can now find me on WWW.MYSPACE.COM/REDCARPETSPECIALIST or search for me using the email address option with the email address above.