I recently spent a delightful long weekend at the excellent 5 star INTERCONTINENTAL HOTEL in Bucharest as the guest of my dear friend NORA SEROUSSI. Lovely NORA, owner of the famous BEVERLY HILLS BAR in Bucharest, was celebrating her birthday, her engagement to her suave boyfriend AVI CHEN and her pregnancy – a triple whammy! Now here is the happy couple, plus bump! Best congrats, guys.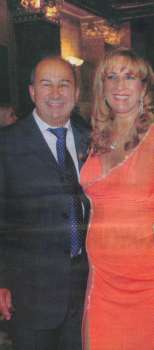 NORA SEROUSSI AND AVI CHEN. C.r : 7 PLUS.



Please excuse the grainy photo as, sadly, with the current security on airlines, I wasn't able to smuggle in HG's wonderful snapper JOE ALVAREZ to do the honours on the piccy front so the above is scanned from the local paper!

Talking of JOE, we hope you like his fab August cover pic of HRH PRINCE WILLIAM and HRH PRINCE HARRY. When you've finished reading this page, do have a look at JOE's CELEBRITY page to read all about THE CONCERT FOR DIANA. While you are at it, please check out all our other interesting HGUK pages, especially VALERIE AUSTIN's MODERN NUTRITION AND HEALTHY LIVING where she features a great pic of that delightful mature schmoozer JACK NICHOLSON whom she met in Monaco. JACKIE DAVIS keeps us up to date with our Cool War with Russia in her CRIME, SAFETY AND PROTECTION, NICK POPE gives us all the gen on UFO.s especially the ROSWELL anniversary in his WEIRD WORLD and LADY JOAN OLIPHANT-FRASER tells us all about grape treading, not to mention imbibing in TRAVEL, HOTELS AND RESTAURANTS. You can also find out more about PROPERTY ABROAD with JAMES KNIGHT in case you are thinking of investing in foreign bricks and mortar.


Slightly closer to home I enjoyed HELP A LONDON CHILD's fundraiser at new bar, CARBON last month. Guests included all sorts of gorg ladies including SOPHIE ANDERTON, MEG MATTHEWS and LIZ FULLER. My photo shows me with stunning fashion designer and pal of RUPERT EVERETT, CHARLES SVINGHOLM whose clientele includes everyone from MADONNA to COLEEN and my fab multi coloured halter top is of course by CHARLES.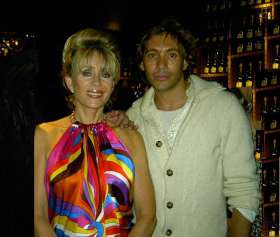 SAL with CHARLES SVINGHOLM. C.r: CHARLOTTE ELLIS.




The most fashionable celeb hot spot to lunch at in London these days is STANZA, a brand new restaurant and bar just next door to the world famous TEATRO at 93 Shaftesbury Avenue, W.1. (020 7494 3020) I toddled along there to see what all the fuss was about and my friends and I were very well looked after by the gorgeous LANCE. I liked the way even the carafes of water had cucumber in them and the house white wine, the Pieno Viura was a frisky little number! All the food was delicious with the Morecambe Bay brown shrimp cocktail, aubergines 'imam bayeldi', salmon fishcakes and buttermilk pannacotta with raspberries being particularly scrumptious. Highly recommended but you better book up quickly as STANZA is getting very popular. Even the utterly divine BOND superstar DANIEL CRAIG was spotted there recently.....................allegedly!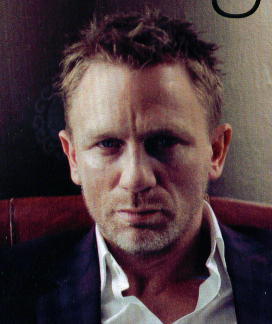 DANIEL CRAIG. C.r: ASSOCIATED.




I also visited STANZA at a later hour when I was 'giving a peach', as my daughter calls it, there on behalf of RED DOOR SPAS / ELIZABETH ARDEN's Beauty Evening. The bar is lovely and dark and dive-like at night: 'tres' sexy! The event was organised by lovely HELENE from STANZA and the equally lovely ROSA from RED DOOR SPAS / ELIZABETH ARDEN and was very well attended.


BEAUTY NEWS:

CLARINS' latest - and greatest, I think – product is called Bright Plus and is a 2 step night time regime for lightening and brightening the skin to make it look fresh, glowing and even toned. You start with the Age-Control Concentrate which lightly exfoliates and follow that with the actual Brightening Concentrate. In just 3 weeks your skin will look much younger and dewier – trust me, I tried this one myself. The products make your skin feel very soft too, which is an added bonus and they smell great.



SKIN.NY's new Radical Restructure Complex is an intensive treatment to combat the ravaging effects of ageing and the elements, particularly sun damage. Our guinea pig PATRICIA reported a definite softening of her wrinkles and a general brightening effect after a 2 month trial. "Amazing stuff", she said.


If you fancy having a 'perkier pout' try THE TEMPS Lip Plumping Treatment which you can safely apply at any time, including at night for maximum effect. Our 'pout tester' CARO said "I applied the plumper several times a day: it doesn't affect the way your lipstick goes on and my mouth definitely looked fuller. It also made my lips feel nice and tingly." So now you too could have lips like the delicious PENELOPE CRUZ and here she is, glamour fans.


PENELOPE CRUZ. C.r.: L'OREAL.




If you also want to have lashes like la CRUZ, try getting them 'LVL'd – straightened, lengthened, volumised and dyed. I have mine done regularly with lovely BRIDGETTE at NOUVEAU CONTOUR and it's saved me a fortune in mascara – one lick and you've got gorgeous fluttery lashes – flirting time is here! Check out:
www.lvl-lashes.co.uk


Thank you for all your letters about 'fillers' for filling up 'expression lines' via injection. There are a lot of different types of hyaluronic acid fillers on the market but the newest is one called Belotero which is injected more superficially than the previous favourite, Restylane and is easier for the therapist to inject. Belotero is available at the Pimlico clinic of the highly respected DR ELIZABETH DANCEY (020 7821 8257.) DR DANCEY says that Belotero lasts longer than Restylane which is definitely a bonus and she also favours another hyaluronic acid filler called Matri Soft. Having fillers injected is not the most pleasant experience but, with an excellent therapist like DR DANCEY or her assistant FAYE using Belotero or Matri Soft, you will notice a difference immediately and after a couple of days your wrinkles will appear much softer– magic! DR DANCEY recommends 2 'filling' sessions a week or so apart to achieve a naturally wrinkle free look.


Now for something completely different. Are you matching your collars to your cuffs, laydeez (and, indeed, gents)? If not, why not? It is all the rage nowadays and you too can get the look with a fab new product called MINIKINI Colour. MINIKINI Colour is a permanent colour gel for pubic hair – yes, you read that correctly! It is very gentle, organic and completely safe and will help put ladies like SAMANTHA in SEX IN THE CITY out of their grey hair misery. (Although, of course, I am sure that the actress who played SAMANTHA, KIM CATTRALL doesn't have a grey hair in sight.) All my HGUK guinea pigs love this product and are now sporting Natural Red, Natural Copper, Natural Golden Blonde and Natural Dark Brown in the downstairs department. My trusty assistant AMANDA is so thrilled with her Natural Dark Blonde that she is currently going commando! If, like me, you are naturally blonde, you may care to try the Natural Super Blonde a la MARILYN MONROE. I am currently plucking up courage for this look – watch this space! Celebrities who favour matching their collars and cuffs are said to be MADONNA – although that might be TMI for some fans!
Check out the amazing MINIKINI Colour at:
www.minikinicolour.com
Fun idea.




Thank you too for all your letters about RAFAEL NADAL: I had no idea you were all so keen on tennis – or is it tennis you're keen on?! As requested, here is that photo again, fitness fans, taken by lovely ROWENA CHOWDREY who is herself a mean tennis player.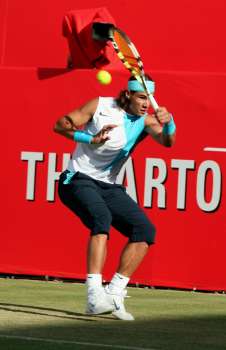 RAFAEL NADAL: C.r.: ROWENA CHOWDREY.



If you fancy taking up tennis you can avoid stinky feet syndrome by wearing PRETTY POLLY's fab new Silver Fresh trainer socks. "Not a lot of people know this" but.............smelly feet are caused by bacteria which live and breed in sweat. The silver finish in the Silver Finish socks destroys the bacteria by stopping it from breeding, so no odours can form – "elementary, dear Watson"! The socks feel comfortable and are prettily patterned too: what more could you want, fitness fans? A great new invention.



If you don't fancy tennis but want to have a slimline bod, try imbibing the amazing new health drink, Skinny Water by BIO-SYNERGY. My guinea pig, LYNSEY, has just drunk a whole crate load without changing her diet in any way and without moving a muscle and says that she has lost a quarter of a stone in a week. Great stuff – check it out from:
BIO-SYNERGY: 020 7569 2528.



BOOKS:

The biggest and best novel for the beach this summer is the wondrous JILLY COOPER's amazing number one best seller, WICKED! (Corgi / £7.99.) Who would ever have thought that a book about school kids doing their GCSEs could be so totally riveting? But JILLY has always been pure magic in any subject and WICKED! is as good as ever, with some of her regular characters making comebacks and even taking the odd exam themselves. My daughter recently sat her GCSEs, poor love, and I have just sent WICKED! to her headmaster, inscribed "things could be worse!" Apparently JC had visited the school and went down a storm. At the last count the headmaster was 100 pages in to the gripping tale and totally bewitched by the COOPER genius. Definitely my fave book so far this year, with thriller writer LYNDA LA PLANTE's excellent THE RED DAHLIA coming in second.
Now let's have a pic of the perennially stunning MS. COOPER.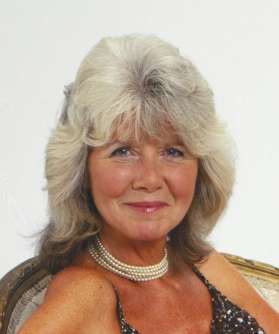 JILLY COOPER. C.r.: ROBIN MATTHEWS.



If you like unusual books, try HELEEN VAN ROYEN's extraordinary housewife and mother's tale, ESCAPE (BLACK SWAN, £6.99, from 3rd September.) This is SHIRLEY VALENTINE with a difference and actually quite scary – husbands should buy it for wives who may stray. Need I say more?


BETTER SINGLE THAN SORRY by JENNIFER SCHEFFT: The Smart Girls' Guide To Being Single And Fabulous (BANTAM PRESS, £9.99) is an easy, fun read that makes a lot of sense. JENNIFER SCHEFFT is the glam gal who turned down 2 perfect men live on national TV in THE BACHELOR and THE BACHELORETTE and here she gives other single ladies sensible advice about how to get the most out of singledom without obsessing about it until 'the one' comes along (or maybe 'the two' and 'the three' – who knows what the future may hold?) Not rocket science but dead practical.


Thank you for reading my page. Please write to me at:


[email protected]


and check out my personal website at:
www.sallyfarmiloe.com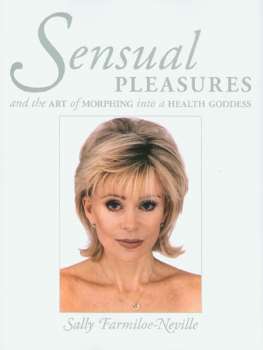 SENSUAL PLEASURES AND THE ART OF MORPHING INTO A HEALTH GODDESS (£16.99) is available from the following outlets:

Delancey Press -

[email protected]

or 0845 4589911
ISBN: 0780953911998

LOO TIME VIDEO available from:

[email protected] and:

http://www.121music.com/pages/video_01/home.html