With Jack Nicholson at The Hotel de Paris. C.r.: Gabor Scott.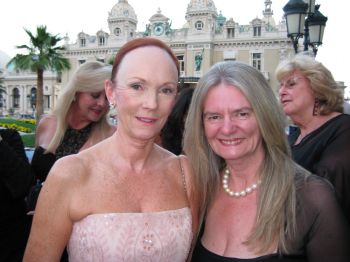 With Valerie Blondeau, PR for UCF, on the Terrace of the Hotel de Paris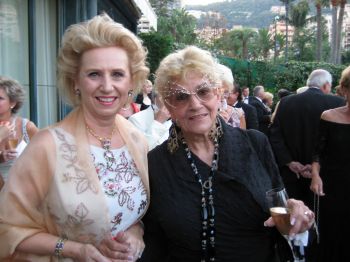 Valeria Rosenbloom, President of the UCF, with Baroness Mischka at the ball.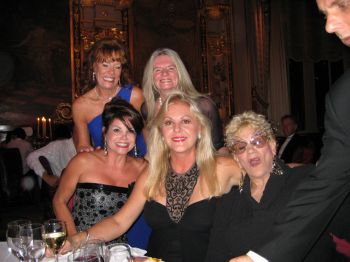 International group of ladies having fun at the Ball.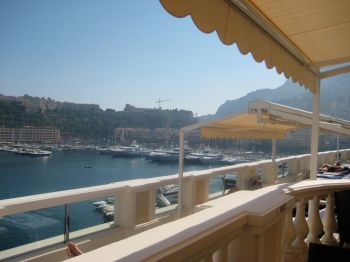 View from the breakfast terrace of The Hotel Hermitage.



Drinking, Smoking and Eating in luxury on the French Rivera

I'M EXHAUSTED!! I'm just back from an incredible week in fabulous Monaco with "The Unicorn Children's Foundation" (UCF)who were hosting a week's fundraising extravaganza; it was an affair to remember. One of the many highlights of the week was 'The Imperial Ball of Monaco' at the Hotel de Paris - elegance personified. We had the reception on the balcony of the Hotel and the ball in the main Ballroom. You could just imagine the Royalty of the world being entertained. Look out for a feature about the event on 'Fashion TV' who profiled it. You may have the channel included in your TV package. Lords and Ladies, Barons and Baronesses all danced the night away as the champagne flowed. I ran into Jack Nicholson (as you do!) - one of the many 'celeb's' enjoying Monte Carlo at this time of year. His voice is just so 'sexy'! He certainly has the 'it' factor you needed to be a 'star' in Hollywood at one time, fondly reminding me of my days when I was a celebrity journalist. I was so eager to find out his views on Monte Carlo that I had a mental block when he replied. It was something like "It's my type of town..." and where he chooses to live.

The American bar in the Hotel de Paris is where we chose to party until after 2am most nights for a night cap where all our tabs (champagne of course) were magically taken care of by some very generous husbands of some of the ladies attending the event. We stayed at the Hermitage Hotel and to have breakfast on the terrace overlooking the magnificent marina was the height of luxury. Not surprisingly it's one of the best hotels in Monaco and just a short walk from the Hotel de Paris.

I had a memorable lunch at the Monte Carlo Yacht Club where the view is spectacular and dinner was arranged at some of Monaco's finest restaurants every evening. I was surprised at the excellent selection of gourmet meals that were readily available without the heavy sauces that we generally associate with France. Also, if you know someone that lives there you don't make expensive mistakes and can eat wonderful homemade food for less than in London. Organic wine can be found if you look for it so it's nice to know you can still eat healthily in Monte Carlo. A problem for non-smokers is that smoking is allowed everywhere. There is no restriction so all you smokers can go and have a great holiday and smoke as much as you want. However, if you are in England and are still a smoker you could take advantage of the special price of my stop smoking therapy. The money you could save could pay for a luxury holiday each year.

Our last evening was spent at the Royal Palace in the courtyard under the stars with Monaco's wonderful Philharmonic Orchestra. HRH Prince Albert was in attendance and we all enjoyed a magical evening.

Saying goodbye to many guests who had traveled from as far away as Malaysia to attend this wonderful event is always difficult. I asked Valerie Blondeau, Unicorn's PR guru, how could they ever top this? Valerie was quick to assure me that on March 7th 2008 Unicorn will be hosting their 10th anniversary ball at the beautiful Mar-a-Lago club in Palm Beach, Florida. Donald Trump has promised to be there as he is a great supporter and past honorary chair: He, along with many other famous names, will all help to mark this very special occasion. It would be a terrific holiday to stay in the grand laid-back wealth of Palm Beach (Florida). It has similarities to Monaco and many residents have a home in both. For more information, go to:

www.unicornchildrensfoundation.org


Alcohol 'almost as harmful as heroin'

I wonder if alcohol will be next on the list to be banned
Professor David Nutt, from the University of Bristol and Professor Colin Blakemore, chief executive of the Medical Research Council are the scientists who published the results of their research in the Lancet medical journal.
The class A drug Ecstasy, possession of which can result in a seven-year prison sentence, is placed near the bottom of the league table which lists "harm scores'' for different substances.
The scientists identified three main factors that together determined the harmfulness of a controlled substance.
These were: the physical harm to the individual user caused by the drug, the tendency of the drug to induce dependence, and the effect of the drug's use on families, communities and society.
Independent experts, including psychiatrists, chemists and forensic scientists, were invited to rate each of these parameters on a four-point scale. Zero denoted "no risk'', 1 "some risk'', 2 "moderate risk'' and 3 "extreme risk''.
The results placed heroin at the head but surprisingly alcohol is ranked as the fifth most dangerous drug, Tobacco is in ninth position and Ecstasy is listed at number 18.
Speaking at a news briefing in London, Prof Blakemore said: "Alcohol and tobacco are way up there in the league table, with alcohol being not very far behind demonised terrors of the street like heroin.''
However, it was pointed out that at present there was no rational, evidence-based method for assessing the harmfulness of drugs. "We have tried to develop such a method,'' said Prof Blakemore.
(Editor's note: please be aware that ECSTASY can KILL some people much more quickly than smoking or drinking. Please stay away from it, readers.)

It is very tempting to over-indulge when you are able to attend the fabulous balls and lunches for charity events where the drinks are included or so easy to obtain. So, if you find yourself a little worried about a 'tipple' too much, do give me a call and I can advise you on what would be your best option as treating drinking is one of my specialities.
Talking about PR, my publicist Charlotte Ellis (020 7610 5370) has got me some great PR for my Stop Smoking promotion. The Daily Mail interviewed me for my life story and the LBC Paul Ross show was a great launch-pad when the stop smoking ban. first came in. You can download the interview from my newly designed site:

www.stopUKsmoking.com


STOP SMOKING Training

I am just launching my new training course to teach people how to have a career in stopping people smoking. The 4-day course will teach you how you can earn a lucrative living, either part-time or full-time and save lives in the process. With the new stop smoking ban and a concentrated training in the very best deep relaxation techniques, you could reap the rewards of a thoroughly enjoyable profession working as a stop smoking specialist. Check out my website at www.stopUKsmoking.com
-or if you just simply want to stop smoking, contact me for the Hot Gossip special price.




Eds Note: VALERIE AUSTIN is an author of six successful self-help books including SELF HYPNOSIS (Thorsons), journalist and trainer with an international reputation in the field of hypnosis. Her best-selling books and training help people achieve their full potential. She founded the Austin Corporate Stress Management Company focusing on reducing stress and anxiety amongst executives and CEO's. She is also founder of UKRAH (1992) The UK Register of Advanced Hypnotherapy. Valerie has also worked as a consultant in hypnosis at the Priory Hospital, the UK's equivalent to The Betty Ford Clinic, which specialises in food addiction and alcohol abuse. Her work in the film industry (Hollywood) interviewing movers and shakers, producing TV news segments and publishing celebrity magazines in London gave her invaluable experience for her current Harley Street practice.