REVIEW:

LE VACHERIN, 76 South Bank, Chiswick, W4. Tel: 020 8 742 2121.




"Sabre at the ready, sabrage the bottle! The cork flies and the golden bubbles twinkle into waiting glasses which delight the assembled guests."

Here we are with 'les sabreurs' at LE VACHERIN. Patron / Chef Malcolm John cooks classic French cuisine bistro - style and creates marvellously tempting menus. The dishes I adore are cooked with a connoisseur's cheese called Vacherin (hence the name of the restaurant.) Apart from it's distinct flavour, the texture of Vacherin lends itself to creating alluring and classic hot cheese dishes. It is seasonal, so do check beforehand that it will be on the menu.

After I dined at LE VACHERIN recently Mr John - Mr Wonderful, I call him - kindly treated me to a deluxe cab service back from the wilds of Chiswick to my home in Mayfair.


THE GRAPES OF WRATH

Release your feelings and stamp on withered grapes! (With friends it can be great fun, especially if there are a few gents in the group). Grapes from the vine are increasingly used to keep the skin young and beautiful, so don't restrict the grapes to just the feet = use them on other parts of the body as well.


SLENDER GOURMET Breakfast Recommendations

Toast and marmalade: it is difficult to find thinly sliced wholemeal bread. Loaves always seem to be cut in thick, white slices. Pumpernickel is the answer. The preserve: I recommend the French ST.DALVOUR, a high fruit spread with no added sugar, made from old French recipes. I enjoy both their marmalade and their blackcurrant preserves. Appropriately described as Rhapsodie de Fruits, they help start the day on a happy, high musical note.


REVIEW:

VEERASWAMY, 99 Regent St. (Entrance on Swallow St.) Tel: 0207 734 1401.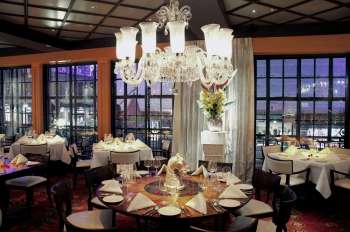 Dine in palatial splendour 'neath magnificent chandeliers and observe the bustling life of Regent Street 2 levels below you.

I visited VEERASWAMY with a friend one evening last month. The décor is so luxurious you almost think you are dining in a Maharajah's Palace in the 1920's.

The menu is extensive. For instance, if you are dining with friends, you can share an assortment of dishes from the South, East and West of India. When my friend and I were there we got completely lost with the complexity of the dishes. If there are just 2 of you I recommend lunch A la Carte or the Menu of 3 Courses @ £16.50.


Thank you and Happy Bubbles.

Joan – The Slender Gourmet.