Hats are in for spring. Not just for daytime but for evening wear as well. What's more, titfers are a wonderful answer to Bad Hair Days and 1 or 2 delightful little 'fascinators' (as small decorative hats are called) are a much more economical investment than going to the hairdresser every 5 minutes on these windy spring days! If you haven't got at least one cocktail hat in your wardrobe you must acquire one immediately. My fave are by lovely LARA MASTERS, beautiful designer daughter of the equally gorg DEBBIE MOORE of PINEAPPLE (up market dance and exercise wear) fame. I spotted DEBBIE sporting one of LARA's divine KISS MY CHERRY 'fascinators' at a HOUSE OFLORDS do recently (more about that event below) and I instantly fell in love with it - whilst all the gents were falling in love with DEBBIE who was more fascinating than ever in her 'fascinator'! You can check out LARA's superb hats at:
www.kissmycherry.com
The titfers only cost from £40 to £65, or plus an extra £15 for customising: terrific value. You can catch the collection at BRITISH CRAFTS, Chiswick Town Hall from Friday 27th to Sunday 29th April.
Great name too. Now here's my personal fave from the KISS MY CHERRY collection: in pink of course.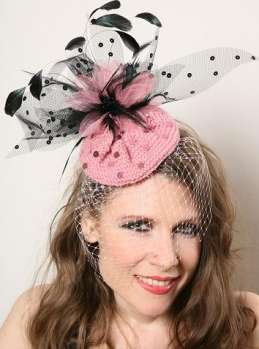 LARA MASTERS' KISS MY CHERRY hat. C.r.: KISS MY CHERRY.




In fact, in spite of the popularity of black and black-and -white at the collections recently, bright colours are everywhere in the shops for spring.
Here is a pic of lovely socialite NORA SEROUSSI and I sporting our liveliest colours at LADETTE TO LADY star LIZ BREWER's recent dinner at THE HOUSE OF LORDS, mentioned above.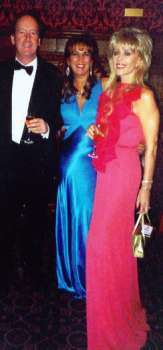 SAL, NORA SEROUSSI and LORD (FRANK) NORTHBROOK. C.r.: EDWARD LLOYD.



NORA's dress is by ARMANI and mine is by RACHEL ELBAZ (020 7235 3979). Our tans are from the beaches of Israel and THE TANNING SHOP on High St Ken (020 7938 1932) respectively!
The attractive gent in the pic is LIZ's delightful sponsoring peer for the LORDS event, LORD (FRANK) NORTHBROOK.


This season's bright colours can drain the skin so make sure yours is fresh and glowing. 10 YEARS YOUNGER star DR PATRICK BOWLER (COURT HOUSE CLINICS) has just brought out another winner in his fab VITAGE range, the VITAGE Tri-Phase Skin Renewal Kit. This superb 3 step kit comprises a Micro-Exfoliator, Vitamin C Serum and Age Defence Repairer. The Micro-Exfoliator resurfaces the skin with micronised pearls and diamonds, the Vit C Serum plumps it up with the Vitamin C and hylauronic acid and the Age Defence Repairer hydrates and regenerates with vit.s, antioxidants and essential fatty acids. I used the kit myself on face, neck and decollete and found that my skin became much clearer and fresher, the perfect base for my "tan"!
Stockists: 0870 850 6655.
Celebs who favour diamond chip exfoliation are said to include RENEE ZELLWEGER whose skin always looks luminous except when she is playing BRIDGET! Now we know her secret and can use our Tri-Phase Kit at home. In the meantime here's RENEE looking glowing all over, snapped by our very own JOE ALVAREZ.



RENEE ZELLWEGER. C.r.: JOE ALVAREZ.



Tea tree oil has long been known as Nature's most versatile healing agent, for everything from spots to head lice. Now TEA TREE LTD. have launched an exclusive range of skincare products comprising a Body Wash, Moisturiser, Facial Wash, Shampoo and Conditioner, all with that lovely bracing tea tree smell. My girls and their pals had a great time trying all the prods and said they really liked the smell and feel of all of them and that they felt absolutely squeaky clean afterwards. Great stuff.
Stockists: www.lifeplan.co.uk
One celeb who apparently favours tea tree oil products to maintain her fresh looks is KATE WINSLET and here is another stuning JOE ALVAREZ picette of the lady herself.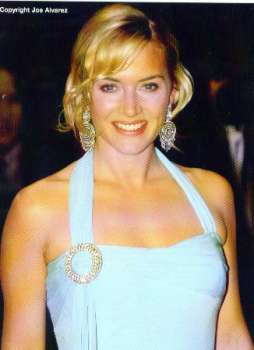 KATE WINSLET. C.r.: JOE ALVAREZ.




If you like having nice relaxing treatments when you come to London, without paying an arm and a leg, you must book into the comfortable and central 3 star HYDE PARK TOWERS which has a restaurant, bar, garden, etc and something else which is really new and special.This hotel is the first in the world to offer guests the SmartSpa (tm) personalised relaxation facility. This is a stand alone unit where you sit or lie in a SmartChair (tm) and control a console to give yourself oxygen therapy, aromatherapy, light therapy, negative ionisation, massage and low intensity UV tanning treatments. It costs just £20 for 20 minutes. Brilliant! The hotel's charming manager PAUL KAVANAGH says "SmartSpa is possibly the most fun you can have in a hotel with your clothes on!" Right then, I'm off there immediately: full report next month.

And now for something completely different. Do you own a woofie? Or even a "little pussy", as ARE YOU BEING SERVED's MRS SLOCOMBE would say (you have to be at least 30 years old to geddit!) If you do you may like to get your pet immortalised in pen and ink for a very reasonable price by the brill ALAN WEAVIS of PETDRAW. You just send some pix of your little (or big) pet to ALAN at:


[email protected]


It only takes 10 days maximum and costs just £40. I am currently getting our PASHA drawn by ALAN and will report back to you, animal lovers.


On the book front, gorg CERIL CAMPBELL has just brought out a fab and practical new self help book called DISCOVER THE NEW YOU: Celebrity Secrets To Transform Your Life (SUMMERSDALE, £7.99.) This one small paperback is stuffed chock full of all the most amazing tips from such luminaries as FRANCESCA ANNIS, DONATELLA VERSACE, LINDSAY LOHAN, BETTE MIDLER, DOLLY PARTON, SARAH JESSICA PARKER, DREW BARRYMORE, SHIRLEY BASSEY, FIONA FULLERTON and many more. Clever CERIL: wish I'd thought of it myself! Makes a great presy too with all sorts of tips about hair, skin, diet, fashion, et al.


JOHN THAW was arguably the UK's most popular ever TV actor, along with DAVID JASON. As well as a superb actor, he was really a national treasure. His equally talented actress widow SHEILA HANCOCK is also a national treasure and an amazing writer to boot. SHEILA's book THE TWO OF US (BLOOMSBURY, £6.99) is her autobiography and her husband's biography rolled into one, punctuated with entries from the diary she kept after her beloved JOHN became ill and tragically died from throat cancer. The diaries are extremely poignant and last up until the time when SHEILA starts to have a bit more hope in her life once again after her bereavement. The couple's life stories are fascinating: both actors came from inauspicious beginnings and worked like mad to build up their eventually glittering careers. The book is very sad in parts for obvious reasons but a wonderful read with lots of showbiz gossip and ultimately uplifting and inspiring. My photo shows 'the two of them' together at a charity ball in aid of cancer.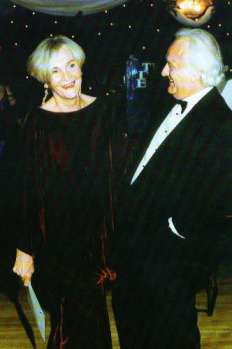 JOHN THAW and SHEILA HANCOCK. C.r.: TOWN AND COUNTRY.




It was with great sadness that I heard of the passing of GARETH HUNT, another wonderful and much loved actor, after his own brave fight against cancer. Hunky GARETH became famous for his roles in UPSTAIRS, DOWNSTAIRS, THE NEW AVENGERS and 'those' Nescafe commercials. I worked and socialised with wonderful GARETH from time to time and found him charming, gentlemanly and very funny. He will be sorely missed and all at HGUK send condolences to his lovely wife, AMANDA and his family.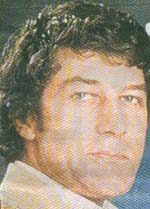 GARETH HUNT. C.r.: EXPRESS NEWSPAPERS.




Thank you for reading my page. As this is Easter month I hope you will all be gambolling about like little lambs without eating too much chocolate: bad for the teeth, skin and figure, fitness fans!
Please write to me at:


[email protected]


and check out my personal website at:
www.sallyfarmiloe.com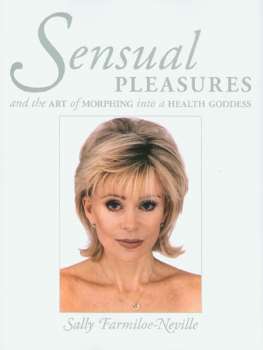 SENSUAL PLEASURES AND THE ART OF MORPHING INTO A HEALTH GODDESS (£16.99) is available from the following outlets:

Delancey Press -

[email protected]

or 0845 4589911
ISBN: 0780953911998

LOO TIME VIDEO available from:

[email protected] and:

http://www.121music.com/pages/video_01/home.html