Our cover girl this month is the perennially stunning ELIZABETH HURLEY. I first met ELIZABETH in the 80s when she was guest of honour at one of my balls at the Royal Albert Hall with HUGH GRANT and she has graced the cover of HGUK several times. All at HGUK wish ELIZABETH the very best congratulations on the occasion of her marriage to the gorg
and exotic ARUN NAYAR.


Spring has sprung at last and it's time for a spring clean. I always say, there's no point looking after yourself if you don't look after your home too. After all, it is an extension of your self. So when a delightful lady called STELLA contacted me from a new Bespoke Domestic Services called MAID 4U, I was very interested. STELLA had read my book SENSUAL PLEASURES AND THE ART OF MORPHING INTO A HEALTH GODDESS (see my Celebrity Fashion, Fitness, Health and Beauty page for details of said tome!) and wondered whether I was a domestic goddess as well as a health and beauty one. Sadly not, so I was very much in need of MAID 4U's services which include general cleaning, cleaning up after builders, housekeeping, mum's helps, maid service, drivers, ironing, dog walkers, et al. I had never found perfect cleaners and my previous ones had debunked months ago after 1 or 2 tiny criticisms! So I decided to try MAID 4U's domestic cleaners for a huge spring clean of my large, teenager ridden house. MAID 4U duly sent round 2 charming and hard working Russian gals, DELFINA and MARIA who soon had my 5 bedrooms, 2 living rooms, kitchen and 3 bathrooms looking spick and span, shining bright and neat as a new pin in just 4 hours at a very reasonable price. The girls worked like beavers (without a break, a gossip or a cup of tea like most of them) and the results were stunning. The kitchen and bathrooms were particularly hard work but are now fit for inspection by anyone, even my mother in law! I was absolutely thrilled and gobsmacked. Brilliant. Now methinks I had better book up the ironers, the mum's help and the dog walkers: then my life will be perfect!
Ring: 07702 707 598 or email: [email protected]
for this excellent service.

Once your house is neat and clean, how about a spot of interior designing? The fresh new Flavour of the Month on the designing front is lovely JANE ARTE WATT from JAG CONTEMPORARY DESIGN LTD (www.jagdesign.co.uk
0208 776 9165)
who is currently giving a friend's tiny South Ken flat the sexy and sophisticated Venetian look with the right colours and some beautiful accessories. You don't need to own a mansion to hire an interior designer and you will feel much better when your home is looking its best, especially if you like to entertain at home.
JANE AW is pretty easy on the eye too, guys, and here she is.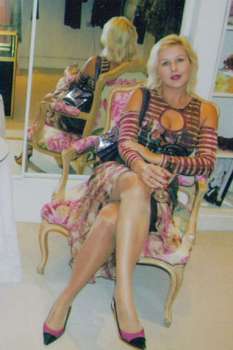 JANE ARTE WATT. C.r.: Private Collection.




We are sorry that our regular Food and Wine columnist, LADY JOAN OLIPHANT-FRASER is still indisposed. However I recently started presenting for PHOOD.TV and reckon I now know a thing or two about food. And I always knew one hell of a lot about wine and champagne!
So I have been checking out all the top London restaurants with my discerning eye and huge appetite.
Chelsea is awash with trendy restaurants. But how many of them are actually any good? My current fave Chelsea eaterie is the new and exciting KICCA at 100, Draycott Avenue, SW3 (020 7823 7897.) KICCA is owned by top Italian chef ALESSANDRO CRISTIANO and beautiful CHICCA CARBONELLI D'ANGELO (very JACKIE COLLINS!) and it is stunning. The decor, in black and delicate pink with pink orchid pix, black tablecloths and lots of mirrors, is divine and the food is even more so. ALESSANDRO, previously a LOCATELLI and private chef, is absolutely passionate about cooking and spent ages talking to my husband and me about his vision for KICCA, food preparation and presentation, clientele, etc when we popped in for dinner recently. My husband JEREMY is a very fussy eater and if he likes a dish, it must be really good! He chose the goat's cheese and baby spinach salad with roast peppers to start whilst I had the asparagus salad with walnuts and rocket and poached eggs. Both starters were perfect with firm and succulent vegetables. Then Jeremy had the sea bass with braised fennel and I went for the scallops with crispy potatoes, both of which were unusual combinations and absolutely yummy. For pud we had a little bit of everything, all superb, including tiramisu, chocolate and almond semi-freddo and chocolate brownies. The house wines were excellent and reasonably priced and GIAN-PIERO, the charming manager made us perfect Bellinis, not too sweet, in huge glasses as aperitifs. I predict KICCA will be a huge success and the dynamic ALESSANDRO will become the new JEAN-CHRISTOPHE NOVELLI.
Watch this space.


Don't forget to check out all the other HGUK pages, dear readers. If you fancy living or investing in foreign climes, JAMES KNIGHTS' Property Abroad column is always very interesting. Or you may want to read about the 'ugh!' factor in our food and water on VALERIE AUSTIN's Modern Nutrition And Healthy Living page. NICK POPE's reporting about the Roswell Alien Abduction Autopsy and his latest exciting TV show about The Bermuda Triangle in Weird World, JACQUIELINE DAVIES waxes lyrical about guys with neat bums and thighs and HEATHER MILLS, the ex LADY MACCA in Crime, Safety and Prevention and in JOE ALVAREZ' Celebrity column you can catch up with all the most interesting red carpeters including CARMEN ELECTRA, SIENNA MILLER and, erm, HEATHER MILLS, the ex LADY MACCA! Oh yes and then there is my own Celebrity Fashion, Fitness, Health and Beauty column with all sorts of tips and pix for spring.
Stop Press! Our esteemed Ed in Chief GEORGINA will be back next month with some super rave reviews of new prods and launches, including fab books.
In the meantime thank you for reading Spotlight and I hope you enjoy all our other wonderful pages as well.

Do write to me at:


[email protected]




SALLY FARMILOE-NEVILLE.
Deputy Editor in Chief.