Spring is here, peeps. Thanks to the fantastic global warming we have sunny weather! In between snow showers, that is. Don't feel too bad about the massive brainwashing session the government and a lot of the media are doing on their 'green bandwagon' as it's total nonsense and lies. The planet has always changed its climate. I've said this before in this hallowed column. The sun -not the newspaper! - is responsible for global warming. That's it. Co2 isn't the cause of global warming. We've all been lied to, to make us pay more taxes on the pretense that it will help the world. What c-ap. They'll be taxing our breathing next because we all breath out Co2. The sun's heat, the oceans, volcanos, et al cause the vast majority of Co2, though Co2 -as I already mentioned- isn't the cause of global warming. Those of you who recently saw the TV documentary on Channel 4, 'The Great Global Warming Swindle', will know that my views on this issue are totally vindicated. I urge you to watch -contact Channel 4- that program. It shows what a pack of horse s--t we have been told by politicians and sick 'green' pious do gooders who need to get a life and an education!

Talking of horse poop and lies, HEATHER MILLS was in London taking a break from her public mugging of her ex-husband PAUL McCARTNEY. The former alleged prostitute -as many newspapers reported- was in London on a PR campaign to project herself as a caring individual -under the veil of pigs' rights -yes, pigs!- and protested outside various locations, including the Oxford Street branch of Marks & Spencer. She ranted about how badly the media were treating her (porky pies), about dark forces (!) trying to bring her down and other -unrelated to animal welfare- nonsense. Funny that, because you can bring her down for a fee. Ask Paul and -as it was reported in the media- various Arabs. So presumably its OK to have a pop at her if you pay her. I've got better things to do with my £20, thanks. I expect a woman with TWO legs for that price! The posters showed pigs with banners that read: 'This is not just TORTURE- its M&S TORTURE' and 'No Happy Mother's Day for M&S Pigs'. The poster had a picture of a healthy looking -to me- pig. I am not making this up! All the poster did was to make me hungry. -'2 for 1 on 75g bags of pork scratchings at Morrison's 'till end of the month' kind of hungry. As soon as this strange PR stunt was over I went to edit and send my pictures at the excellent Pontis with an egg and bacon sarnie with brown sauce on brown bread. Yum.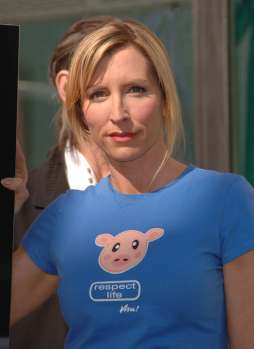 HEATHER MILLS



The lovely SIENNA MILLER was in London's Leicester Square, all smiles, loving the press photographers -as I told you last month she would be- to promote her new flick Factory Girl. The film, directed by George Hickenlooper, tells of the rise and fall of actress and socialite Edie Sedgwick as she crosses paths with Andy Warhol. The whole thing to me seemed a bit shallow and I feel pretty Sienna needs a more challenging role than just basically playing herself. It needed more than just pouting and posing. Though it was not necessarily her fault, as it's the director who normally brings the best out of an actor. So: a bit superficial and doesn't quite tell a coherent story. But isn't she cute....?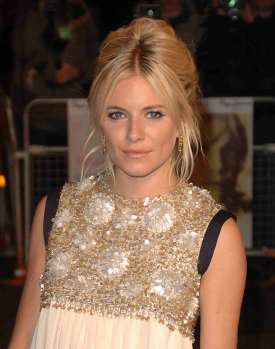 SIENNA MILLER



Its time once again for the 'CELEBRITY MUM OF THE YEAR' award. Normally, dear readers, this award voted for by the public goes to the most dysfunctional so called celebrity mum you can think of. Previous dysfunctional winners include: the lovely SHARON OSBOURNE, people's favourite nut-bar KERRY CATONA and ULRIKA JONSSON. This year the nominees included coke hoover KATE MOSS!!! Can you believe it? Thankfully this year's winner is the gorgeous sex cat JORDAN AKA KATIE PRICE. Ok, she's a bit dysfunctional, but she cares big time about her family, she's a hell of a business woman and she is not a coke head. She makes my job very easy as she is a superb model and needs no directing by me. Unlike many other models. Well done, Katie.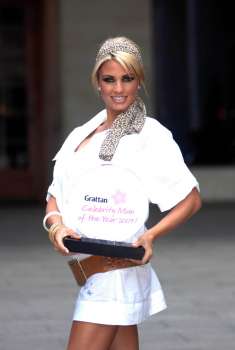 JORDAN



Opening this month at the Duke of York's theatre in London is a fab musical called Little Shop Of Horrors. It's based on Roger Corman's 1959 B-movie of the same name, where JACK NICHOLSON made his acting debut on the silver screen.
SHERIDAN SMITH, -of Two Pints of Lager and a Packet of Crisps fame- stars with ALISTAIR McGOWAN, PAUL KEATING, MIKE McSHANE and BARRY JAMES. Press night was a lot fun, with the cast of Two Pints of Lager and a Packet of Crisps in attendance to support 'their' Sheridan, as well as singer ELAINE PAIGE, actress CASSIE COMPTON and other C listers. The musical was superbly performed: Sheridan has a great voice, with ALISTAIR MCGOWAN putting on a very funny act. If you want a lot of theatre fun this should be on the top of your list.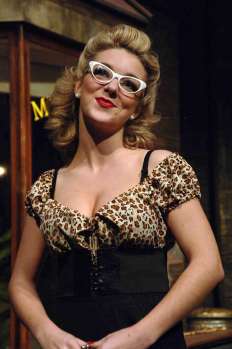 SHERIDAN SMITH



Latest premiere to hit snowy -2 degrees C London -don't talk to me about global warming or I'll punch you!- is I Want Candy. The film, directed by Stephen Surjik, follows two hopeful lads from Leatherhead trying to break into the movies who stumble upon the opportunity of a lifetime. Frustrated by their arty-farty film teacher (MACKENZIE CROOK), wannabe producer Joe (TOM RILEY) and his talented but neurotic director friend Baggy (TOM BURKE) head to London to sell what they know is a script made of 'gold'. Encountering nothing but closed doors, their luck changes when an equally desperate producer (EDDIE MARSAN) is willing to throw some cash at them provided they get the star he wants. Problem is, he wants Candy Fiveways (CARMEN ELECTRA) -I want her five ways- the world's No1 Porn Queen.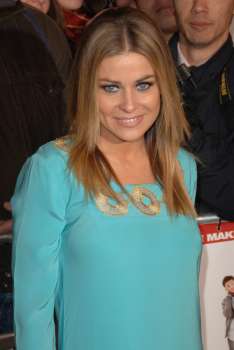 CARMEN ELECTRA



The film is quite amusing, though I just went to ogle at CARMEN ELECTRA. At the freezing premiere, Carmen arrived in a skimpy turquoise mini-dress and she bravely proceeded to work the press. Sadly for me, there was no cleavage on display: Carmen's film CV was nowhere to be seen and for picture sales it is just no good. At least naive (?) bigot DANIELLE LLOYD wore the right dress for the occasion. Danielle -the one that got away- Lloyd, worked us -photographers beautifully and gave me what I wanted. Well, almost.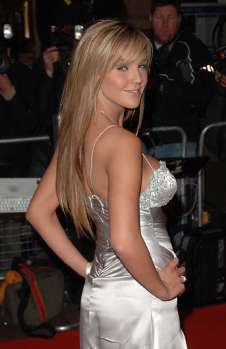 DANIELLE LLOYD



Over and out, see ya next month.

JOE ALVAREZ



[email protected]



Website: www.myspace.com/redcarpetspecialist

WORDS AND ALL PICTURES COPYRIGHT JOE ALVAREZ 2007