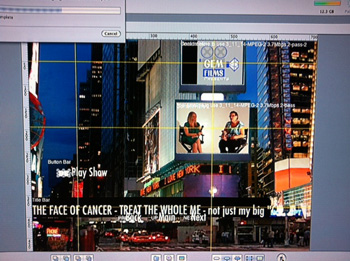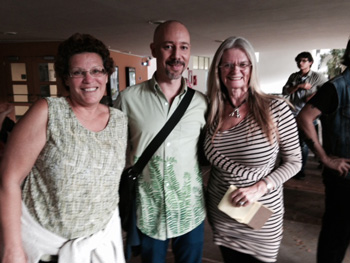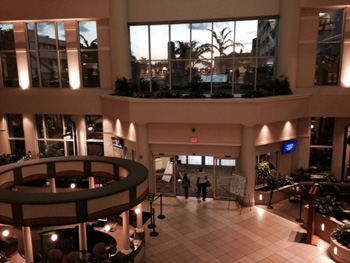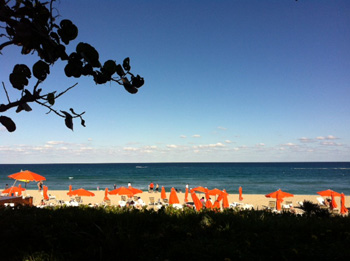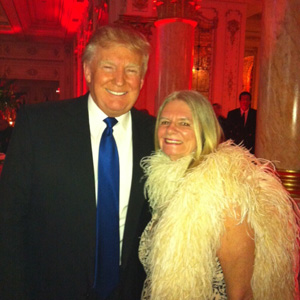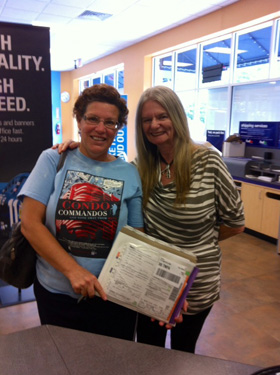 Picture Credits:

1. Valerie Austin an Inger Garcia presenting their feature film for Cannes Film Festival
2. Juan Carlos Zaldivar film director of film '90 miles', with Inger and Valerie Austin at the Sundance Film workshop for film makers
3. Opening of the 5 star new cancer unit at Broward Health Fort Lauderdale
4. Lovely view from our editing suite
5. Donald Trump with Valerie Austin at his private club chairing the charity Unicorn.
6. Inger and Valerie Austin posting their feature film to Cannes for the Film Festival for competition


Making Films

I was so delighted to be invited to the Sundance film workshop at the Miami University campus. It was a day focused on how to edit your short film. It showed some excellent films and gave both Inger, my co-producer, and I a clear idea of where we were heading with our short film that has now just been submitted to Cannes after 3 weeks of editing, hard graft and late nights. It suggested that the short film should have a story in the documentary so we gathered the footage and took their advice. Writing a film is rather like writing a book - the editing can be a nightmare. But the results are worth it.

We met some of the short film makers who have made it into feature films. One such film director is Sebastian Silva whose feature film is 'Nasty Babies' very interesting script will be looking out for it, its not what it seems. He was a terrific interview and very funny. Very dry sense of humor. He said he knew he was a film director when he saw a 'scene' everywhere he went. Some of his quotes are, "I wanted the audience not to feel safe" I wanted everything in the film ambiguous". He played a killer and said, "I was completely a fictional killer character in my mind. On writers block he said, "You only have writers block if you don't know the ending and were you are going." Quite a character. Juan Carlos Zaldivar another very good director and artist his film 90 miles about his relationship with his father. About whether they should leave Cuba, he also co-directed 'Soldiers Pay'. He has also made some award winning short films. The short film shown at the workshop was definitely a work of art. He teaches film at New York University and Miami and gave us some great tips.


A Month in the Life of a Film Maker

This month has been a challenge for me as a filmmaker. Instead of enjoying the lovely consistent sunny days, I have been editing my film for weeks. That is sitting in a room for hours well into the night. They say you have to be careful about what you wish for and that has always been true with my life. I am very careful about wishing, as I tend to get it partly right and partly wrong, leaving me rather frustrated. So wishing and goal setting is something I rarely do; that is I don't change my goals unless I want to make radical changes because whatever I am doing is not working or I have already attained the goal I was striving for. Two years ago I was thinking of what I would actually like to do then because I had felt I had already achieved what I had set out for.

A thought crossed my mind, as baby boomers we don't really retire, we just reinvent ourselves. The thought was I would like to interview people for films or TV. But I definitely would not like to have a nine-to-five job especially getting up in the early hours as a newscaster. On the contrary, I have always had the freedom of being my own boss.

In the past I have generally invented my own profession which has been very exciting and profitable. In the last twenty years I have had an International training company for hypnosis as well as still keeping my hand in as a writer with my ex-journalist background. However, since I was an investigative reporter it does get in the way somewhat.

Only weeks after this wish/ thought/ instruction to my subconscious, call it what you like, I accidently got involved in an exposé of condo corruption in Florida and ended up making a film based on it. I didn't think anything about it until I was at the Cannes film festival promoting it, since my lead part was as the interviewer the penny dropped. My wish had come true. I did forget to add the words rich or wealthy or very well paid at the time. As I said I don't always get it right.

We were chosen for the short film corner in competition at Cannes and won at the Fort Lauderdale film competition. And that is how this new roller coaster life started with me and my co-producer, friend and attorney. Now we have just got our full-length feature documentary film on Cancer accepted in the Cannes Film Festival for this year's film market and it doesn't stop there, as we also have just submitted our short film documentary for the same festival. Keep your fingers crossed for us.

I thought it would be useful to give you a brief background seeing as what I am about to write many literally save a life. Just after making the condo film and with everything ready to make it into a feature film, Inger was diagnosed with breast cancer and everything was put on hold. However, as you will have seen in my earlier columns we just took our camera and kept filming, but for a film on cancer, therefore, I believe after two years I have some knowledge on what is indeed going on in the $Trillion industry of cancer and how to help the cancer sufferer.


5 Star Cancer Ward Opening:

The opening of the Broward General Hospital Chemo Therapy ward was quite an experience. Walking into the hospital was like walking into a large 5 star hotel. With a grand piano that played itself and a very well designed Starbucks replacing a fast food outlet. At the cocktail party of the opening the food was excellent and it looked like a dream rather than a hospital. I was told the design had cost $2million and only eighteen months to design. The architect had asked the patients how they felt and tested chairs and facilities. I was introduced to Nicholas Tranakas of the Diplomate American Board of Surgery who agreed to give me an interview. It will be fascinating to hear what his views are as he is happy to talk about complimentary therapies which is featured in our film.


Organic Wins Hands Down for Health

So when I saw the news this month about 'Organic' food not helping cancer I was incensed. It made it look like it was 'research' from Oxford University when it was only based on a large 'survey' – bad reporting or the beginning of a propaganda campaign? Because it is simply not true. In fact according to ......

The trouble is that the risk of cancer is so great you do need to protect yourselves and look to support organic rather than buy cheap chemically altered food. Yes, organic is more expensive but you don't need as much, just a small serving, as it is full of nutrients. It is certainly cost effective if you cut down drastically on meat.

A very healthy diet, known as the 'poor man's diet' because it was cheap, consisted of boiled brown rice and a small amount of vegetables and sometimes fish - how expensive can that be?


Why Has Organic Been Knocked Again?

We may possibly see some more bad press against organic as part of a propaganda campaign, especially since there are whispers in the US that the attorneys are gathering people to make a class action case against the food producers for poisoning us. In fact a class action was exactly what happened to the tobacco companies that cost them £billions. It would be interesting to follow the money.

This question is why were the papers mis-reporting and making it 'look like' organic food has no more value than regular food based on a survey? I will let you draw your own conclusions. Certainly an interesting way to spread nonsense, like poison does not harm us, for example.

There are so many people with cancer saved by eating fully organic food, exercise and a change in life style. Even doctors in the US are advocating it. Also check out www.chrisbeatcancer.com and you will see that the Oxford study is a very odd study indeed.

Why am I so working so hard with 'Cancer'? Because so much of it is preventable strictly for the reasons I have explained above. It is disastrous to not look after yourself today as our bodies are being bombarded with toxins but supposing you can really help yourself by what you eat? My mission is to get this across and let you know there is an enormous amount of proof. If you want to train as a therapist working with hypnosis do email: my website especially for cancer training is on www.cancerandhypnotherapy.com
Sally Farmiloe is also on an extremely important mission to make sure we can be resuscitated when we are in hospital. You should read what she found out and how hospitals (not you or your close relative) can determine if you live or die.


The myth

It has been proven for many years that it is a myth that you can wash your fruit and potatoes with soap and get the pesticides off: as soon as you cut the food with a knife the poison is let in. Especially with the 'super duper pesticides' that have fairly recently been introduced to the food chain.

If this also makes you angry you can ask for information on the actual Oxford report via email under the 'freedom for information' act. That will give you the questions asked that are not published. Just check Oxford University's The Million Women study website at www.millionwomenstudy.org and then you can email your request for information. The study looked at 600,000 women over nine years, and says that eating organic food does not cut the risk of cancer.

"Cancer cells are abnormal cells that grow to end up killing their host," says Dr Max Gerson from The Gerson Miracle explaining why we are ill. This theory is not looking to be proved by statistics. The reason he firmly believed was deficiency and toxicity. This would be the reason for the massive rise in cancer.

It just needs some common sense to realize eating poison isn't better than not eating it!


TIPS:

Whilst washing has little or no effect on getting rid of pesticides off fruit and vegetables, here are some rather frightening statistics about pesticides in non-organic food. Unless you are eating organic, you are not eating healthily. No wonder people are ill if they are using all the excuses not to eat 'real' (organic) food:

Spinach
83 percent of spinach contains pesticides.
94 percent of peaches and pears contain pesticides.
90 percent of strawberries contain pesticides.

Bell peppers
They are like a sponge and containing about 68% pesticides. Also, many are imported from countries with not such stringent standards.

Eggs
Pesticides pass from chickens to eggs, then to other foods and finally to you and filled with growth hormone or antibiotics so they can survive the terrible conditions they are kept in.

Meat
Animal feed is usually filled with antibiotics and synthetic growth hormones and some say creating the rise of antibiotic-resistant bacteria.

Potatoes
Almost 80 percent of potatoes contain pesticides and 86 percent of grapes can contain pesticides.

Apples
Apples very high on pesticide list full of pesticides.

Milk
Dairy cows are generally fed hormones, antibiotics, and pesticide-covered grains which end up in the milk.

Baby food
Babies are the most vulnerable to pesticides and need real food or organic baby food.


The finishing touches to our film:

After a month of late night editing I was just watching a film on TV called "And the Band Plays On". It was classed as a medical thriller, but I was amazed to find that it was actually the story of the discovery of the AIDS epidemic, the political infighting amongst the scientific community and how it was kept from the public for such a long time. The good guy, played by Randy Shilts in the film, was Dr. Don Francis.
I was so tearful from the film as it brought back so many memories of my frustration at the time on how the papers wouldn't publish anything about the subject of AIDS. I had just returned to the UK and was the first journalist to alert the main newspapers as to what would be coming to our shores. Via my agent my article went to every major newspaper but not one of them would take it. "It will upset our readers", one editor actually said. Well, it was nearly a year before the news of AIDS made the press - it has an incubation period of around 10 years and some entertainers' relatives later said if they had known about it earlier it may have saved their (the entertainers') lives.
Dr. Francis worked on the vaccines for hepatitis B which can cause liver cancer. I called him and I am proud to say he made a great interview for our film.
We are now packed and ready to for the Cannes Film Festival - wish us luck!

I now want to take the opportunity to thank the many important people in the world of cancer who have freely contributed their time and expansive knowledge to help cancer sufferers around the world. Their interviews bring the cutting edge knowledge to the audience in our film the 'Face of Cancer':
Nancy Brinker, founder of 'Susan G Kormen for the Cure', one of the US's largest charities who raised over $2.7.
Dr. Don Francis who was so important in the AIDS research; in fact he was the first to say it was a sexually transmitted disease.

Award winning doctor, Dr Nicolas Tranakas, M.D., F.S.S.O.,F.A.C.S from the American Board of Surgery...

and of course last but not least Award winning actress and author SALLY FARMILOE-NEVILLE .


Until next issue, be healthy and to keep up with the news on what to eat plus lots of interesting money saving tips join my Facebook page: www.facebook.com/valerieaustinhyp. Find out about mesmerism and curing physical ailments at www.mesmerism.com

You can check about my training in a new career in hypnosis: www.austinhypnotherapytraining.com
Or email me at

[email protected]



Editors Note: VALERIE AUSTIN is an author of six successful self-help books including SELF HYPNOSIS (Thorsons), journalist and trainer with an international reputation in the field of hypnosis. Her best-selling books and training help people achieve their full potential. She founded the Austin Corporate Stress Management Company focusing on reducing stress and anxiety amongst executives and CEO's. She is also founder of UKRAH (1992) The UK Register of Advanced Hypnotherapy. Valerie has also worked as a consultant in hypnosis at the Priory Hospital, the UK's equivalent to The Betty Ford Clinic, which specialises in food addiction and alcohol abuse. Her work in the film industry (Hollywood) interviewing movers and shakers, producing TV news segments and publishing celebrity magazines in London gave her invaluable experience for her current Harley Street practice.