Hello Everyone,

Not being one to gloat...much...
Like my cat, I feel like I can sit smugly over my predictions for this year's Oscar Winners.
But as ROY HODGSON knows you are only as good as your last win.
Sometimes it's best to go back a few steps in order to move strongly forwards...just like my tennis lessons at the moment which I have started again to hopefully, enable me to play at a higher level from now on.

So, going backwards first, a retrospect of an event that took place before THE BAFTAS: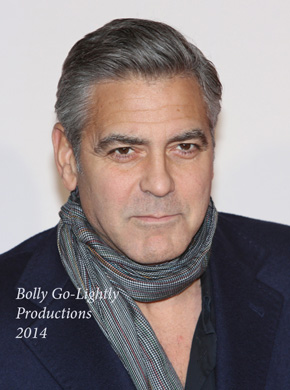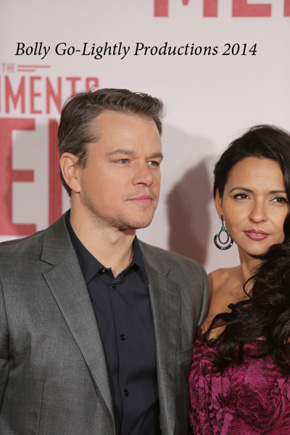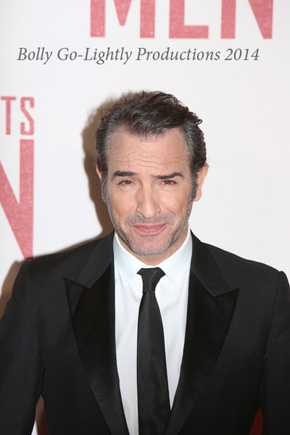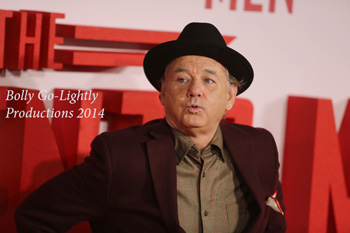 THE MONUMENTS OF MEN - Odeon, Leicester Square

A stellar cast and idea does not ensure a critically acclaimed film. This film had so much promise, but has not found favour with the critics.

We all love a war film with a true story in it. THE GREAT ESCAPE, REACH FOR THE SKY, BRIDGE OVER THE RIVER KWAI to name a few.

This Hollywood war cocktail has a generous sprinkle of pedigree in the form of GEORGE CLOONEY, MATT DAMON, CATE BLANCHETT and JEAN DU JARDIN...all Oscar winners.. and normally the booking office cash registers would chink in unison upon its release. But in this case an important ingredient is missing: a good script with direction and clarity. Never mind, I am sure that fans will still see this film, regardless of the reviews. It's just a shame that it won't be remembered or revered in the same way as the aforementioned.

And moving forwards through my diary...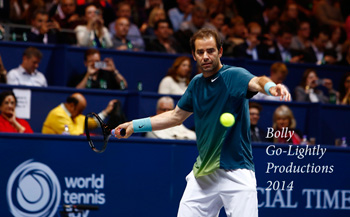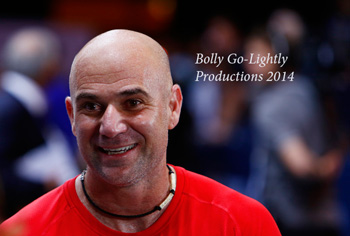 WORLD TENNIS DAY - Earls Court 2

This global event still doesn't get a sufficient 'push' at grass roots level ( apologies for the Wimbledon pun ). Which is a shame as all regular readers will know that I love playing and watching this sport.

There were three global events taking place that day. I was fortunate to cover the London event which culminated in ANDRE AGASSI defeating 'PISTOL' PETE SAMPRAS in a late evening match ( after IVAN LENDL had lost to PAT CASH ) to a capacity arena. These tennis greats may not be as good now as they were in their hay day. But they would still give many players on the circuit a hard time on court.

I was surprised to hear during the earlier press conference that PETE SAMPRAS had decided, upon retiring, that he wouldn't touch a tennis racquet again. This is because I don't know of any high profile players that have done this. Most continue their career either through coaching or TV commentating. I can understand why he, as a dedicated family man, chose to do this for several years. I recall how devastated he was when his coach TIM GULLIKSON died of a brain tumour in 1996. I am guessing that he found the sport all consuming and needed to concentrate on something more personal and private for a change. SAMPRAS did retire from his 14 year career eventually in 2003 after achieving what was then a record breaking 14 grand slam wins out of a possible 18. ( longer if you count him picking up a racquet from age 3 ). He has been married to Bridgette since 2002 and they now have two sons.

But the pull back to the courts is strong for most of these masters of the strings. The latest 'victim' is IVAN LENDL who has decided to go back on the Masters Tour, and break his historically highly significant partnership with ANDY MURRAY. Under this partnership The Brit finally won WIMBLEDON and broke the 77 year wait for a FRED PERRY successor, collected Olympic gold and silver medals, and also The US OPEN crown. All in twelve months. ANDY MURRAY will struggle to forge a better professional marriage in the future.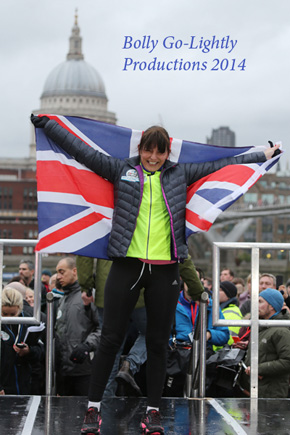 DAVINA McCALL - 'Beyond Breaking Point' for SPORT RELIEF - Millennium Bridge and outside Tate Modern

We have just witnessed the final lap of this year's SPORT RELIEF ( March 21st to 23rd ).

For the past few years a celebrity has pulled out all the stops to raise as much money for this charity as possible. We all remember DAVID WALLIAMS and his swims across The Channel and along The Thames. JOHN BISHOP's triathlon from Paris to The UK. Now, enter a super woman, in the form of keep fit DVD queen and high profile TV presenter, DAVINA McCALL.

DAVINA took on a physically and therefore mentally challenging 500 mile journey from Edinburgh to London in seven days. This sporting challenge became more demanding than it was on paper, due to the horrendous downpour and storms that devastated large chunks of our country during the week in question. But after a tearful and sometimes very windy/wet cycle ride from Edinburgh to Windsor, the scaling of Scafell Pike followed by a swim across Lake Windermere ( in the same day! ) and a marathon from Windsor to Central London, DAVINA arrived, pretty much on schedule, in one piece.

In all, she raised in excess of a fantastic £2,239,931. This is a totally impressive accomplishment across this country's harsh landscape during a challenging spring climate. You have to be full of admiration for her determination to complete everything, even when her body was screaming for her to stop. Well done DAVINA...you don't have to cry any more. SPORTS RELIEF raised just shy of of an impressive £54 million. It's never too late to donate and make a difference to peoples' lives:
www.sportrelief.com/how-pay-your-money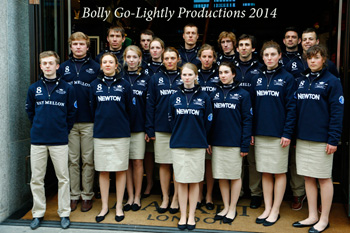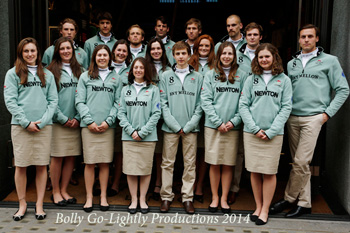 OXFORD & CAMBRIDGE ROWING CREW PREPARATION - Putney to Mortlake

THE UNIVERSITY BOAT RACE day is on the early evening of April the 6th this year. I presume it is late as this is the second tidal cycle of the day, and the first one, being breakfast time, is too early for BBC coverage purposes and magnifies policing issues concerning copious alcoholic consumption by students.

What non-rowers will probably not comprehend is how long and hard the crews have been preparing for this historic day.

I have been photographing the four crews (Cambridge & Oxford Men and Women's first crews) for nearly six months now. Through rain, sun, wind and unpredictable high tides the crews have practised and raced other clubs and countries.

CUBC have heavier crews than their university counterparts this year. Does this convert to greater strength and an ability to travel through the water faster in order to exact revenge for last year?

This is going to be the last year that the women will be racing at Henley-On-Thames at the end of this month. From next year, finally, women will be treated as equals and race between the ISIS V GOLDIE and CUBC V OUBC races on race day. Womens' rowing has come a long way since the first boat race at Oxford in 1927 when the race was booed from the river bank. We now have female rowing Olympic gold medallists and consistently hold our own on the global stage. It is time that the fairer sex were treated the same as their male counterparts in this sport. They have earned the right and can no longer be criticised for rowing, let alone racing against each other as they were in the beginning of this very long journey across the choppy waters of criticism and disdain.

I find it harder to make a prediction on this year's mens' race, even though I have watched both teams preparing individually. But if I were to cast a decision across the bough, it would be that this will be very close, and CUBC will win.
What do I know!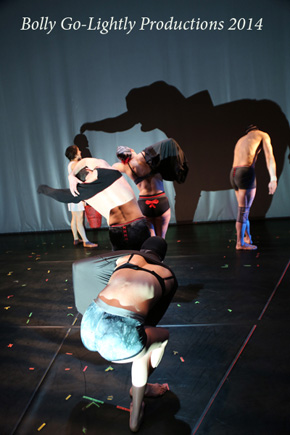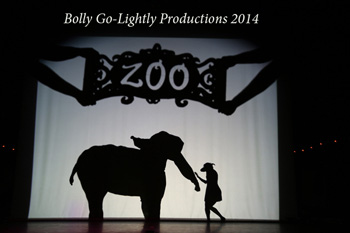 SHADOWLAND - The Peacock Theatre, Holborn

Once in a while you photograph a jewel of imagination. A show which pushes your boundaries and reaches into your imagination, plucking out of your mind, happy memorable memories.

This is it. Sure, we have all been blown away with this theatrical concept in 2013 when the Hungarian act ATTRACTION became winners of BRITAIN'S GOT TALENT.

Press photographers are critical. We rarely see things which are new, refreshing and beautifully crafted. This American company provided it in bucket loads throughout the three scenes that we were privileged to photograph.
How a woman can convincingly turn into a dog is beyond me. We were even invited to photograph from the stage, behind the giant white screen. I still can't work out how they created an elephant, even though I saw it evolve before my very eyes. Extremely clever. A must see.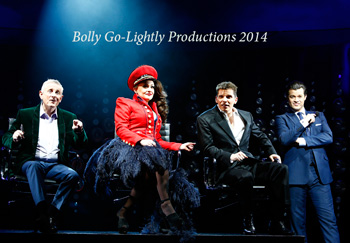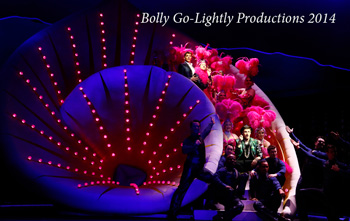 I CAN'T SING! - The Royal Palladium

Talking of BRITAIN's GOT TALENT. Just when you thought that SIMON COWELL's star was possibly waning in favour of pram pushing, he is back soon with THE X FACTOR on our small screens.

MR COWELL is a highly successful, larger than life character. A self styled King in the world of entertainment in this country. I like him. He talks sense, even if it is rarely delivered with the tact of others. He shoots from the hip of his high waist banded trousers...ready for any flood of criticism thrown at him.

Now, although his name and reputation may be guaranteed a place in popular entertainment history, his aura, by association, may now be going to stand the test of time in West End theatre land. Many stars have quickly fallen on their faces when receiving the same theatrical treatment. THE SPICE GIRLS were the last cataclysmic victims of a production falling flat compared to the original.

I CAN'T SING! has been written by the award winning TV BURP comedian HARRY HILL. If you don't know already, it's a deliberate spoof of THE X FACTOR.. Casting NIGEL HARMAN ( who played the hilarious vertically challenged prince in SHREK ), as the media mogul I think is a twist of genius.

This new production has had kitsch ladeled on in camp bucket loads. NIGEL HARMAN doesn't seem to take himself too seriously, even though his musical and acting talent is sublime. There is a pertinent timely resemblance to the judging panel with Louis, 'Jordy girl' and Simon sitting on it with a compere called O'Dreary!

I CAN'T SING! should run and run...especially if HARRY finds time to incorporate up-to-date jokes in the script as the weekly performances take place. Audiences love a timely 'nod' at things. I appreciated the fact that elements of GRAND POOBAH's speech changed every week in JONATHAN MILLER's version of THE MIKADO. It meant that although I had seen the opera twice, it was unique on both occasions.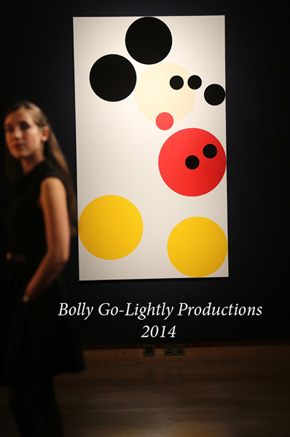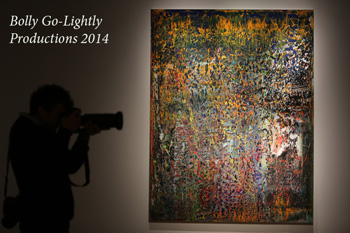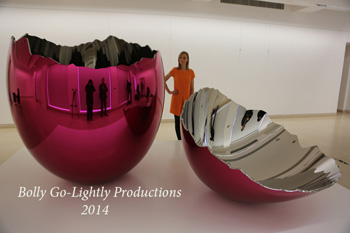 CHRISTIES POST WAR MODERN ART - King Street

Every so often an epic collection of famous work comes together for auction.
This was one of my favourites to photograph so far this year. Art lovers really miss a trick by not visiting high profile auction houses. The art shown is incredible and beautifully lit. Sadly, the nature of these auctions means that this may be the one and only time these lots are seen by the public before they go under the hammer to an extremely wealthy collector, not to be seen again for years. Not all works are sold to an individual, some are purchased by museums fortunate to possess a sinking fund for the odd piece that they feel is important to 'save for our heritage', or to complement/expand an existing collection.

My favourites were:
GERHARD RICHTER's 'Cage Grid II' ( sold for £78,875 ) and JEFF KOONS 'Cracked Egg' ( sold for £14,082,500 )
The DAMIEN HIRST 'Mickey' was sold for £902,500.
Expand your cultural mind and view some up and coming lots in our capital before they get a sold sticker on them.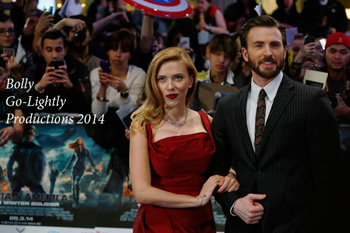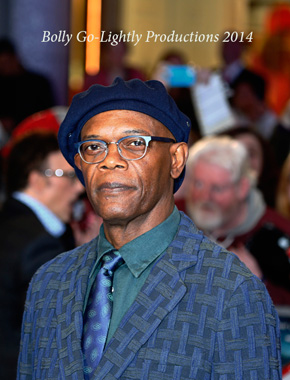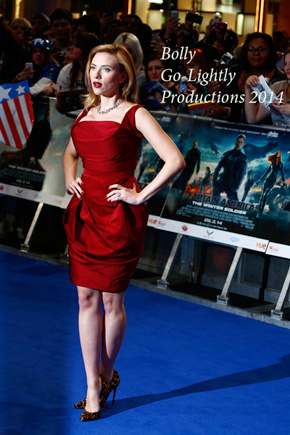 CAPTAIN AMERICA; THE WINTER SOLDIER - Westfield, White City

The Hollywood clout of The Marvel Comics continues to pull in the acting big names...and the spondus.

The latest celluloid outing is CAPTAIN AMERICA: THE WINTER SOLDIER. This robed crusader ( CHRIS EVANS ) with the ultra patriotic shield, joins up with fellow member of S.H.I.E.L.D, The Black Widow ( SCARLETT JOHANSSON ), and new friend, The Falcon ( SAMUEL.L.JACKSON ) to return to our big screens in this latest action packed, larger than life fight between good and evil, just in time for the Easter break.

This comic book hero was originally created in 1941 as a fictional character to help the Americans win WW2. Interestingly, his popularity waned until relatively recently, even though he was the first Marvel character in a film. Funny how epic battles have become popular again since CGI improved. Call me old fashioned, but I love the comics more as they are nostalgic, yet striking art forms. Original comics have an embedded value. They are highly collectible and many view them as a growing world to invest in.

Well, I am signing off now to snuggle up on the sofa to read my recently acquired complete replication of the Tintin comics by Belgian cartoonist Hergé. Not an investment for coining a future profit, but an indulgence of my spare time.
Until next time.

Take care