I have been doing readings for about 25 years. To find out more about me please visit my website www.victoriabullis.com. (You may also want to Google me - I've been involved in media for 22 years, and there is a lot of information available...)




• • • • • • • • • • • • • • • • • • • • •






My Hotgossip column is revamped!



I am now featuring four sections: Fashion includes fashion events, new trends, bargains and giveaways. Spas features unique treatments (and ingredients), products, tips and recommendations re world class spas. Royals of the World reports on the goings and comings of members of royal families around the globe, perspectives on royalty from readers who live in countries without royal families, and much more. Inspiration is taken from a wide variety of topics I work with both on radio and with my clients, meant to uplift the reader; information includes seasonal tips, how to create more happiness or peace of mind, prosperity and relationship-improving tips.




• • • • • • • • • • • • • • • • • • • • •









I have received so many emails from readers who loved the feature on young royals, that I am again focusing on them in this issue. As there are hundreds around the world it may very well not be the last time!



FRANCE--Louis Alphonse de Bourbon, Duke of Anjou; 38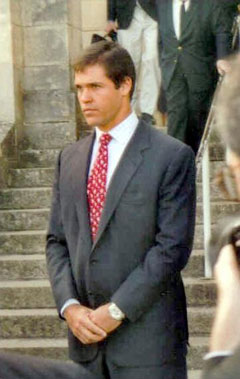 Head of the House of Bourbon, he is first cousin once removed from King Juan Carlos I of Spain. He also holds the title of Louis XX, King of France and Navarre




SERBIA--Princes Peter, twins Philip and Alexander; 33 and 31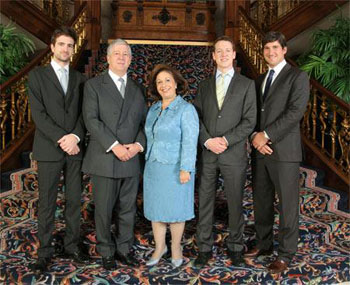 The princes were born in the US.




MONACO--Charlotte Casiraghi; 28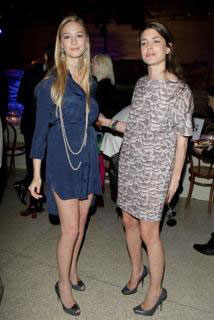 Fourth in line to the throne.




ENGLAND--Zara Phillips; 32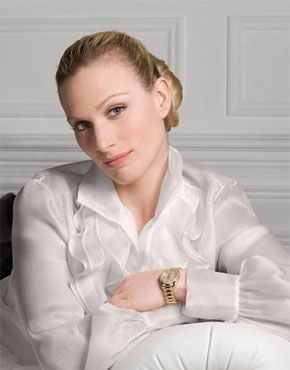 Twelfth in line to the throne.




SWEDEN--Princess Madeleine, Duchess of Halzingland and Gastrikland; 31



Third in line, she is the daughter of King Gustav and Queen Silvia.




BELGIUM--Prince Amadeo and Princesses Claire and Mathilde; 27, 29 and 30

JORDAN--Crown Prince Hussein Bin Al Abdulla and Princess Iman bint Al Hussein; 17 and 30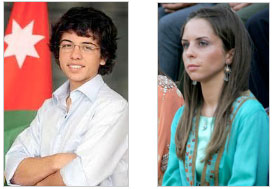 Crown Prince Hussein is heir to the throne.


Numerous readers have asked if there is any possibility of ever meeting any royals, and if so, how. In the UK and Europe it is easier than in most countries of the world to at least be around various royals as many perform public duties and open events such as charities.

Almost all royals have favoured charities; one avenue to begin to establish a way of eventually meeting a particular royal is to volunteer for his or her charity. The more one volunteers the more likely to receive some notice from the staff members of the charity.

Check out the websites of the various royals to locate their preferred charities. For example in the UK:

The Royal Family > The Princess Royal > Charities and patronages

In Sweden:
Queen Silvia of Sweden - Wikipedia, the free encyclopedia

In Monaco:
The Royal Correspondent | Category Archive | Monaco Princely Family




• • • • • • • • • • • • • • • • • • • • •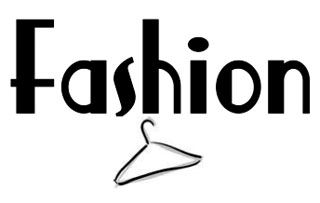 I was fortunate to be able to attend a gala event in West Hollywood recently that was organized by a friend of mine. The former JC Penney chain of stores has now morphed into 'JCP' and is in the process of becoming uber-chic.

This particular event was the launch of a new concept for the nearly 700 stores nationwide: a store-within-a-store. The evening showcased the Joe Fresh brand of chic-but-inexpensive garments already a major fashion statement in Canada.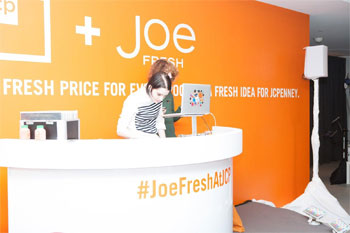 JCP created an amazing 'pop-up-store' on Melrose Avenue. Everything was first class--beginning with what happened on the street--from the way traffic for 2 blocks in any direction was rerouted to the sophisticated valet parking to major exterior event lighting to the red carpet (ALL of which were brilliant in creating the initial build-up, excitement and ambiance).

Once inside guests were greeted by plentiful wait persons serving both healthy juice-based drinks and continuous little fun hors d' oeuvres: for example, there were many variations on sliders--each type of which was approximately 1" across...! Easy to eat, no guilt calorie-wise. All had an orange theme (eg orange caviar on a tiny sushi); orange was the theme of the night.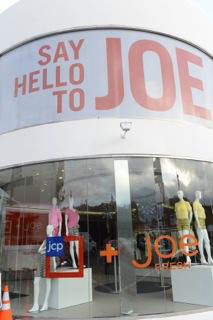 I was able to chat for some time with Joe Fresh himself. His name is actually Joe Mimran and he originates from Morocco. He had begun the clothing line Club Monaco a few decades ago (and sold it several years ago). He already had heard what I do as my career when I met him, and let me know immediately that he also is very intuitive--which I realized before I had met him! He is a warm, lovely, charming and genuine person: everyone who works with him cares a lot about him. I was able to chat with him about his family, story and so on for about twenty minutes.

The high energy of the event was incredible. My friend the organizer told me that at the last minute a decision was made to sell some garments there. As the clothes were being wheeled in people were pulling them off the hangers and trying them on over their clothes; there was nothing left on the racks of probably several hundred garments quite a while before the event was over. The clothing lines are all perky, colourful, inexpensive and chic. They include everything from tees to evening wear.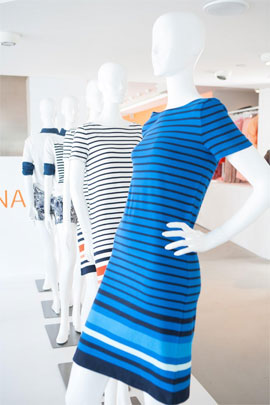 The pop-up store was exceptionally well done. Except for perhaps one done through Harvey Nichols Knightsbridge this was the most sophisticated I've been to. The circulation, high energy music (Bruce Willis' and Demi Moore's daughter Rumer was one of the dj's!), and savvy staff making sure everyone was enjoying himself/herself all just 'worked.' www.joefresh.com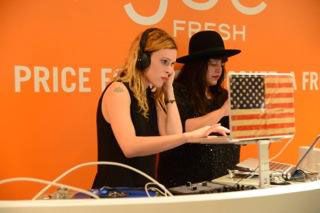 • • • • • • • • • • • • • • • • • • • • •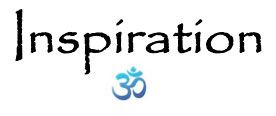 The inspiration-theme for this issue is to--lighten up and green-up!

Spring classically is the time to go through closets and basements and clear out old, no longer wanted clothes and other items that just hold us back: things hold energy, and anything you haven't used for months will have stale or stuck energy in it. Fabric, books and papers in particular. If you have ever been to the home of an elderly person who has kept knick knacks and other items in approximately the same place for many years you will no doubt smell something unpleasant even if he or she dusts and cleans. That is a physical chemical reaction to the energy held in the objects.

Virtually everyone recognizes how time has speeded up over the past few decades; discussing how far we are already into this year is one example. And everything is accelerating more and more. To hang on the clothes ,books, dishes, kitchen utensils and decorative items you have owned for several years in some way (ways!) will hold you back ever increasingly from what you are attempting to create, achieve or do.

I suggest that you take stock of what you have in each room and decide which things you do love and want to continue to use and keep. Make a plan to replace everything else: then, remove and discard as many times right then as you are able---both emotionally and practically. Literally take them out of your home, to be tossed or sent to a thrift store. Taking them out of physical structure of your premises actually begins a new process...





There are virtually unlimited laws of the Universe, most too subtle for one to grasp. Some though are commonly known, such as this very basic one 'The Universe abhors a void.' What this refers to is that as you create a void, or space, by removing sweaters from drawers, clothes from closets, pictures from walls, cooking items from cabinets and car-related products from garages you have created a new space: the more you remove, the lighter you will feel. The old, stale energy leaves with the items and new energy is created in their spaces. Part and parcel of that premise or principle is that by letting go of something that no longer serves you higher (or better) energies come in to fill the new 'void.' The energies will always help you with what you are working on achieving in life.

A classic example is someone waiting and waiting to hear about a job, a loan, a school entrance, court case resolution or the like; after clearing out 'baggage' energy from possessions used during the frustrating wait period, all of a sudden the long-awaited-and-held-out-in-abeyance desired result 'magically' takes place.

In addition there is a quality to Spring innate to us all: the need and desire to feel better and lighter after the heaviness and lack of sun during Winter. The concept of Spring Cleaning has gone on for centuries--simpler people in other centuries understood that somehow by cleaning and tossing, they would be able to feel better about life. In their own way they understood that basic underlying principle that to clear out will create a better life. The energies of Spring work hand in hand with the principle.

Spring is a great time to begin going green or to add to what you already do: it is easier to do with the days being longer and better weather. Doing this will enhance the feelings of well being that come with Springtime--we literally feel better emotionally when we are doing something to help the planet.




• • • • • • • • • • • • • • • • • • • • •