COVER STORY: GOODBYE TO MAGGIE, BRITAIN'S 'IRON LADY'.

Here in London we have just lost BARONESS THATCHER, our first and only female Prime Minister and the longest serving British PM of the 20th Century. She died from a stroke in the RITZ HOTEL where she had been living for the last few months but this did not stop well wishers showering the doorstep of her actual home in Belgravia with flowers, a la PRINCESS DIANA.

Love her or hate her, you could not ignore MARGARET THATCHER, She was a towering political figure and history will show that she was a great PM both in peace time and during the Falklands War. The Miners business was quite terrible - those poor people - but we must not forget that THATCHER helped our countrymen to aquire their own homes and changed the face of Great Britain. She was a true patriot and much admired and respected by the rest of the world although, in the end, her own team forced her out of office. 'Et Tu, Brute?' and all that.

I knew MARGARET slightly through my political connections and fund raising and always found her charming, courteous, solicitous and willing to listen to me - unusual for a powerful politician! May she Rest In Peace up there with her DENNIS and my sincere condolences to her daughter CAROL and son MARK.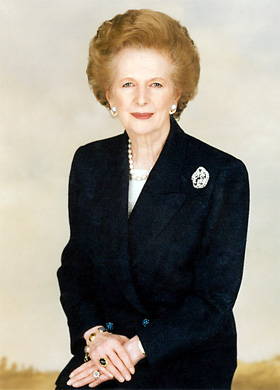 MARGARET THATCHER. cr. Chris Collins of the Margaret Thatcher Foundation




On a happier note, we hope you like the below fun and springlike pic of the fabulous and iconic HELEN MIRREN rocking a floaty white dress and pink hair at this year's BAFTA FILM AWARDS, snapped by our lovely BOLLY.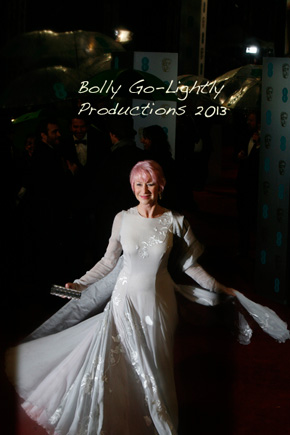 HELEN MIRREN. cr: BOLLY GOLIGHTLY.



My theatre buddy ADELE and I loved DAME HELEN in the recent West End production of THE AUDIENCE with EDWARD FOX and co and cannot wait to see her in something again 'real soon'. The upcoming film about legendary record producer PHIL SPECTOR who is currently serving time in the U.S. for tragically murdering pretty and innocent actress 'date' LANA CLARKSON (may she Rest In Peace) sounds interesting. MS MIRREN replaced BETTE MIDLER as MR SPECTOR's lady lawyer on this one after MS MIDLER pulled out of the highly controversial and tragic real life drama citing 'backache' (allegedly!)


On a personal note I am personally very proud to report that I have become a Patron of AGAINST BREAST CANCER, the wonderful charity we featured on our HG cover last month. Against Breast Cancer is a charity dedicated to funding ground breaking research to improve detection and increase survival after breast cancer diagnosis.
The ABC team including PAT LEATHEM, WENDY TAYLOR HILL and DR MIRIAM DWEK are all delightful and I have already started fund raising for the cause. Please do help if you can:
www.againstbreastcancer.org.uk

Other patrons include SIMON COWELL (whose mum JULIE, a dynamic cancer survivor, is President of ABC), BEN SHEPHARD and SUZANNE DANDO so I am going to have to pull my socks up!
Thank you to BAGS OF DREAMS designers STEVE AND DIANE and Burlesque Baby, FABIA CERRA, last month's HG Cover Girl for intoducing me to such a wonderful charity who have already given me lots of wonderful advice for my own 'helfffff'!


BEAUTY NEWS:

CLINIC NEWS:
Thank you for all your emails about ABSOLUTE AESTHETICS' exciting new PELLEVE treatment. PELLEVE tightens and freshens the skin by gently heating its deeper layers with radiowave technology causing your own collagen to contract, tighten and then produce new collagen. As it sounded so wonderful I trialled this one myself and have just had my second session with the fabulously fresh faced VICKI from AA. My skin is absolutely glowing - one more and the effect will last for 18 months!
Whilst at AA I also saw DR KULDEEP who, you may remember, saved me from the effects of a bad Botox job I misguidedly had 11 years ago! This time he saved me again with a wonderful treatment called LIP REFRESH by RESTYLANE which rehydrated my achey flakey lips after 8 months of suffering from chemo dryness. I had been drinking through straws, applying lipsalve several times a day and taking Lysine, as advised by my hospital but nothing had worked. I could not kiss my family or wear lipstick for work and I was desperate.But KULDEEP saved my poor sore mouth with LIP REFRESH - thanks, AA = my saviours!
ABSOLUTE AESTHETICS - GUILDFORD and HARLEY STREET.
01483 477 189
www.AbsoluteAesthetics.co.uk


BEST NEW SALON:
Hundreds of new salons open in our capital every season and my loyal triallers and I have schlepped round several of them for this issue. I am delighted to report that the best salon we have found is LA DURBIN BOUTIQUE - 339, Fulham Palace Road, SW6 6TD / 0203 302 3973 which just happens to be extremely close to moi so I think i will be making it my second home!
LA DURBIN is owned by the lovely and dynamic LATIFA DURBIN and is publicised by clever P.R. FIONA at PEACHY PR. The salon opened with a bang with a fab launch party awash with champagne, yummy nibbles, gorg celebs and a truly happy atmosphere.
LATIFA is herself a talented hairdresser who looks after all sorts of glorious barnets including that of my close friend and P.R., CHARLOTTE and she has a skilled team of hairdressers and beauticians on hand at the salon.
Not being slow to dive in with anything new and exciting, I have already had a relaxing massage, excellent pedicure and long lasting shellac manicure with talented LA DURBIN beautician LANA (LD stock a huge range of shellac colours which is really helpful, unlike many salons which just offer you five shades) and will be reporting on all LD's other fab treatments in future weeks.
The massage was brill - LANA has truly healing hands and got into all my achey painy bits after a skiing trip, as well as releasing all my stress.She mixed up a wonderful oil with mint and pepper to re-energise me after my long illness and treatments and I have felt wonderful ever since.
Apart from all the usual facials, massages and hair treatments, the spotless, comfortable and cosy salon also offers waxing, SIENNA spray tanning, IPL and laser hair removal.
I love my visits there - LATIFA is a great hostess and her other clients are all delightful - great conversation. Watch this space..........
www.ladurbinsalon.co.uk
Here's a pic from the Launch Party featuring LATIFA and MADE IN CHELSEA's gorg LUCY WATSON, just one of many LD 'sleb' clients.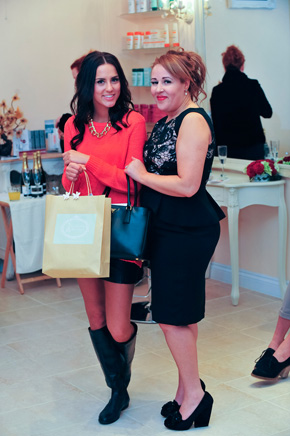 LATIFA and MADE IN CHELSEA's LUCY WATSON. cr: LOVE EXPOSED.




BEST MAKE UP:

Thanks for all your emails about my latest find, PER-FEKT BEAUTY. I am proud to report that the gorg RIHANNA also favours the line and used it for her recent ROLLING STONE cover shoot. Read on ........
'What's Rihanna's Body Secret?
Per-fekt Beauty Body Perfection Gel 'Exotic' £41.00
Front cover of Rolling Stone Magazine, makeup by Mylah Morales her trusted makeup artist, Rihanna's glowing skin and toned body was created for the shoot by Mylah using Per-fekt Beauty favorites Skin Perfection Gel £49.50 in 'Decadent' ( Rihanna's favourite colour) and Body Perfection Gel 'Exotic'. Body Perfection Gel is a silky smooth body perfector containing skin tightening, enhancing, glimmer, tanner all in one with HD results- 'its airbrushed skin in a bottle' says Per-fekt Beauty Founder Richard Anderson. '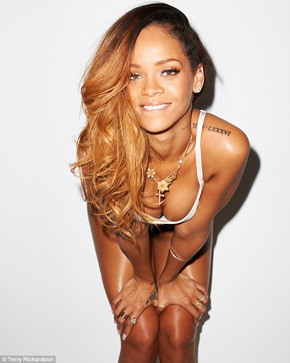 RIHANNA. cr: PER-FEKT BEAUTY.




KIM, KHLOE AND KOURTNEY KARDASHIAN's new beauty range, KHROMA lives up to expectations, beautifully packaged and super luxurious. The new range includes feathery fake lashes, soft eye crayons, sensibly sized eyeshadow brushes and sparkly eye shadows. The products all glide on beautifully and last for hours.
www.khromabeauty.eu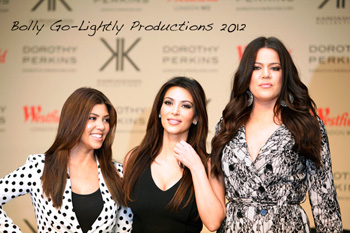 KIM, KHLOE AND KOURTNEY. cr: KHROMA.



My fave LIP GLOSS this season is SUPERDRY BEAUTY's sexy Shocking Pink Professional Lip Glaze which looks great either by itself or over any lipstick, lasts for ages and doesn't dry the lips like some glosses.
www.superdry.com


The BEST EYELINER I have ever, ever, ever found and which I never, never, never want to be without
is NEW CID COSMETICS' I-FLICK Double Ended Liner which has a liquid and brush one end for above the eyes and a soft pencil the other end for below the eyes and blending. This is quite simply the best addition to my make-up bag for yonks and makes it easy to create the popular 'le flick' in the twinkling of an eye, excuse the pun! Perfect for helping to create 'the smokey eye' too.
www.newcidcosmetics.com


The BEST PRIMER I have found is DERMOLOGICA's 'Age Smart' SKINPERFECT PRIMER with a high protection SPF of 30, so absolutely perfect for summer, should we ever get any here! I trialled this product on the ski slopes of VERBIER and found it perfect for protecting my skin from sun, snow and glare whilst making it look soft and dewy, thus detracting from the fact that I am now wearing a helmet for skiing and felt like a complete plonker! In fact this primer is so good that you can actually wear it without any make-up on top. Up to you, of course, if you want complete coverage.
Available from LA DURBIN SALON / www.ladurbinsalon.co.uk / 0203 302 3973



BEST SKINCARE PRODUCTS:
My special fave this month is purElogicol's new Anti-Gravity Regenerating Serum, a silky smooth serum which glides on effortlessly, leaves no sticky residue and plumped up my desperately dry, fifty something after-chemo facial skin in just weeks. Beautifully packaged in snowy white with gold, the purElogicol products make great gifts too.
www.purelogical.com / 01563 541 333.

My Senior Trialler GLORIA's fave this time around is STEM CELL BEAUTY INNOVATIONS UK's Stem Cell Eye Firming Cream which, she says, "has defo helped my under eye bags and dark shadows. Nothing else has up to now. I have been using the cream for a month."
Apparently the SCBIUK range includes sheep placenta but the sheep are not hurt in the process of gathering the magic potion. Devotees of the range include SIMON COWELL, DENISE RICHARDSON and KIM KARDASHIAN, all of whom look glowing, that's for sure.
www.stemcellbi.co.uk / 01423 567 822.



FAVOURITE FRAGRANCE
This month I am loving KORRES' 88.5% natural, alcohol free, paraben free PEONY (PAEONIA/VANILLA /AMBER PEAR) Eau de Toilette Spray - an exotic fruity scent which is particularly long lasting and reminds me of hot summers in The Greek Islands.....happy days!
I also like KORRES' Mandarin Lip Butter Stick with an SPF of 15 - ideal for holidays.
Available from JOHN BELL AND CROYDEN, 50-54, Wigmore Street, W.1.
www.johnbellcroyden.co.uk



BEST HEALTH PRODUCT:

I recently tried the new YOUKI - 'THE WOUND HEALER ' - SKIN REPAIR CREAM (scar cream) myself after my lumpectomy and 'lymphectomy' ops and found it absolutely amazing. My brilliant surgeon, the legendary MR GERALD GUI of THE ROYAL MARSDEN made the tiniest scars but nevertheless they had to be attended to. In just a matter of weeks the YOUKI had healed them completely so that they blend in with the skin and I am once again prancing about in backless, sideless dresses on the Red Carpet and cut away swimsuits in jacuzzis in VERBIER! Best scar cream ever.
www.skincareicon.com / CLINOGEN - 0845 225 29 09.



BEST HEALTH AND BEAUTY SUPPLEMENTS:

COLLAGEN SUPPLEMENTS:
Doctors will tell you that there is no proof that taking collagen internally will plump up your skin. However people who actually take it feel and look wonderful on it so you will have to make up your own minds, dear readers.
Personally I recently had my collagen levels read at JOHN BELL AND CROYDEN and discovered they are lower than a 70 year old's! So I am not now taking any chances!
My triallers and I have checked out half a dozen collagen supplements and these are our two faves:

PURLOGICAL COLLAGEN PEPTIDE SKIN SUPPLEMENT - quality, easy to swallow capsules from a very safe manufacturer.
www.purelogical.com / 01563 541 333

and
PURE GOLD COLLAGEN Liquid Collagen. Already very established, the liquid tastes ok and comes in handy sized bottles. www.gold-collagen.com and JOHN, BELL AND CROYDEN.

Taking collagen internally should also make your nails and hair grow - check it out. Forget those horrid injections - this is the way to go with collagen. All the skin, not just on the face but on the body too will feel softer and look plumper. Taking collagen internally obviously works better than just having it injected in certain places - and much less painful too!
Available from JOHN BELL AND CROYDEN and www.gold-collagen.com

Another excellent skinfood supplement is SKIN MARVEL With Ionic Zinc, also containing Magnesium. I have tried these pills myself and everything bloomed like mad - hair, lashes, brows, nails as well as skin. Defo a 'marvel'!
www.skinmarvel.com
One of SKIN MARVEL's biggest fans is gorg actress DEBBIE ARNOLD who is currently juggling starring in CORRIE with launching her new website, LOOKING GORGEOUS.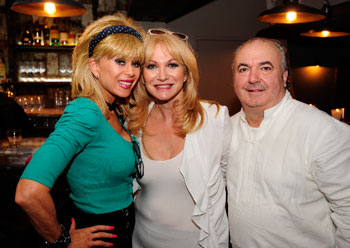 DEBBIE ARNOLD with SAL and her fave 'walker', GINO.





Talking of JOHN BELL AND CROYDEN, above, I had a brilliant WELEDA FOOT MASSAGE there at one of their Open Evenings organised by their lovely P.R., CATHERINE. Our feet work hard for us, supporting us all day - and sometimes all night! - and deserve regular pampering. I felt as if I was walking on air after my foot massage. WELEDA is a long established Swiss company who make lots of gorgeous natural products, including a wonderful range of Body Lotions - my fave is Wild Rose.
Available from JOHN BELL AND CROYDEN, 50-54, Wigmore Street, W.1.
www.johnbellcroyden.co.uk



FASHION NEWS:

BEST NEW JEWELLERY DESIGNER.
I recently discovered Danish designer CHARLOTTE BIEHL's fab collection after we met at THE INSPIRATION AWARDS FOR WOMEN. The generous CHARLOTTE gave her chic leather bracelets with cute and blingy 'Inspiration' pods on to all the presenters at the Awards, including INGRID TARRANT and myself and continues to donate 10% of the sales from her 'Inspiration' pod to BREAKTHROUGH BREAST CANCER.
Her modern and unique collection includes necklaces, bracelets, pods and earrings in loads of unusual designs.
www.bybiehl.com / Follow us here: http://blog.bybiehl.com | www.facebook.com/bybiehl | Twitter: @bybiehl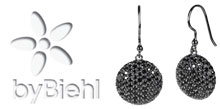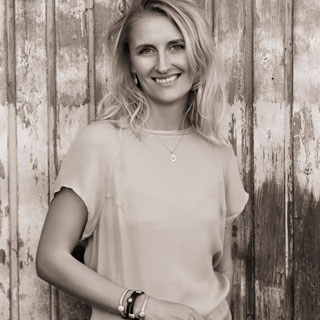 CHARLOTTE wearing some of her BY BIEHL pieces.



Londoners owning BY BIEHL pieces include Their Gorgeousnesses SIENNA MILLER and KATE MOSS.
Here's the beautiful SIENNA, film star extraordinaire and now mum to adorable baby MARLOWE and fiancee to talented actor TOM STURRIDGE who is currently working with ALEC BALDWIN in NYC.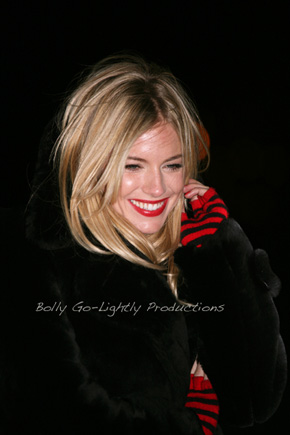 SIENNA MILLER by BOLLY GOLIGHTLY.



Now here's a close up of my current fave BY BIEHL cocktail ring which goes with absolutely everything and which I sported at the recent BAFTAS (more on this later). JADE is with me and our pretty evening handbags are by BAGS OF DREAMS, btw.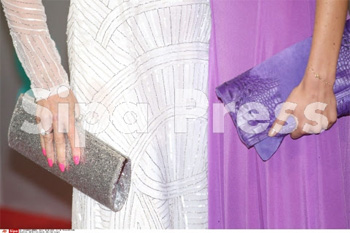 SAL / BAFTAS / CU of BY BIEHL cocktail ring. cr: SIPA PRESS.





CONGRATS!!

To our very own JADE who was on the cover of THE SUNDAY EXPRESS 'S' MAGAZINE last month with a four page fashion spread inside. JADE started her lucrative career as a Cover Girl in 1998 when she graced the cover of HOT GOSSIP, aged 6! She was chosen for the cover by my predecessor, the legendary GEORGINA BRUNI who founded this magazine in 1996 (yes, HG is catching up to JADE in age now!) In those days JADE was represented by NORRIE CARR - now she is with PROFILE MODEL MANAGEMENT.
Here's the 'S' mag pic: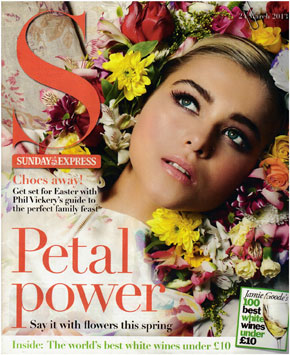 JADE /COVER /'S' MAGAZINE.



To the above mentioned and fabulous SIENNA MILLER for her BAFTA TV BEST ACTRESS nomination for THE GIRL, in which she played the beautiful, fragile and bullied TIPPI HEDREN to perfection. Also to THE GIRL's TOBY JONES and IMELDA STAUNTON, nominated for playing the ogre HITCHCOCK and his wife ALMA.


To talented and fresh faced OSCAR winner JENNIFER LAWRENCE on going back to her roots = brunette. Blondes may have more fun but 'sleb' hairdresser STEVEN SMITH says "you shouldn't go more than 3 shades away from your real shade if you want to look natural." and JENNIFER is nothing if not a natural beauty.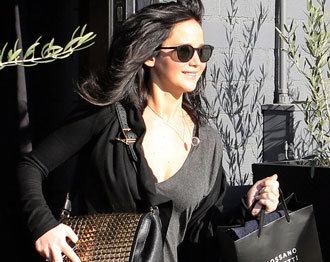 JENNIFER LAWRENCE.




To another talented young face - hair and beauty guru LATIFA DURBIN's son YOUSSEF BEROUAIN who recently did a stint in the iconic EAST ENDERS, playing 'TAYO'. Check him out, this boy has talent and looks and will Go Far. You read it here first.....................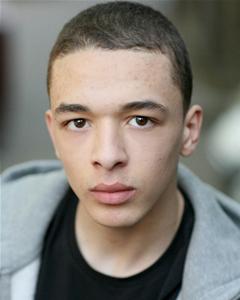 YOUSSEF BEROUAIN. cr: BRANDON BISHOP.




To fashion designer extraordinaire PARVEEN whose new shop in KNIGHTSBRIDGE is just gorgeous and stufffed to the gills with beautiful day and evening wear and accessories.
PARVEEN COUTURE, 2 Yeomans Row, Knightsbridge,SW3 2AL / 020 7584 7702 / www.parveencouture.co.uk /

[email protected]



Here's a pic of the new shop taken at Christmas time when it opened: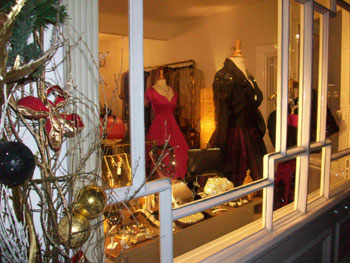 PARVEEN'S new shop




To my fave stage 'hubby', the divine JESS CONRAD, who was recently honoured to become King Rat of the Grand Order of Water Rats, taking over from JOE PASQUALE. JESS'S 'Prince Rat is RICK WAKEMAN.


To amazing artist DAVID BEGBIE who writes 'I am delighted that the Visitor's Choice Prize from the Cork Street Open Exhibition in January went to 'MANOMANOMAN' - my triple male composition in steelmesh. Many thanks to all visitors and to curator Kathryn Roberts!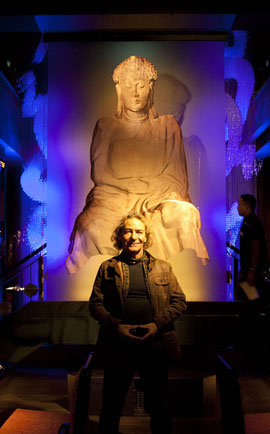 DAVID in front of his stunning BUDDHA at trendy new watering hole, BUDDHABAR on Knightsbridge.



To 'the man with the magic hands', NEIL GEVISSER, masseur to the stars who is building up quite a stable here in London after moving here from HOLLYWOOD. Here's NEIL with 2 of his fans from his LALA LAND days, BRUCE AND DEMI.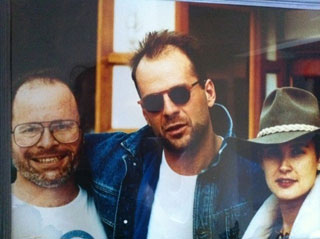 NEIL with DEMI MOORE AND BRUCE WILLIS.




READERS' REQUESTS:

For this issue I am answering CINDY from Maida Vale in London's request to find a good BEAUTY SALON in her area. We trawled the area, CINDY and tried several and this is the best one we came up with:

VILLAGE OF BEAUTY Day Spa, 55 Elgin Avenue, Maida Vale, W9 3PP / 0207 286 66 56 / www.villageofbeauty.com

My good friend, fashion guru VIVIEN KING-LAWLESS and I checked out VILLAGE OF BEAUTY ourselves and were very impressed with the cleanliness, soft lighting and friendly staff, especially the lovely owner KAMILLA . I had a fab Spray Tan while VIV had a Mani and Pedi which she loved and said lasted for ages without chipping. The tan, sprayed on by KAMILLA herself, was excellent, even and streakfree and it also lasted for ages, gradually fading naturally without any splodging or having to exfoliate. It was also exactly the right colour, very light and subtle and totally undetectable and smell-free! Here it is in all its glory under a white dress (the greatest test for a good fake tan) at THE BAFTA FILM AWARDS (see more of these in BOLLY's column when you leave this one). It actually was snowing as we walked up the Red Carpet and no, my golden tan did not come off!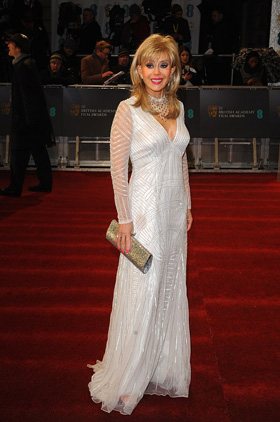 SAL / BAFTA FILM AWARDS 13 / MEDICI dress and VILLAGE OF BEAUTY tan.



The absolutely stunning white dress, btw, is by GILL HARVEY at MEDICI and made me feel like a fragile mediaeval princess (who - moi??!!) Cut on the bias it draped beautifully and was light as a feather to wear but the sleeves gave a bit of warmth on that frigid evening when other Red Carpeters were shivering and the divine EDDIE REDMAYNE immediately behind us was sick as a dog, the poor chap! www.medicigroup.com


JADE'S PICK: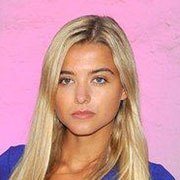 JADE HG Headshot.



JADE'S RESTAURANT OF THE MONTH: Our 'Fashion Foodie', young model JADE has been very busy with LFW shows and various shoots recently (see above) but she kindly found time to visit some of the best London restaurants on HG's behalf and here's her PICK OF THE MONTH for this issue:

LE CHINOIS RESTAURANT AND BAR, MILLENNIUM KNIGHTSBRIDGE HOTEL, SLOANE STREET, SW1. / 020 7201 6330 /

[email protected]



Le Chinois is based in the heart of Sloane Street in the gorgeous Millennium Hotel Knightsbridge.

If you are looking for traditional Cantonese cuisine in a friendly but upmarket atmosphere, this is the place to come. My guest and I started our experience with the Dim Sum Platter which included dumplings, vegetable spring rolls and prawn toast. The prawn and chive dumplings were very well made: soft yet crunchy with plenty of flavour. The dishes were beautifully presented and the accompanying sauces had just the right amount of heat to balance out the flavours. We also enjoyed Crispy Soft Shell Crab tossed in salt and pepper, always a favourite of mine. I would highly recommend both of these appetisers to begin the Le Chinois experience. For the shellfish main we opted for Stir Fried Scallops and Prawns with button mushrooms and the steamed Sea Bass with ginger and spring onions as the fish dish. The fish was our absolute favourite dish of the evening, as it was very well cooked and seasoned perfectly. The Stir Fried Rice dish was very moorish and I personally could have eaten even more of it! We were also served a generous portion of the Singapore Fried Noodles and some lovely Len Hon vegetables. To cleanse the palate we then enjoyed the Sago and Mango with chilled mango puree - a typical Chinese dessert, it was the perfect way to finish our delicious meal there.
We accompanied the meal with a charming LO ZOCOLAIO SUCULE 2008 Red Wine, which might not be everybody's choice with a predominantly pescatarian dinner but is so much healthier than white wine and both my guest and I agreed that it actually went rather well. We will return!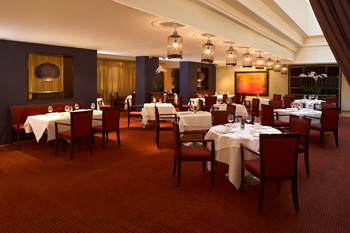 LE CHINOIS.





OBITUARY:
Goodbye to brilliant stage and screen star RICHARD GRIFFITHS.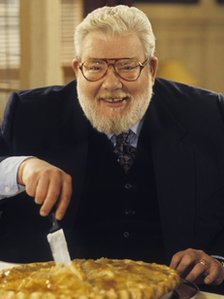 He died at the age of 65 after complications following heart surgery. Richard was best known on film for playing Vernon Dursley in the Harry Potter films and Uncle Monty in Withnail and I and on stage his most acclaimed performance was as the charismatic teacher Hector in Alan Bennett's The History Boys. His TV roles included a cookery-loving detective in Pie in the Sky, as seen in our pic, above. A wonderful character actor, he will be sorely missed but will live on through his great screen performances. May he Rest In Peace.



Thank you for reading my column.

Please write to me at:

[email protected]



and check out my other websites:

www.sallyfarmiloe.com

www.kazzyandsally.tv