Now that cruises and "winter sun" hols have become so popular and reasonable, it is imperative to have a fantastic beach and cruise wear wardrobe all year round. The best and most beautiful bikinis and swimmies I have seen on my trawls round all the shows and collections recently are by TOQUE TROPICAL FOR SHAHENA (from discerning stores / www.shahenabeachcouture.com / 07950 702 398) a hot new range from Brazil where the beaches are bigger and the bikinis smaller! The TTFS range comprises beautiful sarongs and cover ups as well as bikinis and one pieces, all hand painted and hand embroidered with beautiful beads. The colours are stunning and the swimwear is very well cut to make our bods and legs look their best: just the job for lounging around on glamorous yachts and tropical beaches. What's more, the garments are washable, do not fade in the sun, sea or chlorine and the beads do not fall off, unlike some swimwear ranges I could mention! Naturally I had to check this out for myself so here I am frolicking in the Turkish ocean in a divine TTFS bikini which, although tiny, stayed in place perfectly during water skiing, para sailing and other water sports.


SALLY in TOQUE TROPICAL FOR SHAHENA black bikini. c.r.: KAT LAMBERT.



The TTFS collection has certainly been making waves (excuse the pun, beach babies!) since launching in the UK earlier this year. TTFS bikinis were featured in the JODIE KIDD "60 YEARS OF THE BIKINI" TV show recently and were included in the female artistes' goody bags at this year's MOBO Awards at the ROYAL ALBERT HALL, where HGUK cover girl BEYONCE won 3 awards and one of this column's favourites JUNE SARPONG was the hit of the after party in a stunning full length VALENTINO dress along with stunning full length hair which she told me she "grew overnight"! (Ring popular celeb "hair extender" GILLE at: 07710 258 658 if you too fancy some gorgeous and instant flowing locks.) Dynamic entrepreneur MICHAEL WATSON kindly escorted me to the MOBOS along with SHAHENA herself, OPI nail technicians to the MOBOS / BAFTAS etc, MARICELA and SHARMAINE and OPI suprema JOANNE and it was a fab night.

Btw do not worry if your tan is not as glam as your bikini: real tans are bad for us and faking it is easier than ever. KAMOUFLAGE COSMETICS' JUNGLE BRONZE Self Tanning Spray is the best and easiest to use fake tan spray I have found this year. It spritzes on super fast with no rubbing in, develops quickly into a glorious golden tan and does not smell which is a huge plus on the romantic front! If you want an even faster light "bronzage" try KAMOUFLAGE COSMETICS' JUNGLE BRONZE Bronzing Skin Gloss, a light - textured, water and sweat resistant cream which gives a shimmery, sparkly golden glow and can be used by itself or to top up the Spray tan (or indeed to enhance a real tan as it fades.) Both products are fab and the Gloss smells absolutely divine, reminding one of exotic rum punches on white Caribbean beaches. Available from Fenwick's' stores, salons and pharmacies nationwide.

If you prefer only a slightly tinted look, especially in the winter months, try my all time fave tinted moisturiser, DR DENESE's Defense Day Cream which has a 30 SPF (you never know when that naughty, skin - ageing sun may strike!) and is supremely nourishing, as per all the superb DR DENESE range (www.drdenese.co.uk).

If you think your figure is not quite up to bikini standard, even with a flattering golden tan, you can always cheat it under normal clothes. PLAYTEX SECRETS "Beauty Enhancers" are an amazing range comprising a Bottom Shaper, Tummy Slimmer and Thigh and Tummy Slimmer. The garments look tiny but they are very stretchy and come in all sizes. Even if you are a size 10 the Bottom Shaper will do just that, the Tummy Slimmer is perfect for flattening the stomach, especially after a big meal (or so!) so that you can wear those tight LBDs and the Thigh and Tummy Slimmer works wonders under trousers and jeans. Thanks, PLAYTEX!
Available from all the usual PLAYTEX underwear stockists.

Of course if you want a naturally perfect bod there is nothing better than exercise but don't overdo it in the gym or on the tennis court. If, like me, you are a serious fitness fan make sure you have regular sports massages to look after your hard working muscles. The best sports masseur I have found is TERRY KINGSCOTE, CS Phys (The Surgery, 7 Stanhope Mews West, South Kensington, SW7 5RB / 020 7835 0400) whom I have been visiting regularly for 20 years. TERRY also specialises in de stressing massage, which we all need in this modern day and age.

The best exercise for every part of the body is still good old swimming, particularly if you do have any injuries so get down to the local baths whenever you can. If, like me, you live in West London, I can highly recommend HOLMES PLACE / FULHAM POOLS (Normand Park, Lillie Road, S.W.6 / 020 7471 0450) where there are 3 pools and the water is warm. HP / FP's pools and tennis courts are open to the public and the club part of the complex also offers fab gyms, saunas, a restaurant and various fitness and beauty treatments.

My fave make – up product this month is BARE ESCENTUELS' Mood Lips, a brill new idea on the lippy front. The Mood Lips palette is very small and neat and contains 5 different pearly colours with a lip brush which you can put on over your basic lipstick to transform and liven up your mouth as the mood takes you. The shades are all pearlised and can be used alone for a natural sheer shine. I particularly favour Turquoise Pearl which makes the lips look really shimmery when worn over any basic colour. Stockists: 0870 850 6655. Now you too can have lips as shiny and pouty as DESPERATE HOUSEWIVES / THE SENTINEL superstar, sexy EVA LANGORIA.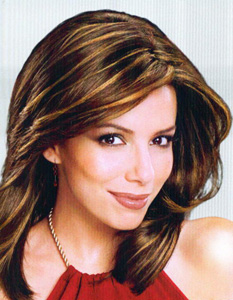 EVA LANGORIA. C.R.: L'OREAL.



Talking of the lovely Ms. LANGORIA, whose L'OREAL ad.s (above) are so captivating, reminds me that our hair should be our crowning glory. Last month I checked out By Royal Appointment hairdressers, VARIATIONS HAIR AND BEAUTY who have recently moved from the olde worlde atmosphere of FORTNUMS to new and exciting premises at 44 George Street, W.1. (020 7486 7383.) The new premises, owned by the dynamic NEIL and Artistic Director PATRICK are large, light and airy with great parking nearby, a boon for us busy socialites! I spent a delightful afternoon having my tresses artfully highlighted and put up by the brill PATRICK who is a favourite stylist on all the big mag shoots and was even treated to a nice glass of bubbly: such service! What's more, I discovered some truly amazing new hair products that VHB are now stocking, called BUMBLE AND BUMBLE, just over from the U.S. and P.R.d by a gorg gal called NICOLE. BUMBLE AND BUMBLE is a great name and the packaging is superb: these prod.s look really attractive on your dressing table. Plus they really work. PATRICK used the B AND B Gentle shampoo, Deeep (sic) treatment, Super Rich conditioner, Tonic Lotion, Thickening Spray and Classic Hairspray on my newly sun kissed hair and it looked and felt amazing . At home I use the B AND B spray - on Tonic Lotion which is excellent for detangling and "grooming" long hair followed by the Thickening Spray which is self explanatory. Great stuff: you can order the prods from: 020 7486 7383. NEIL told me that VHB are still just as busy on the beauty front as they were at FORTNUMS and that their famous GENIE COMPLETE rejuvenating treatments beloved of our very own CAMILLA, DUCHESS OF CORNWALL are more popular than ever. Something is certainly working for CAMILLA as she still looks just as glowing as she did at THE ROYAL WEDDING and here she is again, lest we forget, with hubby PRINCE CHARLES (or "His Royal Gorgeousness", as new book THE PALACE DIARIES describes him!) on that happy day.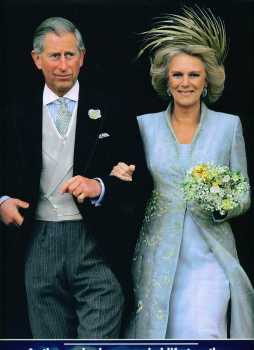 HRH PRINCE CHARLES AND THE DUCHESS OF CORNWALL. C.R.: THE TIMES.



Thank you for your e-mails re this year's MISS ELEGANCE BEAUTY PAGEANT which I co-judged and reviewed last month. MISS ELEGANCE is a beauty contest with a difference as it is for ladies aged 35 plus who can be any size and do not have to pose in swimsuits. The contest is organised by the redoubtable PATSY WHITE, was held in Rotterdam this year and will be in Monaco next year = watch this space. Here at last and as promised is a pic of the 3 lovely winners, MISS ELEGANCE herself MAIJA (centre), Runner Up VERONICA (left) and 3rd Placed ISABELLA (right.)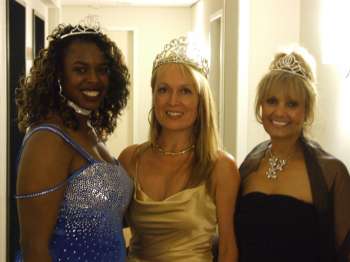 MISS ELEGANCE 2006 CONTEST winners: L to R: VERONICA, MAIJA, ISABELLA. C.R.: OMER KOKOU – TEHRI.



The media is always banging on about how wonderful ladies in their fifties are these days: "50s are the new 30s", "fab at 50", "women are so well maintained and look so young" and so on and so forth. But what about guys? Gentlemen, too, may start to worry about themselves as they approach retirement age and maybe start to slow down on the squash court, become forgetful, go grey, lose their hair, develop a paunch, etc. Help is at hand now with the publication of the first (to my knowledge) self – help book for men of a certain age (i.e. 50 plus), SILVER WOLF by PETER CARVELL (DELANCEY PRESS, £9.99.) This excellent paperback is sub – titled "the guide to the third act of your life" and "a book to make all your dreams come true." The author PETER CARVELL is a silver haired (of course!), super bright writer, journalist, former publisher and UN consultant and SILVER WOLF is fun, informative and easy to read. MR CARVELL touches on all the subjects that worry the more mature man, from hair dyes to pension plans, from sexual performance and how you can improve it to cosmetic surgery and looking younger than you are. I loved it and will certainly be buying it for birthdays and Christmases for all my various husbands, lovers and male friends of a certain age. A really useful new book and not before time as guys are now becoming just as interested as we ladies in looking, feeling and generally being their best as they get older. Get it together for your "third act", boys and you will be on course for a fourth and fifth one!

The publishers and publicists of SILVER WOLF recently conducted a survey to see which men in the public eye are the "Top 10 Silver Wolves" and here they are, ladies and gents:


RICHARD GERE
PIERCE BROSNAN
RICHARD BRANSON
DAVID BOWIE
TOM HANKS
JON SNOW
JEREMY PAXMAN
BRYAN FERRY
BILL NIGHY
FLAVIO BRIATORE.

I can certainly second the survey's findings, especially as I mentioned the top 2, RICHARD GERE and PIERCE BROSNAN as being 2 of the most attractive guys in the world in this column just last year. This SILVER WOLF book will be massive, you betcha!

Talking of gorg mature guys, VOCALION / DECCA have just brought out an excellent new singles compilation CD, JESS FOR YOU, featuring my lovely "silver wolf " friend JESS CONRAD. Wow! They don't record songs like that any more. My fave JESS tracks are "Walk Away" and "An Angel Cries" but they are all great. Again a great pressy and this one is for ladies and gents of all ages. JESS FOR YOU: VOCALION CDLK 4326. Now heeeeeeeeeeeeeeere's JESS: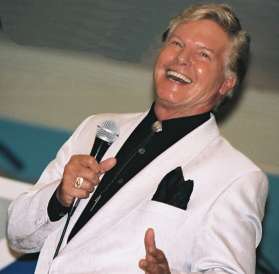 JESS CONRAD. C.R.: VOCALION.



Still on the guy front (because I have discovered that so many of you, dear readers, are of the male variety!) I have to report that male grooming is huge nowadays. A bar of soap and some shaving foam are just not enough any more. For instance BRONNLEY, the By Royal Appointment "makers of the best soaps in the world" now include After Shave Balm, Bath Relaxant, Eau de Toilette and Hair and Body Wash in their (excellent) men's range and have beefed up their male soaps. Our HGUK guinea pig MAX says he really enjoys the BRONNLEY Bath Relaxant and that his girlfriend likes the macho smell of the BRONNLEY Men's Soap. Available at independent chemists and department stores nationwide.

Finally if you are not a guy, here is a new chick-lit with a twist book for you from THE BOOK GUILD: THE ROUGH AND THE SMOOTH by MO BARKER (£16.99). This is a really quick girlie read, set in the fashion and social scene and will take your mind off your troubles (should you have any after your regular swims and de stressing massages!)

Thank you for reading my page. Do write to me at:


[email protected]


Check out my personal website at:
www.sallyfarmiloe.com
and acquire my best selling book and vid (below) by the truck load!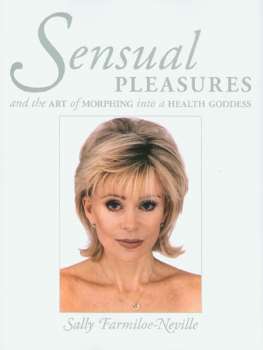 SENSUAL PLEASURES AND THE ART OF MORPHING INTO A HEALTH GODDESS (£16.99) is available from the following outlets:

Delancey Press -

[email protected]

or 0845 4589911
ISBN: 0780953911998

LOO TIME VIDEO available from:

[email protected] and:

http://www.121music.com/pages/video_01/home.html