Champs Elysée then India
"The logic about India is that it is totally illogical"

Cockroach Hotel
Paris is fantastic, and recently I treated myself to a stay at the 4 star Claridge Hotel on the Champs Elysée, but I was shocked to find an unwelcome guest in my room after returning from an idyllic night out. The security quickly removed the retched thing! I even saw him carry it out in a white plastic bag. I decided to have a bath to relax me and just as I was getting into bed I spotted yet another - this time by the side of the bed. This was too much and I asked if I could change rooms. Alas the hotel was full and I was almost ready to sleep in reception, but instead I had a rotten night tossing and turning picturing more unwanted guests in my room. The next day nobody was available to deal with my complaint and I was told to contact the agency I had booked through. I have since been back to the Hotel to try and speak to the general manager, but again he was too busy to see me. The agency said it was the responsibility of the hotel, so I have had a real run-a-round with no time to pursue it. I noticed a restaurant in the UK was recently fined £60,000 for an infestation of cockroaches, so it is a very serious matter. What a shame this elegant hotel has such shoddy service.

Miss Jacuzzi visits India

It took just a week in India to slow the pace of life down to an almost stand still. No phone calls, e-mail's, TV or even a book to read in the exotic Kashmir.
I only had 7 days to visit India, where I learned that, without my usual technology toys, time went very slowly, so much for me complaining that time was rushing by. I had no idea that I filled my days with everything except actually 'thinking'. I was travelling with my friend a well-known European Countess, Peni Kangas, which was an experience in itself! 'a week in the life of a Countess' can be very expensive when you are sharing the expenses.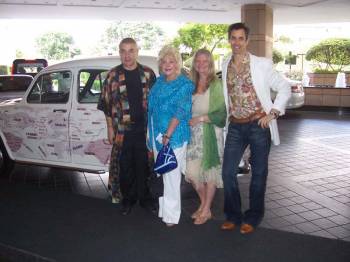 Car designer Sandy, Countess Peni Kangas, Valerie Austin and friend of Sandy in Deli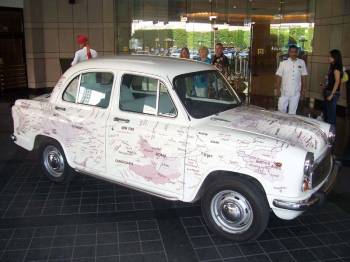 THE famous Car



It began in Paris being whisked through the airport in style by a security guard and not having to stand in the long queues, even for the security checks. The last time I had this experience was with Tony Curtis in my Hollywood days. It really makes you feel like a million dollars! After the 8-hour flight we were met at Delhi airport by an extremely well-known designer, Sandy, in his incredible specially designed car. He adores India and commutes between Delhi and New York. He told me, "The logic about India is that it is totally illogical. It's a fantasy and a challenge to do business here, but it is the only country I know that you can still do things by hand without restrictions and get people to work".

The week was filled with exotic experiences such as sitting at the feet of a respected Guru, albeit painfully crossed legged on the floor for several hours in total silence, watching up to three hundred people kissing his feet. We did have a break after three hours when I stiffly hobbled outside to where everyone congregated for a chat. Amongst those I met was Maneka Gandhi, a politician and author, amongst other things. She was incredibly interesting with views that turned my head around. The house where we stayed was a gift from a follower. One of the ladies that attended had said to the Guru she couldn't conceive, he said she would, she did and for a token of her gratitude she gave him a very large temple.

Then I had the treat that my girlfriend had promised - an 'Ayurveda' massage with no less than five masseurs. One poured medicinal oil on your head while the other 4 went to work on your body. You laid on a special wooden cot and languish in a two hour massage - quite wild!

Next was a flight to Kashmir. I was a little worried because I had heard it had been dangerous, but I trusted my hosts. We stayed in a Kashmir home in Srinagar where I had an insight into what it was like to live in one of the most rarely travelled to areas in India. I couldn't help but notice the army presence everywhere, but it just seemed like part of everyday life for the locals. When it came to the return flight, we were body searched no less than three times.

Srinagar is situated on beautiful lake Dal which is abuzz with life and is known for its extraordinary houseboats. The houseboat and Shikara communities are unique - they have lived there for centuries and their infrastructure is so good that they never need to step on land. Doctors, tailors and bakers can all be seen in their tiny wooden shops on the lake. The houseboats (now small guest houses) are beautiful and quite luxurious but sadly lacking in visitors. It was quite an eye opener for me who likes the luxury and Jacuzzi type life. I found that I had to seriously adjust my priorities.

I was taken to what was claimed to be "the highest cable car in the world." The cable car climbed slowly over pine-clad slopes and the top was an incredible 14,000 ft. It was so high that a couple of us had to have oxygen which was distributed by a doctor permanently based there for emergencies.

Later I was taken to the Srinagar town and with some local guidance, I bought some beautiful Kashmir shawls and then we returned to Delhi via Paris and then home. It was a whirlwind trip but what an enlightening experience. However I now appreciate my technology toys much more.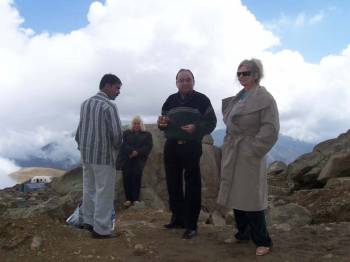 Valerie Austin, Countess Peni Kangas and guides on top of mountain



Later I was taken to the Srinagar town and with some local guidance, I bought some beautiful Kashmir shawls and then we returned to Delhi via Paris and then home. It was a whirlwind trip but what an enlightening experience. However I now appreciate my technology toys much more.

WWF "Not looking to put the chemical industries out of business just to get them to clean up their act."

Now on a serious note, the World Wildlife Fund (WWF) issued a strong warning that normal foods that contain chemicals other than pesticides are entering the food chain via pollution in the air and water. When it rains, it brings down a cancer causing chemical cocktail that settles on the soil where cows graze and plants grow.

The European parliament is due to vote later this year on a bill to reduce the use of potentially hazardous chemicals and the WWF are looking for support. In a research they conducted, they found a range of chemicals in all the 27 food products they tested and even more alarming was that the chemicals were found in the blood of everyone they had tested over a five-year period. Normal 'healthy' foods such as bread, butter, honey and eggs were contaminated. "It is the long term effect of consuming so many chemicals," said Elizabeth Sutton-Green who I interviewed is spokes person for the World Wildlife Fund. "It's global contamination so it really doesn't matter if you are eating organic or non-organic." She explained that this was not to do with pesticides but toxic chemicals that are factory discharges into the air and "when it rains they fall onto the ground and the cows or animals eat them whether they are organic or not."

These chemicals are used in everyday products such as food packaging and saucepans and flame retardants and are now widely dispersed in the atmosphere and soil. They have been linked to breast cancer, brain damage, liver damage, diabetes and reduced fertility.

Elizabeth was very passionate on breakfast TV saying "We are not looking to put the chemical industries out of business, just to get them to clean up their act." I have already made a start by using natural pods instead of detergent. There is no soap and these little pods get your cloths as clean as any soap and at half the price. There are also companies out there where you can buy everything chemical free, from cleaning materials to cosmetics-and they deliver. Maybe it would be a good idea to seriously look into this and show how the consumer can fight back.

Here is a list of the dangerous chemicals found in the food and their uses:.
Pest control (organochlorines), Coolants and lubricants (Polychlorinated Biphenyls), Furniture and carpets (Brominated Flame Retardants), Plastics, toiletries and cosmetics (Phthalates), Detergents (Alkylphenols), Packaging and non-stick coating (Perfluorinated Chemicals), Wood Preservatives (Organotins).

THE SILENT KILLER
Killing more women than breast cancer.

I interviewed Angela Rippon who is publicising a 'free' new workout tape to exercise the lungs for COPD. Chronic Obstructive Pulomany Disease. They are looking to create awareness that although it is incurable, it is treatable. Many patients go wrongly diagnosed and she wants to urge people to ask their doctor to check for COPD if they are feeling tired and having difficulty breathing. Mainly smokers, but even passive smokers are victims - again it is a global condition where pollution can be a contributor. The airways have become so badly damaged that the air cannot flow through properly it can become so bad that the person cannot walk very far without getting breathless drastically affecting their quality of life. This specially designed set of exercises can make all the difference you can be got from it the doctor free. These exercises may also help the asthma sufferers. Check with website for more information. http://www.lunguk.org/downloads/Lung_Report_III_WEB.pdf (last accessed 15.08.06).
Jamie Oliver's healthy food for school dinners has been creating a rebellion with a few mothers who called it "overpriced low fat rubbish" and apparently took orders for the class to deliver them junk food. I wonder if the mothers would be so keen if the non-organic food was called 'chemical food' and knew that was the reason it was so cheap causing long-term damage to children's health.
The Times newspaper recently featured a very good article on organic food and how it was considered chic in the Knightsbridge set to serve organic food at their parties and social events. However, the downside was that it stated that there was no research to show that organic food was any more healthy. I think a little common sense is needed here. You just need to look at the facts and notice the increase in the number of obese people to see the effects of the food tampering with hormones, addictives and pesticides. I was talking to a nurse on one of my courses and she said that she used to see only a few diabetic cases a year it is now a few a week.
Tips: Organic Milk: It has been reported that organic milk is no healthier than normal milk. I found that organic milk lasted for a longer period of time - weeks rather than days and wondered why. I found that non-homogenised milk was the best. Homogenised milk is when the fat globules have been broken down so the fat won't come to the top. However, these fat globules are then more likely to lodge in the arteries than if they are in their original larger shape. The only reason for homogenised milk really seems to be that you don't have to shake it. Prince Charles' range of milk under the Duchy brand from his farm is the only one I can find that is non-homogenised. It's probably the safest milk in the world and he won't be messing with his cows. Since the nutrient levels in our food have fallen by up to 75% over the past 60 years please do try to eat as much 'real' food as possible and give your body a chance. Have you checked if you have a pesticide pouch?

Until next month, Valerie




Eds Note: VALERIE AUSTIN is an author of six successful self-help books including SELF HYPNOSIS (Thorsons), journalist and trainer with an international reputation in the field of hypnosis. Her best-selling books and training help people achieve their full potential. She founded the Austin Corporate Stress Management Company focusing on reducing stress and anxiety amongst executives and CEO's. She is also founder of UKRAH (1992) The UK Register of Advanced Hypnotherapy. Valerie has also worked as a consultant in hypnosis at the Priory Hospital, the UK's equivalent to The Betty Ford Clinic, which specialises in food addiction and alcohol abuse. Her work in the film industry (Hollywood) interviewing movers and shakers, producing TV news segments and publishing celebrity magazines in London gave her invaluable experience for her current Harley Street practice.