COVER STORY: This month's cover boy is our very own Prince Harry, taken recently playing Polo. His mother would be proud of him. Thanks to our celebrity photographer JOE ALVAREZ for this super image.


LETTER FROM THE EDITOR

Apart from some valuable health tips and a raunchy photo of naked scientists, this month's SPOTLIGHT column is mostly about OPULENCE and GLAMOUR.

HOT PICS: Here are my favourite images this month.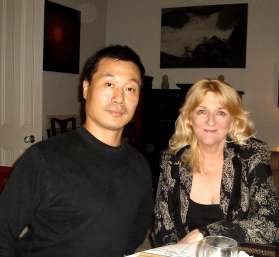 MASTER KEN CHOW & GEORGINA BRUNI



This is me with MASTER KEN CHOW taken at a farewell dinner party in London given by his friend and pupil Anna. Ken, who is a master of Tai Chi, is moving to Hong Kong, where he has recently been featured in newspapers and christened the new BRUCE LEE. He admits that though he's fit and knows the sport, he carries a different kind of message. Whereas Lee was aggressive, Ken teaches peace and tranquillity. Hong Kong is lucky to be gaining such a dear soul. I shall miss him very much.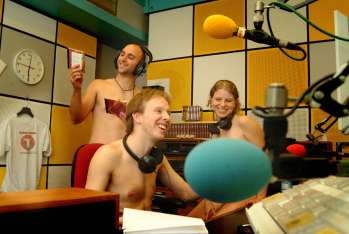 THE NAKED SCIENTISTS copyright Perry Hastings



Who is the naked scientist? Well, if you don't already know, that's a question that's about to be answered right here on Hot Gossip! The naked scientist is non-other than DR CHRIS SMITH, a medical doctor and lecturer, and a Fellow of Queen's College Cambridge. Chris has just written an amazing book called NAKED SCIENCE, which is selling like hot cakes, so to speak! So get your copy now and see why! The book answers all those questions you always wanted to ask. The answers come from scientific research all over the world. It is rich in subject matter, variety and facts – some serious, others light-hearted. The book is quirky, fun, but also informative and educational. It would make a super gift for anyone who interested in science – or isn't. Chris has is own radio show with the BBC and also his own website www.nakedscientist.com where you can buy the book - or contact his publisher direct at

[email protected]

. Chris is also a popular guest on radio and television and I know you will be seeing and hearing lots more about this very talented scientist. And here's an image of Chris and his naked friends. Whatever do these scientists get up to! Whoever said they are boring – it's just not true!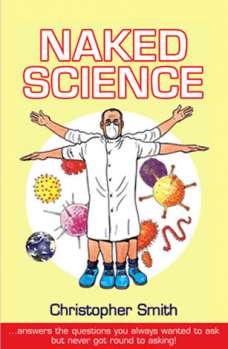 NAKED SCIENCE – THE BOOK



Think SHEER OPULENCE, a glossy book by Nicholas Haslam, who was once my favourite British interior designer until I checked out his website recently, which is rather dull...Nicholas if you're reading this, whatever happened to all the 'opulence'? I used to go window shopping at his shop in Holbein Place, London, which I remember was a real inspiration. I do hope he hasn't given up the opulence for good, I mean he was the one who dared to do it before it really caught on, and today it's so trendy, and we love all those outrageous chandeliers, especially the black and coloured ones. My deputy editor SALLY FARMILOE-NEVILLE has the most gorgeous shocking pink long silk taffeta curtains at her windows, tied back with huge matching bows. I am still hoping she will change her décor one day and sell them to me. Another of our editors who's into opulence is VALERIE AUSTIN, whose fabulous yacht FLAMANT ROSE http://www.flamantrose.com has a very opulent boudoir, which was originally the love nest of singer EDITH PIAF.

Some of the most opulent interiors – and of course clothes - were to be found in the big BIBA store in Kensington, London, which was the most incredible store on the planet! It was a sad day when it went out of business in 1975. The BIBA empire, created by the very talented BARBARA HULANICKI more than three decades ago, has recently been re-launched, I'm not sure by who, but in my opinion the clothes are rather expensive and the styles seem ...well dated....and the magic is not just not there.

But BARBARA HULANICKI has re-created herself several times and is now a successful interior designer. www.barbarahulanickidesign.com

EDITORS BOOK CHOICE:

I was thrilled to learn that two amazing glossy books on BIBA, published by ANTIQUES COLLECTORS CLUB, are now on sale, and I have to say these are the most stunning books I've had the pleasure to read this year!

THE BIBA EXPERIENCE is an elegant black coffee table book which features an abundance of beautiful images of all that was BIBA, with a superb collection of images by Pari, who has been collecting BIBA since the 80's and is the proud owner of 350 pieces of clothing, merchandising and memorabilia. This lavishly illustrated and beautifully produced book is by ALWYN W TURNER, a writer renowned for his works on popular culture of the Sixties and Seventies. The book tells the reader about the rise and fall of the house of Biba and how Bibaphiles dealt with the loss once the store was no more. In great detail it covers the rich, albeit short history, of this never to be forgotten label. The Biba store had so much to offer! It was, according to some, 'like walking into a friend's bedroom, embraced not merely by clothes, but make-up, décor, furniture, food, pet-food, soap powder and more'. If you loved BIBA you will love this book, it is truly a collectors item to cherish for years to come and one you will never tire of reading.

THE BIBA EXPERIENCE: Published by ANTIQUES COLLECTORS CLUB, £35.00 http://www.antique-acc.com

And WELCOME TO BIG BIBA, INSIDE THE MOST BEAUTIFUL STORE IN THE WORLD, is another new super glossy mouth watering experience by ALWYN W TURNER and STEVEN THOMAS, with a foreword by BARBARA HULANICKI. The Sunday Times called BIBA 'the most beautiful store in the world'. This elegantly presented book evokes the glamour, opulence, humour and fantasy of the store and the audacious style that could turn a shop girl into a Hollywood star. It is dedicated to the BIBA empire, exploring in great detail its fashions and architecture, featuring images and text about its opulent interiors and graphics. There are over 150 glorious images, many that have never been published before. A book to love and cherish and add to your collection. A masterpiece! The best book of the year! Styled by Steven Thomas, the designer of Big Biba itself, with text by Alwyn W Turner, author of The Biba Experience.

WELCOME TO BIG BIBA, INSIDE THE MOST BEAUTIFUL STORE IN THE WORLD Published by ANTIQUES COLLECTORS CLUB, £19.95 http://www.antique-acc.com

Another superb book to read this month is SEDUCTION, A Celebration of Sensual Style. This is a really glamorous and opulent book which has become part of my coffee table collection (books that are beautiful to look at). It is wonderfully presented with features and images of all those historical and more modern femme fatales and sirens. Here you can learn all about the art of seduction and sensual behaviour, and how fashion is used to allure, and well designed boudoirs are used as settings for seduction. One could learn a thing or two! What I like about these kind of books are the beautiful images, in this case both vintage and new have been used to tell the story of how seduction techniques have developed throughout the ages (see image below). A wonderful gift for that special friend – or for yourself!

SEDUCTION, A Celebration of Sensual Style by CAROLINE COX published by MICHELL BEAZLEY available at http://www.mitchell-beazley.co.uk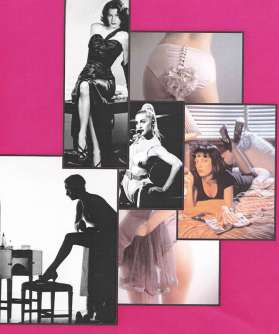 SEDUCTION by CAROLINE COX



HOT PRODUCTS:
I can't resist reporting on yet more glamorous and opulent polishes by LENA WHITE. Her OPI designs in nail polishes are truly amazing, and I adore them and always feel like a princess when wearing them! For OPI's 25th anniversary there is a selection of divine shades and styles to choose from. I love the strong reds and the glitzy sparklers which remind me of fifties Hollywood. Well done Lena for creating such glamorous treats! I won't leave home without wearing my OPI polish! Available in elegant salons nationwide, for details of stockists visit www.lenawhite.co.uk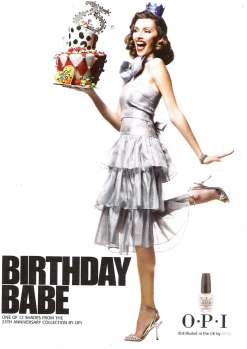 OPI's 25th Anniversary Princess



Whilst on the subject of beauty, I would like to recommend an excellent product for the woman who prefers (like me) to take her beauty treatments at home. The UNIVERSAL PERSONAL SPA BODY CONTOUR KIT for Cellulite, Firming, Shaping & Inch Loss is a really worthwhile purchase and will make you look and feel a million dollars. The pack contains 2 12oz tubs of Sea Clay, formulated into a creamy body masque, 6 high quality cotton elasticated bandages (washable and re-usable) plus a bath scrunchie. This kit will provide you with between 4 and 6 treatments on a local area of your body. Most commonly used on the stomach, thighs, buttocks, upper arms. Full instructions are provided within. Cost is just £49.99; a fraction of the salon cost which I hear can be as much as £150 a session! Treat yourself why don't you! I felt very refreshed and thinner after my session www.24salon.com and now I aim to use it often. It also makes a delightful gift for the girl who has everything. And perfect for brides who want to have that extra trimness on the special day!

HEALTHY TIPS:

We as a nation are becoming more and more struck with ill heath and I am pleased we recently hired VALERIE AUSTIN to write about healthy living and what foods to eat and what not to eat. One of the major problems affecting our lives these days is arthritis, but now we are beginning to understand Glucosamine Sulphate, a substance that is naturally made in the body from a sugar (Glucose) and an amino acid. But are we getting enough! There are an estimated 8 million arthritis sufferers in the UK alone and 200 different types of arthritis. OSTEX is an amazing product by Goldshield which my mother has been trying and she feels there is an improvement, which is good news as she's only been taking them a few weeks. She has very bad arthritis so anything that can help is good news. You can order this product from http://www.goldshield.co.uk or contact

[email protected]

for fact sheets.

A really interesting book - if you understand medical terms - which I admit I don't, but found fascinating just the same, and I recommend it for anybody who is keen to study arthritis, is NUTITION & ARTHRITIS by MARGARET RAYMAN & ALISON CALLAGHAN, which is an in-depth study into the disease. I have learnt quite a bit about arthritis and especially how to help prevent it, or help sufferers. This book features medical research taken from worldwide sources and one of the interesting points I have truly understood is the need for fish oil in our diet! I have since bought a giant jar of capsules and take them everyday. It pays to read! I can't praise this book enough; it is worth investing in. £39.99 to learn so much about nutrition and arthritis.

NUTITION & ARTHRITIS: Blackwell Publishing http://www.blackwellpublishing.com

Until next month...
Georgina Bruni
Editor in Chief


[email protected]