THE GOLDEN HOOF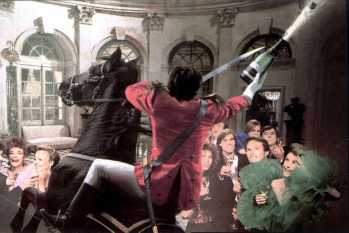 SABRAGE ON HORSEBACK



The golden bubbles filling the air with a miraculous haze! What a wonderful
way to promote 'RACING AT GOODWOOD' and other Courses. Perhaps a Horse named
THE GOLDEN HOOF; the Jockey would sabrage the bottle to a resounding chorus
of cheers. I would back it TO WIN!

CAVIAR AFFICIANDOS

Are your supplies, for one reason or another, dwindling? A wonderful
alternative are eggs from Dover Sole and Plaice. Known as Roe, my Dover
Sole the other lunchtime had a wide seam of Roe. Roe is seasonal, the female
fish becoming fertile in the Spring. If your Fish has no Roe, it is because
it's masculine. So check with the Chef, this could cause consternation in
the kitchen, as to its sex.

HAVE SOME MADEIRA m'dear

But don't fall into the barrel and drown, as did the Duke of Clarence, but
it was a rich, high scented Malmsey. Better keep to a Dry Sercial at OLD
BLANDYS WINE LODGE in FUNCHAL.

MADEIRA REGENCY PALACE, near Funchal.

I stayed at this 5 Star Hotel built on a spectacular cliff top location with
breath taking views of the Atlantic Ocean. Refreshing Swimming Pools and
comfortable lounge chairs encouraged me to do nothing but wait for the next
meal.

BREAKFAST was healthy, lots of fresh fruit, nicely cut and presented; I
dressed it with cornflakes and yoghurt. Followed by a typical British Eggs
and Bacon number.

The 3-course LUNCH was waitress served on the slender Terrace overlooking
Palm Trees and tropical Plants.

Madeira, European and Oriental Buffet Dinners represented the Evenings
Gourmet Experience.

I did not expect to wait on myself at a 5* Hotel. I was up and down to the
Buffet like a yoyo to the musical adagio of scraping chairs on uncarpeted
floor boards. Far from luxurious and very exhausting.

As the Hotel is also Holiday Time Share, I did not have a luxurious Suite,
but on entering my allotted accommodation, a highly sophisticated kitchen
with a range of metallic gadgets met my stupefied gaze (a far cry from
Champagne cooling in an ice bucket).

I expect perfection and luxury from Hotels with an upgraded 5* rating. I
shall be choosey in future.

ASIAN FESTIVAL

The MANGO TREE hosted the Asian Festival at their charming Restaurant,
across the road from Buckingham Palace.

Mouth watering canapés and tastes of Asian Cuisine circulated around the
guests, who could also enjoy a Thai Foot Massage. Half way through the
evening a highly entertaining Show was performed by Dancers, Acrobats,
Boxers and Magicians. My favourite was the dramatically humorous Dragon
Dance from China.

I will tell you more about this lovely Restaurant in my next issue of HOT
GOSSIP.

HAPPY BUBBLES
JOAN THE SLENDER GOURMET - Eat it On - Exercise it Off.