LETTER FROM THE EDITOR

If I had a magic wand and could wipe out three TV thingies this summer, and let's be honest we all like a bit of TV in between social hopping, the first on my list would that dreaded ding a dong ring a ling frog, yeah you got it, the one that comes screaming on your TV screen every few minutes….it must be on every commercial slot on every channel because no amount of channel hopping can free the soul from this most irritating monster. It's so bad that THIS MORNING TV did a people vote and learnt that 60% of the population were being driven mad by it; and horror of all horrors...it has made number one in the charts! It's no wonder that much of our youth are raving mad, arrogant and disturbed when youth culture is brainwashed with such nightmarish rapping. Thank goodness for the BBC and sanity! A great programme you must watch is the documentary DEEP SOUL, History of Black Music on BB2 every Saturday night. That's what I call intelligent music... and whilst on the subject of the BBC, here's my thumbs up to all the employees... good on you to go out and strike for your colleagues who are to be fired in their thousands…Somebody should fire that nasty newcomer of a so-called boss, I imagine that his salary alone could easily accommodate a fair number of respected employees!

Second on my no-no list is that awful REBECCA LOOS. What a nightmare she is! Whilst she's sunning herself on some beach in Fiji on yet another of these dreadful reality TV shows, you know the ones that promise fifteen minutes of fame and notoriety, does she have any idea that the media are sending her up! She's not very attractive, has a nose like a boxer and the former nanny of 'real celebrity' VICTORIA BECKHAM, will only ever be known for allegedly having a sexual fling with DAVID BECKHAM and selling the story to the tabloid press, followed by giving a live pig an orgasm (that's my polite way of putting it) on a TV reality show. Really! Would anyone in their right mind want to be famous for that sort of thing! Yet that type of tabloid TV seems to be creeping in on every channel these days, and they like to use insecure people because they will do almost anything for attention it seems. The latest was a show featuring two porno stars (stars?!$?!) and I wondered why entertainer LIONEL BLAIR would stoop so low as to be on a reality show with such people! I don't think he did himself any favours. His ratings may have severely dropped but not that you'd notice ... until now! Regards Ms LOOS, what must her parents be thinking? What an embarrassment for them! And they seem such nice people.

Third is that unbelievably boring BIG BROTHER reality show. Oh please, don't they know that we are no longer interested, it's so terrible that it's not even worth discussing it here... except to beg that it be the last... Will TV bosses please give us some intelligent programmes for I fear we are breeding a nation of morons!

On a much more positive note I would like to say how much I enjoyed a recent invitation to a function designed to introduce us Brits to a gorgeous region of France. The event took place in London and I trotted off with PR girl CHARLOTTE ELLIS to sample the delights of French food & wine, and came back absolutely in love with French cheese, and several pounds heavier in weight! I had never thought much about goat's cheese, but my goody bag had some delicious samples and the wine was fabulous! So suddenly I am in love with France and especially the region that made it all possible.... you must visit their website www.poitou-charentes-vacances.com to find out more about POITOU CHARENTES. And if you are in the area do visit one of the wonderful cheese shops and say hello to the lovely simpatico PHILIPPE MASSE, La Roche Elie, 79120 Messe. And don't forget that this is COUVOISIER country!

Last month we had to sadly say goodbye to Bulgarian Ambassador H.E. VALENTIN DOBREV who has truly been wonderful to know, and we shall miss him very much, but wish him all the best for his next post wherever it may be. VALENTIN gave a farewell party at the embassy for friends and colleagues. Guests included entertainer FAITH BROWN and KYRIL SAXE-COBURG son of the former Bulgarian monarch.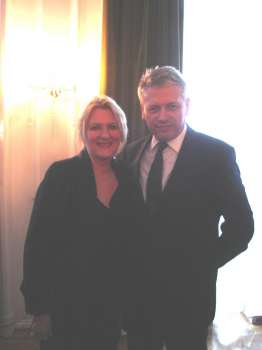 H.E VALENTIN DOBREV & GEORGINA BRUNI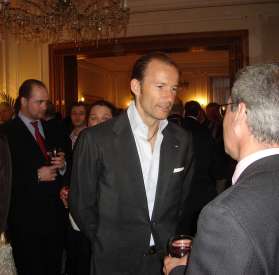 PRINCE KYRIL SAXE-COBURG



Hot pick for shopping this month is this gorgeous bag that I snapped at a party at the ST JAMES'S CLUB, PICCADILLY. Unfortunately I don't know the lady's name but I loved her bag which can be purchased at BUTLER & WILSON, CHELSEA for a little as £35.00, I'm told.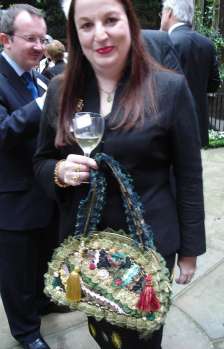 GORGEOUS HANDBAG



Have a wonderful June and let's hope the weather teams are right when they predict a heat wave!

Until next month

Georgina Bruni
Editor in-chief


AND NOW A MESSAGE FROM EASTENDERS

EASTENDERS is a NO FRILLS Cash & Carry situated in easy reach of both the Channel Tunnel exit and the Ferry terminals, retailing wine, beer and spirits in the range of budget wines and spirits for everyday drinking thro' to those for the 'Price no Object' afficinado.

Created by Dave West who, in 1989 began his preparation to establish a commanding presence in what was to be a new market resulting from the enactment of the Single Market Treaty. His NO FRILLS approach, allied to the retail philosophy of STACK HIGH AND SELL IT CHEAP is central to the company's culture and has ensured that the store has achieved the objective set in 1989, that of a commanding presence.

Today's store is probably the largest independently owned retail outlet of its type in the world, offering wines, beers and spirits from all major countries, and as a result of the quality of the products allied to their retail price, it enjoys an enviable degree of customers.

In addition to the outlet in Calais, EastEnders also has a retail outlet on the Franco-Belgium border retailing tobacco products, same emphasis on keeping the cost down, and is in easy reach of Calais.

Tel. Direct: +33 321 34 81 87
Fax Direct: +33 321 34 81 70

visit our website: www.eastenders-calais.com