This month dear readers I have been busy covering the 58th Cannes film festival in the South of France, amongst other events. This gargantuan marathon of picture taking I have done just for you! Yes, the parties, beautiful girls and champagne always helps but I just felt I had to tell you about the second largest film festival in the world – arguably - after the Oscars.

This year, as in the previous years the red carpet places have been given to us by order of pot luck. The French organisers - I'm sure they're French farmers - favour the French photographers, and thus to get a front row spot can be very difficult. We were not allowed to use any step ladders to help us gain a better vantage point - as we normally do at home in blighty - so if you are not in the front row you are stuffed and resign yourself to just doing head shots. Well, I had a cunning plan. I bought a folding stool to raise me up enough to be able to shoot the full length pics we all need to take for fashion reasons et al. My colleagues warned me that I would be thrown out if caught with the offending item. Bollocks! I thought. I had to give it a try. It worked. I was able to get the pics I needed despite the PR's telling me to step off the stool. I had to argue with them and then ignore them as I had no choice.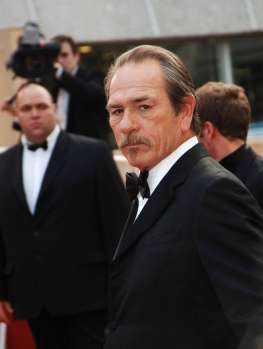 TOMMY LE JONES Palmes D'or Winner for Best Actor



In the end, the biggest premiere was Star Wars, followed by Sin City. Though Star Wars had the full cast and the various white helmeted guard things all over the red carpet, Sin City had more stars so hardly a war in the end. Sin City directed by ROBERT RODRIGUEZ and FRANK MILLER had almost the full cast present including: MICKEY ROURKE,-whose face has melted as it looks like he has had plastic surgery with a blow torch- JESSICA ALBA, BRITTANY MURPHY, BENICIO DEL TORO, CLIVE OWEN though sadly no BRUCE WILLIS. I went to the Star Wars party which was nice, but not great as the MUMM champagne dear readers was NOT COLD! eauuuugh!. Champers has to be cold. OK there must have been 1000 bottles of the stuff there and not easy to keep cold, but that's THEIR problem. The food was OK, though not great, and the Sushi was so so. I must admit that drinking warm champers had put me in a bad mood even though it was free. What a waste.

Worst party was NAOMI CAMPBELL's as it was a pain in the bum to get in and I must've waited fifteen minutes or so. How degrading. I got in quicker than most as my gorgeous friend and model JERRI BYRNE speeded up the process with her contacts at the party. To our horror and dismay it was a PAY bar!!!! No free drinks! Needless to say we stayed there less time than it took to get in. I was in Cannes for the whole two weeks doing all the official red carpet stuff though I did manage to have five models/TV presenters - including JERRI BYRNE- flown out for a photocall on the beach to promote their TV show. The Girls were flown out just for one day - apart from JERRI who decided to stay for a few more days with moi- which I thought was a bit mean as they were not able to enjoy the full day properly. Other stars I photographed included SHARON STONE, - there to promote Basic Instinct 2 what else - PENELOPE CRUZ, LIZA MINELLI, - what's left of her -PARIS HILTON, SALMA HAYEK, JOELY RICHARDSON, KID ROCK etc.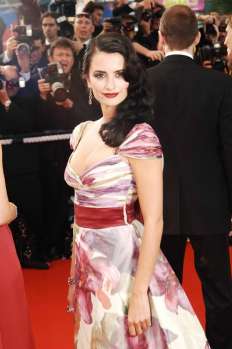 PENELOPE CRUZ in Cannes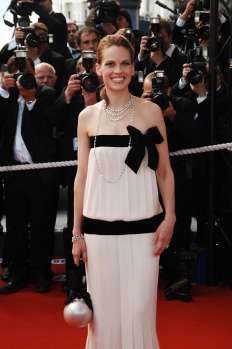 HILARY SWANK Cannes Film Festival



On the Sunday of the final week I went to Monaco to see if I could see anything of the Grand Prix. I had a stroke of luck as I met up with Jerri again and was given a free ticket - worth 420 Euros- for the Grand Prix by one of Jerri's wealthy friends. Nice. Can't wait for next year.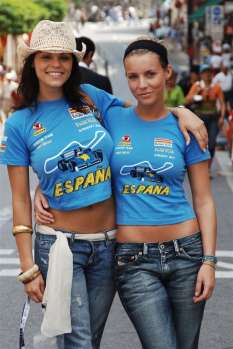 JERRI BYRNE & JENNIFER YOUNG at Monaco Grand Prix



Over and out, see ya next month.

JOE ALVAREZ
Copyright Joe Alvarez 2005.
All pics copyright Joe Alvarez.


[email protected]