Christmas and New Year are times to spoil yourself and make sure you are looking your best. As you know, dear readers, I am a great fan of the facial and believe we should all have regular facials at least once a month. I recently tried the amazing Power Regeneration Facial at the fab TYRONE salon in Porchester Place, W2 (020 7723 4843) and my skin felt marvellous for the whole month. The lovely HOLLY gave me my facial using DERMOLOGICA products which are excellent, especially their Intensive Moisture Balance and Skin Renewal Booster. HOLLY 's touch is firm but gentle and I was deeply relaxed as one should be with a good facial. You can have all the usual hair and beauty treatments at TYRONE and HOLLY herself gives a mean Brazilian!


If your skin is in deep trouble and needs more than just a facial, do not despair. At last there is a treatment which really does get rid of even the most virulent acne: the N-LITE laser was originally developed to assist in skin rejuvenation and the prevention of wrinkles but was found to be wonderfully effective for treating acne. Our 'guinea pig" KATHRYN has been treated with the N-LITE laser by knowledgeable therapist PAULA HOLT-SMITH at the SKIN HEALTH SPA in Wigmore Street, W1 (020 7935 3366) and her skin s already looking much better after just a couple of months. The whole course lasts 4 months and involves using SHS's own predominantly vitamin based product range which is excellent. Full report in our Feb issue but we are quietly confident that this is the acne breakthrough we have been waiting for.

Don't be embarassed if you get the occasional zit, everybody does, even the beauteous CAMERON DIAZ and look at her now! (Her new film IN HER SHOES, with TONI COLETTE and SHIRLEY MACLAINE is excellent by the way, funny and moving and likely to be BAFTA nominated.)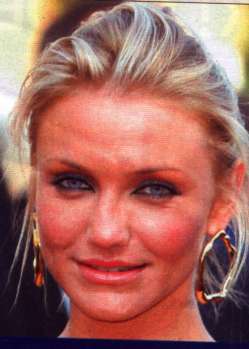 CAMERON DIAZ.



Apart from skincare and acne, my biggest post bag is about cellulite, that dreadful, mainly female, condition which affects so many of us in today's world of stress, sedentary lifestyles, fast foods and preservatives. Help is also at hand here in the form of a miraculous new treatment called VELO SMOOTH which you can book at Wimpole Aesthetics, the brill new clinic in, surprise surprise, Wimpole Street, W1 (020 7224 2247). The treatment is completely painless (hooray!) and works by combining gentle light and radio frequency energies with mechanical rollers and vacuum suction to manipulate the superficial fat tissue layer that contributes to the dreaded 'orange peel" effect. The heat from the light and RF energies increases the metabolism of this fatty layer and shrinks the size of the fat cells. The rollers and suction act on the blood vessels to increase circulation to the local area as well as massaging the skin to achieve a smoother, less dimpled surface appearance. The treatment also makes you lose inches in your cellulite areas which has got to be simply the best news!

Our tester IRINA lost several inches from her bum, thighs and knees and reported vastly improved skin texture. Even one very skinny lady lost half an inch off each knee when she did not think she had any to lose. You will need about 12 treatments over a 6 week period so nip off to WIMPOLE AESTHETICS pronto if you want to improve your cellulite zones (which can include tums and upper arms so check yourself out carefully before starting treatment: the VELA SMOOTH machine has an extra small head to deal with arms and knees.)

Hair is an important consideration for parties all year round, not to mention a new look for 2006. You simply must try the STUART PHILLIPS Experience at celeb crimper STUART's gorg unisex state of the art salon in Monmouth Street, WC2 (020 7379 5304.) Your hair wash will include a 15 minute head and neck massage on a recliner; I had a delightful chap called HERO doing mine and it was utterly blissful. STUART himself is an ace cutter and stylist and his top colourist is KAREN ANNE who is also excellent at 'up do.s", a sophisticated look for parties, premieres et al. KAREN ANNE did my highlights for me and whipped my hair into a frothy chignon so that I looked more like IVANA than IVANA, dahlink!
The debonair STUART is famous for his wonderful work behind the scenes at the BAFTAs and coiffs all the CORONATION STREET ladies. His lovely wife TABITHA also works at the salon and is muse to the divine LOUIS MARIETTE, hatter extraordinaire and friend of this column.

The delightful STUART has kindly agreed to offer a 12% DISCOUNT to all HGUK readers throughout December and January. So what are you waiting for? Book up now!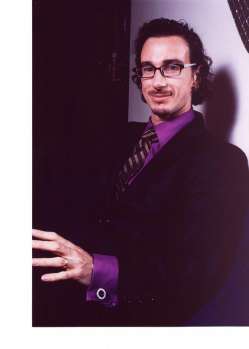 STUART PHILLIPS.



You may have read the review of MONOCHROME BODY AND SOUL, a great new day spa just off King's road, SW3 (020 76026253) in our esteemed Ed in Chief GEORGINA's column last month. MONOCHROME, owned by gorgeous HGUK cover girl EVA LEWIS and featured in my new book SENSUAL PLEASURES (see the bottom of the page) is also a beautiful salon where you can have all sorts of wonderful hair and beauty treatments including some breaths of pure oxygen = pure exhilaration! Check it out.

If you are looking for new and exciting presents for beauty lovers, there are lots of great ones around. I particularly like:

SKIN DOCTORS' new PowerBrasion, a complete home micro dermabrasion kit which you can use 'in the comfort of your own home". Now you don't have to go to a clinic for expensive microdermabrasion treatments, you can do it safely at home and look fresh and glowing all year round, not just at Christmas. (available from larger BOOTS and department stores.)

CARMEN's (Ceramic) Colour and Style hair extension unit consisting of not just a set of different curling tongs but also some cool coloured extensions so that you can really change your look this season! Great for curls of all sizes, easy to use and a fab presy for young girls. (Also available from larger BOOTS and department stores.)

ID BARE ESCENTUALS Blendable Eye Collection: eye shadows in camouflage colours which are really silky, easy to apply and blend and give your eyes a soft blush of colour without going o.t.t. Again ideal for young girls or ladies who favour the natural look. (Ring 020 7631 5180 for stockists.)

Once you are looking fab, laydeeeez, you will need somewhere new and exciting to visit of an evening. For Londoners, or visitors to our thriving metropolis, I reccommend the VOLT bar and restaurant at 12 Hobart Place, Belgravia, just a stone's throw from BUCK HOUSE! The opening was terrific with all sorts of stars of the night sparkling away including gorg ALISON BELL, the LBC cutie who was kind enough to interview me about my new health and beauty book, SENSUAL PLEASURES (scroll down for full details!), tall dark and handsome warbler DARIUS and frisky REBECCA LOOS who is a fine figure of a gal as you can see here.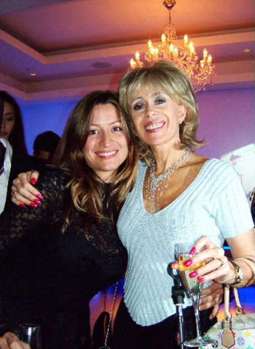 REBECCA LOOS with SALLY. C.r.: GABOR SCOTT



On a sad note the world mourns the loss of that wonderful photographer PATRICK (LORD) LICHFIELD, a great British icon. PATRICK was one of the first photographers to snap me when I was a struggling young 'module" in the 70s; he was talented, fun, looked after everyone in his studio and always a perfect gent. He will be sorely missed.

I've got a couple of great celeb books for you this issue, dear readers.

Firstly intrepid explorer NEVILLE SHULMAN, OBE brings us CLIMBING THE EQUATOR (Summerdale, £7.99) with forewords by JOHN BLASHFORD-SNELL and CHRIS BONNINGTON. Our 'boys' books" reader RUPERT tells me that CLIMBING THE EQUATOR is a fascinating tale not just about all the amazing tribes, animals and foliage NEVILLE found in the Ecuadorian Galapagos Islands but also of his trials and tribulations in climbing the area's challenging mountains. I also had a look at the book and was very impressed with the excellent colour pix. I particularly fancied the 'Sally-Lightfoot Crab" and believe that the lovely JOHN MCCRIRRICK might like the 'Boobies sky pointing" to remind him of his delightful lady wife whom he calls 'the Boobie"! Now here is a pic of the cover of the book (this is not, in case you were wondering, a snap of the gorg NEVILLE himself: we will publish his pic soon when he sends me one!)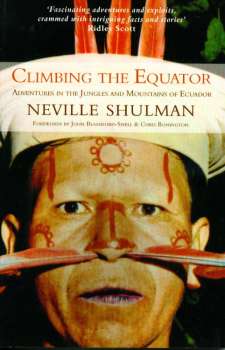 NEVILLE SHULMAN's CLIMBING THE EQUATOR.



The second excellent celeb book is BOBBY MOORE By The Person Who New Him Best, TINA MOORE (Collins Willow, £18.99.) BOBBY MOORE was of course the footballing hero who captained England in the Swinging Sixties and led our country to victory in the 1966 World Cup. He was the GEORGE BEST / GAZZA / BECKHAM of his day and remains a huge national hero although he is now sadly on the great football pitch in the sky. His first wife TINA was, and still is, an extraordinary beauty and a truly delightful lady. Her story of BOBBY's life and times both on and off the pitch and with her and their family is very emotional, a real roller coaster ride and a great read.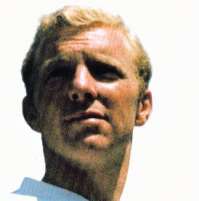 BOBBY MOORE.



Thank you for reading my page; you can email me at:


[email protected]



And check out my personal website at:
www.sallyfarmiloe.co.uk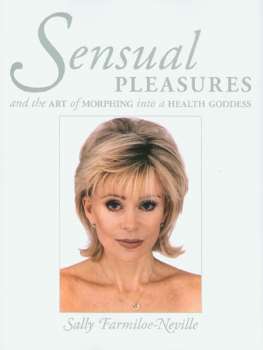 SENSUAL PLEASURES AND THE ART OF MORPHING INTO A HEALTH GODDESS (£16.99) is available from the following outlets:

Delancey Press -

[email protected]

or 0845 4589911
ISBN: 0780953911998

LOO TIME VIDEO available from:

[email protected] and:

http://www.121music.com/pages/video_01/home.html