LETTER FROM THE EDITOR

It's that glorious time of the year, the festive season, December – January, when social lives become very busy and the lucky ones take off for their winter breaks. Here at HOT GOSSIP we present a double issue of the magazine, which gives our editors a chance to take a long earned break themselves, returning in February with lots of fresh news and ideas for 2006.

Meanwhile, stay tuned and read about super new and exciting products, glamorous launch parties, amazing fashions, celebrities and lots more on our entertaining pages.

Talking of launch parties, I attended a very unusual art showing at FARMILO FIUMANO Gallery, where Malay Anglophile artist ARIS A YACOOB entertained with a version of puppetry that seemed to be very futuristic. The show also included art and paintings from his SARKAH range. One of his supporters is internationally acclaimed shoe designer JIMMY CHOO, who I got to meet. I just adore his shoes….. FARMILO FIUMANO Gallery, 27 Connaught Street, London.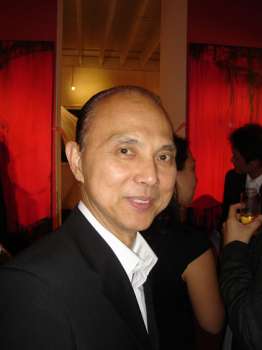 JIMMY CHOO



Sally, my dep ed, had her official book launch at STRINGFELLOWS nightclub, you can read the review of SENSUAL PLEASURES in last month's SPOTLIGHT Page, and didn't we have some fun. It was hilarious when an Italian male lap-dancer appeared from nowhere, handcuffed the delightful LADY JACKIE KILLAIRN and proceeded to take off his clothes, which were in the form of a policeman's uniform. He then turned to Maryse-Antionette Comtesse-de-Goutiere, looking for a tip, which he was rather hoping would be at least £20, Neither Maryse or Jackie carried money so the poor chap was handed a 50p coin which Maryse carried as a tip for the cloakroom attendant.

Do checkout my ideas (below on this page) for special gifts – and my favourite books for the season.

Georgina Bruni, Editor in Chief


[email protected]




GREAT GIFT IDEAS – AND GOODIES FOR PAMERING YOURSELF
I want to tell you about some super new products which make perfect gifts anytime of the year – if you can bear to part with them, that is.

Don't you just adore gadgets! Well, one that you can't afford to be without in this uneasy climate is the WALK EASY BRIGHT KNIGHT at just £19.50. This is truly a bright knight in shining armour! It acts as a personal protector, with a torch, bright flashing strobe lamp and an ear piecing siren that can be heard half a mile away! Nobody is safe these days, and with gangs (sometimes up to twenty yobs) attacking innocent people on the street, you need something to protect yourself. This is perfect for fitting into your pocket or bag, or attaching to a belt, and it's easy to use. Any sign of danger and you just pull the pin out and WOW! BLAST! All hell breaks loose! This gadget is available from SPYCATCHER of KNIGHTSBRIDGE. Do check out their fascinating website for all things amazing. www.spycatcheronline.co.uk

A hair product with a difference is the exciting digital TOTAL CURLS MASTERCLASS ceramic tong by ANDREW COLLINGE, which works wonderfully well on long or short hair. I love the digital concept which includes a control panel of 8 settings and an LCD display. Other features include a salon length cable (don't we just love a long cable so we can reach our champers whilst we get ready) and a Masterclass kit comprising of sectioning clips, ceramic coated brush and a very handy vanity case for storage and travel. Every girl should have one of these! And don't we also love award winning celebrity hairstylist Andrew Collinge, and if that's not enough, suffice to say that Total Curls is made by non other than CARMEN – always ahead of time – remember their electric rollers – of course you do! Total Curls is available at all good retail outlets £19.99.

And for the body beautiful there is another great invention, the SCHOLL BODY REVIVER. As part of my new care programme – taking more care of my health and looks - I welcome this product, which is very good for stimulating blood circulation and improving the appearance of the skin. It is battery operated and includes 3 rotating massage attachments and a soft pumice to remove and smooth dry skin, and can be used in or out of the shower. Priced at only £19.99 you can buy it now at HELEN of TROY www.hot-uk.co.uk

Going on your winter break? After you have stimulated your body beautiful, it's time to smooth on VITA LIBERATA Silken Body Treatment Lotion £12.50 and Tan Enhancer Silken Self Tanning Gel £19.95. It's really very good. I am always trying new faux tan products - always looking for something that doesn't smell and doesn't look patchy – and here I have it! I can't tell you what a thrill it was to discover these creams. My skin felt like velvet after just one covering and thankfully it didn't have that dreaded orange look. I love it – and it makes you look great! So for that Med tan in the middle of winter - look no further. For more details and to purchase visit www.vitaliberata.com

Girls, have you seen those fabulous decorative handbags in the shops? Well, here's a really cute one that's easily affordable and makes a super pressie. Decorated by hand with tiny rosebuds and ribbons, it's perfect for an evening's outing. It has a neat satin lining and a chain for carrying and is only £24.99 from the FRANGI collezioni available in all TIE RACK shops. Just ask for the EVENING FOLKLORE RIBBON BAG.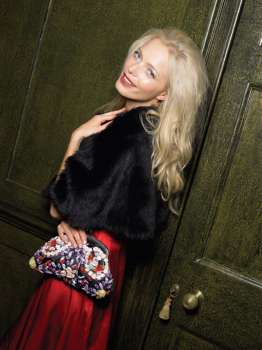 FRANGI BAG



If you are staying at home during the festive season I have the ideal solution for keeping you busy! The MEMORIES and NOSTALGIA COLLECTION have the most desirable boxes for storing your personal items. I particularly like THE FAMILY HISTORY BOX which consists of numerous boxes, ribbons and mounts and acid free tissue paper etc. Such an exciting selection of boxes to put together. I'm really looking forward to gathering up family treasures, such as old school exercise books, certificates, post cards, photographs and letters, and storing them safely - at last! Yes, even the boxes are acid free so your treasures will stay fresh for many years. I promise you'll have such fun with this, and for £29.99 it makes a great gift for family or friends. The company do several designs so do check out their website, which is user friendly, and where you can also purchase these very special and lovely boxes. www.memories-nostalgia.com

If you are looking for something unique and have the time to do your own beauty treatments at home, then THE INTEGRA Face Care System, recently launched by TIM CAMPBELL, winner of THE APPRENTICE, is just the thing! Claimed to be the ultimate home beauty experience, it needs some patience to get through the manual and/or DVD, but once you master the technique you are ready for a real pampering treat. It is in fact a micro-current facial toning system, (similar to the CACI system) which utilizes small amounts of electricity to tone and lift the muscles of the face. It would take more space than we have here to explain the product and its benefits so I'm going to lead you to their website where all will be revealed. At £129.00, it is worth it if you believe in facials – and think of the money you'll save on salon visits. Visit www.integra-skincare.com Meanwhile I am trying this amazing system myself and will report back to you in February on how I get on with it – so far – so good.

HOT BOOKS – EDITOR'S CHOICE

THE SILVER SPOON has to be the best cookery book I've ever come across! It's an amazing collection of superb Italian recipes – and I adore Italian food. This would be the perfect gift for that very special person. It's not just any book - it is Italy's best selling cookbook for fifty years. In fact, with over 2,000 recipes it's known as the bible of authentic Italian cooking. Apart from the easy to follow recipes, it is full of really useful advice on just about everything to do with cooking. This is a 'must have' for the fashionable kitchen and will really get you motivated to doing those dinner parties you keep meaning to do. This huge beautiful book is available from PHAIDON or www.amazon.co.uk priced £24.95.
Check out this website for more details.
http://www.phaidon.com/silverspoon/silverspoon_launch.html

Another interesting cookery book, very much in fashion these days, is MODERN – DAY MACROBIOTICS by SIMON G BROWN, published by Carroll & Brown. I found this a fascinating read, and was drawn to the healing aspects of this type of eating, which is really a whole lifestyle. I loved the idea of eating fresh greens, which are my favourite veggies (honest) and I was very interested to learn about acid and alkaline. If you are recovering from illness or if you really want to get your body and health in shape then this is the book for you. Recipes it has, but it also reveals much more about food and how to understand it. £12.99 www.amazon.co.uk or www.carrollandbrown.co.uk

If you are reading this early then you might still be in time to purchase this absolutely gorgeous book in time for Christmas, but never mind if you miss it, it's still a delightful book for your collection. BEAUTIFUL CHRISTMAS CARDS by ALEXANDRA ADAMI, forward by LADY HELEN TAYLOR is so special. You will want to keep this on your coffee table all year round and not just during the festive season. And donations from the sales go to the charity CLIC Sargent www.clicsargent.org.uk It is full of page after page of beautiful images of Christmas cards, favourites of the author, mostly children, which are so cute. Published by teNeus it is available from www.amazon.co.uk for approximately £24.50.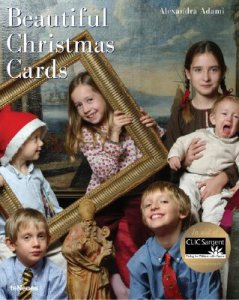 BEAUTIFUL CHRISTMAS CARDS by ALEXANDRA ADAMI



Favourite restaurant of the month is a new venue recently opened in Hollywood Road, Fulham, London. FUSION is owned by two charming Italians, Vincenzo and Massimo. The food is fantastic and everybody is talking about the ambiance, which is a good sign and surely means that this is going to be one of London's most popular eateries. It's cosy and smart and ideal for entertaining. There is an extensive pasta menu and the deserts are too fabulous. You'll be pleasantly surprised by the prices too, which are not at all expensive for this part of town. There's a neat bar where you can enjoy a pre-dinner drink and they cater for parties on the lower ground floor. Everything you want right here at FUSION. Call them today for a booking. Fusion, 14 Hollywood Road, London SW10 Telephone 020 7352 8305 e-mail

[email protected]



And now I'm off to get my nails done at the new celebrity spa called MONOCHROME BODY & SOUL, which is owned by former model and actress EVA LEWIS, you must read my review in last month's Spotlight, but apologies to all concerned as I miss-spelt the word Monochrome…silly me! This amazing spa is now open at 38 Duke of York Square, Kings Road, Chelsea, London. (020 76026253)

See you in February. Have a great holiday from all of us at Hot Gossip.