THE PALM BEACH RESTAURANT,
30 Berkeley Street, Mayfair, London.
Tel:020 7493 6585

Palm Trees and Palm Chandeliers create a tropical paradise.


Palm Beach



It is a truly luxurious Restaurant with well-spaced tables, comfortable
chairs, immaculate linen and perfect service.

My first introduction was one Sunday when from 12.30 to 4 o'clock a JAZZ
LUNCH puts sparkle into what can be a dreary day.

The JOE STILGOE JAZZ TRIO lifted the spirits as dif the magnificent Buffet
from which you can choose practically every delicacy imaginable, all of
which are fresh and flavoursome. Beef carved from the Trolley, Lamb Chops
and Fish dishes for the v very hungry, but do leave space for the
mouth-watering desserts.

It was such a wonderful experience that I returned the following evening
when they had a Brazilian Floor Show and an ac companying South American
Menu. Rom a choice of 4 starters I had Watercress, Palm Heart Salad and
Quail Eggs. My main course was Chile Poblano en Nigado – Peppers stuffed
with Chicken, raisins, almonds and papaya. A creamy Passion Fruit Jelly
completed a fantastic evening. The a la Carte offers a selection of
Mediterranean, Oriental, Middle Eastern and Asian cuisine.


PAPAGENO RESTAURANT, (The Show After The Show)
29-31 Wellington Street, Covent Garden, London. 020 7836 4444

Set in the heart of Theatre land, this Restaurant is Theatre itself,
flamboyant, friendly and colourful, like its owner, King Richard who is
passionate about Wine, Food and Opera.

If Music be the food of Love, EAT up.

The magical notes of Mozart's Magic Flute entranced my senses as I sipped
Champagne, nibbled crudities and studied the Menu. Allegro Moderato – I
chose The Big Boss Seafood Selection.

A great evening–a huge Thank you to King Richard and his Courtly Staff.


THE AMERICAN BAR at THE SAVOY HOTEL, Strand, London. Tel: 020 7836 4545

This Bar captures the spirit of the fun-loving Thirties with its décor,
furnishings and pictures of famous stars like Greta Garbo, Humphrey Bogart
and Laureen Bacall. It first opened in the l93O's when Prohibition hit
America and the Art of Creating Cocktails move to London where the "White
Lady" was born.

Elegant and comfortable, presided over by Salim Khoury who dreams up
Cocktails like "Forty Winks", "Tender Love" and "Royal Melody" - Champagne
with melon liqueur, Amaretto and limejuice.

The elegant fun-loving Thirties is further captured by Jonathon who plays
the Piano and sings romantic melodies like "A kiss is still a Kiss" - I
shall return for a Kissable Cocktail.


THE CHOCOLATE SOCIETY, 32-34 Shepherds Market, London. Tel: 020 7259 9222

The well-known Chocolate Society has just opened a Café and Shop in Mayfair.
It is a pretty Café with a nice view of a handsome Tree in the Square; an
excellent place to meet friends and business associates for Tea, Coffee and
Chocolate between the hours of 10 am and 7 pm.

SEASONAL DELIGHTS include Xmas Pudding Chocolates with rich creamy fillings
laced with brandy.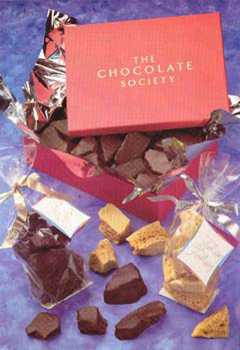 Chocolate



THE HOKEY POKEY HAMPER - Honeycomb with a hint of multi-flower honey.
The Original – undressed
The Wicked – enrobed in dark organic chocolate
The Milkey - enrobed in creamy milk chocolate

Pure chocolate with a high degree of Cacao is good for coughs and colds and
for the Libido - so give your beloved, perhaps The Hokey Pokey and twirl
around.

Seasonal Greetings and lots of Happy Bubbles
JOAN – THE SLENDER GOURMET - Eat it on – exercise it off.

E-mail:

[email protected]