First and foremost this month I would like to congratulate HEATHER BIRD TCHENGUIZ and ROBERT TCHENGUIZ on the birth of their baby daughter VIOLET. Anti ageing expert and owner of the respected HB HEALTH clinics, HEATHER is well known to this column and all at HGUK are delighted for her and property entrepreneur ROBERT. Although heavily pregnant lovely HEATHER recently found time to contribute to my new book SENSUAL PLEASURES AND THE ART OF MORPHING INTO A HEALTH GODDESS and to organise contributions from two of her top therapists, nutritionist PETER COX and meditation expert RAHAT AFSAL SHEIKH as well. Now here's HEATHER: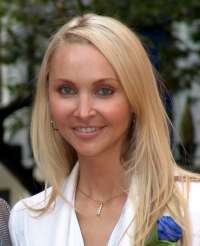 HEATHER BIRD TCHENGUIZ.



My Treatment of the Month for August is the CARAT facial, containing Retinol (Vitamin A), Fruit Acids / Enzymes, Vitamin C, Vitamin E and Caviar (yes, really!) CARAT is a brand new skincare range from SKIN BY STEREX which I guarantee will set the beauty world alight. The CARAT facial sounded so good and my poor skin was feeling so dry that I decided to try the treatment myself (apologies to all our lovely HGUK "guinea pigs"!) and I was not disappointed. The CARAT facial is unique inasmuch as all the products used are individual, in little tiny pots and syringes for your face alone so that there is absolutely no danger of "catching" any spots or whatever from other clients. This is such a great idea, I cannot think why nobody has thought of it before.

I have to say my skin felt wonderfully soft and smooth after my relaxing 45 minute CARAT facial and I decided to try the CARAT home care regime, consisting of Cleanser, 24 Hour Cream, Ampoule Retinol Treatment and the Collagen Booster box. The Ampoule Retinol Treatment is particularly good, consisting of individual ampoules which you break and put on your face for optimum freshness and the Collagen Boosters are 4 different types of supplements to be taken internally, containing Vitamin C, Collastim and all sorts of good things to nourish the skin, act against free radicals, protect against ageing, enhance vitality and stimulate the immune system. Needless to say my summer dried, middle aged skin is feeling and looking radiant all over (not just the face) after just a few weeks of CARATing and I am tickled to bits. A great new range: phone 0121 708 2404 for stockists or visit the website at www.skinbysterex.com

SKIN DOCTORS is another serious minded beauty product manufacturer who are always coming up with new and exciting products, available from BOOTS and large department stores. Their latest (from their COSMECEUTICALS range) are EYETUCK, a self explanatory product for under eyes and HYDRASCREEN, an excellent highly protective moisturiser with an SPF of 18, all important for these sunny summer days. EYETUCK is a cosmeceutical strength product containing Eyeseryl, a tetrapeptide that helps to decongest the "eyebags" getting rid of excess fluid, along with natural skin conditioners Apricot Oil and Shea Butter. Our "guinea pig" PATRICIA reports that her under eye area is definitely feeling tighter after just a fortnight's twice daily use of the product. As PATRICIA is lucky enough to spend a lot of time on hols abroad she says the HYDRASCREEN is particularly good as it contains a sunscreen. Point taken: it's boring and time consuming to put on a moisturiser followed by a sunscreen every day in summer. However it is all important to protect our skins from the strong August sun and, if you are not using HYDRASCREEN or a similar product, do please apply plenty of sunscreen with a high SPF - several times a day if you are out there playing sport or frolicking on the beach!

Do not worry about not having a natural tan: in these days of excellent "fake bake" products a dangerous real tan is a thing of the past. The fake tans look much more even than the real thing and the colours are now much more natural looking. SKIN DOCTORS' JUNGLE BRONZE Self Tanning Spray is easy to use and smells divine, as does the JUNGLE BRONZE Gloss, a temporary "quick fix" cream which will give you a light colour instantly or help to blend in a fading fake tan. Or, if you find oils and gels easier to apply, the best I have found is the LANCOME FLASH BRONZER range: FLASH BRONZER Self Tanning Dry Body Oil and FLASH BRONZER Self Tanning Spray. Both of these products are so easy to apply that they are practically "idiot proof"! What's more they will give you a perfect shimmery golden tan every time, even the first time!

LANCOME also recently brought out RESURFACE PEEL, a "Resurfacing and Soothing System with a 5% Physio-Peel Enhancer", basically a mild glycolic peel which you can safely use at home. This sounds like a marvellous idea, especially for preparing your face before applying your fake tan (not on the same day, please!) Unfortunately RESURFACE PEEL has proved so popular that LANCOME did not have any to trial; however LANCOME is such a reliable company that the product is sure to be completely safe as well as effective.

Still with LANCOME, something for the boys now! Our number one male "trialler" KASPAR tried LANCOME's two new gentlemen's fragrances and reports:

"LANCOME's MIRACLE HOMME has great staying power (it is the fragrance we're concerned with here!) and strength. It is a very masculine scent with a vibrant, spicy and woody harmony. Its sexiness will transport you to breezy, lazy luxuriant beaches (but for a massively reduced budget!) The stylish sleek gold and black packaging is nicely reflective of its purposes and aims.

This man's a fan!

LANCOME's MIRACLE HOMME L'AQUATONIC is a fresh, lively and invigorating scent. It is fruity and definitely on the active and sporty side. ARMAND PETITJEAN who founded LANCOME back in the mid 1930s was originally famed for his perfume bottles. Perhaps in line with men's tastes these two fragrances are more conservatively presented and less extravagant than the tradition, but contain liquid that will make strangers press close to you............"

So now we know!

LEMONBURST have brought out a fab new range of unisex skincare products called quite simply SKINFOOD. The range includes Moisturiser (with an SPF of 15), Cleans All, Shaving Gel, Mud Masque and Exfoliating Scrub. All the products smell nice and fresh and when lovely fellow presenter RANI SINGH and I tested them for some filming last month we both agreed that they would work for all types of skin as well as for both sexes. Very reasonably priced, the SKINFOOD range is available from
01273 55812 or check out the website at www.lemonburst.net

On the fashion front, hats are in this summer - the tinier and more delicate, the better. Gorgeous LOUIS MARIETTE, the UK's Top Tiny Titfer maker has signed up fresh faced supermodel JODIE KIDD to model his current "Pure" collection and here he is adjusting her headgear at the recent CORAL ECLIPSE STAKES at SANDOWN PARK where he staged his "Style Awards" and put on a fab show of his stunning bespoke hats.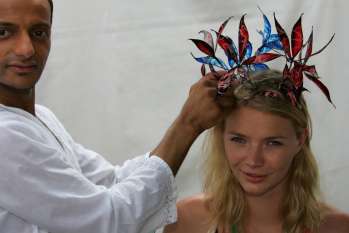 LOUIS MARIETTE with JODIE KIDD. C.r.: LAURENCE SQUIRE.



Small "cocktail" hats are sometimes called "fascinators" and one can see why. The pulchritudinous JODIE said LOUIS's "Pure" hats were all very comfortable to wear although I did not try any myself as I had just had my barnet tweaked up by the artistic PAOLO at HAIR AND BEAUTY VARIATIONS (020 7499 3424) at FORTNUMS, a very posh hair emporium!

As somebody who often appears on SKY as well as enjoying all of their great satellite shows (NIP/TUCK, SEX AND THE CITY, DESPERATE HOUSEWIVES, et al) I am pleased to report that I have found a New Best Friend in their Marketing Department, JANETTE BEER. JAN is a very patient and technically proficient lady who helped me to overcome my recent SKY subscription and viewing problems. Sadly I will not now have time to appear on the teevee or write any columns as I will be too busy surfing my new and exciting ten million channels! (Only joking dear readers.)

Whilst doling out accolades to big companies, I would also like to commend IBERIA, the airline best known for flying to Spain. The IBERIA staff are super efficient, friendly and helpful, especially NIAMH and KERRY and I will be reporting more fully on the IBERIA Experience next month. In the meantime if you are jetting off to the Costa Sand, Sea and Sex I suggest you book up with IBERIA immediately: see you there!

Psychic Consultant VALENTIN BORISSOV has also been jetting off to exotic climes recently, to the enthronement (part one!) of PRINCE ALBERT II of Monaco, no less. VALENTIN, who attended the ceremony in Monaco's St. Nicholas's Cathedral where PRINCE ALBERT's father, PRINCE RAINIER III was buried 3 months previously, reports that it was a beautiful and dignified service attended by PRINCE ALBERT's beautiful sisters, PRINCESS CAROLINE and PRINCESS STEFANIE. Then it was off to a champagne reception and a garden party at the Palace for VALENTIN who said that it was nice to see the Monagasques looking so happy once again and welcoming their new ruler after the sadness of losing their beloved PRINCE RAINIER earlier this year. The actual coronation of PRINCE ALBERT will take place in November and no doubt VALENTIN will be back in the Principality then to send us a further report.

Finally I am delighted to report that KEMPINSKI, the greatest "resort hotel" group in the world has finally opened its doors in London with the BENTLEY KEMPINSKI in South Kensington and the COURT HOUSE KEMPINSKI in the West End. The COURT HOUSE KEMPINSKI is on the site of the old Marlborough Street Magistrates' Courts and has retained the style of the actual court. The hotel threw a fab opening party there last month where all sorts of stars of stage, screen, bedroom, boardroom and kitchen congregated on the KEMPINSKI's beautiful roof terrace, including BOY GEORGE (who was DJ ing in his own inimitable style), the delightful ANDY WONG and the smouldering JEAN-CHRISTOPHE NOVELLI. JEAN-CHRISTOPHE (or JC as the gels call him - can't think why!), one of my many talented book contributors, was kind enough to promote SENSUAL PLEASURES AND THE ART OF MORPHING INTO A HEALTH GODDESS to all and sundry thus saving my diligent publishers DELANCEY PRESS and THE BOOK GUILD some work! Thank you, JC.

If you want to book a KEMPINSKI hotel anywhere in the world, call the London Press Office at 0208 307 7657.
Now here is a pic of the divine BOY GEORGE with my mate DENISE HEWITT and moi at the KEMPINSKI COURT HOUSE HOTEL: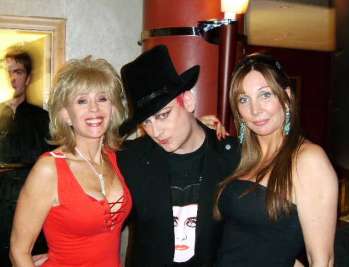 BOY GEORGE with SALLY and DENISE HEWITT. C.r.: GABOR SCOTT.




Thank you for reading my page. Do check out my personal website at:
www.sallyfarmiloe.co.uk

and buy a copy of LOO TIME immediately! Enjoy the rest of the summer.

LOO TIME VIDEO available from:

[email protected] and:

http://www.121music.com/pages/video_01/home.html