Well, what a lively month it's been so far. I've been covering the usual premieres, parties, concerts, Big Brother and of course the multiple suicide bombing by these misguided, ignorant, moronic, inadequate Muslim extremists. These terrorists even failed to terrorize London they were that pathetic. But enough talk about these sh-t heads. London was united and I covered the 2 minute silence in honour of the victims of this cowardly attack. VIP's that turned up for this show of respect included: Brit actress KEIRA KNIGHTLEY, SAFFRON BURROWS, KEN LIVINGSTONE, JOHN PRESCOTT, SEBASTIAN COE, BOB GELDOF et al. My Picture shows the whole throng of guests in Trafalgar Square, London.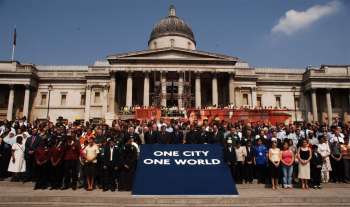 2 Minute silence copyright Joe Alvarez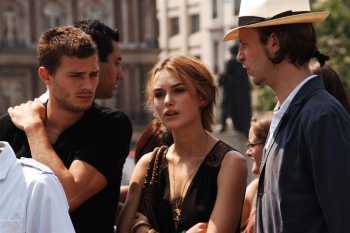 Keira Knightley x 2 copyright Joe Alvarez



Showbiz London marched on with the customary multitude of events best of which was Charlie And The Chocolate Factory premiere. This 're-make' by TIM BURTON starring JOHNNY DEPP is a better interpretation -darker- more in keeping with the book by ROALD DAHL. Leicester Square in London was adorned with multicoloured lollies hanging from trees and the ground covered totally with bright green carpets/flooring of some sort. The whole theme was chocolate and even the Statue of Shakespeare in the middle of the square had fake molten chocolate all over it. The guests had to come through the middle of the square which had never been done before. The whole thing was very picturesque though my main preoccupation at the time was to take the pics and not spill my champers. JOHNNY DEPP posed very well for the pics and world EVENT number 2 -as my picture shows - he actually smiled again! That's twice now in about a year and a half. Things CAN change. Other celebs present and correct were: TARA PALMER-TOMKINSON, ALEX BEST, HELENA BONHAM-CARTER, ISABELLA HERVEY, JANE MIDDLEMISS, VAL KILMER, MCKENZIE CROOK, designer SCOTT HENSHALL with his models which entertained me no end as one of the girl's boobs kept pooping out as the dress was too loose up top. TARA PALMER-TOMKINSON looks like an anorexic, not much change there then. Her tops are permanently loose up top even though they look tight, as she's as flat as a board. Tara, eat some food woman! You are wasting away.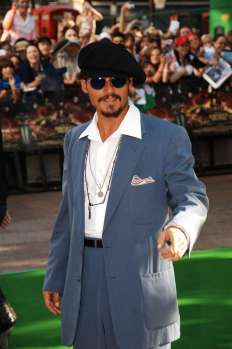 Johnny Depp. copyright Joe Alvarez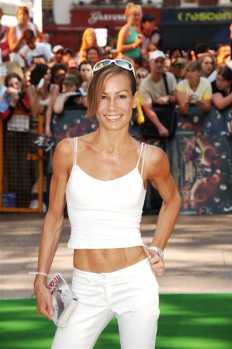 Tara Palmer-Tomkinson. copyright Joe Alvarez



During the premiere of Charlie And The Chocolate Factory I got a call from my friend and garage neighbour ANDY KERSHAW. The BBC Radio 3 broadcaster told me that my garage had been broken into and some hooded teenager gang -A.K.A scum- had made off with one of my moto-cross motorbikes. Thankfully, Andy, having heard the banging and demolishing of my garage door went out to have a look and saw this modern day vermin make off with my second moto-cross bike. When he saw this he gave chase shouting expletives at these bums and single handedly recovered my second bike, then called the Police. I am eternally grateful for this act of bravado and can't thank him enough. Cheers, friend. Andy was the ONLY one who did anything about this incident even though there other neighbours only yards away from my garage and EVERYONE had heard the loud banging/break in. It is an utter shame everyone in this country seems to be so passive about crime.

Oxford Street saw another new clothing outlet being born. Mango launched their new shop there this month with the iconic German 'supermodel' CLAUDIA SCHIFFER. Claudia turned up wearing Mango clothes - of course - for a shoot with your truly. Needless to say, the 34 year old mum was the perfect model and did everything I asked her to do - tee-hee - so made my life very easy indeed. If only all models were that good......


Claudia Schiffer copyright Joe Alvarez



And last but definitely not least, The Berkerley Square Ball in erm, Berkerley Square London saw the biggest 'walk out' by press photographers in years. It started when we were covering the arrivals for said Ball and SADIE FROST arrived. We had taken just a few pics -as we were supposed to do as INVITED media- and some jumped up PR rushed her inside leaving most of the photographers without their shots. I asked her why on earth she'd done this, -a couple of times- and she ignored me. So I shouted "Why are you doing this?!!" or something stronger to which she replied: "If you don't like it you don't have to stay". There was mass booing by all the photographers and I shouted "I'll go then!!!!" Other colleagues shouted the same and 32 photographers packed up gear and left in the space of 1 minute. NO ONE stayed. They got no arrivals coverage. Their client will not be happy as PR's get paid to invite press not p-ss them off.

Over and out. See ya next month.

JOE ALVAREZ


[email protected]



Copyright Joe Alvarez 2005
All pics copyright Joe Alvarez