COVER STORY: Who else! The gorgeous sultry JOHNNY DEPP snapped by our famous celebrity photographer JOE ALVAREZ (see his Celebrity section).


LETTER FROM THE EDITOR


I'm having a girlie pink month! I think it must have started with the fabulous pink shoes and 50s style pink jacket that I discovered at T.K.MAXX – a super store that offers designer goods at amazingly cheap prices… but be warned you will become addicted to this haven of goodies. Anyway, the pink shoes are sadly in the rubbish bin after my mother caught them in the wheel spikes of my father's wheelchair. Little Britain move over! But what fun I had wearing those shoes - for that short period of time the world was my oyster! Men just love to see a woman trotting around in heels…and if they're pink... well!!!

So pink it had to be and I quickly stocked up with the most adorable nail polish ever! It is THE BEST! It's O.P.I. Pink Positively Lacquer, which is not only long lasting, easy to apply and non chip, but also supports a well deserved cause. LENA WHITE LTD, the UK distributors of O.P.I. recently launched Pink Positively in support of the Breast Cancer Campaign (BCC) for 2005. So not only will you look good with your gorgeous pink nails, but you'll also be helping to fund a good cause. For every bottle sold, a £2 donation will be made to the charity to help fund their research projects. The promotion will run while stocks last and each 15ml bottle retails at £8.50 in OPI salons and £8.95 elsewhere. For stockist details telephone 01923 240010. OPI have a wide selection of lovely colours and lots of great pinks. But whatever colour you choose - do add one of their Pink Positively to your shopping list.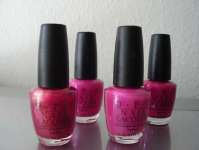 O.P.I. LACQUERS



To match my new girlie look I popped into HARRODS pre-sale where I purchased a pink suitcase, and whilst there I picked up a spray can of LANCOME Flash Bronzer, which I sadly mistook for LANCASTER faux tan. The latter is by far my favourite. Now, I know my lovely deputy ed SALLY, (who also edits our fashion and beauty pages) raves about Lancôme products, but I am still fuming over my purchase. It was, for me at least, the worst faux tan I have ever tried. I was positively screaming to find my body turned into a patchwork of different shades! And no amount of scrubbing would budge it. Shock! Horror! At my earliest opportunity I trotted back to Harrods to complain and ask for a refund - it was not cheap at £18.00. But alas the staff at the Lancôme counter refused to offer me any refund and no pity at all. Shame on them! If you must use faux tan do try LANCASTER, M&S is also good.

At least METRODOME DISTRIBUTION put me in a better mood! The company is getting the nation swinging this summer with their Masters of Jazz Collection. This great project consists of a series of portraits of some of the greatest Jazz musicians of all time. The collection, a 4-Disc DVD box set, is a must for all jazz lovers. An amazing collection which looks at the history of jazz from its beginnings among African slaves to its penetration of popular music. It begins with A History of Jazz disc, featuring two introductory films. Bluesland – A Portrait In American Music which contain both rare and contemporary footage and great jazz sounds of course! From there, you are taken on a musical extravaganza through three further discs. The second disc, The Jazz Pioneers looks at the two great names in the world of jazz, Louis Armstrong and Count Basie. Vocal Legends, the third disc in the Collection is dedicated to the rich and luxurious tones of Ray Charles, Billie Holiday and Sarah Vaughan. The final disc focuses on the Jazz Innovators who changed the way of music forever. The Masters of Jazz is a collection not to be missed. It's a fabulous box set packed with so much rhythm that it is guaranteed to get your toes tapping, (especially in your pink shoes) your vocal chords humming and your body swinging! I only wish I had the space and the time to tell you more about this truly fabulous collection, which would also make a fine gift for that special person…don't forget to add it to your shopping list. Masters of Jazz (4 x DVD Box Set) RRP: £39.99. Purrrfect!


MASTERS OF JAZZ



Until next month, when I promise more pink notes, relax and enjoy the summer; and fellow Londoners, don't let those nasty terrorists get the better of us!

Regards Georgina Bruni
Editor in Chief