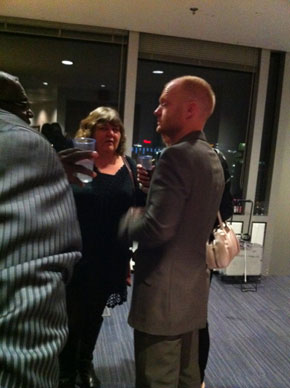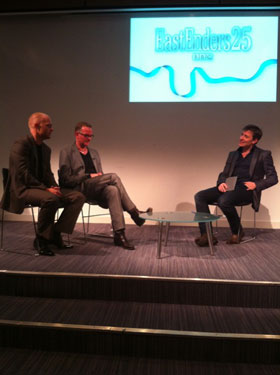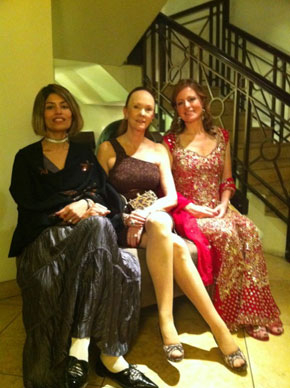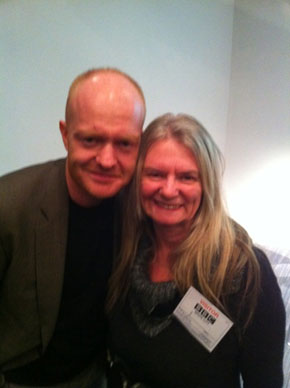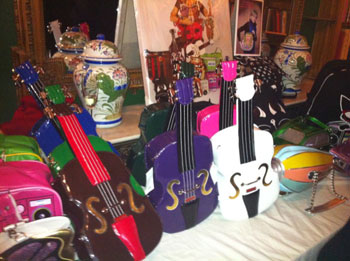 Photo Credits:

1. Cheryl Fergison who plays 'Heather' and Jade Wood (Max) having drinks with us at the Black Book Party.

2. Interview at the BBC studios for out party telling the secrets behind the scenes of the 'Archie' killing.

3. Three ladies of substance at the City Wealth magazine 5th anniversary party. Valerie Blondeau PR guru and publisher Karen Jones

4. With John Altman who played nasty Nick Cotton at a party I was invited to by

5. Susie Silvey with the cast of Eastenders at the Celebrity Charity function

6. Lovely bags at the 'Bags of Dreams' function.


Hot Gossip December 2010
(no Christmas things)

This has been a particularly busy few months for social events and new ideas are frequently popping up especially suited to the economy downturn. I started to worry a couple of years ago when I could buy a sweater cheaper than a café Latté and wondered how long it would be before the economic bubble burst. For whatever reason, although we are almost certain greed had something to do with it, we now all have to pull in our belts and not spend so much. In fact it is seen as vulgar to overspread, even the Royals have to watch their coins.

A good tip for socializing and shopping while still acquiring the designer labels, at less than the price you would pay for a cheap sweater at Prymart, is to keep an eye for some of Sally's functions. She has, as always, some very interesting and novel outings as well as the wonderful charity dinners and lunches.

One particular function that impressed me was a 'Swish' party, which was unique. You could swap any garment you bring with ones on display. If you didn't bring anything you can take your pick for a mere £2.50p per article. To make the evening interesting it was set in a club in South Kensington, the theme was burlesque. There were lots of activity with cakes, tips on dressing, lectures and a showcase of sexy underwear the Victorian era being the new style with lace up mid-drifts and stocking tops. But what was really surprising was the quality of clothes. I picked up several items and a great designer label belt and bag both for just a fiver. One of the girls swapped a party dress that she wore at the ball the next evening and it looked incredible. There's always something exciting about a real bargain. And to end the evening was some very sexy male dancers that did a dare I say semi strip tease.

Cashing in on ex-boyfriends presents

The ladies of leatherhead had other ideas to make money from what they had accumulated. They noted that in 'Desperate Housewives' TV series the characters were having some serious money problems and had to come up with all sorts of money spinning ideas.

Debbie Smith, 45, hosted her own gold party for 20 friends, which saw a total payout of more than £4,000 for her guests' unwanted gold jewellery. Using their ipads it gave the ladies a direct link to the day's 'spot' price on the international Gold Market.

One of the ladies Vicki came away with a cheque for more than £700 for her jewellery of silver and gold rings and bracelets (including 3 wedding rings from ex-husbands!), "it's all from old partners, they've all gone so now the jewellery might as go too.

Caprice and Bags of Dreams

Caprice and beauty guru Janet Ginnings celebrated Sally's appointment as the face of "Bags of Dreams" to launch her Kilimanjaro Appeal and I bought some terrific bags that were very affordable but looked amazing and expensive.
Then to Karen Jones celebrating Five years of her publication 'City Wealth' where the seriously wealthy attended. It was held at the Cinnamon Club, an excellent restaurant frequented by many of the politicians.

East Enders 'Who Killed Archie' secrets

Simon's 'Black Book' club function was a real treat. It was at the BBC studios and we were just a small group that was invited to watch a question and answer live interview with director Clive Arnold and Jade Wood (Max). They discussed the inside stories of the night Archie's killer was revealed and when Bradley met his end.

We watched this special dramatic live 25th birthday episode on the big screen and then were treated to hear the stories behind the scenes by the director Clive and Jade. Ben Shephard hosted it and we were told that none of the cast knew who was the killer until half an hour before when just the killer, Stacey, and Max (Jade) knew. There were over 40 cameras instead of the usual 3-4 screens and 50 screens to edit from, quite a mammoth task. Quite a few of the cast joined us for cocktails later including Cheryl Fergison who plays Heather. The function was to support Children IN Need Appeal.

The Dangers of the Milk Scam

It is very important that we are aware of the damage both the food Industry and the Pharmaceutical Industry are subjecting us to. Lets look at some of the dangers we could have from genetic foods-the tampering with nature. It is common knowledge that the Bovine Growth Hormones (rBGH- or Posilac) turned out to be bad but what actually is it?

In the Ecologist back in 1998 Paul Kingsnorth wrote on the subject, "The classic Monsanto (the producers) combination of bad science, misleading claims, the silencing and rubbishing of opponents and the hushing-up of damning information". It was the first commercially available genetically-modified product. A copy of a naturally occurring hormone produced in cows, which is designed to enable cows to produce more milk. Strangely no one in the US where it began needed that extra milk so who gains?

Since genetic food is coming to Britain and one of the leading producers of GE seed is Monsanto we should be watchful. Lets look at the bad effects. The animals treated with the hormone are subjected to tremendous stress as a result. For the side effects, which is on the labels by the FDA, it outlines 21 health problems including cystic ovaries, uterine disorders, decrease in gestation length and birth weight of calves. In humans two British researches reported that IGF-1 induced cell division in human cells and later discover it promoted the growth of cancer tumors in laboratory animals, by preventing cell death. In 1996 Professor Samuel Epstein, from the University of Illinois and found that IGF-1 from rBGH treated cows may lead to breast and colon cancer in human milk-drinkers. He said it poses major potential health risks for an entire population. Are you ready to let the food producers and their link with pharmaceutical companies do what they want with our food when they can't even make drugs that don't have side effects?

How Serious is it?

As reported in a January 23, 1998 article in Science, men with high blood-levels of the naturally occurring hormone, insulin-like growth factor 1(IGF-1), are over four times more likely to develop full-blown prostate cancer than are men with lower levels. The report emphasized that high IGF-1 blood levels are the strongest known risk factor for prostate cancer. While warning that increasing IGF-1 blood-levels, due to treating the elderly with growth hormone (GH) to slow ageing, may increase risks of prostate cancer, the 1998 report appeared to be unaware of the fact that the entire US population was exposed to high levels of IGF-1 in dairy products. As early as 1990 the Monsanto Company sought FDA approval for a commercialized form of Bovine Growth Hormone, Even then the test study linked the hormone to prostate and thyroid cancer, the FDA still approved it!! These results weren't made public until 1998.


There are many more problems we face such as the SSRI's that have people killing themselves and others. Yes it is expensive to buy Organic, but it is real food. I see people loading up their shopping baskets with fake Orange Juice, Fake Food sprayed with toxic junk.

Did you know that cooking oils like refined canola etc once cooked with or deep-fried supply millions of toxins per each of your trillion cells in your body? Study Dr. Udo. Here is what he has to say, "After oils are pressed or solvent extracted from seeds and nuts, they are degummed, refined, bleached, and deodorized. The result is known as an RBD (refined, bleached, deodorized oil) and these oils, as a result, become colorless, odorless, and tasteless. Sellers recommend these oils for salads, baking, and frying.

What many people don't know is that valuable 'minor ingredients' including antioxidants, phytosterols, chlorophyll, flavor molecules, color molecules, lecithin, and other oil-soluble beneficial molecules are removed too.

More recently, BGH has been linked to increased levels of Insulin Growth Factor- 1, a cancer promoter. The World Trade Organization & The United Nations Food Standards Body both refuse to endorse

Tips:

If you want to keep snug and warm venturing out in the cold the designer hooded duvets coats are great and the new style of flat fur lined boots keep you snug and warm. Arriving at the functions with a small bag containing your heals neatly packed and you are ready to party.

If you have a problem with knees, hips or joints there is something new on the market which has demonstrated re-growth in damaged cartilage. Clinical trials have demonstrated that Flexeze Fortify, containing a secret formulation of Collagen Hydrolysate (Fortigel), actually appears to re-grow cartilage, relieving pain and greatly improving mobility.

Dr Andrew Carson, a GP who is Associate Dean, GP Education, Birmingham and Solihull and Medical Advisor to the NHS Executive in the West Midlands said; "I am not aware of any other product that has been shown to regenerate articular cartilage. I would recommend anyone taking glucosamine and Chondroitin to consider this option, which is a natural product with no known side effects." The supplement is available online at http://www.flexeze.co.uk


You can buy my all my books, even audio on the iphone. 'How to Hypnotize your Bank Manager' has been very useful and the 'Stop Drinking' was reviewed in Iphone Apps Directory.

I have all my books selling on the iphone now so just type in my name and I have around 12 to choose from ranging from 'Hypnotize your Bank Manager' , 'Grief' and 'Attracting the Right partner for You' to my 5 books both in readable form and audio. Adding more each month. 'Stop Drinking' has just been reviewed by Ipad Apps Directory.




Eds Note: VALERIE AUSTIN is an author of six successful self-help books including SELF HYPNOSIS (Thorsons), journalist and trainer with an international reputation in the field of hypnosis. Her best-selling books and training help people achieve their full potential. She founded the Austin Corporate Stress Management Company focusing on reducing stress and anxiety amongst executives and CEO's. She is also founder of UKRAH (1992) The UK Register of Advanced Hypnotherapy. Valerie has also worked as a consultant in hypnosis at the Priory Hospital, the UK's equivalent to The Betty Ford Clinic, which specialises in food addiction and alcohol abuse. Her work in the film industry (Hollywood) interviewing movers and shakers, producing TV news segments and publishing celebrity magazines in London gave her invaluable experience for her current Harley Street practice.