Dear Readers,

The festive season is upon us; a time when most of us will eat and drink far too much, get totally stressed and feel wiped out by the start of the New Year! Well I don't know about you but I love Christmas! From December 1st I'm in party mood, extremely excited and I overdo everything until the year end. I leave everything until the last minute; writing the cards, panicking about what presents to buy, what to cook etc; in fact I think I've probably written the following article to help myself as much as anyone else!

Wishing you a very merry Christmas and a happy and prosperous New Year,

Best wishes

Hillie


HOW TO COPE WITH CHRISTMAS STRESS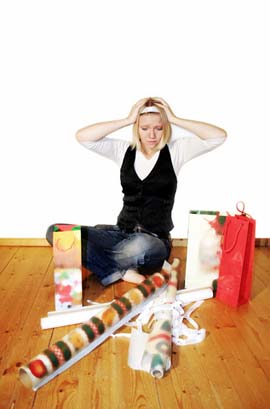 Whatever else you do, keep a sense of humour! When everything is falling about your feet try to see the ridiculous in the situation. Remember you are not unique and that most people, whether they show it or not get themselves in a mess at some point during the festive season. Having accepted that you will feel under pressure it's a good idea to establish what the main Christmas stress points are and how you can best cope with them.

Money

• Decide what you can afford to spend and plan your budget to include presents, wrappings, decorations, food and drink, recreation and a reserve for unforeseen expenses.

• If money is really tight be honest with everyone and tell them you have to cut back on presents this year. Something thoughtful and small will be just as appreciated as something large and expensive. You don't need to impress your friends and family and don't feel pressured into overspending on new partners and spouses in order to show how much you love them. If you can't afford anything then tell people in advance and give them a card; they'll understand and may even be relieved because they're broke as well.

Indecision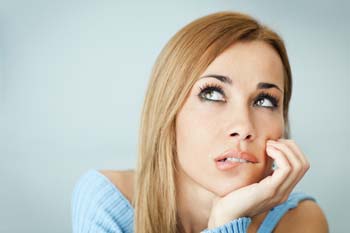 You're panicking because you don't know what to buy anyone and you're sure there's nothing your friends and family need or want.

• Look through all the catalogue supplements in magazines and newspapers, junk mail catalogues, 'presents' websites and 'experience' websites for ideas. Remember it's the thought that counts and something funny or out of the ordinary is usually very welcome.

Leaving things to the last minute

Write a list of everything you need to do, for example: buying Christmas cards; writing & addressing your cards: putting up the decorations; buying presents; wrapping presents; buying the food and drink, essentials such as look rolls, kitchen towels etc.

• Start straight away; don't procrastinate. You can do it and you'll feel a huge weight has been lifted off your shoulders and brain once you make a start.

• Make a list of who you need to buy presents and cards for.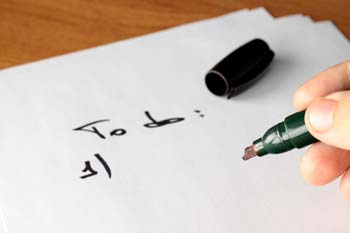 • Make a list of possible presents for them.

• Order as many things as you can by phone and internet and have them delivered.

• Start straight away writing a few cards every evening whilst you watch your favourite TV programmes. Only send greetings to people you want to stay in touch with.

• Find out what the last posting dates are for cards and parcels and display the dates where you can clearly see them.

• Start buying the non perishable food, household essentials and drink. Order the perishable foods to be delivered or collected on or before Christmas Eve.

• Wrap your presents as soon as you buy them to avoid running out of wrapping paper late on Christmas Eve when all the shops are shut! Better still just buy lots of gift bags and don't wrap anything!

Cooking

• Lay the table on Christmas Eve.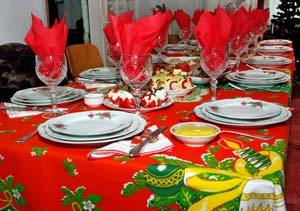 • Make a list of timings: when the meat is to be put in the oven; when it should be ready; when the vegetables go on; when the Christmas pudding, mince pies go on; when the guests are arriving and when you sit down to lunch or dinner.

• Don't try to do everything yourself. Delegate and get everyone involved.

• Don't be pressured into being competitive over Christmas.

• If it all goes wrong so what? Take your time and don't worry if the food's burnt, the vegetables are soggy, it's really not the be all and end all. It's only a meal and people are still going to have a fun time. After all, you're human like the rest of us.

• Better still there are companies you can order from who will provide the whole Christmas lunch/dinner fully prepared and you can pick it up in advance!

Too high expectations

• Lower your expectations. No family is perfect; just accept them all for who they are.

• Don't be disappointed if despite all your heavy hints your partner didn't get you the one thing you wanted. Expect you're not going to get what you want from the very beginning and you won't be disappointed. You could be pleasantly surprised!

• Just because it's Christmas it doesn't mean that everyone is going to get on. It's highly likely children will grate on older family member's nerves; someone will drink too much, lose their inhibitions, say a few home truths and there will be arguments. Just make sure you bite your tongue and don't let thoughtless remarks spoil your day; smile and suffer in silence.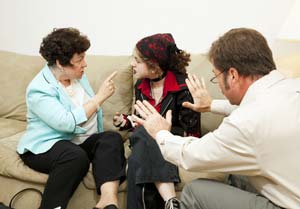 • Just be aware that Christmas is not always a time of goodwill! Expect the worst, plan for it and then you can only be pleasantly surprised.

Physical Exhaustion

• Pace yourself; you need to be on your feet by the big day. Hurry slowly and remember you don't need to aspire to perfection; you need some enjoyment yourself.

• If you can, avoid crowded shopping centres at weekends. It might be better to take an afternoon or day off from work a few weeks before Christmas when shops should be calmer.

• Make time for exercise which is especially good for reducing stress and of course working off the extra calories you will consume.

• Stop for a tea or coffee when you're shopping and give yourself a rest.

• Take the odd break by visiting the hairdresser, having a massage or beauty treatment.

• Give yourself a few quiet moments alone to read a book or just relax and let your mind go blank.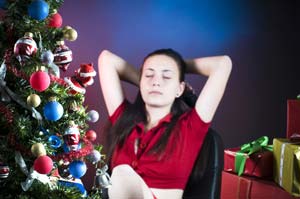 • Being around stressful people and people you don't like is exhausting so avoid them and don't invite them over.

• Let your hair down and have some fun. It's amazing how this can revitalise you.

• Don't be a martyr! It's not attractive and makes others feel uncomfortable. They would much rather you were relaxed and happy, taking things in your stride and letting yourself and everyone else do what they want. Does it matter if things don't go to plan and lunch or dinner is late? Be kind to yourself.


ASK HILLIE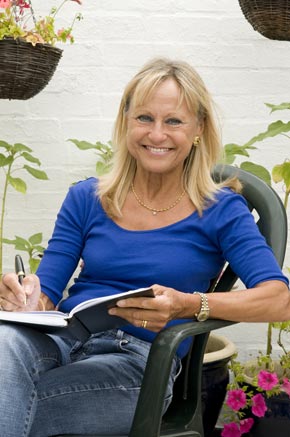 Your chance to get your worries off your chest
Whether it's marriage guidance, relationship advice, workplace or career difficulties, or family problems I'm here to help. A problem shared is a problem halved, so if something is getting you down or troubling you please email me at

[email protected]




Dear Hillie
I've recently started going out with a gorgeous girl. I see her most nights and we are very happy. However my best mate keeps telling me she's no good and will only make me unhappy in the long run. He says I should leave her now before I get too fond of her. I used to spend all my free time with my best mate so he knows me pretty well. Could he be right?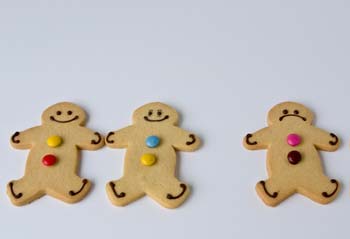 Hillie says:
I think that your best mate is probably missing your company and feeling left out. Don't listen to other people, just trust your own instincts and you won't go far wrong. If you are happy with your girlfriend that's all that matters. Maybe your girlfriend has some single friends she can introduce to your mate? I'm sure that once he's found a new playmate he'll stop objecting to yours.


Dear Hillie
I've been single now for over four years since I broke up with my husband. I'm 37 and I'm scared I'll never find someone else. My friends keep setting me up on blind dates which I find excruciating and I've also tried internet dating but the men never turn out to be as good as they seem when you meet them in the flesh. I've tried speed dating and that didn't work, are there any alternatives?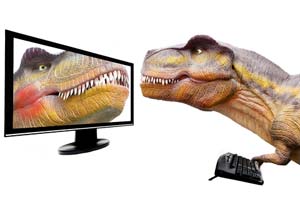 Hillie says:
Thank your friends for their efforts but tell them you want to give all blind dating, whether it's through them, the internet or speed dating, a miss for a while. Take a deep breath, relax, make yourself a hot drink and take a conscious decision to stop feeling desperate. Being desperate won't help you and might, although you may think your feelings don't show, put men off. Forget looking for a new partner and write down a wish list of everything you have ever wanted to do and start making them happen. Also try to widen your social circle and join as many different pursuits as you can such as a health club, sports club, evening classes, amateur dramatics, a singles social events and holiday company such as Dinner Dates where there is no pressure etc. Make as many new friends as you can and they in turn will introduce you to their friends. Once you begin to feel happy and fulfilled in yourself and start meeting new people who knows what will happen?


Dear Hillie
I'm a 21year old student. I fell in love with Katie about 8 months ago, but I don't think the feeling is mutual and she doesn't know how I feel about her. We became great friends and have just started living together with some of our other friends. I have never told her about the way I feel because I believe no good could come from it. I just can't seem to get over her. I have lost all desire to find a partner because I want her so much. I recently decided to make an effort and began dating Louise, one of her friends. Louise and I get on well and we would make a good couple except for the fact that I would rather be with Katie. I can't get her out of my mind. Is silence is the best course of action? Would it be arrogant and selfish to tell her how I feel? If telling her damages our friendship it would affect the friends we live with. I would be very grateful for any advice you can give me.

Hillie says:
First of all stop using Louise and end the relationship straight away. It is unfair to let her build up her hopes while you see no future with her and want to be with someone else. You will never be truly happy until you know whether your feelings are reciprocated by Katie or not so ask her out alone for a drink or meal and explain the way you feel. Maybe she is as shy as you are and would never have the courage to tell you how much she cares for you. She may feel hurt that you appear to fancy Louise instead of her! You'll never know unless you ask. The worst outcome is that she will throw you out of the flat and you will have to look for somewhere else to live. At least then you would know for certain where you stand emotionally and feel free to look for someone else.



Hillie Marshall
Hillie began her working career as a radiographer and then started in show business as a singer and actress, eventually being theatre producer for her company Edwardians Unlimited. Following her divorce in 1989 and with two young children to bring up, she founded Dinner Dates, the social events and holiday Company for single people. Today Dinner Dates is the UK's longest established company of its kind with over 17,000 members nationwide. The phenomenal success of Dinner Dates for singles gave Hillie the idea of a social events company for couples, so in 2007, she set up Dinner With Friends, the UK's first couples only dining club. In July 2011 she sold both companies.

Not only is Hillie a successful business entrepreneur, her experience with people has been put to good use and, as both an Agony Aunt through the internet and in magazines, she offers advice and a sympathetic ear to thousands, making sense of personal and relationship problems.

Hillie is an accomplished author and has written three successful books on relationships. She has given relationship advice on numerous TV and Radio shows such as GMTV, Richard and Judy, The Big Breakfast, Esther Rantzen, Kilroy, The Vanessa Show, The Time The Place, Carlton's After 5 and was 'Dr Date' for LBC.

She has two children Nicola (32) and Jamie (29) and lives in Chiswick with her husband Angus.

You can e-mail Hillie at: [email protected]
Her books: 'The Good Dating Guide', 'Hillie Marshall's Guide to Successful Relationships' and 'Agonise with Hillie' can be bought on line at: www.hillie.com

Words copyright: Hillie Marshall 2013