Happy September, dear readers. Don't forget that summer is not officially over till September 22nd and that we have been promised an Indian summer in the UK this year – hmmn, we shall see!
My fave September reads whatever the weather are JOANNE HARRIS' THE LOLLIPOP SHOES (DOUBLEDAY / £17.99), a darker and more thrilling sequel to the author's much loved and famous CHOCOLAT which was made into an Oscar nominated film and JULIA STEWART's THE MATCHMAKER OF PERIGORD (also by DOUBLEDAY / £12.99), another French tale, this time sweet and unusual featuring France's 2 fave subjects: food and lurve – not necessarily in that order!


On the fashion front, big, bold jewellery is in for the coming season and earrings are huge and dangly. The best and most unusual dangly earrings I have found are available from the gorgeous and pouting CHARLES SVINGHOLM whose floaty, feminine (and alliterative!) frox are worn by JENNIFER LOPEZ, COLEEN MCCLOUGHLIN, NANCY DELL'OLIO, MADONNA and more. Clever CHARLES has got the rights to the images of his pal MADONNA, the ageless TWIGGY and the legendary MARILYN and popped their pix onto the prettiest earrings, courtesy of his talented jeweller, MARTY THORNTON, a pop artist with a long list of celeb clients. So who do YOU fancy on your ears, girls? Here is CHARLES' muse, lovely QUIZ CALL presenter LIZ FULLER sporting MADONNA on her delicate shell - likes.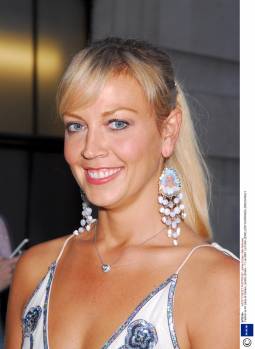 LIZ FULLER wears MADONNA earrings. C.r.: CHARLOTTE ELLIS.



Alternatively you can have one-off pieces made up for you, including divine pendants on 'pearl' necklaces. I recently had my daughter JADE immortalised on one such pendant and wear the necklace all the time. Lots of peeps have asked to buy it but I ain't selling: yessir, that's my baby! You can have your loved one, doggy or whatever made into a pendant, bracelet or earrings by sending a photo and details to CHARLES. Ring him on:
07909 518 338.


CHARLES says skirts are shorter this season so how are your knees, laydeez? Lots of you wrote to me to find out who tightened the iconic DEMI MOORE's knees a wee while ago. Do you remember? DEMI allegedly felt that her knees looked her real age, i.e. 40 ish, while the rest of her was a sprightly 20 something, like her toy boy hubby ASHTON KUTCHER. Now DEMI's knees are as gorg as the rest of her and CUTERA, the manufacturers of a machine called TITAN which literally tightens the skin and stimulates collagen growth, are "99.9 %" sure that she had them TITANed in the States. The TITAN machine works particularly well on the knees as well as bums, tums, thighs, upper arms and of course, on the face (for tightening jowels, etc.) The practitioner who has a TITAN machine in London is the highly respected DR ELISABETH DANCEY OF 28 Winchester Street, Pimlico, SW1 V 4NE / 020 7821 8257. DR ELISABETH's charming assistant FAYE tried it on my mummy tummy and I now have the tum of a teenager – excellent! The treatment works by heating but is completely painless, very relaxing and you will only require 2 or 3 sessions to be completely tightened. Highly recommended.

BTW here's DEMI looking gorg as ever.


DEMI MOORE. C.r.: UNIVERSAL.




PRODUCT NEWS:
Now here is a round up of the best and most unusual prod.s on the market today.

MD FORMULATIONS' Sun Protector 30 Spray – easily the best sun protection product (SPF 30) I have ever found because it is a fine, colourless spray which you can apply when you are dressed without ruining your clothes. It is supposed to be for the body but you can use it on the face too, including over make - up, as long as you keep your eyes tightly shut when applying. Long lasting and water proof.
Stockists: 0870 850 6655 /

[email protected]




Also by MD FORMULATIONS is THE TEMPS Oil Control Pore Refiner to counteract open pores and shiny skin. Our guinea pig reported that this product worked instantly on what she called her 'huge, open pores"!
Stockists: as above.

NURESS Skin Analyser is a small, neat gadget which detects your current skin condition, ensuring you choose the right skincare products and don't waste your money on the wrong ones. Our tester was amazed at how quickly the condition of her skin changed when she took a summer holiday involving sun, wind, Sangria, rich foods and sun protection products!
Brilliant idea.
Stockists: good stores and chemists.

Anything by CHERY LIN Skin Therapy, a new and exciting manufacturer whose products are based on plants, fruit and spices. We tried these in the office and particularly favour the Grapefruit Sweetie and Orange Exfoliant which does the business admirably and leaves you smelling divine for days.
The Lavender Skin Toner was pretty nice too.
Stockists: 07879 615 680 / www.cherylinskintherapy.co.uk


NOUVEAU CONTOUR's Fresh Minerals, the latest on the mineral make - up front, with a built in SPF of 20, are fab. Yes, you really can sleep in mineral make - up if it's helpful to your lifestyle and / or romance. Plus pure Fresh Minerals are great for spotty skin and give safe, instant coverage after peels, Botox and fillers. Try their Starter Kit containing powder foundations, bronzing powder, finish powder, eye shadow and superb blending brushes.
Stockists: 0845 644 3994 / www.nouveaucontour.co.uk

CLARINS' new Wonder Length Mascara in an elegant metallic red case is a slim wand which really does the trick for curling and colouring without clumping. An excellent addition to the haaaaaaandbaaaaaaaag'!
Stockists: good stores and chemists.

BOD FOR BUBS' Lorenzo's Oil (wonder how they got that famous name!)
is a special massage oil for babies made from sweetly scented and calming essential oils. Massage is great for baby bonding and our resident mum reported that her 6 month old baby girl went to sleep immediately after her massage and slept soundly for hours. Don't worry if you haven't got your own baby yet – it can be arranged!


Thank you for your emails about my long time friend INGRID TARRANT who has often been featured in this magazine. I am sure that all we ladies felt for lovely INGRID recently when we read in the red tops that her TV pin - up hubby, keen angler CHRIS used to jump into bed reeking of fish with fish blood on his hands – allegedly! But I am sure the redoubtable INGRID will survive and here she is.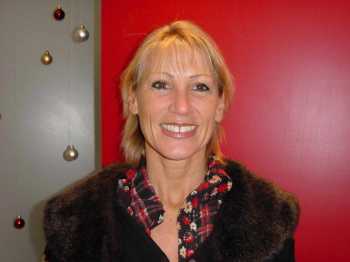 INGRID TARRANT. C.r.: JANET GINNINGS.




But what if it was the other way around and we gels were smelling less than fragrant in the boudoir? Gadzooks! I have to admit my own keen angler husband JEREMY (who always takes showers after fishing expeditions!) hates the smell of fake tan. And of course I, moi, being a health expert, cannot possibly have a real tan and am dependant upon fake tan (currently MAKE BELIEVE Self Tan Airbrush Bronzer, a spray on prod which is fastest ever to apply and gives a really natural colour – from BOOTS, JOHN LEWIS, FENWICKS and SELFRIDGES.) And of course all fake tanning products smell, especially when you get nice and warm in bed. What to do? Luckily there is at last an answer – TAN A SAC, my Product of the Year, is here and not a moment too soon. TAN A SAC by JENELA is an ingenious sort of large sleeping bag - with a pillow case and flap to go over the duvet -which fits on top of your existing bed linen. You can sleep in it on the night you have applied your fake tan and just take it off and wash it in the morning, thus protecting your linen and your sleeping partner from fake tan streaks and that horrid chemical smell. Plus there are poppers in the sides of the TAN A SAC in case your boyfriend really misses you, smell or no smell. This prod is utterly brill and I firmly believe it will save lots of marriages and romances. My hubby says fake tan smells like a 'dead rat' and I know there are none of those in our house because I have put down Humane Mouse Traps and haven't even caught a Humane Mouse, let alone a big rat! In the meantime I would like to highly highly highly recommend TAN A SAC to all would be sun kissed goddesses!
www.tanasac.com


Do you ever get fed up with your local cheap and cheerful Korean nail bar where they give you an a/p then keep you waiting 40 mins?! Help is at hand. GLOSS The Nail Bar has recently opened in DESTINATION HEALTH CLUB, 42 – 44, Great Portland Street, W.1. / 020 7636 4477, conveniently close to TOP SHOP, SELFRIDGES, etc. I had my best ever manicure and pedicure there last month at the hands of (excuse the pun!) the lovely and efficient BENNY who made my hands and feet feel soft as a baba's and painted my nails and toenails a dashing scarlet and sparkly pink respectively, courtesy of OPI, whilst I had my back rolled and massaged in a huge, comfortable chair and chatted to gorg KAREN from ALCHEMY, GLOSS and DISTRACTION's PR guru. BENNY is super fast, accurate and efficient and my OPI painted nails lasted much longer than usual after her GLOSS treatment.
KAREN showed me round DISTRACTION later and it's fab. One of their most popular treatments there is HYPOXI where a machine and a body suit will slim and tone you and get rid of your cellulite if you're a girl and give you a 6 - pack if you're a boy - excellent! Satisfied customers include CHERYL TWEEDY COLE, LOUISE REDNAPP, SINITTA, KERRY KATONA and KATIE PRICE aka JORDAN. Boys who are 'lovin it' include PETER ANDRE and ROBBIE WILLIAMS, who allegedly owns 2 HYPOXI machines, for both his UK and US residences - practical guy!
DISTRACTION also has 2 gyms and its own personal trainer, CHRIS MUNDLE who trains the gorg EWAN MCGREGOR in the private gym. Check it out soon.
Now for a picture – HYPOXI fans PETER ANDRE AND KATIE PRICE both looking svelte. PETER AND KATIE's outfits, btw, are by exotic Kensington designer ROUBI L'ROUBI (07788 921607.)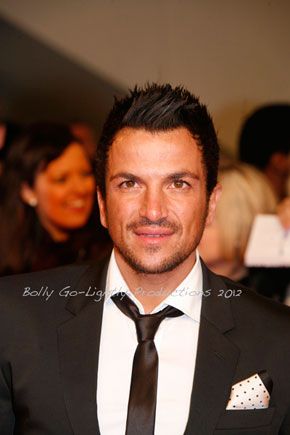 PETER ANDRE AND KATIE PRICE. C.r.: MATRIX.




My Film of the Month this time is THE BOURNE ULTIMATUM, 3rd and last in ROBERT LUDLUM's Jason Bourne Trilogy (well, maybe not last as HOLLYWOOD will probably persuade the eminent MR LUDLUM or another thriller writer to keep 'em coming a la the BOND movies.) Anyway this one is the best yet, with MATT DAMON, apparently now the world's highest paid actor and deservedly so, on top form. The film was directed by the hugely talented and charming PAUL GREENGRASS whom I met at the last BAFTA Film Awards when he won Best Director for his extraordinary and moving UNITED 93. Like UNITED 93, THE BOURNE ULTIMATUM moves along at a terrific pace and never slows down or gets boring. PAUL GREENGRASS is truly a great director: look out for his THE HUMAN HEART as well.
If you want to read all about THE BOURNE ULTIMATUM premiere go to JOE ALVAREZ' CELEBRITY column after reading this one. While you're at it, take a look at LADY JOAN OLIPHANT-FRASER's TRAVEL, HOTELS AND RESTAURANTS where I have written a guest review this month, complete with lovely SHABNAM from BIG BROTHER 8 and check out JACQUIELINE, NICK, VALERIE and JAMES'S excellent pages as well.
In the meantime heeeeeeeeeeeeeeeeeere's MATT DAMON to keep all the girls (and boys – he has a huge gay following) happy.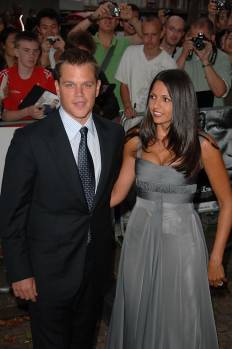 MATT DAMON. C.r.: JOE ALVAREZ.




All at HOT GOSSIP UK would like to send heartfelt sympathy to those who lost loved ones to HURRICANE DEAN. My daughter JADE was in Eastern Jamaica when the Force 5, 150 mile an hour hurricane hit the island and I spent a sleepless 24 hours while she was out of contact during the State of Emergency. Thank God I was able to keep up to date with what was happening out there courtesy of BBC RADIO LONDON, GMTV and SKY NEWS – all had excellent coverage. I meditated and put a 'white light' protective bubble around my child in my mind - one never really knows how powerful these things are but at least only the edge of the hurricane hit Jamaica, not the 'eye'.


Thank you for reading my page. You can e-mail me at:


[email protected]


and do check out my personal web site at:
www.sallyfarmiloe.com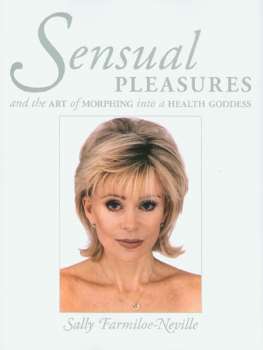 SENSUAL PLEASURES AND THE ART OF MORPHING INTO A HEALTH GODDESS (£16.99) is available from the following outlets:

Delancey Press -

[email protected]

or 0845 4589911
ISBN: 0780953911998

LOO TIME VIDEO available from:

[email protected] and:

http://www.121music.com/pages/video_01/home.html