REVIEWS: These are my favourites for this month:

THE GORE HOTEL, 190 Queen's Gate, London, SW7. Tel: 020 7584 6601.
WHERE DREAMS BECOME REALITY.

If you like to relax in baronial splendour and be courteously looked after by a charming staff, this is the hotel for you.
It has 50 guest rooms en suite which are fantastically furnished with chandeliers and beautiful works of art, pictures and ornate mirrors. Your bathroom might be highlighted with a striking statue of Adam and Eve and your toilet might be a Regal Antique Throne.
The Gore has welcomed many celebrities and famous people including Judy Garland and Dame Nellie Melba.
Guests can relax in The Green Room where complimentary tea, coffee and soft drinks are offered throughout the day.
A fine alternative is their Bar 190 which includes Cinderella's Carriage, seating a maximum of 6 people on facing banquettes, perfect for either an exclusive party or a romantic love nest for two. An additional touch of fun are strawberries served in a glass slipper.
The Restaurant is delightful. I had lunch with Edward Bracken, Director, who is responsible for the overall period grandeur of the hotel, guest rooms, bar, lounges and restaurant. The cuisine is original and delicious: for example I savoured the Flat Mushroom and Leek Tart topped with Mozzarella, followed by a Slender Gourmet Pan-fried Rainbow Trout with Home Pickled Vegetables.
As the Hotel is situated just behind the Albert Hall, it is perfect for music lovers. After the Proms you can look forward to a delicious dinner – the Restaurant stays open until 11.30.
And then ......... the candlelit Art Deco, mahogany-panelled Bar attracts a mix of fascinating people, especially those from the film, fashion and music industries. Opening daily from noon until 1 am, Bar 190 is popular with guests wishing to party into the early hours. A resident DJ plays at weekends.
To quote the hotel's blurb, "The Gore blends the characteristics of an art lover's
private home with the relaxed ambience of a fun-filled club."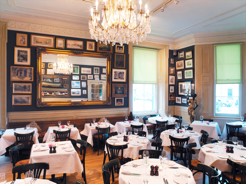 THE GORE HOTEL restaurant




THE QUILON RESTAURANT, 41 Buckingham Gate, London. Phone: 020 7 821 1899.

The Quilon Restaurant owned by the distinguished Taj Group of hotels, is situated in Buckingham Gate, a stone's throw from Buckingham Palace.
As soon as you enter, you sense a regal atmosphere, an oasis of calm and tranquillity.
Delicious aromas of spices assail the nostrils and the staff are truly courteous. We were escorted to a delightful table where live flower decorations are reflected in wall mirrors.
The menu was thrilling – first we had the Kerala Seafood Broth – lobster, scallops, shrimps, mussels and fish simmered in a ginger peppercorn, coriander infused broth with a touch of coconut cream - a spicy melody that caressed my taste-buds.
After the starter everyone is offered a glass of Rassam – tomato and cranberry juices mixed with garlic and spices.
From a world wide selection of wines and beers, I decided to try Indian wine: there was a white Sauvignon Blanc from the Nandi Hills, described as "modern and tropical" and a red Reserve, described as "aristocratic, tasting of blackberries and vanilla." I went for the Sauvignon Blanc which was quite spicy and went well with the Indian food.
Executive Chef, Srivam Aylur (below) compiled the list himself. He creates an exquisite range of South Indian contemporary dishes with flair, style and authenticity. Sea food is prominent which I, as The Slender Gourmet, heartily endorse.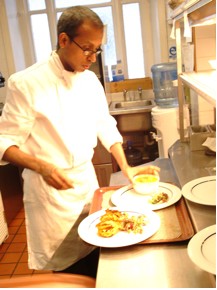 EXECUTIVE CHEF, SRIVAM AYLUR




QUILON CELEBRATES INDIA
From the 15th August to 15th September there is a special 2 Course Menu for £16 and a 3 Course Menu for £20.
I couldn't wait – so I went along on the opening night so that I could report to all the millions of Hot Gossip readers world wide.
I started with delicate marinated Chicken Morsels char-grilled and a thin Rice and Lentil Pancake filled with Tempered Potatoes. (I have never met an angry potato – but then the word can have two meanings!)
Then I had The Koondanu Fish Curry which was a dream of delight – tender chunks of top quality fish simmered in coconut, chilli, onions and tamarind gravy. For dessert a mango sorbet left me feeling healthy and happy.
I shall return and celebrate my Birthday there later this month.


GUEST REVIEW: My Editor, SALLY FARMILOE-NEVILLE, presenter of UNCOOKED TV on THE PHOOD CHANNEL, recently visited ARCHANGEL. Here is her review:

I loved ARCHANGEL, 11-13, Kensington High Street, W8 5NP / 020 7938 4137, the latest and greatest celeb bar and restaurant to hit the social radar. The night I was there I bumped into all sorts of old friends and met new ones. It was great to see suave restaurateur "DB" (SIMON DRUMMOND-BRADY) of MORTON'S fame, "The Eyebrow Queen", KAMINI, the lady who threads celebs' eyebrows so that they look as if they have had "work" and the fabulous CHARLY SPRY who is now publicising ARCHANGEL. Plus I loved meeting sexy SAMMY and LEE from new girl band SAMMY who had just completed a sell out tour supporting DONNY TOURETTE'S band, THE TOWERS OF LONDON. The girls were with their stunning publicist, LEONIE HODGE and petite cutie SHABNAM from BIG BROTHER 8 who is shortly releasing a cover version of LULU's famous 'Shout'. I guess every night's a party night at ARCHANGEL and the owners, RICHARD and MARK are both gorg which doesn't hinder the atmosphere! The food in ARCHANGEL's CONSERVATORY restaurant is sensational, best ever. They specialise in seafood, fresh from the tank and their Seafood Platter takes some beating. I started with their Sea Food Salad which was delicious and substantial with a hard boiled egg and rocket garnish and my friend ate the Smoked Pacific Halibut which was most unusual, not too salty and a much more interesting appetiser than the usual boring old smoked salmon. Then my pal had The Seafood Platter of lobster, mussels, prawns, langoustines, oysters, squid, crayfish and crab, which was the biggest, best and most comprehensive of its kind I have ever tasted (yes, plenty for me too!) whilst I tried the White Wine, Cream and Saffron Mussels which was also best ever - and I have eaten mussels all around the world! For dessert we tasted a variety of THE CONSERVATORY's delish home made sorbets and ice cream and the champagne and house wines which preceded and accompanied the meal were excellent. Yummy, scrummy, in my tummy - can't wait to visit ARCHANGEL and THE CONSERVATORY again!
Highly recommended.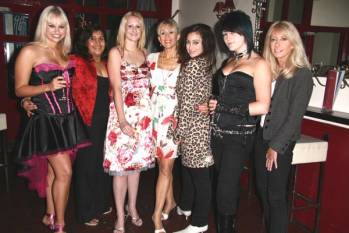 SAMMY, KAMINI, LEONIE HODGE, SALLY, SHABNAM, LEE and CHARLY SPRY. C.r.: JOHN ULLENS



Thank you, Sally and thank you, Hot Gossipers, for reading my page.

LADY JOAN OLIPHANT - FRASER - 'THE SLENDER GOURMET'.
(

[email protected]

)