I was recently lucky enough to meet hunky BAYWATCH and KNIGHTRIDER star DAVID HASELHOF at the fab FASHION CIRCUS BALL organised by dynamic designer ERIC WAY in aid of DEMELZA HOUSE CHILDRENS' HOSPICE, a truly worthy cause. The divine DAVID was wearing an amazing, seriously retro frockcoat and matching antique shirt and really looked the biz for a fashion evening with several A-list designers including ERIC himself. Here's the charitably-minded MR HASELHOF in his cool threads with me (naturally!) in a GINA BACCARI frockette and an AIRBRUSH TAN by London's top fake tanner, lovely LAURA FERRALL-PEEVEY (07867 610 045.)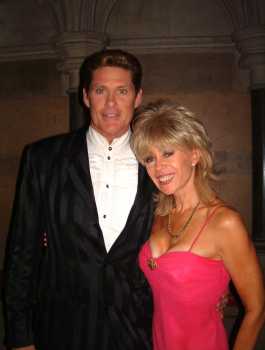 SALLY with DAVID HASELHOF. c.r.: GABOR SCOTT.



THE FASHION CIRCUS BALL was held at The Law Courts, a beautiful and unusual setting. Gorgeous models from ECHO MODA MODELS strutted their stuff in stunning collections by ERIC WAY, BERNARD CHANDRAN and DEIDA ACERO and there was a great auction conducted by the one and only HUGO SWIRE where a particularly dazzling pink sparkly number by ERIC went for £8,000. The DEMELZA HOUSE logo is a clown and ERIC, BERNARD, DEIDA, ELIZABETH EMANUEL, ZANDRA RHODES, HARRIET'S MUSE, JACQUES AZAGURY, LINDKA CIERACH, IGOR CHAPURIN and ROBERTO CAVALLI have all come up with their own unique interpretions of the logo for a splendid array of designer tee shirtsto be sold in aid of the charity. Here's GMTV's sunny weather girl ANDREA sporting the ERIC WAY design, one of which my stunning schoolfriend, former glamour model DENIZE HEWITT bought on the night.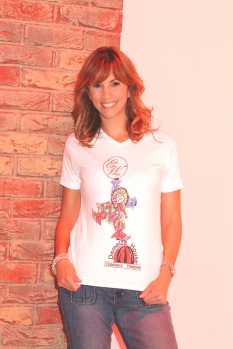 GMTV's ANDREA in an ERIC WAY DEMELZA HOUSE tee shirt.



If you would like to order one of these colourful tees by any of the designers mentioned, you can view them all at:

www.demelzahouse.org

or call SARAH TAYLOR at: 01795 845 210.The tees cost £45 and they look great as ANDREA has kindly demonstrated for us.


Talking of sartorial elegance, our very own esteemed HGUK sponsor, TV producer and wine importer extraordinaire DAVE WEST sports some wonderfully flamboyant outfits designed for him by ROSSINI of BOND STREET. You'll be able to catch macho DAVE on BBC2's "HEY JO" programme in January. It's a show about DAVE and his life and loves and should be totally fascinating as he is a modern day CASANOVA and his life revolves around beautiful women, fast cars, luxury yachts, exotic nightclubs and glamorous locations. The "HEY JO" of the title refers to DAVE's fab new club which he will be launching in the New Year = watch this space. Now for a taste of DAVE's unique style of dressing as we find him in a kingfisher blue ROSSINI suit leaning languidly against one of his shiny new Davemobiles!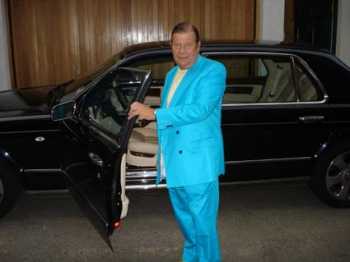 DAVE WEST wears ROSSINI.



Not all men enjoy shopping as much as our DAVE but they all have to do it sometimes, even famous film stars. JADE, our lovely Isle Of Wight pal PAT LESLIE and I recently bumped into gorgeous COLIN FIRTH in a trendy boutique called BLINK in Chiswick High Road. (8742 13 13)

We had already bought ourselves some nifty little numbers from this trendy shopette when eagle eyed JADE spotted "MR DARCY" (even without his breeches on!) and said "go on, mummy, you know him, speak to him!" I can't say I know the dishy one quite as well as we'd all like to but how could I refuse my daughter? In fact handsome COLIN is a warm and wonderful human being and revealed that he was looking for a birthday presy for his wife (sorry FIRTH fans, there is a Mrs F!) We all agree that CF is the best looking 30 something Brit fillum star in the biz, along with his lovely stable mate HUGH GRANT of course, and we can't wait for his next fillum, a thriller which will be out in the New Year, he assured us. Btw if you live not in London but in Reigate, BLINK's charming owner ANDREW says they'll be opening there this month.

But if you only feel truly at home in Knightsbridge, the best new shop to open there recently is undoubtedly LAUREN B (13,Beauchamp Place, tel: 7589 34 44.) LAUREN B is owned by LAUREN herself, who is gorgeous, and her range of cocktail, evening and bridal wear, including a made to measure service, is just to die for. LAUREN's use of colours and materials ensures a very feminine look and the prices start in the hundreds rather than the thousands which is unusual for Beauchamp Place! LAUREN also has a divine in-house shoe designer called YAHEYA PASHA who can make stunning shoes in the same material as your outfit = very NANCY DELL'OLIO!

If you do live in London but, like me, you hate the "KENgestion" Zone business, there are lots of great shops and salons outside the dreaded West End. I recently discovered the most brill new beauty salon in Hammersmith, just a brisk jog up the road from my most excellent gym, ENERGIZE! (8748 99 33.) The salon is called THE BEAUTY CLINIC (128, Hammersmith Road, tel: 8741 7904) and its owned and run by the beauteous MO ASHRAF who is the best possible advert for her business, probably because she religiously tries all the treatments herself.

I had my best ever pedicure at THE BEAUTY SALON and my nail polish is still unchipped a month later. Feet will be featured in this season's strappy evening sandals and far too many ladies forget about them. Footcare is all important; after all we're on them all day and a pedicure is also very relaxing; so treat yourselves ladies!

While I was at THE BEAUTY CLINIC I also tried the HYDRADERMIE LIFT, the latest and greatest facial treatment available, exclusive to GUINOT. MO herself favours the HYDRADERMIE and I could tell after just one treatment that it really works. The treatment consists of a safe but effective "excito motor micro-current" which gently lifts the facial muscles to reduce wrinkles caused by the skin's loss of elasticity, drain toxins and improve circulation. It doesn't hurt at all, just a light tickling feeling but after just one session my skin looked absolutely radiant. This is one treatment I'm going to stick with; it costs just £55 per session and apparently you need about 4 to achieve the MO glow!


Of course we all have to look after our complexions at home as well. Lovely fashion designer ADELE BLOOM has just launched a fab new beauty range called ADELE COSMETICS and her ADELE Skin Firming products are excellent. I started off with the Skin Firming Lotion (£55) which is great for the face and the whole body, then moved on to the Boob Beautifier (£47.50 and excellent for the whole decollete as well. Sorry, no before and after pix!) and finally tried the Lip Bloomer (£20) which smooths and plumps up the entire lip area and is particularly good for those of us naughty peeps who might have fancied a little fag at some time in our lives. Smoking Kills, folks, and it gives you wrinkles around your gob too!

Like MO, ADELE is also a terrific rep for her products and looks absolutely blooming, if you will excuse the pun. All her prod.s are available from: www.divinemagic.co.uk

The seriously gorgeous DEMI MOORE has been filming her new low budget thriller HALF LIGHT in the depths of glorious Wales and my spies have spotted the gorgeous one astride a horse in the sea with ne'er a wrinkle in sight although she has been quoted as saying that she wants to have a knee lift! (NIP/TUCK and PLASTIC SURGERY LIVE have both failed to show us a knee lift so far but leading British cosmetic surgeon MR BASSIM MATTI (30 Harley Street, W.1., tel: 7637 95 95) tells me it can be done but leaves a horizontal scar right across the middle of the knee. So now we know! The charming MR MATTI also told me that MS MOORE has not as yet retained his brilliant services for the op. As MR MATTI is the top guy in the UK we can only assume that she will be returning to HOLLYWOOD for this latest exciting and uplifting procedure. Personally, I think DEMI's knees are as perfect as the rest of her. She is certainly still extremely slim and her personal chef, who wishes to remain nameless, reports that she eats like a bird and has to be tempted with exotic tastes such as lemon grass. So that's how she keeps so skinny at 40 plus: go for lemon grass, ladies, and you too could look like this:


DEMI MOORE.




THE celeb book to be reading this autumn is JAMES NAUGHTIE's absolutely brill new tome, THE ACCIDENTAL AMERICAN: TONY BLAIR AND THE PRESIDENCY (Macmillan, £18.99.) Even if you don't usually fancy political books, you'll love this one because NAUGHTIE is a really good writer and it's an easy read. And the subject matter? Phenomenol. After all the BLAIR/BUSH alliance is fascinating and in this book we meet a "B.LIAR" who is much more aggressive than the smiling, diffident TONY we're used to seeing on our teevee screens. And what happens at the end? I think we'll find out quite soon if KERRY gets in! THE ACCIDENTAL AMERICAN is highly recommended.


Finally what do KYLIE, BECKHAM, PAUL and STELLA MCCARTNEY, BRYAN ADAMS, ANDY WARHOL and WAYNE ROONEY have in common? They have all donated items for a Celebrity Charity Auction in aid of one of my pet charities, THE MARINE CONNECTION, which will take place on October 7th at fave celeb hot spot CHINAWHITE. If you'd like to join our esteemed Ed In Chief GEORGINA and moi for what promises to be a fab do, phone: 7499 91 96. Tickets are £50 per person to include canapes and wine all evening and the charity are reserving some tickets especially for HGUK readers. See you there.

Thank you for reading my page. Do check out my personal website at:

www.sallyfarmiloe.co.uk

and don't forget to order your LOO TIME vids for the little nippers!

LOO TIME VIDEO available from:

[email protected] and:

http://www.121music.com/pages/video_01/home.html