This is the time of the year when I feel like changing the pace a little bit and what better than the Venice Film Festival to do just that. Apart from being my favourite film fest it never disappoints and it is far easier to cover than Cannes. Once again we had a good 'A' list turn out of celebs including: TOM CRUISE, NICOLE KIDMAN, KATE WINSLET, REESE WITHERSPOON, AL PACINO, ROBERT DE NIRO, WILL SMITH, SCARLET JOHANSSON, ANGELINA JOLIE, TIM ROBBINS, JOHN TRAVOLTA, JOE ALVAREZ, (tee-hee) JOHNNY DEPP, HELEN MIRREN, TOM HANKS, STEVEN SPIELBERG, QUENTIN TARANTINO micro English starlet SIENNA MILLER who happened to be filming in Venice and attended the AMFAR party -AIDS thing- , DENZIL WASHINGTON, MERYL STREEP, freshly dug up for the event LAUREN BACALL who was mortified - quite - at the shouting during the photocall as we all wanted photos of her co-star and leading lady NICOLE KIDMAN. They were promoting their new flick called 'BIRTH'. Looking at LAUREN BACALL and seeing her being completely sidelined by Nicole a more appropriate title would've been 'DEATH'.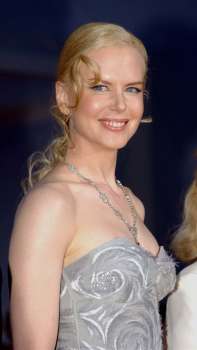 NICOLE KIDMAN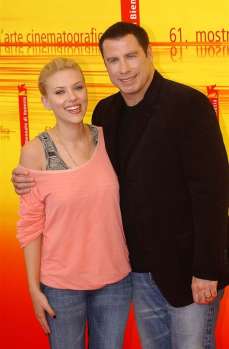 SCARLET JOHANSSON and JOHN TRAVOLTA at photocall for their film 'A LOVE SONG FOR BOBBY LONG'



With the number of decent celebs our work load was huge as there were photocalls throughout the day and three premieres per evening. The third prem of the evening normally started at 10.30pm with the customary hour delay or so - Italian time- but the biggest mickey take was the 'FINDING NEVERLAND' premiere with JOHNNY DEPP and KATE WINSLET which started at 2 am! By the time it was over and my pics edited and wired and got back to my hotel it was almost time to get up again. And you thought all I did was drink champagne....OK most of the time but not ALL the time. ALAN DAVIDSON -the Daily Mail photographer- was banned once again from the festival and refused press accreditation for an altercation with the main press PR person in Venice which he refused to apologise for. Nothing new then. The main event of the festival was the world premiere of SHARK TALE. The premiere had the most fantastic location ever for a film prem. It was held in Piazza San Marco. -OK Saint Mark's Square then!- This computer animated flick by DreamWorks directed by Rob Letterman, Bibo Bergeron and Vicky Jenson from a screenplay by Michael J. Wilson and Rob Letterman is about a great white shark who has a sensitive side and is erm, a VEGETARIAN. If he lived in the UK he would probably wear open toe sandals and holey woolly jumpers and read The Guardian. Yes, we know the type. The film has a stellar cast including: WILL SMITH, the voice of 'Oscar' the shark, ROBERT DE NIRO voice of 'Don Lino', RENEE ZELLWEGER voice of 'Angie', and ANGELINA JOLIE being the voice of 'Lola'.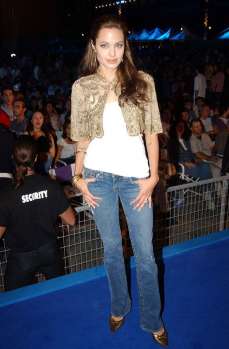 ANGELINA JOLIE at the Shark Tale prem.



The only low point at the premiere was when the stars gathered on the main stage where WILL SMITH started to 'RAP' dear readers. I couldn't shove earplugs fast enough in my ears. Even ANGELINA JOLIE's adopted son MADDOX who was being carried by the star herself put his fingers in his ears to stop the torturous racket. Top honours at the festival went to JAVIER BARDEM -best actor-, IMELDA STAUNTON -best actress- for her role in VERA DRAKE and best flick was VERA DRAKE by MIKE LEIGH.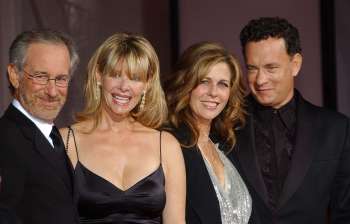 SPIELBERG and TOM HANKS with their wives during the opening night of festival.



Meanwhile back in blighty the London Fashion Week was in full swing and I began the arduous task of covering most of the shows armed with a supply of pink MOET. My two favourite being the FROST/FRENCH show and BOUDICCA. In the same week the premiere of the film 'WIMBLEDON' with KIRSTIN DUNST and PAUL BETTANY was lively but compared to Venice a bit boring so I won't bore you with it. And that's it once again dear readers our tearful separation until next month. Don't worry I love you ALL.

Over and out.

JOE ALVAREZ

[email protected]

(Copyright Joe Alvarez 2004) All pics Copyright Joe Alvarez