At last! I have found the perfect British spa which combines excellent pampering treatments with gourmet meals. It's called GREENWOODS ESTATE SPA AND RETREAT (01277 829990); it's set in the beautiful countryside near Billericay and boasts its own fantastic restaurant where the chef JONATHAN prepares meals which entice foodies from far and wide, including, during my stay, the local Mayor. In fact my friend PATRICIA and I have just returned from GREENWOODS and are both feeling fit, healthy and beautified but NOT half starved as is the case with some health farms.

Patricia and I had extremely relaxing facials and massages where we both had a nice zizz while being pampered with top quality ELEMIS products. Then our delightful beauticians, JODIE and LIANNE respectively gave us perfect waxes and pedicures, after which we felt well groomed enough to slide into the inviting state-of-the-art swimming pool and jacuzzi at GREENWOODS. I also tried a yoga class with VIV which gave me a really good stretch in all directions.

GREENWOODS is a cosy family-run set up and the directors KATHLEEN, EILEEN and JAMES are all absolutely charming and made us feel very much at home. We felt even more at home being able to stuff ourselves on yummy haute cuisine meals, served by lovely ILIANA and drinking our usual quota of vino instead of hot lemon water!

GREENWOODS is only 2 years old but has already scooped lots of awards, beating even the long established Champneys into second place. The "Spa and Retreat" as it is called, rather than "Health Farm", is bristling with celebs already and various newspaper and magazine staff turned up to write it up while we were there so book up quickly. Patricia and I will certainly be back soon for a really relaxing and beautifying stay.
Highly recommended.


GREENWOODS ESTATE SPA AND RETREAT




And if, like Patricia and moi and other GREENWOODS afficionados, you are true foodies (and nothing wrong with that if you don't overdo it and take regular exercise) you will love SUZAN ST. MAUR's great FOOD LOVERS' JOKE BOOK: check it out at;
www.itscooking.com

Whist on the subject of nutrition, many people have dairy allergies nowadays and don't like the taste of soya milk. The good news is that there is an alternative to both: OATLEY ORGANIC OAT DRINK. OATLEY, for people who cannot tolerate lactose or soya, is made from oats (surprise, surprise!) and is absolutely delicious. In fact I think it tastes better than milk and drink it by itself as well as on my morning porridge. OATLEY contains plenty of protein and fibre, is not fattening and is ideal for those needing to watch their cholesterol levels. You can buy OATLEY at most supermarkets or phone: 0845 601 2297.

One lady who does NOT need to watch her fat or cholesterol levels is the super-sleek and sylphlike TAMARA BECKWITH and here's lovely TAMARA modelling the divine ERIC WAYS' sparkly orange bikini-dress at ERIC's recent VARIETY CLUB fashion show at THE DORCHESTER.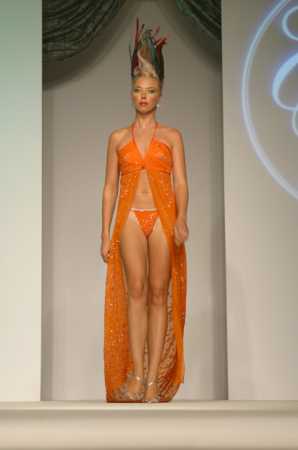 TAMARA BECKWITH modelling for ERIC WAY




ERIC WAY himself is utterly charming and gorgeous, by the way, and his designs are just divine, especially the demure pink frock KRISTIN DAVIES wore as CHARLOTTE in the last ever (weep! weep!) ep of our beloved SEX AND THE CITY, not to mention the million dollar diamond encrusted jacket which made his name. ERIC is in Kendal Street, W.2. at: 020 7706 4709.


Sadly bikinis are not much use in this present cold snap but GLOVES are a must; check out the latest glove style for this autumn and winter at : www.glovestory.com

And for those of you who may find a use for ERIC WAY's stunning bikinis (maybe on a little cruise, dwahleengs?) you will be needing a tan. The latest fake tan to hit the market is IT, a fantastic new tanning system distributed by that wonderful company PURELOGICOL (0870 750 2401) who manufacture my very fave nourishing cream, COLLAGEN VELVET SERUM.
The IT 3 step tanning-without-sun system comprises Individually Tailored EXFOLIANT, Intimately Tantalising BODY DEW and Intensive Tanning GEL or SPRAY. I tried the gel myself and found it excellent: the gel comes in an easy to apply pump-action bottle and has a light guide colour. The actual colour, which appears after 3-4 hours, is extremely natural looking and thank goodness there is no nasty chemical smell with this product. I am now naturally golden all over and waiting for someone to buy me a sparkly ERIC WAY bikini and take me on a cruise (hint, hint, JEREMY!)
Celebs using IT include the usually super-pale NICOLE KIDMAN and here she is in a recent pic looking positively glowing. No doubt she has been at the bottle: the IT bottle!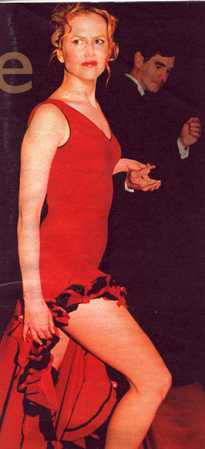 NICOLE KIDMAN.




If you are just looking for a really good exfoliant, whether or not you intend to apply fake tan afterwards, the best one on the market is definitely THE SANCTUARY's amazing BODY SCRUB, which is just £4.50 from BOOTS or THE SANCTUARY in Covent Garden. We all need to exfoliate our dry,windblown skins in autumn and winter and this product, containing natural pumice, orange and patchouli oil, will make your skin feel like silk, guaranteed.


My 2 other fave prods this season are:

ESTEE LAUDER's sensational new perfume BEYOND PARADISE, which really cheers me up and makes me think of summer on these dark days now the clocks have gone back and TRENDLINE's amazing SHINE SPRAY from GOLDWELL (020 7318 4000) a truly brilliant hair product which puts back the natural gleam that the elements take out.

The best celeb book out this season is the supremely talented JANE HUXLEY's second novel FOR THE LOVE OF PENNY WHISTLER, "a tale of love, lust, obsession and betrayal" (Delancey Press, £14.99). PENNY is actually a tantalising story about a lady from London who is rescued from the horrors of the war in Kosovo by a bored, rich and depraved bi-sexual, Griffin. Griffin draws Penny into his perverted web on Long Island and she meets his frivolous, flighty sister, Aspen and her handsome lover, Alex who is much more interesting...... I found PENNY absolutely unputdownable and devoured it in a couple of days.
JANE HUXLEY's publicist for PENNY is marvellous MAX CLIFFORD and PENNY has garnered extraordinary reviews from everyone from the great DAME BERYL BAINBRIDGE to His Trousership SIMON COWELL.
Books always make fab Christmas presents too. I suggest you snap this one up quickly.

Sadly BIBA HILLER, THE DUCHESS OF MANCHESTER is no longer with us. The beautiful and vivacious BIBA passed away at The Royal Marsden Hospital surrounded by her family after a brave battle with cancer. Her lovely daughter MICHELLE arranged a beautiful service for her mother at The Brompton Oratory which was attended by many family and friends. BIBA will be sorely missed on the London social scene.

Finally I must congratulate "endurance artist" DAVID BLAINE on his extraordinary achievement, living on just water in a perspex box for 44 days. Speaking as a so-called fitness expert I cannot condone what MR BLAINE may (or hopefully not) done to his internal organs but you have to admire the man for the wacky stunt. He certainly livened up the general scene down by Tower Bridge and put a firework up the backside of the British public. I am ashamed that some of us chose to act in such an ignorant manner at the beginning of the fast but, by the end, the mood was extremely buoyant and friendly: it was like a giant DAVID love-in. JADE and I did our bit with our little placard and squinted at DB through a tame paparazzo's zoom lens after which we were rewarded by himself standing up and waving at his adoring fans. It was rather like a day at the zoo waiting for the primates to come out of their caves! Whatever will this extraordinary and charismatic man get up to next?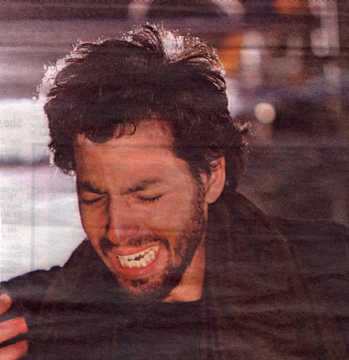 DAVID BLAINE. C.r.: E.S.




Thank you for reading my page. Please e-mail me at:


[email protected]




And don't forget to buy my hilarious LOO TIME video: you never know who might need it for Christmas!