Here's to summer, dear readers! The good news for we Brits is that our HGUK cover boy this month, the hunky JAKE GYLLENHAAL, is expected over here this month to promote his new film ZODIAC. ZODIAC is a taut thriller also starring ROBERT DOWNEY JR and its release date is May 18th. To find out more about this new film go to JACQUELINE DAVIS' interesting CRIME, SAFETY AND PREVENTION page in this magazine.

Thank you for your emails re LVL Lashes, the amazing new treatment which makes the best of your eyelashes and saves you loads of time and money on mascara, eyelash curlers and false lashes. When you have your lashes LVL 'd you will only need one coat of mascara and you're off! I have just had my second LVL session and have decided that this is one beauty treatment which is For Life for me. The treatment involves straightening, volumising, fixing, colouring and conditioning your lashes until they look totally gorg and you just can't help fluttering them. BRIDGETTE, the lovely and efficient beauty therapist from NOUVEAU CONTOUR, the company which launched the brill LVL system earlier this year, attended to my lashes in just 45 mins and they look magnificent, dare I say? You need to have the lashes redone every couple of months but it's not expensive and BRIDGETTE says the treatment has a cumulative effect so that, like Botox and fillers, the more often you have it done, the longer the effect lasts.
Visit: www.lvl-lashes.co.uk
Or ring: 0845 644 3994 if you too want to have lashes like PENELOPE CRUZ without having to use loads of expensive mascara.


PENELOPE CRUZ. C.r.: L'OREAL.




Once you have the sultry lashes of your dreams you should take them to all the most fashionable celeb restaurants in town. If we're talking London, first there was Chinese, then Thai, now Malaysian is the most fashionable food to be eating. The 2 best Malaysian restaurants in the capital belong to the charismatic EDDIE LIM who owns 70 restaurants around the world and knows everything there is to know about food and how to present and serve it. EDDIE's Chelsea restaurant is AWANA, 85 Sloane Avenue, SW3 / 020 7584 6188. My friend DENNIS and I recently dined there on the most succulent spare ribs I have ever eaten, made from steamed marinated lamb, followed by a piquant Malaysian fish curry and, my special favourite, butterfly king prawns made with coconut and condensed milk. The meal was accompanied by delicious Malaysian bread, made in front of our eyes by the chef and we finished with a selection of home made ice creams in various delicate flavours and a 'koeh dadar', a truly yummy green pancake made with coconut, a speciality of the house. The house champagne and Chardonnay were both excellent and the teetotal DENNIS loved the fruit cocktail named after the iconic JIMMY CHOO, one of AWANA's favourite celebrity guests.

The charming EDDIE recently allowed me to present a segment for UNCOOKED TV at AWANA with JIMMY and other gorg celebs and here we are, along with DR LYDIA BELTON, my producer, after enjoying another scrumptious meal at AWANA. (LYDIA's and my stunning silk suits are both by RACHEL COUTURE of Knightsbridge / 020 7235 3979, btw.)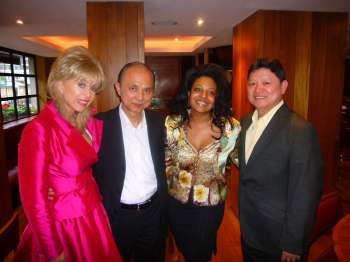 JIMMY CHOO and EDDIE LIM with SALLY and DR LYDIA BELTON at AWANA. C.r.: SAMMIE HO.




After AWANA we nipped off to film EDDIE's Belgravia restaurant, THE MANGO TREE, 45 Grosvenor Place, SW1 / 020 7823 1888, managed by the delightful NOK. THE MANGO TREE is phenomenal: it has a capacity of 250 and is always full, lunchtime and dinnertime. I returned with my publisher, TATIANA VON SAXE WILSON who is also a food critic, and we ate our way through their fab 5 course 'Taste' menu (only £40: excellent value.) The courses started with an innovative make-your-own salad, nuts and shrimp pancake, followed by spicy hot and sour soup and perfectly cooked seafood on skewers. Then we moved on to a light, fluffy omelette made from stir fried noodles, tiger prawns and bean sprouts, followed by an exquisite green chicken curry with steamed rice and stir fried mixed vegetables with chilli and basil. Just when we thought we couldn't eat another thing, the 5th course, the desserts, arrived and tempted us yet again! We tasted 3 different 'puds': comforting sticky rice with honey mango, yummy chocolate ice cream and spicy mango sorbet, quite the best 'water ice' I have ever tasted. You might think we would have felt rather full after all that but one of the bonuses of Malaysian food is that it is very light and easily digested and does not make you gain weight at all. At MANGO TREE, TATIANA and I drank perfect Bellinis followed by delicious light and refreshing Sauvignon Blanc and Viogner white wines with our meal.

Needless to say AWANA and MANGO TREE are now on my fave restaurants list. One of the many little touches which impressed my guests and I were the stunning Malaysian pewter plates the food was served on: beautiful.
Highly recommended.


If, like me, you like to beautify yourself as well as eat and drink well all under one roof, you simply must try THE DORCHESTER SPA's Rose Ritual. This is a wonderfully luxurious treatment comprising a full body exfoliation and massage and deep cleansing and nourishing facial, using rose oils and real rose petals. It is absolute bliss and you can just drift off while you are wrapped up in warm, rose scented towels. Your skin feels like satin afterwards and you smell of summer roses: divine! Then you lounge around in a fluffy DORCHESTER SPA bathrobe nibbling a delicious rose cake specially created by the hotel's pastry chef and imbibing THE DORCHESTER's delish rose wine. To my mind this is the perfect treatment and THE DORCHESTER SPA has a truly relaxing atmosphere with its tinkling fountain and low lighting. Other popular treatments there include Aromatherapy Massages and the famous ST TROPEZ tanning treatments.You don't have to be a member of the spa or a guest in the hotel to book a treatment so treat yourself soon ("because you're worth it"!)
THE DORCHESTER SPA, Dorchester Hotel, Park Lane, W.1. / 020 7495 7335.
The DS is awash with celebs but one whom I've seen with my own eyes exiting the luxurious premises is the always gorg NICOLE KIDMAN and here she is, ladies and, particularly, gents!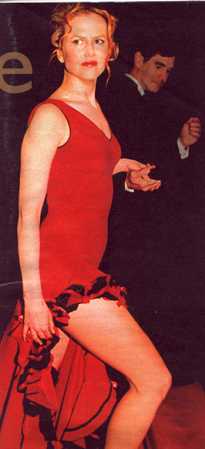 NICOLE KIDMAN. C.r.: PREMIER P.R.





Thinking about the INside of your bod, are you getting enough minerals? Most of us are mineral deficient but it's a problem which is easily remedied. There is now a delicious liquid nutraceutical food supplement called VIBE which comes in sachet form. You just dissolve one sachet in water to get all your minerals on a daily basis. VIBE is reputed to be good for everything from diabetes to dodgy knees and certainly improves energy levels.
Order from: 01666 504 718.


The warm weather is here and it's time to check out our figures. The respected DR JOSHUA BERKOWITZ's WIMPOLE AESTHETIC CENTRE has just introduced SmartLipo, a new and less expensive LaserbodySculpting procedure which melts away the fat and tightens the skin at the same time. I have seen the 'before and after' pix on their guinea pigs and the results are amazing.
Ring 020 7224 224 7 for a consultation with DR BERKOWITZ and get that bod sculpted!


If your legs could do with a bit of sculpting, not to mention support, try PRETTY POLLY's Leg Lift, 15 denier Light Support Tights. The effect is fab, really natural: your legs look fantastic and really do feel less tired in them. I wear them for tennis under my short skirt when I can't be bothered to apply my fake tan and no-one can tell! You too could have legs that look like PRINCESS DIANA's – remember?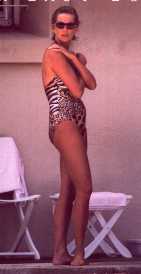 PRINCESS DIANA shows a leg. C.r : CAPITAL EVENTS PHOTOGRAPHY.





Talking of fake tanning (thou shalt not get a real tan - ever- sun damage will ruin your skin), you must exfoliate well before applying it. I recently found a brill new Exfoliant Scrub for body and face which really does the biz and leaves your skin feeling silky smooth. It's by AMAZON SECRETS, a new and exciting company which has just launched an excellent bath, body and hair care range with all sorts of great prods inspired by the fruits and nuts of the jungle. Check out the range on:
www.amazon-secrets.co.uk
or at: 0845 408 2998.


Once you are ready for your fake tan, the quickest and best method I have found is THE TANNING SHOP's Mystic Tan, a reasonably priced booth spray tan which takes just one minute and has 3 different levels of colour for all skin types. Mystic Tan comes out perfectly every time: try it at THE TANNING SHOP, Camden Hill Road, off High Street Ken / 020 7938 1932.


To protect your skin from the naughty sun, whilst giving it a healthy glow, try my all time fave summer product, DR DENESE's Defense Day Cream SPF 30. This highly moisturising and protective cream's tint counteracts any whitening effect from the SPF and is the perfect summer cover for your face, lighter than a base and obviously much more protective than a mere moisturiser. I wear it all over my face, neck, arms and decollete all summer long and a little pot lasts ages. I suggest you order a few pots as this product sells out quickly:
www.drdenese.co.uk


Thank you for your emails about KISS MY CHERRY, the gorg new titfer range. Talented designer BIANCA NEPGEN started designing hats just for friends before setting up in biz with fellow designer, TV presenter LARA MASTERS. The girls now sell all sorts of unique creations, some burlesque-inspired, including clothes, hats, bags and jewellery. They have a stall at the London Fetish Fair, at The Prodigal, EC3. on May 13th – should be a blast and you may like to pick up some other little fetish accoutrements while you are there!
www.kissmycherry.com
www.londonfetishfair.co.uk
Now here are BIANCA and LARA sporting a couple of their most popular numbers.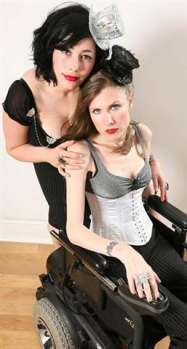 BIANCA NEPGEN and LARA MASTERS wear KISS MY CHERRY.





If you fancy an instant lift before a big date, important job interview or whatever, you should try the brilliant KATHERINE JACKSON's Tourmaline Facelift. This amazing new treatment which is both relaxing and stimulating involves a head massage with real tourmaline and will leave your face glowing and perky. Combine it with a deep cleansing and nourishing facial for ultimate benefit. KATHERINE is one of London's most popular therapists who has been around for yonks but looks like a young thing = a wonderful advert for her biz. I tried the tourmaline facelift combined with a facial recently and was still looking really wide- eyed (but not legless!) in a photo shoot several days later. Obviously the effects last well. It feels great too as KATHERINE firmly but gently touches the pressure points on the scalp while you, the client, lie back and think how great you are going to look – and you do! What's more, the tourmaline doesn't make your hair oily so you can have the 15 min treatment in your lunch hour or before going out if you don't have time for the facial as well. The lovely KATHERINE offers all sorts of other interesting treatments, including ones for rejuvenating hands and feet which I am sure we all need regularly in this stressful world. She used to be at HARRODS and THE HALE CLINIC and is now based conveniently in buzzy South Ken at 15 Bute Street, SW7 / 020 7581 2177.



CELEB BOOK NEWS:

The stunning MO HAYDER has done it again. Her latest paperback, PIG ISLAND (BANTAM, £6.99) is a twisted tale of a twisted tail with a twist in the tale! You have to read it to understand and I promise you, your hair will stand on end. MS. HAYDER's previous best sellers, BIRDMAN and TOKYO were extraordinary and unforgettable and so is PIG ISLAND. Not for the faint hearted.


If you are faint hearted, however and want a fun read to put you in the holiday mood, lively PR gal ANNA NICHOLAS' A LIZARD IN MY LUGGAGE: Mayfair To Mallorca In One Easy Move (SUMMERSDALE, £7.99) will do the trick. This is the true story of ANNA's own acquisition of a Mallorcan farmhouse and her balancing act of her 2 homes and 2 lives. You will also learn a sprinkling of Spanish terms and some all important Mallorcan traffic rules, amongst other gems. "Hasta la vista, baby"!


DAILY MAIL journo babe SHERRON MAYES recently garnered great success with her paperback, BE YOUR OWN PSYCHIC (HODDER AND STOUGHTON, £10.99), described as 'the new interactive guide to tuning in your psychic abilities and transforming your life'. Now SHERRON has brought out a DVD version which makes the learning process that much easier. Dealing with everything from relationships to losing weight, the BE YOUR OWN PSYCHIC DVD will 'hone your intuition and expand the energy of your mind to turn your dreams into reality'. What have you got to lose? Check it out at:
www.sherronmayes.co.uk


JEFFREY ARCHER's latest hardback of short stories is called CAT O'NINE TAILS And Other Stories (MACMILLAN, £16.99.) It is mainly tales supplied by ARCHER's inmates during his recent incarceration at His Majesty's pleasure so it is an eclectic mix, including one story which is so sad it made me cry. Very readable, as ever.
I wasn't over keen on the author photo in the book so here's a better one of him looking very perky with a charming young lady!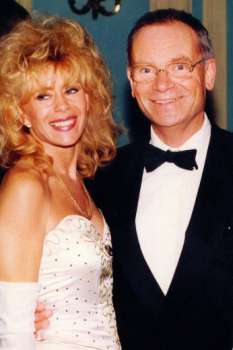 JEFFREY ARCHER with SAL. C.r.: CAPITAL EVENTS PHOTOGRAPHY.




OBITUARY:

I was very sad to hear that the delightful TERRY MAJOR-BALL, brother of former P.M., JOHN MAJOR, had died recently after a brave battle against prostate cancer. TERRY was one of the sweetest, kindest people anyone could hope to meet, much in demand on the party circuit and a good friend not just of mine but also of our esteemed Ed in Chief, GEORGINA. Although very social, TERRY was also a jolly good writer of both books and articles and he will live on through his excellent autobiography, MAJOR MAJOR. The last time TERRY rang me after he had moved down to Somerset, he sounded his usual jolly self and hardly mentioned his 'little illness'. Brave and self-effacing to the last, I suppose he must have had a ring round of his old London friends to say goodbye; but we did not realise it was goodbye. He will be sorely missed and all at HGUK send heartfelt condolences to his lovely wife SHIRLEY, brother JOHN and all the family.


TERRY was the third of my friends to tragically die from prostate cancer, now the biggest killer of men, within the last 3 years. If YOU would like to donate towards research into this horrible disease, or help in some way, please contact THE BOB CHAMPION CANCER TRUST, an excellent charity I support wholeheartedly which is headed up by the wonderful BOB CHAMPION. Popular celeb BOB beat cancer himself and went on to win THE GRAND NATIONAL on ALDANITI, inspiring the film CHAMPIONS starring JOHN HURT.
www.bobchampion.org.uk
020 7924 35 53.



Thank you for reading my page. Please email me at:


[email protected]


And check out my personal website at:
www.sallyfarmiloe.com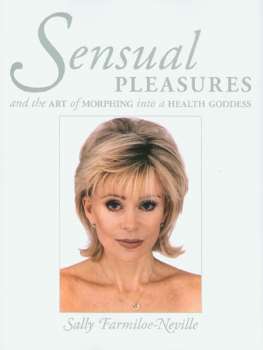 SENSUAL PLEASURES AND THE ART OF MORPHING INTO A HEALTH GODDESS (£16.99) is available from the following outlets:

Delancey Press -

[email protected]

or 0845 4589911
ISBN: 0780953911998

LOO TIME VIDEO available from:

[email protected] and:

http://www.121music.com/pages/video_01/home.html