THEO RANDALL'S RESTAURANT
InterContinental Hotel, Park Lane, London.
Tel: 020 7 318 8747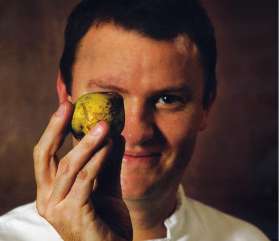 THEO RANDALL – Master Chef and Master Restauranteur



Theo's Restaurant is Mayfair's finest: a friend and I had a wonderful gastronomic dinner there recently. The Restaurant is spacious and I love sinking into comfortable, well padded chairs, as I read the Menu and nurture a glass of shimmering Champagne.

Theo's Italian Cuisine is fantastic, with lots of unusual dishes to choose from and there is a choice of 7 Antipasti. The Carpaccio di Manzo – seared Aberdeen Angus Beef Fillet with large leaf rocket, parmesan and aged balsamic - sent tingles up and down my spine, especially when accompanied by the Sommelier's choice of wine. (As a gourmet, I like a different glass of wine with each course.) This dish met all my Slender Gourmet requirements - nourishing, delicious and slenderizing.

I could not resist the Primi - a choice of 5 Pastas - especially when the Tagliatelle is handmade with fascinating fillings. For the Secondi there was a choice of 7 from which I chose Rombo al Forno - wood roasted Turbot on the bone with wild oregano, anchovy, asparagus and erbette - which was so succulent that it excited my powers of positive thinking. It really did stimulate the little grey matters in my brain. As a Finale I had a dessert of assorted Italian cheeses and yummy Fruit Tart.

I shall write about Theo's Restaurant in my next book, THE CHAMPAGNE LIFESTYLE.


THE WALLACE COLLECTION and THE WALLACE RESTAURANT
Hertford House, Manchester Square, London.
Tel: 020 7 563 9505

A visit to the Art Gallery in this magnificent Town House would prepare me for lunch in their Restaurant.

The Gallery is filled with life size portraits of Dukes and Kings, all looking rather glum, except for this portrait of The Laughing Cavalier, who has a merry twinkle in his eye.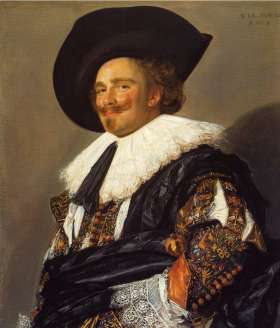 I think a few paintings of reclining nudes would have enhanced the Gallery.

The Restaurant is large and lovely with an 'outdoor' space protected from the elements by a glass panelled roof. Trees and shrubs surrounded the terrace's black dining tables and the chairs were covered by plush red cushions. The best Work of Art was, in my opinion, in the Restaurant. The Buffet presented a collection of shapely Crustaceans, prettily coloured in shades of pink and rose; the shell fish was definitely irresistible. The popular frisee of salad with bacon and poached egg had no appeal for me, however.


DELL RESTAURANT
The Serpentine, Hyde Park, London.

On these warm sunny days we want to nibble biscuits and cakes, drink coffee, fruit juices and wine and have breakfast and lunch outdoors.

The Dell Terrace overlooks the Serpentine where you can watch and feed the Geese, Ducks and Swans. The Swans give a daily Cabaret diving for fish, their bottoms up waggling in the air.

The Dell also has a garden that boasts the oldest and most beautiful Weeping Willow Tree that shades their tables and chairs. The food and drink is varied, suitable for all ages and tastes and excellent quality. I think it is the most relaxing and beautiful outdoor Café and Restaurant that I have ever enjoyed in London.

HAPPY BUBBLES Joan
e-mail:

[email protected]