Thank you for all your messages about ROBIN HOOD AND THE BABES IN THE WOOD, Panto fans. In fact it was that great Englishman MIKE WINTERS who introduced Panto to our American cousins, with great success. Check out the amazing GOLD COAST THEATRE next time you are in Florida, everyone; I plan to be back there myself for Easter.

In the meantime, back in draughty old Blighty the "cosmetic treatments" biz is in disarray after a certain consumers' magazine published a damning report, finding only 5 out of 16 clinics offering these ever-popular "non-invasive cosmetic treatments" ( i.e.: Botox, fillers such as Collagen, Restylane and Juvaderm and skin peels) were up to scratch. These sorts of treatments have taken over from actual cosmetic surgery, with its inherent dangers and scars, with the "beauterati" who are always looking to improve and/or maintain themselves (well, aren't we all, beauty lovers?) But it's an extremely competitive and lucrative business with "cowboys" everywhere, not just on the High Street but also in Harley Street itself. So you must be extremely careful in whose hands you put your faces: it's all important to go to a reputable clinic and be treated by a doctor, nurse or actual cosmetic surgeon.

I recently met the main lady herself, the queen of the cosmetic surgeons, ANGELICA KAVOUNI (129, Harley Street, 020 7486 90 40) when she and her dishy hubby LUCIAN attended our glittering 2 CITIES' BALL (where were you? It was great!) ANGELICA is a charming and calm beauty who is not only a wife and mother but also the (deservedly because her work is reputed to be quite brilliant) current flavour of the month on the cosmetic surgery and cosmetic treatments front. She is extremely ethical, dissuading patients from having actual surgery unless she feels there is no other way of treating the problem and my family and friends and I all felt extremely comfortable when we visited her consulting rooms and noticed a signed photo of the divine JOANNA LUMLEY beaming down at us from the wall!
My mate P and I both had a "light under-eye peel with TCA" with ANGELICA and we are absolutely delighted with the results. This is a procedure where the doctor paints the TCA onto the skin under your eyes and it peels off the top layer, including dead cells, sun damage, etc, leaving fresh young skin underneath and stimulating the growth of new collagen so that you look all fresh and glowy. ANGELICA says this treatment is much better than Botox for the delicate under-eye area and it's certainly made P and me look and feel marvellous plus we are finding that our make-up glides on more smoothly now. Like Botox, the light peel stings slightly upon application but there is absolutely no pain or discomfort afterwards. You can have a deeper peel if your "expression lines" require it and ANGELICA can treat the whole face, neck, decollete and hands with this method if you want to look beautiful from the top of your head to the tips of your fingers!

Whether or not you are having any cosmetic beauty treatments, you must look after your skin with a good nourishing cream. Our guinea pig AMANDA is currently trying L'OREAL's WRINKLE DE-CREASE, a gloriously named potion which is apparently excellent for keeping those naughty little lines at bay and is available in all major stores. The product is endorsed by the angelically beautiful CLAUDIA SCHIFFER who seductively breathes "let surgery wait" in her WRINKLE DE-CREASE commercial. Here's CLAUDIA helpfully showing us where we might just get some "expression lines" if we are not quite as lovely as her!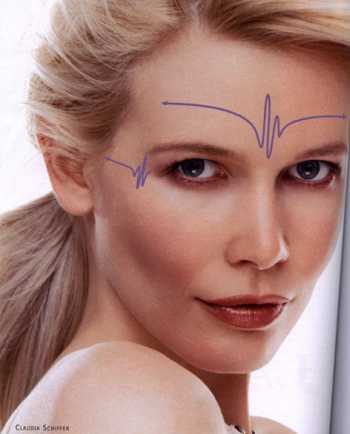 CLAUDIA SCHIFFER. C.r L'OREAL.



You might be even keener on "letting surgery wait" if you watch SKY ONE's latest black comedy, the extremely gruesome but totally riveting NIP/TUCK, set in a Florida cosmetic surgery practice. The 2 actors playing the surgeons are really hunky but it's the gerbil-flushing mother of the would-be home-circumcised teenager (it's that kind of show, folks) JOELY RICHARDSON who really steals the show as the middle aged mum married to a surgeon who won't give her a boob job! JOELY looks gorgeous, of course; she is thought not to have had any "improvements" or "maintenance" herself but my beauty mole alleges that she uses PURELOGICAL's COLLAGEN SERUM, another wonderful nourishing cream which I favour myself (check out www.purelogical.com for stockists.)


JOELY RICHARDSON. C.r CLOSER



On a serious note the highly talented author OLIVIA GOLDSMITH (whose brilliant FIRST WIVES' CLUB was made into an hilarious feature film starring GOLDIE HAWN, DIANE KEATON and BETTE MIDLER) tragically fell into a coma and died last month after an allergic reaction to the anaesthetic used for a face-lift operation. This is absolutely heartbreaking when you consider that MS. GOLDSMITH was a very attractive woman and, at 54, should have had several more wonderful years ahead of her.

Nobody can bring OLIVIA GOLDSMITH back to life but we can learn from this tragedy. If you are planning an operation, for whatever reason, there is an alternative to anaesthesia, which is usually unpleasant, has side effects and always carries a risk. There is a lady in New York called LYDIA BELTON who can use hypnotherapy to induce an anaesthetic state so that you can have an op without anaesthesia and without feeling a thing! This is the most extraordinary and fascinating medical news I have ever heard but apparently it works. LYDIA is a beautiful and charming lady who recently visited London and plans to return regularly. Known as DR TRANQUILLITY, she offers various less hairy hypnotherapy treatments including something called Date Therapy, which apparently helps BRIDGET JONES singletons choose Mr Right, not a motley procession of Mr Wrongs! My unmarried mates can't wait for LYDIA to start up her UK practice (soon, soon!) In the meantime check out DR TRANQUILLITY's website www.drtranquillity.com

Hypnotherapy does work if you believe and I can tell you that LYDIA is an excellent hypnotherapist, as is our former HGUK cover girl VALERIE AUSTIN who also offers training in hypnotherapy

[email protected]



Don't forget the extremities when planning your beauty regime: unkempt hands and feet on either ladies or gents are always a giveaway. I have long been searching for the perfect nail therapist and at last I have found her. Her name is MAGGIE and she works at the divine TYRONE's trendy hair and beauty salon in Porchester Place, Connaught Village, an area which is becoming increasingly popular due to its proximity to the West End but being actually just outside KEN LIVINGSTON's dreaded Congestion Zone. Beautiful MAGGIE excels at sculptured nails, as well as ordinary manicures and pedicures and she gave me the best acrylic manicure I have ever had in double quick time without the use of those dreaded drills which ruin the nails. She also sent me home with a great product to keep your nails in tip top condition between visits to the salon, SOLAR OIL. Everyone has since been admiring my nails so I am waving my hands around like an Italian lady so that my fans can feel the full benefit!

MAGGIE is also an expert waxer and is known for her mean Brazilians. I must say I didn't actually leave the salon with a landing strip myself but I am thinking about it! I will certainly be taking JADE to MAGGIE for an eyebrow shaping session, another of MAGGIE's specialities, when I feel the time is right. Like many pre-teens these days,12 year old JADE and her mates are plucking and depilating themselves and each other's brows at school or going to just any old salon and emerging looking like GRETA GARBO which is totally unacceptable on a youngster and doesn't look that great on an adult either. If you are a teen or pre-teen, the parent of one or indeed an adult who has never shaped her eyebrows before, it is absolutely imperative to go to a skilled beautician for professional shaping, especially the first time, otherwise the shape of your brows can be ruined for ever and the growth can be stunted. MAGGIE charges just £8 for her eyebrow shaping services at TYRONE's salon which is a steal. In fact the prices at TYRONE'S are absolutely brill, I don't know how they do it. MAGGIE has all sorts of celeb nail and waxing clients including most of the EASTENDERS blondes (allegedly!) and TYRONE and his team will give you a wonderful glam hairdo and/or the most natural real hair extensions in the business. Give them a ring at: 020 7723 48 43.

And once you've got fab nails do yourself a favour and invest in an EVERLASTING CRYSTAL NAIL FILE, a really pretty nail file with a real SWAROVSKI CRYSTAL motif on it which you can dig out of your designer handbag without embarassment. The ECNF is virtually unbreakable, works on natural and sculptured nails and doubles as a nail cleaner and hard skin remover. It also makes a great presy; HGUK readers can buy these cute files for the specially reduced price of £14.95 from www.lemonburst.net or 011273 558112.

My Cosmetic Of The Month for Feb is LANCOME's superb AMPLICILS WATERPROOF MASCARA VOLUME PANORAMIQUE. The name of this most excellent prod is self explanatory: not only does it make your lashes look long and lustrous but, being totally waterproof, it's just the job for wearing on skiing holidays. After all, who wants to emerge from a head plant with panda eyes? Not the best idea for pulling those dishy ski teachers! This mascara is also tearproof so you can get all emotional and still look doe eyed, but it doesn't clog, separates the lashes well and is relatively easy to remove.

BAFTA and OSCAR time is here again and this year's crop of fillums are bigger, better and more epic than ever. In fact, at the time of writing, I can't decide whether to vote for LORD OF THE RINGS, THE RETURN OF THE KING or MASTER AND COMMANDER, THE FAR SIDE OF THE WORLD (very comprehensive titles this year, fillum afficionados!) And my fave performances are going to be even harder to choose. A cautionary tale is currently being heard on the film grape vine: apparently hunky RUSSELL CROWE put on so much weight during the filming of MAC, TFSOTW that he had to have 6 differently sized naval cozzies to play the legendary "Lucky" Jack Aubrey. Shame on the production's chef for not providing the Antipodean superstar with slimming nosh during shooting. Although we do hear that the delectable MR CROWE was expecting a baba during the filming so no doubt he was eating for 2 ! Personally I think he looked truly scrumptious in his breeches and boots: eat your heart out, MR DARCY!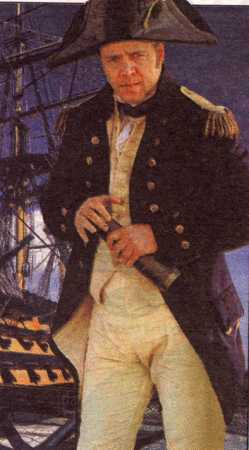 RUSSELL CROWE in MASTER AND COMMANDER, THE FAR SIDE OF THE WORLD. C.r.: MOS.



If, like MR CROWE, you ever find yourself in a position where you are eating a lot with no time for proper exercise, try FITNESS UK's nifty little gadget, the TOTAL PHYSIQUE which gives you the equivalent of a one and a half hour gym workout in just 3 minutes! This small, compact rolling wheel is very light and easy to pack and costs just £44.90 incl. p and p from 0870 0757 444. I admit to owning a TOTAL PHYSIQUE myself and giving my "total physique" a quickie workout on my carpet every now and then when I can't make it to my most excellent ENERGIZE! gym (West London, 020 8748 99 33.)

It's time for a spring clean, dear readers. Our homes and offices are an extension of ourselves and deserve just as much pampering. If, like me, you're not frightfully domesticated, you may care to go the celeb route and get cleaned by the pro.s. The best cleaning service I have found in the whole of London is undoubtedly KLEANKEEPERS : 8 682 43 44 or visit their site at: www.kleankeepers.co.uk

The super efficient KLEANKEEPERS will clean your whole house, apartment or office, including washing windows etc., quickly, efficiently and reasonably. All the staff are polite and friendly and the company also have a superb carpet cleaning service. KLEANKEEPERS' boss, the charming ABI oversaw the cleaning of our house himself and the team rattled through the kitchen and all the bathrooms in just 3 hours. Everything was sparkling after The Big Clean: "you wouldn't recognise the old place now", as the late, great BENNY HILL used to say. All the ornaments and bits had been replaced in exactly the same places and nothing was broken. What a change from the previous lot! I can't recommend the fantastic KLEANKEEPERS highly enough and "my husband and I" are now booking them for our offices. Give them a whirl, you can't go wrong at their prices. Highly recommended.

On a completely different front, how good it is to see and hear that great Brit actor JOHN HURT everywhere at the moment. The delightful and brilliant MR HURT can be heard narrating an edgy little film called DOGVILLE (also starring NICOLE KIDMAN, PAUL BETTANY, JAMES CAAN, BEN GAZZARA, LAUREN BACALL, CHLOE SEVIGNY and a whole host of other heavyweights) which will really cause a stir when it is released. And he can be seen playing that loveable rogue (or scandalous scoundrel, whichever you prefer to think) ALAN CLARK in THE ALAN CLARK DIARIES on BBC4 (which can be found on the satellite; don't ask me why it's not on BBC1, I really have NO idea!) As usual gravelly voiced JOHN is absolutely marvellous and has captured the spirit of the frisky MR CLARK perfectly, although the Beeb's slant on the diaries seems not completely kind to our hero.

How we all miss our late MP, BIG AL in our posh Royal Borough of Ken And Chelsea. And we're soon going to be missing our current member, that jolly good chap MICHAEL PORTILLO as he leaves politics (allegedly for good) in search of even greater media fame. Who will we get next? This time next month I'll tell you!

Getting back to the wonderful JOHN HURT, how brave of him to say that he will resign from the American Academy if the unusual SOFIA COPELLA film LOST IN TRANSLATION wins any OSCARS at this year's upcoming ceremony. It's probably what a lot of people were thinking at a lot of screenings but nobody else dared say it. I must say the film did lose a bit in translating itself to me and mine when we viewed it at my lovely friend NICHOLAS's most exclusive private screening room in Queen's Club Gardens , but I put my momentary lapse of wakefulness down to the comfort of NICK's sofa and the excellence of his champagne! At any rate BILL MURRAY was as funny as ever and the luscious lipped SCARLET JOHANSSON looked cute in her pink panties and has also been nominated for GIRL WITH A PEARL EARRING which I definitely didn't fall asleep in (not with that sexpot COLIN FIRTH in it, absolutely not!) Expect a full BAFTA and OSCAR report next month, film fans, after I've toddled down the red carpet at our own ceremony and stayed up all night watching the US extravaganza. HOT GOSSIP cover boy TOM CRUISE may be out of the Best Actor race for his LAST SAMURAI but our other HGUK favourites JOHNNY DEPP and JUDE LAW are still in with a chance.

Finally my Celeb Book this month is the great JOHN LE CARRE's riveting new novel ABSOLUTE FRIENDS about the unusual friendship between the son of a Brit infantry Major expelled from India after partition and the crippled son of a former East German pastor. The story spans 50 years, encompassing colonialism in India, the Cold War, agents and double agents, terror and counter-terror. The plot is wonderfully complicated without being convoluted and, all in all, a rollicking good read. Get tucked up with a cup of Horlicks and give the parties a miss for a few nights or take ABSOLUTE FRIENDS on your skiing hols and read it on the terrace while you sip your gluhwein! ABSOLUTE FRIENDS is published by HODDER AND STOUGHTON at £18.99.

Thank you for reading my page; do check out my personal website at www.sallyfarmiloe.co.uk

You can e-mail me at:


[email protected]



And don't forget to buy my LOO TIME self help vid for all those little nippers in your lives!

LOO TIME VIDEO available from:

[email protected] and:

http://www.121music.com/pages/video_01/home.html