COVER STORY: Our Cover Girl this month is the beautiful LIZ FULLER (a former MISS GREAT BRITAIN winner) who is now hosting Channel 5's QUIZ SHOW. Liz is also launching her own show later this month, which will feature on prime time TV (also on Channel 5) called MAKE ME A TEEN BEAUTY QUEEN. Watch out for it!

LETTER FROM THE EDITOR

Wow! I don't know about you but I don't like saying goodbye to the summer. And what a summer we've had here in the UK! The hottest yet, I think! But the fashion this autumn is 'The Rain Dance' – just made that up - but I wonder if those old Indian rain dances actually work. We sure could do with some rain here!

I can tell you that we have some excellent news and gossip this month, starting right here on the SPOTLIGHT page, featuring the latest news on the latest top products, and new exciting books to curl up with on cold frosty nights. But check out our other pages too; and for those of you who are celebrity watching, see JOE ALVEREZ'S column which is full of gossip about what the celebs are up to, and such great pictures too! He's always a star!

Talking of pictures, here's my own personal favourites this month. I had such a nice time at VALERIE AUSTIN'S birthday party, where guests were entertained by Valerie (who's one of our editors) and her American author – historian hubby JAMES POOL on their yacht FLAMANT ROSE at St Katharine's Dock. It was nice to see TONY LEITRIM again, a dear eccentric lord who I haven't seen since a dinner party at PENELOPE BOUCHOT-HUMBERT'S in Chelsea, where I took GENERAL GORDON WILLIAMS, a retired US Air Force officer visiting from America. Tony brought my book 'YOU CAN'T TELL THE PEOPLE' (a title taken from a quote by Baroness Thatcher when discussing the case with me) along to sign for him. Such a sweetie! Book is published by Pan Macmillan and is available at www.amazon.co.uk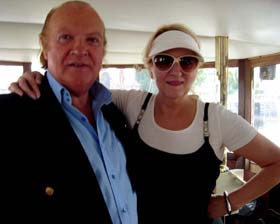 Georgina Bruni & Lord Leitrim Aboard Flamant Rose

For anyone interested in the book, it's a non fiction account of an incident that took place in Rendlesham Forest in 1980. An amazing incident involving the US Air Force and a UFO. This incident continues to fascinate, with countless TV documentaries made on the subject, many that I have personally appeared in, and now composer JON SORENSON has compiled a remarkable CD entitled 'RENDLESHAM FOREST'. It is such an interesting composition, so ambient and you almost feel you are in the forest. The music is available to download on Jon's website www.jonsorensen.co.uk but it's worth buying the CD, which is limited to only one hundred copies. A truly talented person.

A great party was held by LE CLUB 2000 at THE CRICKETERS CLUB in central London www.cricketers.co.uk but pity that REXX, my new walker and pet, a ROBOREPTILE from the Gadget Shop www.gadgetshop.com (see last month's Spotlight) didn't party much as his batteries were low. Never mind we'll spruce him up for our next party! Anyway I was pleasantly surprised to see an old friend MIKE MALONEY, who was at The Cricketers having had a meeting there earlier. SALLY FARMILOE-NEVILLE (my deputy editor and do check out her Fashion, Health & beauty columns) and I are seen here photographed with Mike, a real media guru and a former director of the Mirror Group. And very flattered too that Mike, a renowned international journalist/photographer, congratulated me on my photos. And doesn't Sally look a million dollars!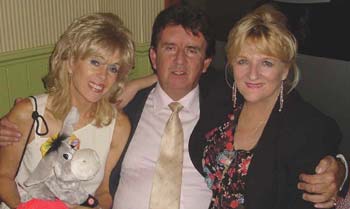 Sally Farmiloe-Neville, Mike Maloney MBE & Georgina Bruni At The Cricketers Club, London.

And here's another photo from the party at THE CRICKETERS. This is me and my friend NICK POPE (another of our editors) and our friend MICHELE KACZYNSKI, who is fooling around as usual. Michele is such a social being.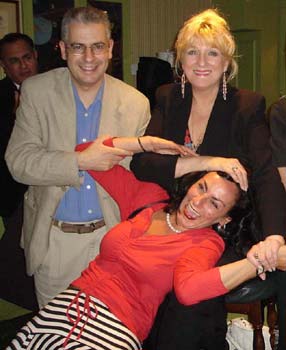 Nick Pope, Michele Kaczynski & Georgina Bruni

EDITOR'S CHOICE

I want to talk about Burlesque….and corsets and things…..

I absolutely love wearing corsets, and no, not the frumpy kind. I generally wear the fancy ones that can be worn as evening tops, so I was delighted to review a new book on the subject entitled FASHION AND FETTISHISM by DAVID KUNZLE. This fabulous book offers over 380 pages of extremely knowledgeable information about corsets, tight lacing and other forms of body sculpture. For instance you may know this already but I was surprised to learn that CHER has had a rib removed to further slenderise her torso, and that there are women, albeit a few, with 16 inch waists. I was also interested to read about MR PEARL, a flamboyant Parisian male who wears a corset 24 hours a day and boasts an 18 inch waist. Mr Pearl makes corsets for the rich and famous, such as KYLIE and burlesque star DITA VON TEASE. A corset from the king of corset couture will cost you thousands of pounds. I hear he's the best in the world although quite a snob about waistlines, so be sure to diet before you make that appointment! But back to the book! If you love corsets – or are fascinated by historical fashion, which leads to present day style, you must buy this amazing book, it is so well researched and so enjoyable and lots of images and notes. David Kunzle is a Distinguished Professor of Art History at the University of California, so he knows his stuff. A classic, and without doubt my favourite book of the month.

FASHION AND FETTISHISM by DAVID KUNZLE £12.99 is published in UK by SUTTON Publishing www.suttonpublishling.co.uk or www.amazon.co.uk

LA SENZA have realised the fashion for burlesque and have produced a very sexy range of corset styles. My favourite modern take on all of this is their unique TUMMY CINCHER, which is great for wearing with pencil skin skirts or skinny jeans. They have such lovely lingerie it's worth visiting their website www.lasenza.co.uk

Still on the subject of fashion, I am delighted to recommend FASHION ILLUSTRATOR by BETHAN MORRIS. This is a 'must have' publication for the passionate fashion student, or indeed anyone interested in fashion or art. Approximately 200 pages full of coloured illustrations, research material, practical exercises, and lots of tips. The book covers all aspects of fashion illustration and offers advice on how to draw, paint, use colour and art materials and so much more. It is a perfect gift for the student of fashion. It also offers a comprehensive fashion showcase of talented illustrators featuring images and text on their individual work. Bethan Morris is a senior lecturer in fashion at the University of Wales.

FASHION ILLUSTRATOR £19.99 is published by Laurence King Publishing Ltd www.laurenceking.co.uk also available at www.amazon.co.uk

I want to talk about pampering…..and value…and value and pampering

Believe it or not TESCO, yes Tesco as in your local supermarket, have an amazing range of cosmetics and bath products from BARBARA DALY and SKIN WISDOM. I was amazed to find they are really good value for money. Skin Wisdom do a TONING BODY SCRUB for £2.97 and an all year holiday glow body lotion that gently tans, and is firming too. I love that because it keeps what's left of your holiday tan. And a great 'Age Delay' night cream and also a firming cream which is collagen boosting. What bargains for just a few pounds! Next time you go shopping for your veg why not pick up a stack of BARBARA DALY make-up, it's really good value and the packaging is not at all cheap looking. I love their mini nails range, £2.20, which are super for travelling. And get full on glamour with easy-on-the-eye mascara and pen shadows in fabulous colours. And with all the money you save on cosmetics you can stock your basket with healthy fruit and vegetables.

I like the new AVON catalogue which is available on-line at www.avon.co.uk and may solve your gift giving hang-ups. Now forget the shoes, here's a place to shop! I'm intrigued with their face Shimmer Swirls Illuminator, quite unique, and not for me - but mum adores the pale blue eye illuminating cream. The company certainly have some great ideas such as the make-up remover pencil and it's really worth checking out their website. Great prices!

Another on-line inexpensive treat, either for yourself or a friend or lover is CREATE YOUR OWN FRAGRANCE www.createyourownfragrance.co.uk a fun concept created by MILTON-LLOYDE COSMETICS for HIM or HER. Have fun filling in the questionnaire and be honest with yourself and you could end up with your very own personal fragrance, packaged in a beautiful box, complete with your favourite fresh flower, delivered to your door. How cool is that! This unique experience costs a mere £30.00.

I want to talk about interiors…..

Have you de-cluttered lately? Probably not as it's the sort of thing we tend to do in the Spring. Well, I have just been to my local charity shop with a bag of old clothes and no doubt I will be popping over there again soon with another, having started in earnest my de-cluttering assignment. The inspiration for this great, but rewarding effort came from a gem of a book entitled HOARDER to ORDER by SUE KAY. The book is really fun and very motivating. I mean you really do go to sleep dreaming about sorting that cupboard or drawer out. I had to get up in the middle of the night and sort out a desk drawer. I was so surprised at how much junk it had gathered (notice it's IT and not I) and now I can actually find everything I need. There's a list of friends begging and waiting for me to finish my 100 steps in putting order to my home so they can borrow the book…let them wait, I'm having too much fun. Go buy your own book…

HOARDER to ORDER by SUE KAY published by HODDER ARNOLD www.hoddereducation.com or www.amazon.co.uk

Join me next month why don't you, when I write about all things Opulent!

Georgina Bruni
Editor in Chief