Many congrats to our lovely HGUK cover girl LIZ FULLER (former MISS GREAT BRITAIN and host of C5's QUIZ SHOW) on her latest exciting new TV show. The show, which will be aired prime time on C5 is called MAKE ME A TEEN BEAUTY QUEEN and will be hitting our screens at the end of this month. Brace yourselves, LIZ fans! Now here is a pic of lovely LIZ with feisty BIG BROTHER star JADE GOODY, whom LIZ says is " a sweetie."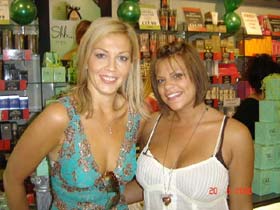 LIZ FULLER and JADE GOODY. (Private collection.)




There are all sorts of fab products out there this month, health and beauty fans so stay with me. Those of you who love animals like me may not be too keen on using Collagen and other bovine, porcine and cockerel comb fillers to maintain your looks and keep those naughty "winkles" at bay. So do what I do and try Laresse, a dermal filler which is made from plants, then no little cuddly or crowing creatures will be hurt. My personal beauty therapist, the superb SISTER MALTI O'MAHONEY of THE BOSTON CLINICS fame (020 7229 3904) always uses Laresse on me and it is every bit as good as Collagen et al and hardly at all painful. You can have this filler at the same time as your Botox and it does not leave any nasty red marks afterwards either.

If you do not fancy needles (and let's face it, some people don't) there is a sensational new range of products just out and stocked exclusively by the wonderful SPACE N K called Pro-ferm. Pro-ferm is a totally revolutionary new skin care range which is set to become the hottest celeb must-have beauty product in the biz. The film industry's top make-up artiste MORAG ROSS who made up CATE BLANCHETT for her Oscar nominated role as KATHARINE HEPBURN in THE AVIATOR and who was make-up director on the Oscar winning LOST IN TRANSLATION tested Pro-ferm and was delighted with the results. MS ROSS should know a thing or two, especially as she won an Oscar herself for the brilliant period make-up she created for THE AVIATOR; as you can see from the photo below she really captured the famous HEPBURN look on MS BLANCHETT.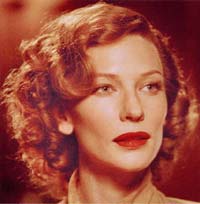 CATE BLANCHETT in THE AVIATOR. C.r.: MIRAMAX.



Pro-ferm's main active ingredient Glucaferm is made up of Beta-Glucens which repair damaged cells and stimulate cell renewal. In fact the Pro-ferm skin care range is based on a scientifically proven formula which harnesses the body's innate immune system to combat the signs of ageing. Serious stuff: but does it really work? Well, my lovely publicist CHARLOTTE and I have been using the Pro-ferm Deep Revitalising Treatment (Nourishing Cream), Intensive Eye Cream and Vitalize instant Lifting Serum for the past month and we both reckon our respective skins are feeling younger and firmer already. The Serum also provides the perfect base for make-up which is not always the case with lifting products. I think this one will be massive!
Stockists: SPACE NK / 020 8740 2985 / www.spaceNK.com
Pro-ferm has a serious stable mate which I must tell you about because it is important medically and, I believe, will be very successful commercially once it becomes known. The product is a health food supplement called Glucasan+ and it is being hailed as a breakthrough in immune system support. The unique Glucasan + formula is based on refined and purified non-wheat yeast that contains Beta-Glucens (see above), proven in clinical studies to enhance the innate immune system. The doctor involved with this amazing new "wonder supplement" said it could even be an antidote for Anthrax! Hopefully none of us will ever have to face an Anthrax attack but Glucasan+ is highly recommended for warding off colds, flu, viral infections and for use where the immune system has broken down, for instance after cancer treatment.

Its use is also highly recommended before embarking on long haul flights where there are loads of germs floating around. It sounds almost too good to be true but we are currently trialling it at HGUK so watch this space. If only popular TV actress LESLIE ASH had taken Glucasan + for a few days before she was admitted to the hospital where she almost died after catching a "superbug." Here is LESLIE looking happy and healthy now, thank goodness, with her hunky hubby LEE CHAPMAN.




LESLIE ASH AND LEE CHAPMAN. (private collection.)




The good news from DR DENESE, one of HGUK's absolute fave American skin care companies is that their Perfect Pucker is doing great and they have now brought out another amazing new lip product called MegaLips. Perfect Pucker, which I reviewed earlier this year is a dual action filler cream which plumps up the delicate area around the lips both instantly and long term, stimulating the growth of collagen. It is particularly useful for smokers (naughty, naughty!) and more mature gals who may have the odd vertical "winkle" above their lips – or indeed for those of us lucky ones who pucker up a lot! MegaLips, the new product is for the actual lips themselves. Again it is dual action, plumping up the mouth instantly and on a long term basis. You really know MegaLips is working as soon as you apply it as your lips start tingling and swelling up (in the most attractive pouty way!) at once. A great addition to the excellent DR DENESE range which you can check out at: www.drdenese.co.uk

Don't forget that summer officially goes on until the 22nd September and that we often have an "Indian" summer in this country. So keep applying the high SPF sun tan lotion, sun worshippers, to maintain your perfect skin. My former Product of the Month, MD FORMULATIONS' Sun Spritz, SPF 30, is ideal for popping into your handbag and taking around with you just in case you might see some sun (!) and need a quick protective spray. Sun Spritz's little sister Total Protector for the Face is also a neat handbag sized product which is quick and easy to apply, smells fab and is particularly safe for delicate facial skin.
Phone: 0870 850 66 55 for stockists.

And now to my Cosmetics Product of the Month for September: well, actually there are quite a few of them, in fact a whole range! All-American gals MARY-KATE AND ASHLEY OLSEN are the most gorgeous and famous twins in the world and, what's more, they are identical. The teenaged style icons' films have made fortunes and they recently branched out into jewellery and accessories and cosmetics. The good news is that the twins have linked up with the hugely popular CLAIRE'S chain of shops and you can now buy their fab ranges in the UK. These include jewellery, belts, bags, hair accessories and make up for girls of all ages. The prices are amazing so that even pre-teens on small allowances can afford to make themselves up and kit themselves out a la MARY-KATE AND ASHLEY. Wonderful news for young girls everywhere. My girls at home particularly favour the MARY-KATE AND ASHLEY Sequin Dust all over sparkling powder which fluffs on in a second, the Satin Shimmers eye colour collection which is also really easy to apply and the Juicy Shine flavoured lip gloss which is totally yummy and often stolen by this slightly more mature gal! All the products look and smell great on and the cosmetics prices start at just £3.00 which is really good value. Get down to CLAIRE'S immediately, girls: these products are the best.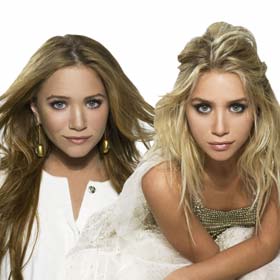 MARY-KATE AND ASHLEY OLSEN. C.r.: MARY-KATE AND ASHLEY.




I recently had the pleasure of co-judging the annual MISS ELEGANCE PAGEANT organised by the redoubtable PATSY WHITE which this year took place in Rotterdam. My co-judges were lively D.J., GEOFF SCHUMANN and entrepreneur and best looking lad in LADETTE TO LADY, RICHARD MAITLAND-HOWELL and the pageant was hosted by lovely Asian actress/presenter RANI SINGH of EASTENDERS' fame. PATSY organised a great junket for us all in Holland: the Rotterdam Carnival was in full swing and we also had a fun day trip to Amsterdam for shopping and sightseeing. We stayed at the ATLANTA HOTEL in Rotterdam (0031 10 206 7800) which was excellent and RANI and I kept ourselves looking as fit as the contestants by visiting Rotterdam's fab DAVID LLOYD CLUB (0031 10 243 4700) which is huge and diverse with great gyms, swimming pools, therapy rooms, etc. MISS ELEGANCE is a beauty contest with a difference where the ladies have to be over 30 years old and can be any size! All the contestants were delightful but the eventual MISS ELEGANCE was gorgeous MAIJA OZOLINA, the runner up was voluptuous VERONICA BRYAN and third placed was charismatic ISABELLA LAWRENCE. Photos next month, pageant fans.


After returning from Rotterdam it was off to Cowes Week on the Isle of Wight for me where I stayed with lovely former beauty queen PATRICA LESLIE. The weather was not too bad, the sailing was great and I bumped into all sorts of old and new yachtie friends. As I am still promoting my book, SENSUAL PLEASURES AND THE ART OF MORPHING INTO A HEALTH GODDESS (this one will run and run!) I signed books at the wonderful OTTAKAR'S in Newport (01983 527 927) and did all the Press things, including being interviewed by the famous JOHN HANNAM for his fun show JOHN HANNAM MEETS. There are lots of amazing restaurants on the island, with seafood a speciality of course but my favourite is LUGLEY'S OF COWES (01983 299 618) on the seafront which serves excellent food throughout the day and evening and has a really friendly and relaxed ambience. LUGLEY'S OF COWES won the CHAMPAGNE MUMM Restaurant of the Year award just 3 weeks after opening and has been up there ever since, largely due to the diligence of its superb chef IAN.

The Isle of Wight is well worth a visit in the summer months and do give LUGLEY'S OF COWES a whirl while you are there.

There is great news on the fashion front, laydeez! I am finally able to "get it for you wholesale." ELANA PATRICE / SYDNEY LEIGH LTD are London suppliers who stock some great labels such as DIANE FREIS, MUSANI, TERANI and NICOLE BAKTI. The current collections are absolutely stunning with day and evening wear for ladies of all shapes, sizes and ages. The DIANE FREIS range is particularly pretty and feminine with florals and frills abounding and the NICOLE BAKTI evening dresses are super-sexy and slinky: both labels are ideal for red carpet events and all kinds of "bollocks and frolics" (balls and parties to the uninitiated!) Ring WARREN at 020 7247 0177, mentioning this column and nip over to their showroom to pick yourselves out a bargain or 2, fashion hounds.

Finally why not pamper yourselves with a luxurious manicure and/or pedicure, ladies and gents (yes, it's just as important for you boys to have them too, especially in the summer months when your feet are on show as well as your hands.) I am delighted to report that my fave "nail therapist" lovely MARICELA WATSON who works for OPI BY LENA WHITE at SELFRIDGES is now doing house calls, courtesy of OPI. What luxury: to sit back and have your paws and tootsies massaged and nourished and your nails painted with one of OPI's jewel bright colours, all "in the comfort of your own home." MARICELA recently popped over to do JADE's and my manis and pedis ready for our holiday and we really loved the experience: JADE chose OPI's bright coral Cajun Shrimp for her nails, whilst I opted for deep pink Flashbulb Fuchsia. If you fancy a really superior manicure and pedicure ring MARICELA, c/o OPI at SELFRIDGES at 020 7318 3401.Here is MARICELA, the mani and pedi queen doing her bit for me whilst I enjoy a nice glass of BOLLY (kindly provided by her dynamic husband MICHAEL) in the depths of West Kensington. My dress, btw, is a £3 special from the market in Turkey (or was it £2?!) and my "mediterranean" tan is a Mystic Tan 1-minute spray tan by THE TANNING SHOP in Camden Hill Road, Kensington (020 7938 1932.)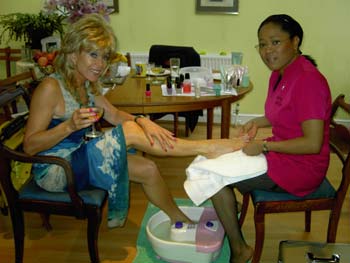 SALLY having an At Home manicure and pedicure with MARICELA WATSON of OPI.




Do check out my personal website at:
www.sallyfarmiloe.com
and don't forget to buy my best selling book and video (below.)


You could also take a trip on WHIZ AIRLINES should you feel so inclined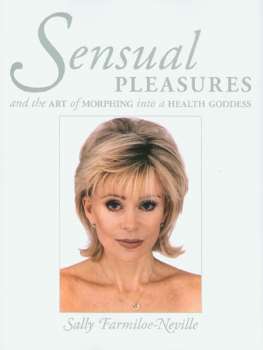 SENSUAL PLEASURES AND THE ART OF MORPHING INTO A HEALTH GODDESS (£16.99) is available from the following outlets:

Delancey Press -

[email protected]

or 0845 4589911
ISBN: 0780953911998

LOO TIME VIDEO available from:

[email protected] and:

http://www.121music.com/pages/video_01/home.html