Last month was one of mixed emotions. The world lost 3 much loved titans of our lifetime, the revered POPE JOHN PAUL THE SECOND, playboy prince HIS SERENE HIGHNESS PRINCE RAINIER OF MONACO and popular British film star SIR JOHN MILLS. THE POPE's funeral was a magnificent world event as befitted such a great pontiff: POPE JOHN PAUL has gone home to God and we now welcome POPE BENEDICT. Benign monarch PRINCE RAINIER was laid to rest beside his wife, the legendary beauty PRINCESS GRACE and he is succeeded by his handsome son PRINCE ALBERT, also a renowned playboy.

SIR JOHN MILLS was one of our best loved British actors, star of countless films and an OSCAR winner. He was also a great philanthropist, giving his valuable time tirelessly to various charities. The last time I saw him was at a charity event for APOLLO FUNDRAISING for whom he, our Editor in Chief GEORGINA and I are patrons and he was as gracious and charming as ever. SIR JOHN leaves his wife LADY MARY and 3 children, film producer JONATHAN and actresses JULET and HAYLEY. He will be sorely missed and all at HGUK send heartfelt condolences to his family. Our recent photo shows "JOHNNY", as he was known to his friends, looking sprightly in full naval uniform.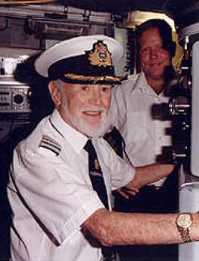 SIR JOHN MILLS




THE ROYAL WEDDING went off without a hitch, except for it being a bad hair day and bad hat day respectively for the royal couple, PRINCE CHARLES and THE DUCHESS OF CORNWALL (the person formerly known as CAMILLA PARKER-BOWLES). CAMILLA was dressed perfectly for a lady of her age and figure and looked absolutely radiant. Her elegant outfits were created by hot new designing duo VALENTINE AND ROBINSON, her equally divine hats were by the one and only PHILIP TREACY and her hair had been expertly highlighted by the brill JO HANSFORD. I prophecy a new trend for mature big haired blondes so prepare yourselves, toy boys. After all, that gorgeous and pouting 50 something OLIVIA NEWTON-JOHN says "50 is the new 30" so let's get partying, fellow middle-aged mummies! Now let's take a look at the Royal couple.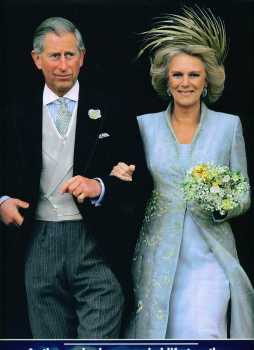 PRINCE CHARLES AND THE DUCHESS OF CORNWALL. C.r: HELLO!




THE BAFTA TV AWARDS was well attended this year, awash with female pulchritude clothed in delicious designer frockettes. My faves were FIONA BRUCE's multicoloured DIOR and ESTHER RANTZEN's azure JOHN CHARLES. DAME KELLY HOLMES looked ravishing in red, DR GILLIAN MCKEITH glittered in gold and MICHELLE RYAN wafted in a white backless creation. I was wide eyed and strapless in my divine silver ROUBI L'ROUBI (7602 9867 / www.roubi.co.uk) evening gown which made me feel like a goddess and here it is.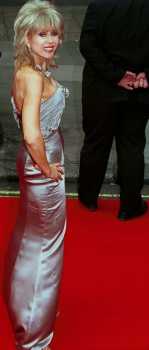 SALLY wears ROUBI L'ROUBI



There are so many great beauty products on the shelves this month that it was impossible to choose just one Beauty Product of the Month so I have picked out three for you, dear readers. The first is LANCOME's Icy Tubes Ultra Shiny Sun Lip Gloss with SPF 15, a marvellous self explanatory product which actually plumps up your lips as well as leaving them soft and shiny. The product contains Mexoryl XL and vitamin E to reduce the signs of ageing on the fragile skin of the lips and is scented with edible menthol and mango to give you that tropical feel even on the darkest British days: a welcome edition to our handbags this summer.

To give you a golden and glowing summer colour try CLARINS' new Liquid Bronze Self Tanning Milk for the face, neck and décolleté which glides on smoothly and refreshes and softens as well as tanning you to perfection in just 4 hours. This product also smells delightful even when first applied and is the first fake tanning milk, as opposed to gel, spray or cream that I have come across.
If your skin is sensitive or allergy prone you must try the CLINIQUE range of products which are clinically formulated and allergy tested. My particular favourite is CLINIQUE's Dramatically Different Moisturising Lotion which has a convenient pump dispenser and will keep your skin soft and supple all summer long whatever the weather.


My Fashion Buy of the Month for May is VUITTON's fab new cherry handbag which looks quite small and elegant but actually has plenty of room for all of the above beauty products should you wish to take them out shopping with you! But don't just take my word for it, check it out here and now as modelled by the truly scrumptious UMA THURMAN.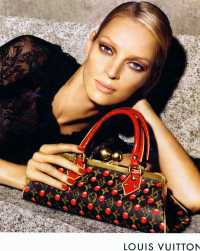 UMA THURMAN models LOUIS VUITTON



Thank you for your letters re DR PATRICK BOWLER's amazing Flab Jab treatment at THE COURTHOUSE CLINIC which all the celebs are booking up for at present. DR BOWLER also has a fantastic new skin care range, exclusive to him, called VITAGE (the Brit version of the famous American PREVAGE) which contains idebenone, the "next generation antioxidant" to reduce fine lines and wrinkles and protect the skin from our modern toxic environment. I actually tried VITAGE Smooth Lines myself and found that the product did just that, i.e. smoothed away my "expression lines" (as my agent tactfully calls them!) in just one month. My skin also feels softer to the touch already; I think this product is quite a find. HGUK colleague JOAN who is more mature tried the VITAGE pigmentation product, Even Tones on her age spots and found that Even Tones' combination of idebenone and the lightening agent, methyl gentisate actually reduced the appearance of her brown blotches significantly within the 4 week period. Furthermore her skin was not irritated at all as sometimes happens with pigmentation products. For stockists of VITAGE Smooth Lines and Even Tones phone: 0870 850 66 55.


If you feel your skin has gone beyond the point of no return, all is not lost. DR LUCY GLANCEY the famous TV Cosmetic Doctor is here to help. DR GLANCEY advocates 2 marvellous brand new techniques for men and women to rejuvenate the face without actual surgery. The first is ISOLAGEN, a self rejuvenation concept where "naive" skin cells are taken from a "young" area such as behind the ears, cultured and reinjected into your facial lines. Extraordinary but true and one of my friends who has tried it now looks years younger. DR GLANCEY's other amazing new technique is Thread Lifting where surgical sutures are used to achieve lifting of various parts of the face and body, a procedure which is mostly suitable for the 35 - 50 age group but can be used on younger patients. DR GLANCEY, who is herself a great beauty and has tried her own treatments, has clinics in London and Essex and can be contacted on: 01206 321028.


For those of you who are young and may be just starting out on beauty treatments or if you want complete privacy and discretion, I suggest you try THE MERCARINA PRIVATE CLINIC at Marble Arch in the West End (020 7724 0514.) MERCARINA's delightful founder, therapist CARINA COEN recently gave my daughter JADE (13) and her friend PHEOBE (14) their first facials, the Mercarina Facial Experience (1 hour 30 minutes). This was a total, holistic experience for the girls where CARINA massaged their backs, arms and hands and applied a hot herbal cushion to their backs as well as deep cleansing, masking and nourishing their faces. She used beautifully scented aromatherapy products and body butters and lip balms from Australia. Both JADE and PHOEBE loved it and have promised to look after their skins for the rest of their lives.
CARINA offers all the usual beauty treatments for men and women at her West End clinics and JADE and PHOEBE will shortly be toddling back to discuss eyebrow shaping and waxing. It is really important for young girls to go to a skilled beauty therapist such as CARINA when they first start these treatments, otherwise the brow line and delicate teenage skin can be permanently ruined.


Those of you guys who fancy sexy Asian TV star RANI SINGH, formerly of EASTENDERS and the longest serving Asian actress in soap, will be thrilled to hear that she will be appearing in the new 3 part BBC drama, LIFE ISN'T ALL HA HA HEE HEE which starts screening primetime on May 10th. RANI will be looking a bit different in this part, dressed up as AUNTIE JAS and is joined on screen by the redoubtable MEERA SYAL of THE KUMARS AT NO 42 fame, on whose book the script is based.
RANI's glittering career is going on apace and she is currently shooting a major feature film, as yet untitled, with dashing BOLLYWOOD star KULBUSHAN KHARBANDA. Watch this space...............


RANI SINGH



A big thank you to all the male readers who write to me: you are not forgotten in this column. And for a sexy and satisfying male read, I suggest JOHN UPDIKE's latest novel, VILLAGES (HAMISH HAMILTON: £16.99) which follows its hero Owen Mackenzie from his birth in Pennsylvania to his retirement in Massachusetts with, of course, many adventures along the way. This is what one of our readers, writer KASPAR ERIKSEN thought of VILLAGES:

'Updike could well be accused of being a louche – according to some, he possesses, if not directly advocates, a 'questionable taste and morality', alas, he's far too sophisticated to be seen merely, or even predominantly, as a provocateur and exemplar of a simple 'two-fingers-to-the-establishment'. Having said that, there is a large element of ambiguity and he can seem equivocal what with his bourgeois -moral-order-upsetting, and certainly some convention-defying merger between his well-established, sometimes gratuitous, sex-scenes, but it combines unsettlingly with the odd bedfellow of indisputable skilful story-telling and characterisation. Does Updike's voluminous randy detailing interfere with the more profound aspects of his disclosure of the human condition? Whatever the leaning, it surely does excite. As his lead character observes: 'How little men deserve the beauty and mercy of women!" Many a woman ironically might well sympathise with his self-realising aware insight, but our protagonist, undeterred, nevertheless indefatigably pursues the fairer sex with avowed purpose...'


Thank you for reading my page. Do check out my personal website at:
www.sallyfarmiloe.co.uk

not to mention my best selling video, LOO TIME!

LOO TIME VIDEO available from:

[email protected] and:

http://www.121music.com/pages/video_01/home.html