Thank you for all your emails about MAHIKI (WWW.MAHIKI.COM / 1 DOVER STREET, LONDON, W.1 / 020 7493 9529), the glitzy niterie favoured by PRINCES WILLIAM and HARRY and their mates.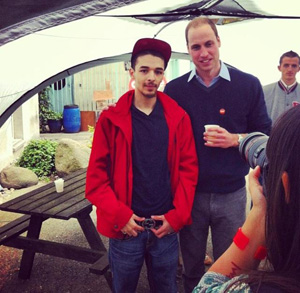 PRINCE WILLIAM and his NBF (allegedly!), young telly actor YOUSSEF.



I always thought MAHIKI was just a nightclub for the young but it's actually much more - on the top floor there is a tiki restaurant, ROCK LOBSTA which is open all afternoon and evening with a great dj = PAOLO, cosy dance floor and delish light bites, not to mention exotic cocktails courtesy of GEORGIE and it caters for all ages. You can always toddle downstairs for a bop once sufficiently tanked up on GEORGIE's cocktails! (Well, not me, as I am currently teetotal - but very happy on the non-alcoholic Rubarb Cocktail actually.)
MAHIKI is my new fave restaurant and bar - PAOLO's amazing musical tracks make all the difference and I love all the staff, especially JAMES THE PIRATE, MATT, SHERRI, SOL and FREDDIE.
Here's a shot of the yummy nibbles MAHIKI cleverly serve free when you order cocktails, plus some ECUs of RONNIE SMITH, the smooth Finance Director of MAHIKI and vivacious VIV KING-LAWLESS, a MAHIKI regular - as am I now!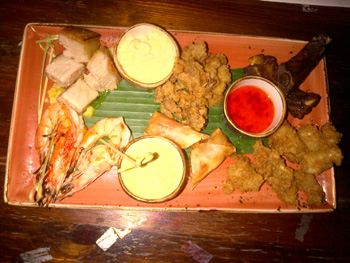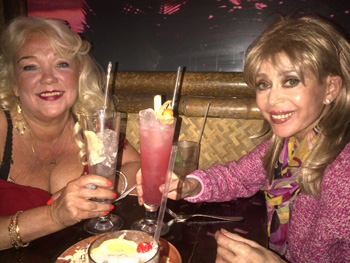 MAHIKI nibbles and MAHIKI regulars.



I liked MAHIKI so much that I asked our resident Fashion Foody, model with an appetite JADE, to go down and write a formal review:


JADE's fave restaurant=Feb/March issue: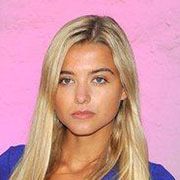 Introducing a new experience at Dover Street's Mahiki, you are now able to eat at their new restaurant Rock Lobsta. Guests can enjoy a few nibbles, along with their cocktails before moving downstairs for some post dinner dancing. Tottering down one flight of stairs into the coconut smelling, cocktail shaking Hawaiian restaurant to be greeted by a very friendly pirate, who goes by the name of Roger, we were seated.
Along with some signature cocktails which Mahiki is so well known for, we started off with a selection of their platters. The sticky chicken wings were well spiced and the jumbo prawns nicely juicy. The prawn spring rolls were delicately flavoured and the calamari not too chewy.
The platters come with a variety of sauces including a tasty basil aioli and a sweet chilli sauce which is probably shop bought but still delicious.We enjoyed a selection of cocktails, according to our preferences of sweet or sour, the stand outs being the London Fog Cutter and the Bajan Whirpool.
Rock Lobsta offers four types of Sliders which are a nice idea and easy to eat if wanting a quick bite. For mains they offer a lot of chicken! The Free Range Chicken and the Club Sandwich were enjoyed most, as was the prawn starter; which was orchestrated differently to a classic Prawn Cocktail with the prawns lying on beds of gem lettuce. A nice change. If you are a vegetarian or even a pescatarian however there is no main course available to you which is an issue which I would love to see addressed at Rock Lobsta. The veggies could order the delicious Cobb Salad without the chicken and pancetta but I believe fresh fish would go down really well.
There was lively music throughout the evening, with a nice touch where each table are given cards where you can request songs. At about 10 o'clock it starts to fill up with Mayfair's crowd ready for the Rock Lobsta/Mahiki experience.
The service was wonderful and my friends and I felt very well looked after. I look forward to visiting again soon!


BEST PARTIES:

LANA HOLLOWAY's birthday party at the chic AVISTA BAR at the MILLENIUM HOTEL in Mayfair was great fun with LANA looking her usual gorg self and guests ranging from smooth politico NORMAN (LORD) LAMONT to equally smooth actor/entertainer JESS CONRAD, OBE.

The pix of LANA, NORMAN, JESS, our lovely PR CHARLOTTE and moi are by:

MOBI AGETUNMOBI.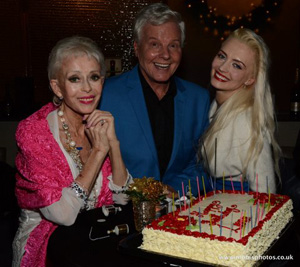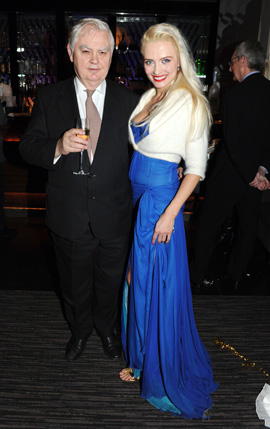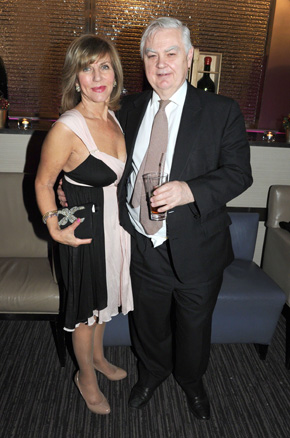 My stunning giant pearl necklace is by LOVE AND LILLY, btw and shimmery dress by my new fave label GILL HARVEY.


HENRY HADAWAY's MBE party at THE ROYAL INSTITUTE was a very glitzy affair. Veteran TV and record producer HENRY had been honoured for his services to the creative industries, not to mention his tireless charity work, fundraising for MOORFIELDS' EYE HOSPITAL earlier that afternoon at THE PALACE by PRINCE CHARLES, who HENRY said was delightful and really interested in his (HENRY's) work. He had taken all the family along, including his lovely wife and daughter TORELL and SARAH and SARAH's telly actor hubby and son, ANTHONY STREETER and DAN BLACK plus her young son BEAU STREETER who is a child model for BURBERRY (such a talented family).
Apart from ANTHONY and DANIEL, other telly stars included my very dear friend VICKI MICHELLE whose ever popular 'ALLO 'ALLO is back on our screens every night on GOLD at the moment and my other dear pal, platinum selling singing star ROSE-MARIE who is currently touring with her latest album.

Our pic of HENRY HADAWAY, MBE!!!, my wee self and VICKI is by GRAHAM FOWLER.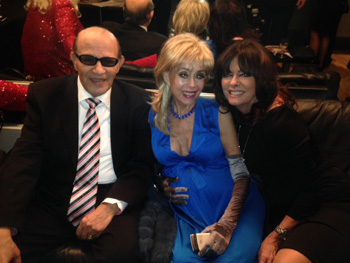 CONGRATS:

To the one and only JIM DAVIDSON, a National Treasure for winning CELEBRITY BIG BROTHER this year. JIM is a jolly good chap and nobody deserved it more. And btw CBB was ruder, lewder and cruder than ever before this time - wow! Great television - JADE and I were glued every night. I was rooting for JIM. not to mention the oldest ever contestant, the twinkle toed and handsome LIONEL BLAIR.



THE BECKHAMS - well done to our HG Cover Boy (along with his family), superstar of MANCHESTER UNITED and THE WORLD!, pin up DAVID for not whingeing when failing to be honoured like our HENRY this time around - your time will come, Dave Baby!
We hope you like our fab BECKHAM FAMILY cover shot by our very own BOLLY GOLIGHTLY.Another great shot of DAVID with some of his fans below: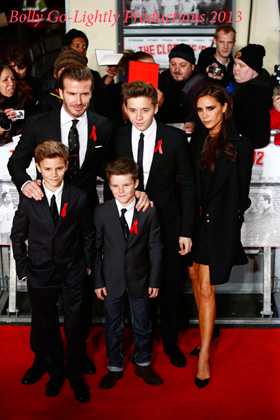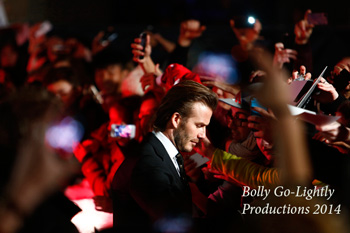 THE BECKHAM FAMILY and DAVID by BOLLY GOLIGHTLY.





To talented fashion designer TONI CRABTREE who has opened a beaut new shop in that hotbed of 'piers, queers and racketeers,' as the late great NOEL COWARD said, BRIGHTON.
Here's the bumph and a picette of the lovely TONI in front of the new shop.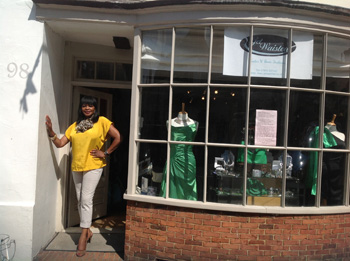 GOOD LUCK:

To another talented and long established fashion designer, PARVEEN of PARVEEN COUTURE who is currently suing a much previously sued journo for vicious libels - you go, girl, with that hotshot young lawyer of yours!
PARVEEN's clients include the stunning WILNELIA (LADY) FORSYTH, wife of our country's fave National Treasure, the one and only 'BRUCIE', the late, great MICHAEL JACKSON and the very current URI GELLER.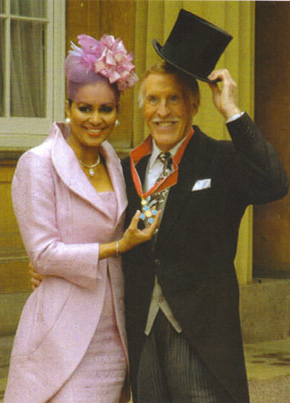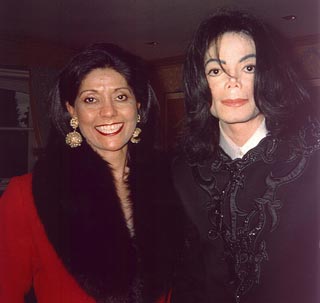 SIR BRUCE AND LADY FORSYTH and MICHAEL JACKSON with PARVEEN. cr: PARVEEN COOUTURE.




Talking of 'suage' - or should I say 'sewage'? - good luck to the UK's fave icon, the one and only SIENNA MILLER, whose phone hacking case against THE NEWS OF THE WORLD - along with her ex JUDE LAW's - has finally come to court.
What the NOTW did to tragic young MILLY DOWLING was absolutely despicable and when superstars like SIENNA MILLER and JUDE LAW can highlight the dreadful business with their fame, it can only help to bring the whole thing out into the open.
What some people don't know about the multi award winning SIENNA is that not only is she one of our country's most talented and beautiful film and stage actresses but that she also donates her settlements from lawsuits to charity. A wonderful girl.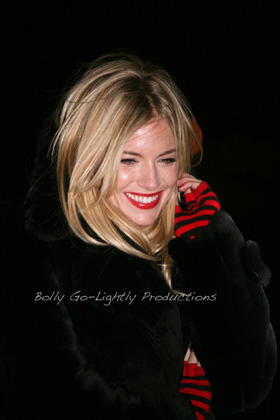 SIENNA MILLER. cr: BOLLY GOLIGHTLY.





HEALTH AND BEAUTY News:

On a lighter vein, did you know????????????? that nail polishes contain lead which is not good for the 'hellfff'. especially if you have cancer.
Hairsprays and fake tan products, not just sprays, if they contain parabens, mathaparabens, etc in them are apparently particularly bad for cancer sufferers.
I have managed to find paraben free hairspray - strangely enough the old fashioned, fave of our mums and grannies, ELNETT - but no fake tan so I guess it's the English Rose look for me for the moment.
However the good news is that CETUEM, the wonderful skincare company whose Mother And Daughter range JADE and I endorse and whose nail polishes both JADEY and I are totally hooked on, manufacture a Base Coat containing calcium which protects your nails from whatever polish you paint over the top. Oh joy! I can wear my fab CETUEM colours once again!
JADE and I have been endorsing, and therefore using, CETUEM's Gold Serum for the face for the past 3 years and are thrilled with the results.
The CETUEM Gold Cellulite Body Serum, endorsed by the gorgeous, lean as a whippet SOPHIE ANDERTON is also brill for the body, legs and arms.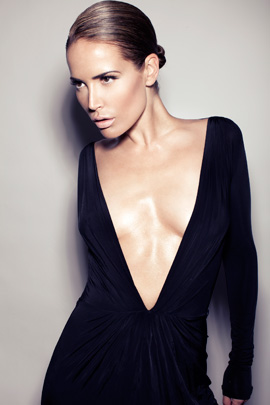 SOPHIE ANDERTON endorsing CETUEM.



CETUEM will be launching their new shop at RACHEL COUTURE in Knightsbridge later this month, with their new 'Face', lovely LANA HOLLOWAY, mentioned above. The launch will be covered in the next issue of HG.

In the meantime you may have spotted a stunning and cleverly concealing RACHEL COUTURE dress on the beautiful form of popular actress JAcQUELINE BISSET when she accepted her GOLDEN GLOBE for Best Supporting Actress in a TV Series recently: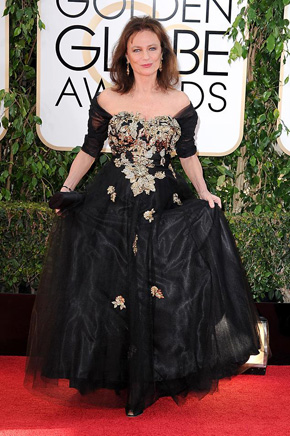 JACQUELINE BISSETT wins a GOLDEN GLOBE.cr: RACHELCOUTURE.




And here's another CETUEM fan, the stunning and amusing NANCY DELL'OLIO who also wears RACHEL COUTURE doing a spot of mode-holing for THE DAILY TELE: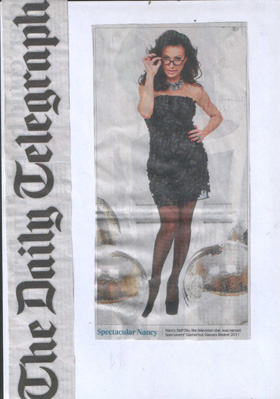 NANCY DELL'OLIO. cr: DAILY TELEGRAPH.




OBITUARIES:

PHILIP SEYMOUR HOFFMAN, was a brilliant actor who won an OSCAR for his insighful portrayal of TRUMAN CAPOTE and created many extraordinary characters on the silver screen. He sadly died of a suspected drug overdose - a tragic, tragic waste.
KATE BLANCHETT dedicated her BAFTA Best Actress Award to PSH, saying he had taught her all the finer points of her craft.

All at HG send heartfelt condolences to PSH's family at this sad time.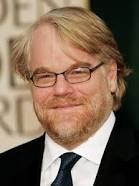 PHILIP SEYMOUR HOFFMAN.





ROGER LLOYD PACK.
The talented comedy actor sadly died of pancreatic cancer at age 69.
I hate evil cancer and will continue fundraising for all importamt research with a vengeance.
ROGER, father of pretty and gritty film actress EMILY, was surrounded by his family at home when he passed and kept up his comedy tradition at his funeral by being transported in a shocking pink hearse! It looked like a relation of the shocking pink roller JEREMY and I used at our wedding 12 years ago.
I always thought I would have 6 black horses with plumes on their heads to transport me to my own funeral but I must say I was rather tickled by RLP's pink and perfect mode of transportation! food for thought.....................
RLP was best known for his roles in DAWN FRENCH'S hilarious THE VICAR OF DIBLEY and the iconic ONLY FOOLS AND HORSES where he worked alongside DAVID JASON, NICHOLAS LYNDHURST and my dear friend JOHN CHALLIS, whom I first worked with in TOM STOPPARD's DIRTY LINEN a million years ago!
The rubber faced ROGER will be sorely missed among our telly and theatre acting fraternity.
Heartfelt condolences from all at HG to all of ROGER's family and loved ones.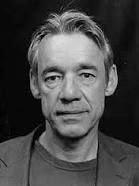 ROGER LLOYD PACK.




Finally, on a happy note, the BAFTA FILM AWARDS at the ROYAL OPERA HOUSE was amazing this year with LEONARDO DI CAPRIO, MARTIN SCORSESE, TOM HANKS, CHRISTIAN BALE, BRADLEY COOPER, KATE BLANCHETT, JULIA ROBERTS, AMY ADAMS, DAME HELEN MIRREN (the latest Fellow of BAFTA), DAME JUDI DENCH and all the unspellable stars of 12 YEARS A SLAVE, the Best Film.
Go to BOLLY GOLIGHTLY's fab column to view all the amazing piccies.
Y's
I went with my fellow BAFTA voter KENTEAS BRINE, as JADE was catwalking for LONDON FASHION WEEK and was thrilled to support my godson in law BEN MALLABY whose short film ISLAND QUEEN was up for Best Short. Sadly it did not win but BEN said he had the best time, taking my gorg god daughter/ his new wife BELLA and meeting the likes of MICHAEL FASBENDER at THE WEINSTEIN After Party.
I chose to wear an empire line dress by my new fave designer GILL HARVEY, LOVEAND LILLY jewellery, MANOLO BLAHNIK shoes and a PARVEEN COUTURE handbag. Here's the link: www.stylist.co.uk/red-carpet/


Thank you for reading my column.

Please write to me at:

[email protected]



and check out my other websites:

www.sallyfarmiloe.com

www.kazzyandsally.tv