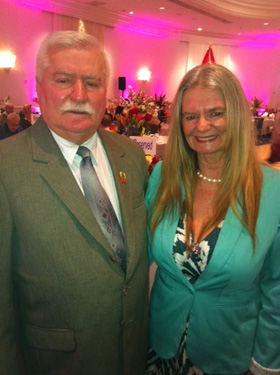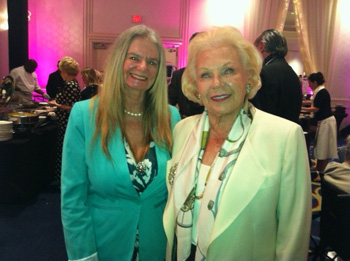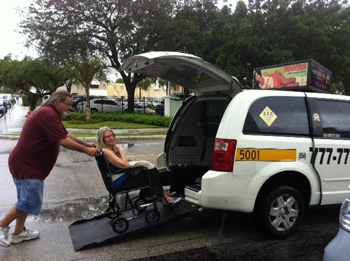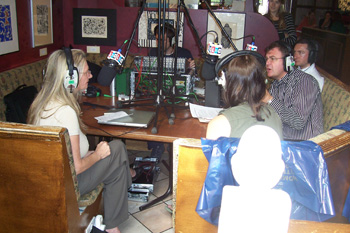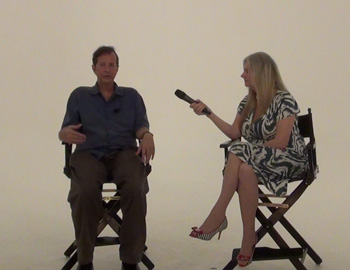 Picture credits
 
1. Valerie Austin pictured with former President of Poland at lunch in Miami
2. Lady Blanco founder of the American Institute of Polish Culture. 
3. On the way to the doctor after a terrifying fall down concrete steps. Lucky to be alive.
4. See the Jockey riding on our film studio mascot doggies, 'Pippy"
5. Being on the LBC radio reminds me of my new role as interviewer for our documentary on Cancer, which we are editing getting ready to submit to the Cannes Film Festival..
6. Interviewing  Louis Cimino, executive producer of 'Cut poison Burn' for Valerie Austin's & Inger Garcia's Cancer Documentary
 
 
Winter warm sunny weather in Florida

This, I am sure, has been a rather trying winter for most people.  Even here, in Florida, the weather has been different, instead of around 74-76 degrees it is in the 80's, which is really quite hot. I am not complaining - it's is marvelous but I do feel for all of you who are experiencing the severe cold and now of course the horrendous rain and floods.  However, soon the weather should be getting better and I can return for a lovely English summer full of lunches and socializing at events such as 'Ascot', one of my favorites. I've already bought my hat in a spectacular boutique in Palm Beach.
 
This winter has been buzzing with social occasions without a break. With the economy seeming to be better and the amazing weather, New Yorkers are coming here to look at property for their winter breaks. I personally love going to Miami and Palm Beach where, in winter, we live slap bang in the middle.  The only disadvantage is that there are too many functions that overlap with each other so it's hard to choose since I have friends in all three places. I have even been too busy to post them on Facebook.
 

A man who became president and was able to change the course of history

One function I was especially proud to have been invited to was in Miami. I was privileged to meet the former President of Poland Mr. Lech Walesa (see pictures above) at the Lunch for the 42nd American Institute of Polish Culture.  He is very well respected and has a place in history for his role in making major changes that affected the world.  He won the Nobel Prize 30 years ago leading Poland's Solidarity trade union and the group's peaceful end to communism in 1989. He suggests a new 'Ten Commandments' are needed to bring the world together under one basic set of principles
 
Not surprisingly, there were a lot of European Royalty and dignitaries attending who had flown in from all over Europe for the spectacular ball the night before. Lady Blanka A. Rosenstielfounder was there to graciously greet and entertain the guests and I had time to grab a picture with her.


Filming in our New Studios

We are just putting the finishing touches to our Cancer Documentary, which we are submitting to the Cannes Film Festival in a few weeks for this year's entry in the Short Film corner.  We were chosen to screen our first documentary two years ago, which was quite a privilege as there are thousands of entries at Cannes and we were excited to win the Fort Lauderdale short film award. 
 
One of my interviews for our film was with Louis Cimino, executive producer of his documentary 'Cut Poison Burn', a searing film that illuminates the grim truth about America's war on cancer. He is just one of the many fascinating people in the cancer industry we have been interviewing.  The film is a chance for everyone to have their say. We are finding out so much about nutrition that helps treat the disease as well as many tips to help cancer sufferers.


Longevity – You have to work at it more than ever

When I see so many people dying at and before they reach 60 years of age nowadays I thought I would surf the internet to see if it is true that we will be living longer as I find that hard to believe. What I do believe is that we need to work much harder than ever just to live as long as the people in the past few decades since so much of our food is devoid of natural nutrition.
 
US census data indicates that in 1990, there were an estimated 37,306 centenarians out of 248,709,873 (1.5% of the total population>.  In 1830 there were 2,600 centenarians out of 12,866,020 people, (2.02% of the total population>.  This is still an eye-opener, even taking into account the amount of soldiers lost in wars. As proof of the declining numbers of people reaching 100, in 2007 only 0.3% of the total population was 100 years of age or more. The data was compiled at the University of Virginia.


Using SKYPE to get well

I have been very busy the last couple of months with an on-line training, teaching therapists to use the Skype for hypnosis therapy. It became truly International with hypnotherapists from Australia, New Zealand, Canada, Bahrain, Europe and the UK and it reminded me of my radio and TV interviews days. I was delighted with the results, so much so that we are making them a regular form of training. We are helping turn traditional "face to face" consultations and training into a 21st century format utilizing the internet and the results are amazing. Now hypnotherapists can use this exciting new tool for hypnosis where they can work with clients worldwide.
  
I had no idea how hypnosis could be so powerful on-line. It is excellent for the busy person that needs to keep anxiety in check, for stress and for help sleeping, which can help anyone like a mind massage.  It can also be used for stopping smoking, weight and a host of other things.  Well worth looking into.  It has marvelous potential and it is especially useful for people who are bed-ridden or have cancer and are too ill to go for therapy.  


The doctor who tried to change the course of medicine

The training has been so successful that my husband James Pool will be teaching part of his diploma course on Mesmerism on-line in the spring.  A fascinating course that should be a must for therapists, Mesmerism was the original and most successful form of hypnosis and Mesmer (where the term Mesmerism came from) was known as "the doctor who tried to change the course of medicine".
 
  
However beware what you 'google' or search for on the Internet

I first noticed there was a real problem with the information on the Internet when I was at the Nova University Library in Florida around six years ago, a fabulous, state of the art library for students.  As a successful biographer and author my husband James Pool loves libraries - he almost lives in them. He takes great pains to research the many obscure academic books, like a Sherlock Holmes of the literary world. The key word is, of course, 'obscure', which means that he finds important books for his subject that have not been put on the internet.
 
But what surprised us both was that the students were in the library researching on their laptops rather than taking any of the books out for research. Surrounded by books on the shelves, but not looking at any of them.
 
I had been making special trips to this extensive library because the most important research and case histories were not on the Internet at all but in old books and journals. So any journalist searching the Internet for information on hypnosis would only find a part of its rich history. No wonder the press say there is very little research to prove hypnosis works (they generally depend on the Internet to check information) when actually there is a couple hundred years of it. Therefore when people say "Google it - and you will find what you want," I realized there are significant limitations which can lead to misinformation.
 
Where is this going? I can give you two examples that show you how careful you have to be to find training courses or virtually anything.

James decided it was time to train his 'Mesmerism Course', which is so full of content from his years of experience and from a real source.

Since James had first hand knowledge we thought it would be unique. While living in Geneva in the 70's James became a friend of the prominent Swiss psychiatrist and hypnotist Dr. Oscar Forel, who wrote the classic book 'Hypnotism' in 1889. He was over 90 years old when James knew him, forming a living link with the mesmerists of the past century. Oscar Forel told James many of his father's unpublished secrets about mesmerism and so we new his course would be unique. James wanted to teach this old phenomenon that although old, had a better success-rate than any therapies today.

You can image our dismay when within weeks of our promotion at the end of 2013 a dozen new courses popped up on a subject.   So what is likely to have happen is that other therapists started to offer the course with little or no knowledge of the subject?  Since there was less than a handful of courses promoted on the Internet before we advertised, it will be interesting to see how many more new ones become available.

For my second example I believe I was the first hypnosis training in the UK for therapy over the Skype. I found my expert KeithAnthony, who had been using Skype for therapy since it started, to co-train with me as you really need someone that has masses of experience.  However, some copycats are already advertising and I am just waiting for even more. Trouble is few of them will have the skills and personal experience. The terms 'world famous' and 'international' seem to be hype words rather than truth instead of offering real credibility. So beware.


TIPS:

If you have been advised not to eat dairy products remember that doesn't include eggs, although they may be found in the dairy section. They are not a milk product and are an excellent protein. Some really good news about where I buy my eggs. They provide a minimum of 108 sq feet of pasture per bird on their farms - what a delight. The eggs taste fantastic. Here the organic eggs are about 4 times as much as regular ones. However, the ones we buy (which are like the old fashioned ones where the chickens can roam about) are nearly 7 times as much. Real food was never cheap but chemical food is. So I can now go to work on an egg and be healthy and well worth the extra.


'Sugar is the new tobacco' so should the food producers be fined?
 
If you wonder why you have cut down on sugar and are still not getting any thinner check out the sugar in savory foods. You'll find sugar where you don't expect it and then look at the companies that are responsible for adding huge amounts. Shouldn't they be punished like the tobacco companies for messing with our food and our health? Doctors and academics say levels should drop by at least 30% and some say by 50%.  And it is the experts that were advising the Government who are under fire such as Chairman Ian Macdonald, a paid advisor for Coca-Cola and Mars, two of the ten international companies that control almost everything you buy.  

Just one pint of real ale has up to nine teaspoons of sugar, far more than the recommended daily amount for an adult. Don't forget to read all labels. Some organic food producers are adding salt and sugar that were not in the food at one time. But if you are not bothered about health for yourself what about your pets? They are now claiming that 'Pet Food" is killing your dog. The producers are just finding ways of making money from unwanted products that are bad for your dog. Again it's not personal just big business.
 
And Finally, Prince Charles has been speaking out about unhealthy hospital food, its about time someone was able to get it published. Why would a hospital serve unhealthy food when it is costing 'us' money to pay for the treatments that the unhealthy food they serve creates?  Unhealthy food will definitely reduce healing. Would you feed a racehorse slop if you wanted it to win a race? 
 
Until next issue, be healthy and to keep up with the news on what to eat plus lots of interesting money saving tips join my Facebook page: www.facebook.com/valerieaustinhyp.
www.mesmerism.com

You can check about my training on a new career in hypnosis on www.austinhypnotherapyconference.com
Or email me at

[email protected]




Editors Note: VALERIE AUSTIN is an author of six successful self-help books including SELF HYPNOSIS (Thorsons), journalist and trainer with an international reputation in the field of hypnosis. Her best-selling books and training help people achieve their full potential. She founded the Austin Corporate Stress Management Company focusing on reducing stress and anxiety amongst executives and CEO's. She is also founder of UKRAH (1992) The UK Register of Advanced Hypnotherapy. Valerie has also worked as a consultant in hypnosis at the Priory Hospital, the UK's equivalent to The Betty Ford Clinic, which specialises in food addiction and alcohol abuse. Her work in the film industry (Hollywood) interviewing movers and shakers, producing TV news segments and publishing celebrity magazines in London gave her invaluable experience for her current Harley Street practice.