STOP PRESS! LONDON FASHION WEEK was amazing this year with hundreds of shows at SOMERSET HOUSE and THE FREEMASONS' HALL.
My fave show was the glam OLGA ROH's ROHMIR collection. There was something for everyone in this one - from eminently wearable day dresses and trouser suits to sophisticated evening frocks to outrageous feathery party creations. Here's some pix from the show by DILIP - some of my favourite outfits, the divine OLGA herself and the adorable PAULINE COLLINS whose current film QUARTET, directed by the brilliant DUSTIN HOFFMAN is cleaning up at the Box Office.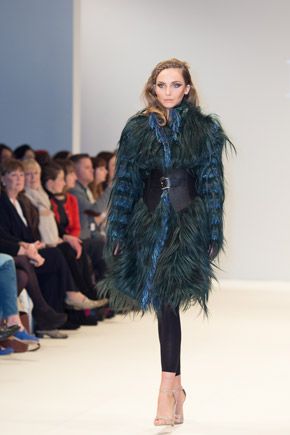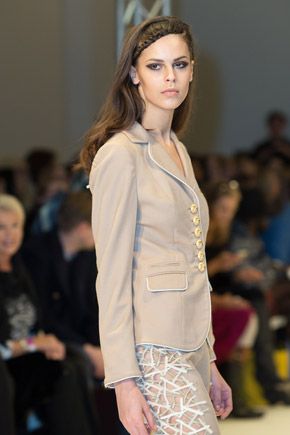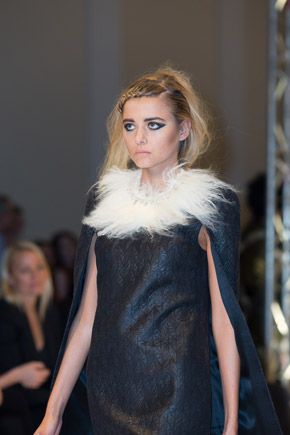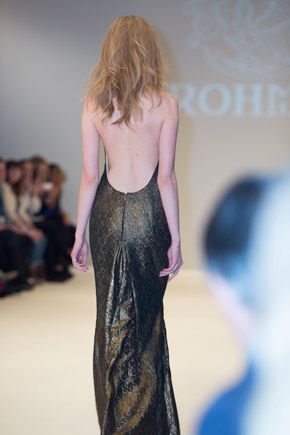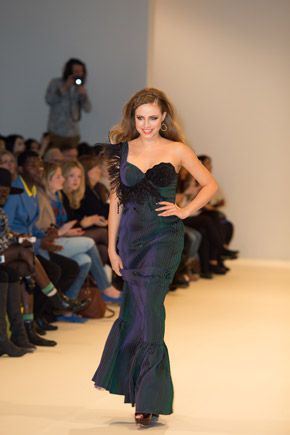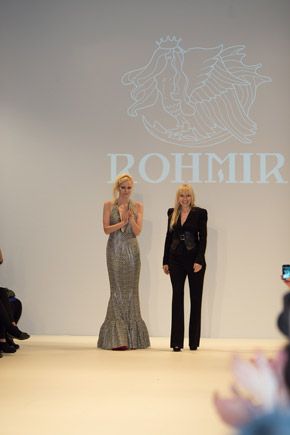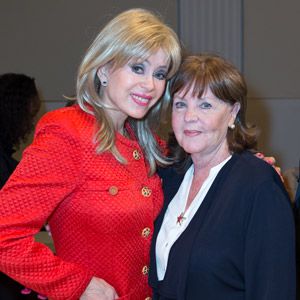 ROHMIR images by DILIP.



www.rohmir.com
ROHMIR COUTURE, 58 Maddox Street, W.1. / 020 7499 8350.


COVER PIC
Our Cover girl this issue, supporting AGAINST BREAST CANCER, is the aptly named FABIA CERRA, the outrageous Burlesque dancer who 'lit up' BRITAIN'S GOT TALENT 2009 with her swirly wirly flashing tassels.
Fab FABIA not only performs burlesque but also teaches the fine art and works for SHARON KAY at BURLESQUE BABY in Oxford, hosting Burlesque Hen Parties amongst other events. Here she is with some of her Burly Babies!


FABIA and BURLY BABIES. cr: STEVE WHEELER.

www.burlesquebaby.com

/ Sharon Kay CEO.



Do get in touch if you fancy burlesquing, as my dear actress pal EVA GREY did - she loves it and has never looked back. EVA's delightful celebrity agent hubby (who just happens to be my agent!) ROB GROVES also approves!

Here's another pic of FABIA in action with a stunning fan (and I do not mean a keen young man!)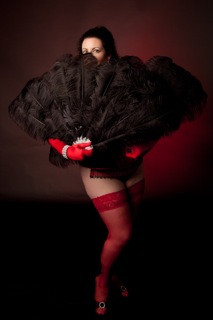 FABIA with FAN (photo 1). cr: STEVE WHEELER.



The philanthropic FABIA also works voluntarily for AGAINST BREAST CANCER. ABC is an extremely important and valuable charity founded by DR ANTHONY LEATHAM and his wife PATRICIA and is in fact this wonderful couple's personal crusade to search for a future free of breast cancer.
ABC funds pioneering research by expert clinical scientists at the University of Westminster in London. They use the University's exceptional collection of breast tissue and patient samples to identify markers that can detect the re-appearance of breast cancer in women already treated for this illness
Their research examines the link between the tumour, the woman's response to the tumour and the environment around her.
ABC's Patrons include the one and only SIMON COWELL, his mum JULIE who happily survived the disease and SUZANNE DANDO.
Do find out more about ABC, as I am going to do, please visit:
www.againstbreastcancer.org.uk
and donate if you can - there could not be a better cause.


Are you a beautiful young lady? Or gorgeous young gentleman? Or someone who appreciates pulchritude in both sexes? Then read on..................................

For the first time ever, the Miss & Mr England finals will be held in Torquay on 15th & 16th June 2013!

Located in the South West of England, Torquay is a beautiful seaside holiday resort on the English Riviera and is now host to alll the beautiful 2013 finalists. The 2013 finals will be held at the International Riviera Conference Centre, Torquay.
The 2013 finals are being sponsored by the beautiful island of Mauritius - which the ultimate winner of Miss England 2013 will visit! Miss England 2013 will represent England in Miss World in September and have the chance to win $100,000 and a host of prizes from sponsors worth £30,000 .

60 Contestants from all over the nation will participate in the 4 day final in June 2013 and the winner of Miss Torquay will be our host contestant. The finalists will stay at the fabulous Imperial Hotel for the four day event.

To celebrate the success of Miss Devon 2012 being crowned Miss England, two female finalists from the county of Devon will participate in the national final . Miss Torquay will join Miss Devon in the final, but both winners have a hard act to follow. Charlotte Holmes won Miss Devon in 2012 and is now the reigning Miss England and came 8th in Miss World.

And for the boys ... you now have the chance of entry to Mr England. There is a chance for the first time for a handsome chap to represent the county on home turf as Mr Devon in the Mr England finals, which are being staged on the 15th June at the Riviera Centre.

The organisers are now looking for male & female contestants who have good looks, a great personality, are sporty & charitable.

THE MISS ENGLAND CONTEST raises funds for the charity BEAUTY WITH A PURPOSE.

If you think you have what it takes to enter the competition, ENTER NOW!
www.missengland.info/enter-now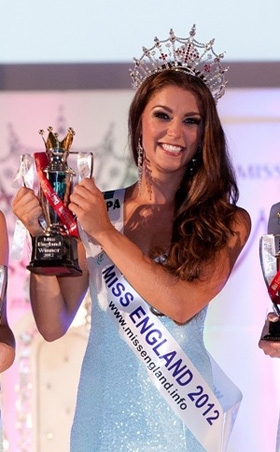 CHARLOTTE HOLMES, MISS ENGLAND 2012. cr: MISS ENGLAND.




CONGRATS!

To the amazing AMANDA SEYFRIED - from MEAN GIRLS to UGLY BETTY to COSETTE in LES MIS - you go, girl!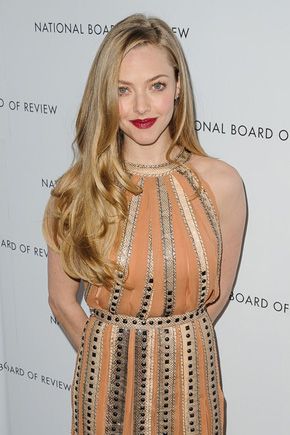 AMANDA SEYFRIED. cr: NORMAN SILVERMAN JEWELLERY.

To PATSY KENSIT, the new Face of WEIGHTWATCHERS.
The lovely and talented PATSY has struggled with her weight for 14 years and is now back to looking and feeling her best, after losing a stone since August thanks to New Approach Weight Watchers. Image cr: WEIGHTWATCHERS.

To my Guilty Pleasure CHARLIE SHEEN, whose new show ANGER MANAGEMENT has really taken off. They are now filming 90 (yes, really - that should keep him out of mischief for a while!) more episodes and the jammy CHARLIE stands to gain $2 million per show in the long run - allegedly!
Hilarious show - on COMEDY CENTRAL.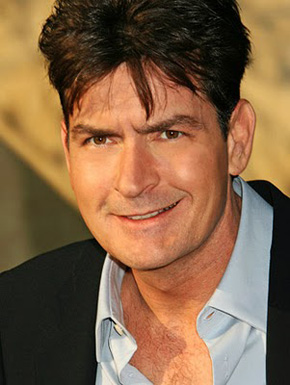 CHARLIE SHEEN.




To the fabulous DEE DEE WILDE, whose actor son ALEXANDER is in ZERO DARK THIRTY, the BAFTA and OSCAR nominated new film about the capture of OSAMA BIN LADEN. Read on:

NEWS RELEASE
Alexander Corbet Burcher , son of Dee Dee Wilde (Pan's People 70's tv dance group) is appearing in the new Kate Bigelow film ,
ZERO DARK THIRTY

Alex Corbet Burcher who served as a Captain in the Welsh Guards, did three tours in Irag and Afghanistan. In the latter he served under Colonel Rupert Thorneloe in the very difficult 'Panther Claw' Campaign. Unfortunately Colonel Thornelow lost his life on that tour.
A little while later, Alex left the army and has now started a career as an actor. Following in his mother's footsteps so to speak!

Last year, the Director Kate Bigelow of 'Hurt Locker' fame was in a pub with a fellow officer of Alex's and when she mentioned she was looking for real soldiers to play American Navy Seals in her new film ZERO DARK THIRTY, the manhunt for Osama Bin Laden, Alex was suggested. He soon found himself filming in Jordan for 8 weeks.

It's a gripping film, as is the superthriller ARGO, my personal favourite this BAFTA season, although the other contenders, ZERO, LINCOLN, LES MIS and LIFE OF PI are all sensational. I am a BAFTA Voter and found it really hard to vote for just one this time - an excellent season for 'de fillums'!


To smooth entrepreneur MICHAEL GELARDI who celebrated his latest and greatest birthday with a drinks party organised by the dynamic LALLA KAUR at the gorgeous MAYFAIR HOTEL. Here's MICHAEL and LALLA: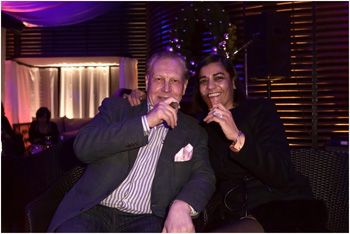 MICHAEL AND LALLA / MAYFAIR HOTEL. cr: DILIP.




BEST PARTIES

The fabulous ANNIE MCKALE generously donated a delicious dinner with fizz and wine for 'SUPPER WITH SALLY' in aid of YES TO LIFE Cancer Charity at THE MILLENNIUM MAYFAIR HOTEL's stunning AVISTA RESTAURANT. The glam DR ANNA, LADY BROCKLEBANK had auctioned the dinner with the help of the equally glam INGRID TARRANT and the girls managed to flog me to kind city man PADDY EVERSHED, couture designer RACHEL ELBAZ and themselves! Loadsamoney was made for the charity and we all had a wonderful dins at AVISTA (www.avista.com), joined by PADDY's lovely wife SHEENA and the equally lovely CHARLOTTE ELLIS. AVISTA has a very welcoming atmosphere and the food, drinks and service were all first class. Here's a pic: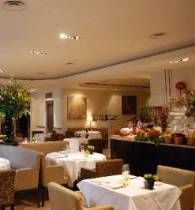 AVISTA restaurant.



And here's a pic of our ANNIE meeting the PM, DAVID CAMERON recently. she seems to have charmed all the onlookers in true ANNIE style.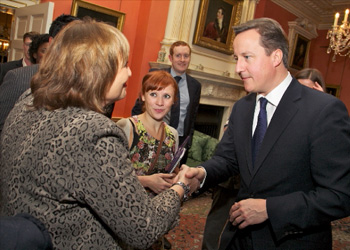 ANNIE and DAVID CAMERON.




THE MILLENNIUM KNIGHTSBRIDGE also boasts a fab restaurant, LE CHINOIS and I recently attended a delightful 'neighbourhood party' there, hosted by ANNIE and suave GM CLIVE, where they welcomed all their clients from the local Sloane Street Boutiques ~ The Knightsbridge Army Barracks ~ Harrods ~ The Kensington & Chelsea Ladies Club & Sloane Square Ladies Club ,etc etc
It was a very jolly do, MILLENNIUM style - the champagne flowed and the CHINOIS canapes were simply to die for. Here's a pic with RACHEL ELBAZ, MOI, ANNIE, LALLA from RACHEL's gorg couture shop and CHARLOTTE.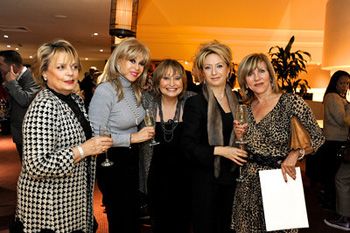 LE CHINOIS party.



Review of the excellent CHINOIS restaurant in the next issue.


Now. as promised in the last issue, here are some more pix from legendary singer ROSE-MARIE's recent concert and party, including ROSE-MARIE, DUNCAN BANNATYNE, DAVID VAN DAY, SUE MOXLEY and NICOLA FARADAY,as featured in OK magazine. cr: EDWARD LLOYD.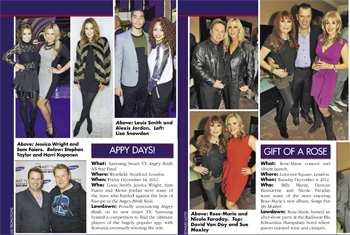 PARTY SPREAD / ROSIE. cr: EDWARD LLOYD / OK MAGAZINE.




THE GREYHOUND OF THE YEAR AWARDS in aid of THE RETIRED GREYHOUNDS' TRUST was a lively affair at THE LANCASTER HOTEL (no woof woof and barking comments, please!) I was invited by lovely TV star DEBBIE ARNOLD and her gorg daughter TALIA JANSEN and had a ball with my pal MIKE COOPER. DEBBIE sat me next to the Chairman, Trustee MAURICE WATKINS, a dynamic entrepreneur who supports various charities and I loved watching all the doggy racing vids. The winning doggy was of course a blonde!!
Seriously though, here's some bumf about this worthy cause:
'By way of background, the Retired Greyhound Trust believes passionately that every greyhound deserves a long and happy retirement after racing. Often they retire quite young at around four or five years of age, and then undergo a remarkably quick transformation from supreme canine athlete to docile, loving and quite lazy family pet! We work hard to find around 4,000 homes each year and do this through our 70 branches across Britain that are run by some of the most dedicated volunteers I have ever met. Of course a homing effort on this scale costs money, and we have to raise £3.6m each year to fund the kennelling, veterinary and promotional costs involved. We receive wonderful support from a great many organisations, including GBGB, SKY and the bookmakers, and from our database of 60,000 greyhound lovers.'
Supporters include the lovely TWIGGY. www.retiredgreyhounds.co.uk
The gorg frock I wore for this event was a fab warm and longsleeved but clingy and sexy LBD by JILL HARVEY AT MEDICI (www.medicigroup.com), whom I had been introduced to by fashion guru VIVIEN KING-LAWLESS. The dress was perfect for the cold UK weather and for covering my recent lumpectomy and 'lymphectomy' scars, and here it is: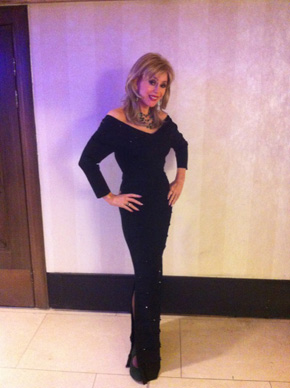 SAL in JILL HARVEY AT MEDICI LBD




OBITUARY
The world will miss the unforgettable MICHAEL WINNER, 'OBE Rejected' who died in January aged 77.
Blockbuster film director, restaurant critic, commercials star, bon viveur and straight talker, MR WINNER was truly memorable. He certainly made some of those posh chefs quake in their boots!
I did not know him well (no, I was not a girlfriend!) but he was always quite charming to me, whether auditioning me, admiring my diamonds or telling me not to eat too much popcorn. What he went through after being poisoned by a bad oyster in Barbados, nearly losing his leg and having 10 operations in 3 months is truly inspirational.
MICHAEL will be sorely missed. Sincere condolences to his beautiful wife GERALDINE and all his nearest and dearest.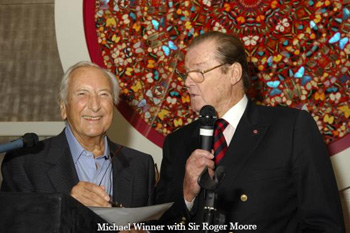 MICHAEL WINNER with SIR ROGER MOORE. cr: EDWARD LLOYD.




Sincere condolences too to my dear friend PRINCESS KATARINA OF YUGOSLAVIA, featured in last month's issue, for the loss of her mother PRINCESS MARGRITA OF BADEN in January. Also to KATARINA's lovely daughter VICTORIA for the loss of her grandmother.


JADE'S PICKS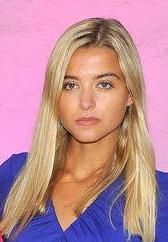 JADE. cr: CONTACT MUSIC.



BEST RESTAURANTS

FORMAN'S RESTAURANT
Being a 'pescetarian' it was an absolute pleasure to visit FORMANS restaurant. They thrive oN having 'the best salmon in the world' so I was thoroughly looking forward to their 6 course salmon tasting evening! Based in the heart of London's East End and situated opposite the Olympic Stadium, the building is architecturally designed to resemble a carne of salmon! The building actually consists of a gallery (where they exhibit the work of local artists), the restaurant and the salmon factory where they fillet, cure, smoke, hand-carve and sell from directly.
We were greeted with two types of bellinis; the fruity champagne kind and the appetiser kind. FORMANS introduced us to the dinner with silky salmon on soft bread,creme-fraiche and fresh capers. This amuse-buche prepared us for the rest of the menu.
We then went through to the dining room where we were seated next to the window with a glorious view of the Olympic Stadium. Each course was to be accompanied by a different drink, including elderflower vodka, pinot noir and lager - re-fermented with champagne yeast. The first course was cured scottish salmon in 3 different flavours: gin and tonic, wasabi and mojito (the latter being my preferred one.)
Next was a salmon ravioli dish, which had a soft fillet of salmon with a beautiful salmon ravioli piece surrounded by salmon roe and shallots. The waitress delicately poured the warm broth into the bowl once we had been served.The next course I enjoyed very much as it was very light: salmon tartar. It refreshed the palate with its lemon and cucumber garnish.
Following this we were served salmon sausage with truffle mash and butter sauce. The sausage was thick and the delicate salmon filling contrasted nicely with its crisp case. The mash was fluffy and subtly flavoured with truffle but, along with a butter sauce, this course was quite heavy - it could actually have been reduced in size, as we still had another course to follow! This was: a cépe encrusted hot smoked salmon served on a bed of risotto with mushroom and cheese sauces. The salmon was delightful: very moist and fresh with the accompanying dishes flattering it well. FORMANS had certainly provided us with the finest smoked salmon, beautifully presented, and the various ways of enjoying it and lived up to their legendary reputation.
www.formans.co.uk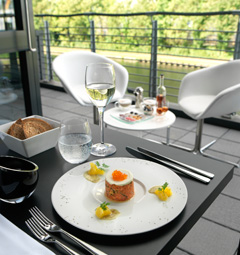 FORMAN'S RESTAURANT.




BELOW ZERO / ICEBAR
It didn't take long after seeing the fascination and success of the original ICE BAR in Stockholm, before one was brought to London. The novelty of it is still undeniable and excites and attracts people every day. Based in Heddon Street, off Regent Street, the ICEBAR BY ICEHOTEL consists of the ice bar, the restaurant and lounge.
The first part of our experience was in the bar. Greeted by a very friendly chap we were informed that the capacity of the bar is up to 70 people with 40 minutes being the time limit to spend in there. Waterproof hooded coats (with gloves attached) were distributed amongst us and we entered. Apart from the ceiling and floor and a few machines lighting the room blue, everything really is made of ice! The bar has an array of cocktails based on vodka, gin, bourbon, rum and more. The first drink is complimentary with your Icebar ticket. so we chose a 'Down to Earth' and an 'Apollo 11.' The glasses from which you enjoy these delicious cocktails are, of course, made of ice, making it refreshingly cold to sip your drink! After half an hour of admiring the pink space inspired walls,the ice sculptures dotted around the room and the tables and chairs made of ice, my fingers were telling me it was time to leave! So back into the warmth and into the Below Zero restaurant we went.
ICEBAR has various events per week including stand up comedy, acoustic sessions and wine tasting. Tonight it was comedy night and our attentive waiter assured us we were in for a laugh. We feasted our eyes on the sizeable menu, intrigued by the wide choice of game. We warmed up with a lovely 2006 bottle of Rioja. To start we had the five spiced soft shell crab with shaved fennel, radish and lime as well as smoked wood pigeon accompanied by carrot puree and glazed baby turnips. The crab was rich and the fennel was fresh. The pigeon was succulent and smokey. Both dishes were immaculate and beautifully presented but quite small. However, being small, they leave you wanting more! I opted for the fish of the day whilst my guest chose the sirloin steak with a red wine jus and capers. It arrived rare as ordered, thus he was satisfied. The fish of the day was sea trout: pan fried with grilled aubergine and aubergine puree. The trout was delightful, rich in flavour, delicate and very well cooked. The salad garnish and aubergine puree went with the trout wonderfully.
The comedy was well under way by this point. Leo Kearse, winner of Chelmsford Comedian of The Year hosted the evening introducing us to many comedians desperate to make us choke on our food! They were indeed successful in entertaining us and it was a lovely addition to our ICEBAR experience.
For dessert we ordered warm carrot cake with kumquat marmalade and spiced bread ice-cream, dark chocolate parfait and mango sorbet. The cake was moist and the spiced ice cream was thoroughly appreciated. The dark chocolate parfait was smooth and indulgent and the sorbet refreshed the palate well. All in all ICEBAR had provided us with an extremely enjoyable evening and I look forward to visiting again soon.
www.belowzerolondon.com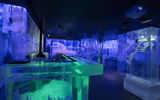 BELOW ZERO = ICE BAR.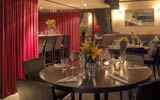 BELOW ZERO = RESTAURANT / DINING ROOM.




JADE'S FAVOURITE PRODUCTS
As the weather is still cold and windy, our skin is getting more dry, so it is essential to keep your skin nourished and moisturised. ELIZABETH'S DAUGHTER has a large range of products including moisturisers, shower gels and cleansers, all of which are at least 90% natural. I have been using 'the intensive moisturiser' on my face and body, which is especially for youthful skin. It has nourishing ingredients such as Sacha Inchi Oil and Tahitian Monoi and anti-inflammatory ingredients such as Kakadu Plum (so is even effective on insect bites.) This particular 'intensive moisturiser' has worked wonders on my dry skin, just from one use a day. The range has alternative lotions which are lighter, possibly more appropriate in warmer seasons. The brand is expanding, with facial toners and spot rescue gels soon to be available!
ELIZABETH'S DAUGHTER also do a great Gift Box which makes the perfect present.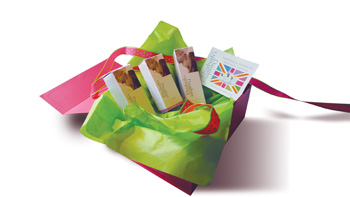 ELIZABETH'S DAUGHTER Gift Box.



All these fabulous products are available to buy online at:
www.elizabethsdaughter.co.uk


OUTBACK ORGANICS have a brilliant moisturising mask called 'BUSH BALM' which helps relieve irritated skin after waxing, not just for the bikini line but for all waxed areas. It is recommended to apply it to the treated areas immediately after waxing, to soothe the skin and reduce redness. Whilst in-between waxes, apply it regularly to prevent ingrowing hairs. So if these issues occur regularly, this product can really make a difference to you! All the ingredients are natural and organic, containing aloe vera, frankincense and macadamia oil. One of our triallers also used it to heal an ordinary rash.
The range also includes shampoos, tea tree oils and body wash. All of these pure and healthy products are available to purchase at www.outbackorganics.co.uk


SALLY'S TREATMENTS OF THE MONTH

I recently discovered an amazing new beauty clinic, ABSOLUTE AESTHETICS (01483 477 189 /
www.absoluteaesthetics.co.uk) of Harley Street and Guildford, which is part of the world famous WHITELEY CLINIC (for vascular problems). AA can provide all the treatments - skin rejuvenation and tightening, anti-wrinke treatments, body sculpting and anti-cellulite, etc - required to make your face and body look positively gorgeous.
VICKI SMITH the fresh faced CEO specialises in Thermage and Pelleve, brilliant skin tightening treatments and cosmetic doctor KULDEEP MINOCHA is the best ever Botox and fillers practitioner.
I was recently treated myself at the stylish and spotless Guildford clinic to regain my looks after the strain and pain of going throught the dreaded Two C.s, cancer and chemo, for a year and am now looking radiant, so I am told. Eat your heart out, MADONNA!
Pix of my new glow in the next issue when I have had time to be photographed. Now here's a pic of VICKI, 32 and looking 22 and KULDEEP, 45 and looking 35! They certainly are an excellent advertisement for ABSOLUTE AESTHETICS.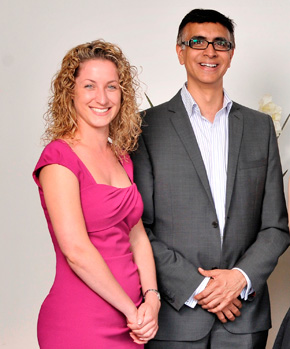 VICKI AND KULDEEP of ABSOLUTE AESTHETICS.



PS: AA are having an amazing OPEN EVENING on March 6th - see you there!
Here is the link to the details of the Open Evening.
In addition, Kuldeep is going to do a demonstration of dermal fillers to rejuvenate the hands and lips.


If you haven't tried GEL NAIL POLISH yet, then you must. It gives the nails a protective coating but still lets them breathe. My nails have at last started to grow after my chemo ordeal and my nail tech, the gorgeous LAUREN at NAILS INC / HARVEY NICHS 9020 7235 5000, X 2553) decreed that I was ready to abandon the dreaded extensions and 'go gel'. This was a major thrill in my little life and I chose a jolly bright pink nail gel colour from the fab NAILS INC range. Here are my brilliant gelled nails, looking like little dancing legs which just need a tutu!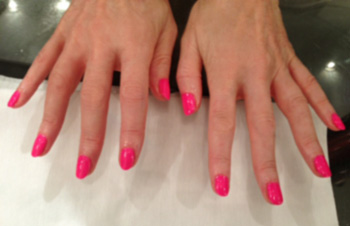 NAILS INC GELLED NAILS. cr: LAUREN / NAILS INC.




SALLY'S PRODUCTS OF THE MONTH

BEST NEW HEALTH PRODUCT:
BETTER YOU D LUX Daily Vitamin D spray from the excellent JOHN BELL & CROYDEN pharmacy is a great new find and especially useful if, like me, you are fed up with taking loads of huge great pills! You just spray it in the mouth once a day and each little spray can lasts for 100 bursts. Vitamin D, which you can get from the sun, helps protect you from SAD in the winter when there is no sun.
Try Vitamin D3 too - it is essential for health and in particular for post cancer patients, as it stops the inflammatory cascade in the body.
www.johnbellcroyden.co.uk
020 7935 5555 / 50-54 Wigmore Street, W.1.

BEST MAKE-UP RANGE
SKIN PERFEKT's BODY PERFECTION GEL is the absolute best of all the colour - with - sparkle products we tested this issue. 'Golden' gives a light tan coverage with just the right amount of sparkles. Plus it contains hyaluronic microspheres, ceramides and shea butter to smooth and perfect your skin. Spreads easily and is totally odourless.
The SKIN PERFEKT range also includes the brill SKIN PERFECTION GEL = the only base I will wear these days, EYE PERFECTION GEL = featherlight coverage for under eye bags and dark circles, LASH PERFECTION GEL = very natural looking mascara and CHEEK PERFECTION GEL = for that 'just come in from the cold' rosy glow.
www.perfektbeauty.com

BEST CLEANSING RANGE
AYURVEDA PURA's HOLISTIC ESSENTIALS range comes in various formulas including the standard Dry, oily and Sensitive of course. These natural spa quality beauty products have been formulated true to the age old principles of Ayurvedic skincare and will soothe your soul as well as your skin.
Trialler GLORIA said "I used the HOLISTIC ESSENTIALS' Daily Cleansing Milk, Re-juvenating Toner and Daily Replenish Face Cream in the De-Stress Formula for 3 weeks and I really did feel less stressed, as well as my skin feeling much cleaner than usual with a good colour, unusual for me. 10 out of 10 for these products."
www.ayurvedapura.com

One of the fans of the AYURVEDA PURA range is allegedly the gorg ROSIE HUNTINGTON-WHITELEY and her she is at THE GOLDEN GLOBES showing off her amazing side cleavage!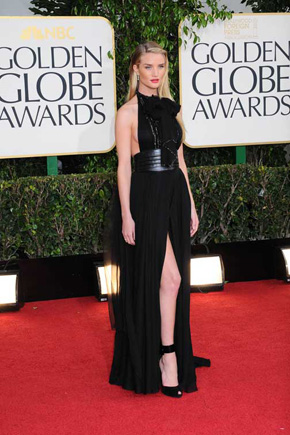 ROSIE H-W.cr: NORMAN SILVERMAN JEWELLERY.




BEST MASK
BAKEL's PURE PEEL Exfoliating Face Mask is a new and exciting product on the market. It promises to 'renew the epidermis, tone the skin and diminish wrinkles'. Our trialler JANINE tried it for one month, using it once a week and said "This peel is great. It only takes 5 minutes and definitely delivers. It tingles and itches mildly which is a good sign. After using it for a month my skin looks much more radiant. I would reccommend it, especially in winter when my skin gets that dead look and this product improved it a lot."
www.bakel.it

BEST LIFTING PRODUCT
The famous and long established MURAD's latest rejuvenating product, Rejuvenating Lift for Neck and Decollete promises to 'restore youthful smoothness and even skin tone by increasing firmness 42% after just one application and retexturing skin to diminish crepiness and sagging". Quite a promise! Did it deliver? Trialler JEANNETTE, 56 said "yes, it did. I have no idea what 42% firmness is, I just know this product made me look younger in a short time which is brilliant. It doesn't smell funny like some of them and apparently it contains banana pulp, java plum and mango so nice and natural. I love it and will use it regularly now I have found it. A big thankyou to Sally, Hot Gossip and Murad!"

BEST BATH PRODUCTS
Nobody can beat LUSH, my absolute fave purveyors of bathtime bliss. Their latest SPA BOX of goodies contains a Peace Massage Bar, Stepping Stone Foot Scrub, Full of Grace Facial Serum and Big Blue Bath Ballistic, all self explanatory and sensational smelling. Of course I should have given these to one of my loyal triallers but decided it was spa time for moi and moi's family! Unbeatable.
The Serum lasts for ages and the Foot Scrub is making all our feet fit for spring. - excellent.
Makes a great prezzie too.
www.lush.co.uk/spa

BEST NEW MASSAGE PRODUCT
THE KNEADER is a really neat and nifty little massaging gadget that requires no leads or batteries. It's just like a light knuckleduster - you slip it around your fingers, then away you go massaging away all your aches and pains with your own muscle power (or a friend's). I tried this myself and found it particularly good for kneading the little stress knots round my neck and shoulders (probably from hunching over the blooming computer writing this column!) Anyway it was just what I needed, excuse the pun!
It glides along particularly easily with a little Grapeseed Oil - try it.
Take a look to see how THE KNEADER works:
www.kneadsmust.com/video
www.kneadsmust.com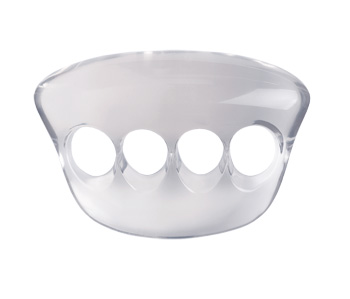 THE KNEADER.




I always love a happy ending. When my dear friend ADELE BLOOM burned herself on our oven and had to go off to A AND E, she was in a lot of pain, had a bad scar and we all felt dreadful. So we were all profoundly relieved when she found PURISKIN RESURFACING FORMULA. Here's her report:

This product is simply fantastic, it does everything it says on the tin, it delivers.
The Puriskin cream smells delicious, it's easily absorbed and is a no nonsense product.
After my serious kitchen accident, I was left with a horrible angry scar on my arm, but this Resurfacing Formula has worked wonders and my ugly scar is at last starting to fade.I was able to see a difference in the first few weeks and now after a month it is far less obvious. I wouldn't dream of using anything else.
I also used the formula on a few skin tags on my neck and they too have started to diminish.
The formula is packed with pure nourishing ingredients, described as a vitamin rich, ph balancing complex which includes Comfrey , Chamomile oil ,Jojoba Oil, Evening Primrose oil and much more.
Try it , its brilliant , I cant wait to try Puriskin's other products. This is the company to watch, they deliver.
www.puriskin.co.uk


BEST HAIR ACCESSORIES

A bit of bling partifies the most ordinary hairstyle. When CARRIE (SARAH JESSICA PARKER) pontificated that you should never wear a scrunchy to a party, she clearly had not seen the LEO BANCFOFT FINISHING TOUCH sparkly flower scrunchy!
The whole LEO BANCROFT FT range is fab, as well as reasonably priced - bling and pearl bands, bling slides, et al. But how tough are they? Our mum and daughter trialling team TESSA AND JASMINE, 12 loved them. Said TESSA "the LEO BANCROFT range is great - they don't break, stretch or tarnish. The slide was especially strong - so many break on Jasmine's long, thick hair but this one goes on and on. Very pretty on my short hair as well."
Check out the website for the whole range:
www.leobancroft.com


AWARDS SEASON

The Awards Season is upon us and gorgeous actresses have sported some gorg outfits at THE GOLDEN GLOBES, BAFTAS and OSCARS.
Thankyou for all your emails about JEWELLERY - this seems to fascinate everybody during the Recession!
Here are some of my fave pieces worn by some of HOLLYWOOD's finest at THE GLOBES - info kindly provided by the fabulous KRISHEL at D'ORAZIO.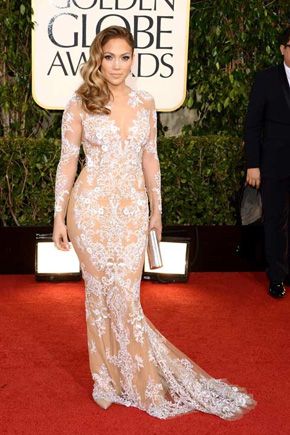 JENNIFER LOPEZ in Le Vian diamond earrings and Le Vian diamond rings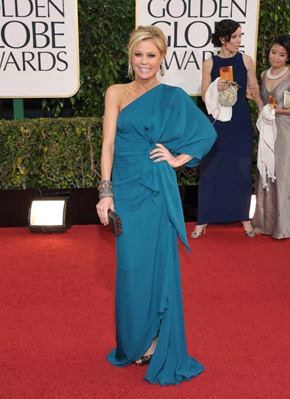 JULIE BOWEN in Bavna diamond rosecut earrings and Bavna rosecut diamond bangles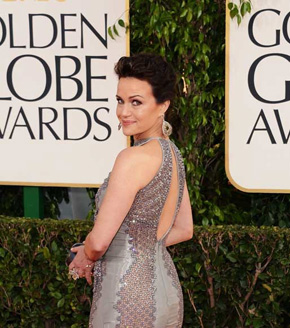 CARLA GUGINO in Bavna diamond Earrings and a Demarco yellow diamond flower ring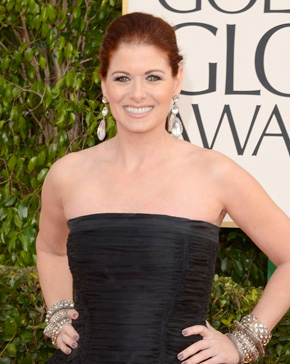 DEBRA MESSING in Amrapali victorial diamond bangles worth over $200,000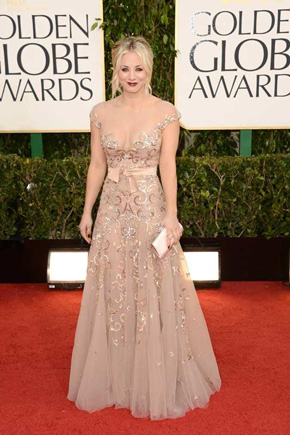 KALEY CUOCO in Brumani earrings and Brumani ring




Do also check out BOLLY's amazing column for more Red Carpet Moments when you have finished reading mine, fashionistas.

And if you lurrrve gorg vintage frox, and want to raise money for charity, read on:

Celeb Wardrobe Raid 2013
High Fashion Society have teamed up with a host of celebrities and raided their wardrobes in search of pre-loved vintage designer items to raise money for Kids Company (www.kidsco.org.uk) for the Celeb Wardrobe Raid 2013.

These one-of-a-kind celebrity donations will be sold from the 25th February to the 17th of March. You can get your hands on a Sienna Miller vintage kimono, or rock a Nigella classic coat all to raise vital funds and awareness for Kids Company, a charity dedicated to helping vulnerable children in London.
High Fashion Society is supported by celebrities such as Sienna Miller, Melanie C, Fearne Cotton, Nigella Lawson and Lorraine Kelly to name a few. All proceeds made will go towards care and support of deprived and at risk Kids Company children in the capital. The best bit is that the starting prices will be set at a snip of the original value, so you really could bag a bargain while raising money to help Kids Company. The bidding goes live from the 25th February and runs until the 17th of March, but don't worry if you end up being outbid, you can still do your bit by donating any pre-owned and pre-loved items of your own on the site – come on, you know you're never going to wear those shoes/coat/hat/bag/scarf ever again.
The auction is live on High Fashion Society from the 25th February and runs until the 17th of March.
For more information about the Celeb Wardrobe Raid 2013, the celebrities involved and the range of items being sold, visit www.highfashionsociety.com
I have donated the outrageous shocking pink flamenco dress I wore in CARRY ON BRIGHTON. It's a size 10 and ideal for parties. Here it is on stage with SIMON BRANDON and DEAD RINGERS' MARK PERRY - and no, you don't get the hat and the baby as well!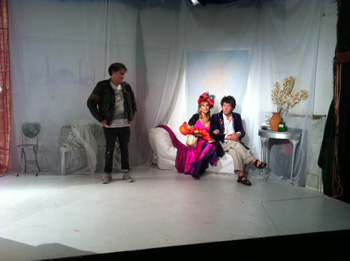 SALLY and dress with fellow cast members SIMON BRANDON and MARK PERRY in CARRY ON BRIGHTON.




FASHION NEWS
Superdesigner PARVEEN has moved her fabulous treasure trove shop from the West End to Knighstbridge, just between HARRODS and BEAUCHAMP PLACE, and can now be found at:
Parveen Couture Ltd, 2 Yeomans Row, London, SW3 2AL . Tel: 020 7584 7702
Check out PARVEEN'S stylish new premises and catch up with her latest designs and amazing accessories.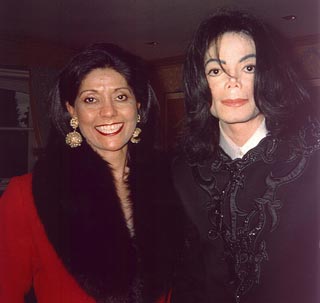 PARVEEN with her client, the late great MICHAEL JACKSON.

JADE taking a break between PARVEEN COUTURE shows..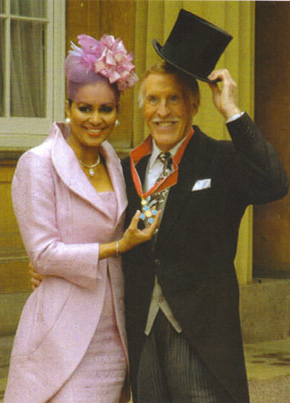 (07.09.2009): LADY (WILNELIA) FORSYTH wearing PARVEEN COUTURE, with hubby SIR BRUCE FORSYTH at ROYAL ASCOT.




Thankyou for reading my page. Please email JADE and me at:


[email protected]


and check out my other sites:
www.sallyfarmiloe.com
www.kazzyandsally.tv