The saddest news this autumn was that TONY CURTIS, 'one of the greatest actors of Hollywood's Golden Age', had died. He was a true screen legend and a delightful person. Sincere condolences to his lovely widow JILL and all his family. TONY's magic will live forever through his films, especially SOME LIKE IT HOT.
Photos and memories of this iconic actor in the next issue.

COVER STORY:
This autumn's Fashion Weeks were all great but who would have thought that I would have found the best ever new (to me) label down in t' coontry! (COTSWOLD COUNTRY LIVING).
Here's our cover shot again, uncropped, just to remind you, ladies and gents, that tweeds can be young, fun and sexy - and what a great 'in the pink' lining!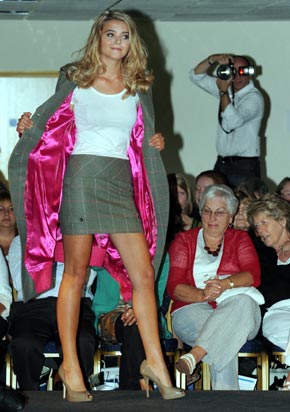 COTSWOLD COUNTRY LIVING modelled by JADE. C.r.: PAUL NICHOLLS / STROUD LIFE & GLOUCESTERSHIRE MEDIA.



Hunting, shooting and fishing have obviously gone seriously fashionable. I think if I was a poor pheasant I'd definitely take flight if I saw this leggy bird flashing its pink plumage at me!
Seriously though COTSWOLD COUNTRY LIVING (80, Chesterton Lane, Cirencester, Glos, GL7 1YD / 01285 65 75 27 / www.go-country.co.uk) is an ab fab tweed collection for ladies and gents of all sizes and ages. This absolute treasure trove of a shop stocks all the top country brands including DUBARRY and SCHOFFEL. All the outfits are beautifully fitted, the colours are superb and CCL are now opening another shop this month in Regent Street, Cheltenham (Ladies' College gels take note!)
Tweeds are definitely 'the new black' - watch this space.....................

So where did I find this unusual new collection for you, fashion fiends? weeeeeeeeeeeeeeeeeell, I travelled down to Nailsworth, near Cirencester to compere the amazing RUSSELL NURDING's fab CELEBRITY CHARITY FASHION EXTRAVAGANZA at FOREST GREEN ROVERS FC in aid of CARING MATTERS NOW (www.caringmattersnow.co.uk), a very worthy charity for children with bad birthmarks, run by the dynamic JODI UNSWORTH.
Choreographer and hairdresser extraordinaire RUSSELL is famous for his incredible fashion shows and this one was the best ever, lasting 4 hours and co-organised by the club's lovely NIGEL FOSTER.
Celeb guest presenters included EMMA SAMMS and SHARRON DAVIES and celeb models included HEARTBEAT's MATTHEW CHAMBERS, ULTIMATE BB's BEN DUNCAN and PINEAPPLE DANCE STUDIOS' TRICIA WALSH-SMITH. Here are the piccies by BRUCE FENN and STEVE FEARN (the wonderful RUSSELL is the one NOT in the ME ME ME OF CIRENCESTER pink frock!)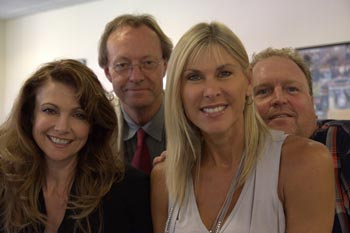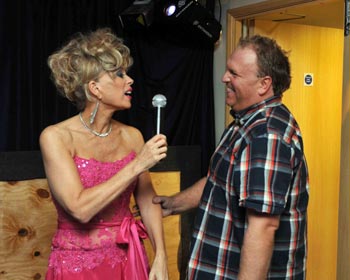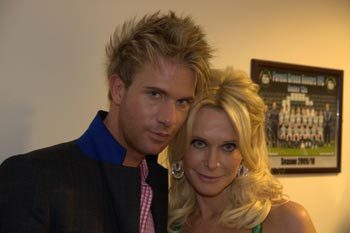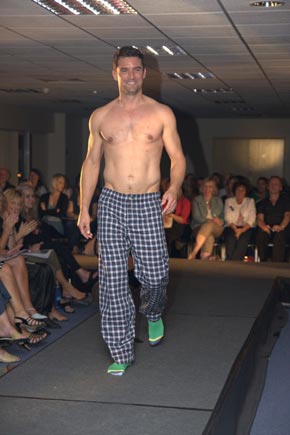 Apart from COTSWOLD COUNTRY LIVING and ME ME ME, other labels included in the show were HELEN'S FROCK SHOP, SUNSHINE, BRILLIANT DISGUISE, OVERIDER, TIA TIA, PANTS ON FIRE, QUETTY BANG BANG, KNICKER BOCKER, VERITE LOUISE and JACK RUSSELL.
The collections were interspersed with all sorts of talented acts = hunky butlers, chunky footballers, singers, dancers and female impersonators and a wonderful time was had by all.
The icing on the cake for me was staying at the cosy PLOUGH INN in Ciren (01285 65 34 22) where I was fed delish country food by the charming LIZ and her 'toy boy' and getting my hair done by the divine RUSSELL at his chic CUTTING SHED hair salon, also in Ciren. (01285 64 34 25).



My FAVE PARTY recently was - surprise! surprise! - my own one for the UK launch of FOOD RELIEF, a wonderful charity for whom I've been an Ambassador for several years. We held the launch in the stunning cocktail bar at the world famous FLEMINGS HOTEL in Mayfair (www.flemings.co.uk), organised by the lovely CATH, and attracted a very glam celebby crowd. FLEMINGS kindly provided delish drinks and canapes and gorgeous guys JULIAN MOSS and MATTHEW STEEPLES from VODKA O (www.aussiespirits.com) kindly provided us with yummy vodka cocktails which slid down really well! VODKA O is the first voddy which doesn't give one a hangover = try it, AB FAB gels!
Guests included CINDY JACKSON, LEEE JOHN, NEIL AND CHRISTINE HAMILTON, LINZI AND WILL STOPPARD, LADETTE TO LADY's LIZ BREWER and TRISH WALSH-SMITH and the event was covered by THE DAILY MAIL, SUNDAY EXPRESS and OK! magazine. Here are some pix by lovely LANA HOLLOWAY of moi and the VODKA O boys and some of the aforementioned famous faces.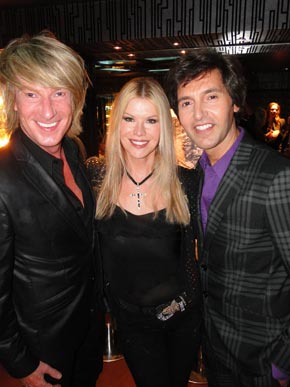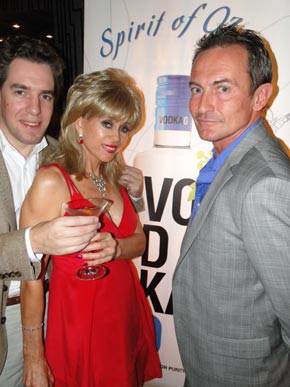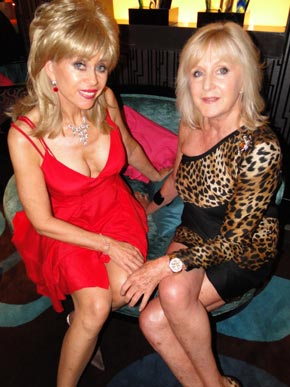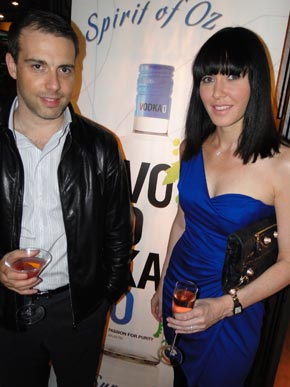 FRI looks after the poorest of the poor around the world; I visited the work of the charity in Bangladesh earlier this year and was very moved and impressed. Please help us to feed the poor, build schools and clinics and run medical camps by volunteering or donating - you can write to me at:

[email protected]

if you want to know more about this. Thank you so much.



My personal news is that I have recently become the 'Face' of quirky handbag company run by charming STEVE AND DIANE, BAGS OF DREAMS (www.bagsofdreams.co.uk) and am having the greatest fun accessorising with amazing bags in the shapes of guitars, basques, owls and pussycats! BAGS OF DREAMS have kindly agreed to donate 10% of their profits to charity, God bless them.
A picture tells a thousand words so here I am being a 'bag lady' with my new best friends!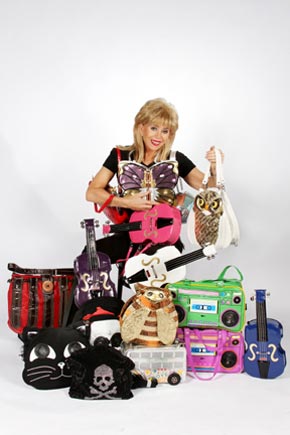 BAGS OF DREAMS endorsement: c.r.: R. KAZ.




Still talking fashion, if - like me - you prefer to holiday in the sun in the autumn, you will be needing a new bikini or 6! My HG swimming and sunbathing team and I have tested several swimming cozzies and bikinis this summer and many of them stretched or lost their colour or both. The BEST SWIMWEAR LABEL I have found for you, dear readers is HAVE FAITH (www.havefaith.com), whose bikinis promise to make you feel like a goddess and really do! The bikini we tested kept its colour and shape through various sea and pool dunks and washes and its 'silver' chains did NOT tarnish = yippee! Success at last. Now for a pic with a gorg 'module'!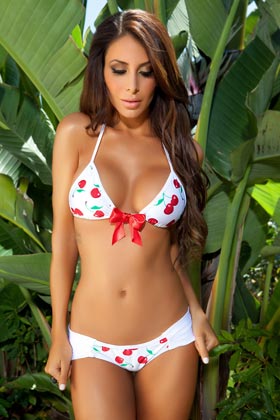 HAVE FAITH SWIMWEAR.






My BEST TREATMENTS this issue are:

The totally fabulous LIZA SMITH's Nail Extensions.
If you, like me, are fed up with getting hacked about in the back streets, it's time to go to simply the best 'nail artiste' in the business.
The lovely LIZA (www.lizasmith.co.uk) looks after the nails of simply anyone who is anyone on the celeb circuit from NAOMI CAMPBELL and CLAUDIA SCHIFFER to MRS BECKHAM, seen here sporting my fave DIOR GLOSSY sunnies: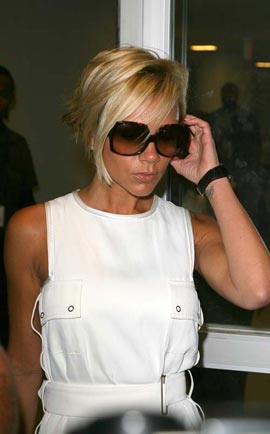 VICTORIA BECKHAM. c.r.: DIOR.



The good news is that the previously country based LIZA is now at the fab PATRICK LUDDE SALON in Maddox St, W.1 (020 7495 9040) in the West End once a week and her trusty assistant JAMES is there all week. LIZA gave me the most fab gold sparkly tipped nail extensions I have ever seen, let alone had myself, in just a couple of hours, whilst JAMES did the honours with gold sparkles on my toenails. The team favour O.P.I. nail polishes which are known for their staying power. I have to say I have never had so many compliments for my nails before - really a talking point, laydeez! My 'Goldfinger' look stayed perfect for the requisite month and can be maintained indefinitely and my toenails lasted an unprecedented 3 months = amazing! LIZA and JAMES are defo 'keepers', trust me.
Highly recommended.



Still on the extremities, if you haven't yet tried a 'Fish Pedi', dive in (sorry!) and try one quickly. This is the latest thing on the pedicure front where tiny little Garra Rufa fish nibble the dead skin off your feet to give you soft, smooth ones = I kid thee not, laydeez and gents!
The best 'Fish Therapy Spa' is AQUA SHEKO, the first London one, at 14 Holland Street, W8 4LT in chic Kensington (020 3489 8336 / www.aquasheko.co.uk)
I just had to try this myself and was a bit nervous but it all went swimmingly, haha! The lovely CHARLOTTE at the spa let me dip my toe in, as it were, before plunging both footsies in - whereupon the little fish immediately started nibbling away = ticklish but not unpleasant, in fact very relaxing after a while. The fish are very well cared for - they are fed each day on cucumber as well as feet - and the spa is sparkling clean and hygienic. Each pedi customer has a separate mini tank of fish and the staff clean the whole area every 2 minutes. The fish nibble away for half an hour - apparently they are always hungry, rather like me! Then LUCCA, a delightful therapist gives your newly smoothed feet a wonderful reflexology massage for quarter of an hour. The whole experience was wonderful and my feet look divine now - the little fish even got rid of a naughty bit of skin which previous pedicurists had never noticed.
You have to try this - you will be hooked (apologies for all the fish puns, can't resist it........)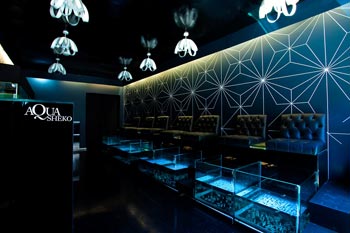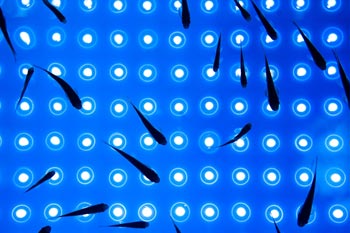 The AQUA SHEKO spa and some of their marine stars looking hungry!




One celeb who favours the Fish Pedi is allegedly the silky skinned JENNIFER LOPEZ and here she is looking gorg in a stunning CHARLES SVINGHOLM (www.charlessvingholm.com) frock with her cute hubby MARC ANTHONY.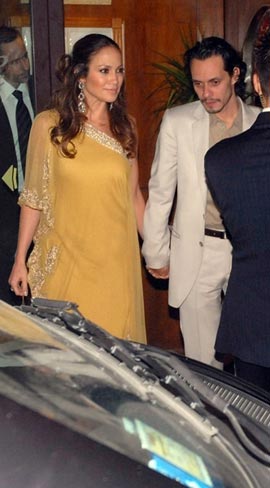 JENNIFER LOPEZ wearing CHARLES SVINGHOLM with MARC ANTHONY. c.r.: EXPRESS NEWSPAPERS.





LYCON WAXING is the latest and greatest wax treatment on the market and it's more or less painless = yessss = at last! Lycon Hot Waxes are a low temperature formula, they shrink-wrap and remove hair as short as 1 mm, smell nice, are pliable and come off in one easy piece.
The best salon to have the Lycon Wax at is THE DOLLS HOUSE Hair and Beauty Salon, 186 Castelnau, Barnes, SW13 9DH (020 8748 11 33 / www.thedollshouselondon.co.uk), owned by the delightful CATHERINE HAWKES. My guinea pig, JANE reported that the Lycon Wax with Vicky was defo totally pain free and my massage with Hannah was dreamy. Other treatments at this exquisite and intimate salon include all the usual hair and beauty treatments for men and ladies, incl O.P.I. nail treatments, swedish massage, reflexology and Indian head massages (lovely!) plus Botox and stuff with TEENA WILLIAMS, RGN, BN, Dip Mid, INP.
THE DOLLS HOUSE is very discreet and very popular with all the West London celebs, incl the one and only DELTA GOODREM. Check it out.

THE DOLLS HOUSE's p.r. is the gorg LUCY DARTFORD and I have to say that LUCY has the most adorable - and large! - doggy called ENZO. (Those of you who know about my Secret Life will laugh because my former Toy Boy is also called ENZO - but he is slimmer than the doggy version!) To prove my point here is a pic of me with ENZO THE DOGGY at the reason fun prem of CATS AND DOGS - THE REVENGE OF KITTY GALORE at Holland Park open air theatre.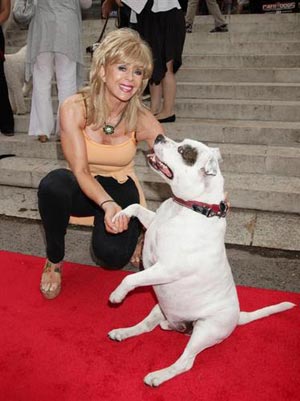 SAL and ENZO. C.r.: HEART.



There were loads of celebs and their pooches at this woofy event, incl SHARRON DAVIES, GAIL PORTER and NIKKI GRAHAME and here's NIKKI with her mini dawgies: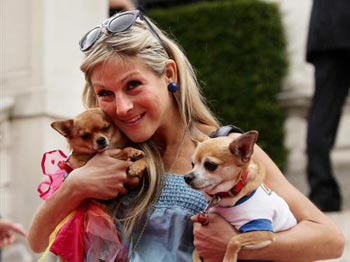 NIKKI and DOGGIES. C.r.: HEART.



And best congrats to NIKKI for being runner up in this year's ULTIMATE BB, btw.




BEST PRODUCTS this issue are, in no particular order:

YANKEE CANDLES (www.yankeecandle.co.uk / 0845 050 26 23) - simply the best scented candles I have ever come across - slow burning, non messy, no wick loss problems and the fragrances are divine = Tangerine and Vanilla, Sandalwood Vanilla, Spiced Orange, Vanilla Lime, French Vanilla and, my particular fave, Apple Cider which is burning away mellowly even as I write.
Everyone at HOT GOSSIP adored these YANKEE CANDLES and now uses them all the time - as for me, they certainly soothe my frequent nervous breakdowns!
They make totally brilliant presies too, being packaged in pretty glass jars. I suggest you order a dozen - you will love them.


ALVA ORGANIC SKINCARE BEAUTY PRODUCTS ( www.earthsolutions.co.uk / 0800 043 3284), particularly their INTENSIVE REFINING CREAM which is one of the few which really helps cellulite (tried it on 2 guinea pigs now!) and their SADDORN SKIN OIL containing several different types of oil and which makes your skin super soft and smooth in double quick time.
The ALVA range includes natural make up, skin care for men and some fab RHASSOUL (Moroccan volcanic mineral clay) prods which are excellent for 'problem skin.'


HOT HAIR recently announced the launch of the fab JESSICA SIMPSON BOB WIG from the HAIRDO range created by KEN PAVES. Whether, like me, you sometimes have to wear wigs for work or if you just want to ring the changes with your hairstyle without actually going the whole hog, you will love the HOT HAIR wigs and hairpieces - they are made of fibre but 'heat friendly styleable'.
You can check out the whole range at www.hothair.co.uk / SELFRIDGES, TOP SHOP OXFORD CIRCUS and major wig shops.
The JESSICA SIMPSON BOB is the best wig around at the moment. A bob is easy to wear and suits most ages and face shapes. Various celebs have sported this look recently including MADONNA and EVA LONGORIA.
JESSICA herself looks simply stunning in her Glazed Cinnamon Bob and here she is, guys and girls: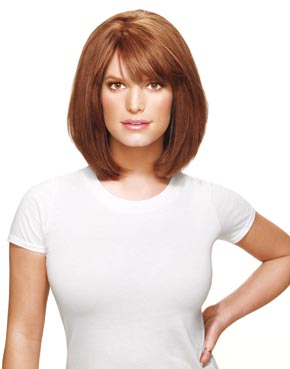 JESSICA SIMPSON wears the HOT HAIR BOB WIG.



I have in fact ordered one of these stunning Bobs myself in my own colour, Medium Golden Blonde and can't wait to don it and 'do a JESSICA' - watch this space...................




My FRAGRANCE OF THE MONTH for this issue is PACO RABANNE's exotically packaged LADY MILLION, a sweet, sexy and long lasting perfume which suits all ages and knocks the socks off innocent men passing by in the street!
The cheapest place to buy this exquisite new scent is THE PERFUME SHOP (www.theperfumeshop.com) which stocks all the top fragrances for ladies and gents. I go to the Kensington High Street branch myself to buy all my Chrissie and birthday presies - see you there..............





My RESTAURANT OF THE MONTH for the autumn season is the exciting new TEMPO at 54 Curzon Street, W.1.J 8PG (02-7 629 2742 / www.tempomayfair.co.uk)
TEMPO is right in the heart of Mayfair, just next to Shepherd's Market so is very convenient for lunch times as well as evenings, being close to all the best shops and hair and beauty salons, laydeez!
I actually went along one evening with my friend DEBRA who is a keen foodie and we were wonderfully looked after by the handsome owner HENRY TOGNA and his charming staff. The decor is turquoise and wood and the lighting is soft - very soothing and perfect for romantic assignations (although DEBRA and I are not like that, I assure you!)
All the portions are very generous and there is a great wine selection to accompany your meal.
DEBRA and I had the Fritto di Calamari e Bianchetti and Carpaccio di Manzo to start, followed by the Tagliolini with Crab and the Cozze al Vapore (mussels for the uninitianated!) and finished off with a lemon tart, washed down with Prosecco and a nice crisp medium rose wine. Every dish was totally yummy, the veggies were cooked to perfection and the whole experience was perfect.
We will return - and YOU should visit!



My BEST BOOKS this issue are:

The divine MIKE WINTERS' wonderful THE SUNNY SIDE OF WINTERS - A VARIETY OF MEMORIES (JR BOOKS). The cover reads 'starring CARY GRANT, BERNIE WINTERS, DUSTY SPRINGFIELD, JIMMY TARBUCK, DUDLEY MOORE, ERIC AND ERNIE, THE BEATLES AND MORE!' and all these pals and colleagues of the effervescent MR WINTERS are indeed within the pages of this memoir, along with HRH THE QUEEN and THE ROYAL FAMILY, SEAN CONNERY, HELEN MIRREN and many more.
MIKE AND BERNIE WINTERS were - along with ERIC MORECOMBE AND ERNIE WISE - the most famous comedy double act in Britain at a time when you, dear readers, and I were mere youths! After his bro's sad demise, MIKE went to live in Florida with his lovely wife CASSIE and is now a highly successful author, as well as still following showbiz interests. His books are always beautifully written and easy to read and this one is no exception - plus it's a breath of fresh air to find a memoirist who is kind about his fellow stars and doesn't slag them off! Some hilarious stories and a delightful read.


ANNA NICHOLAS is a truly prolific writer, churning out books every few months and her subjects are always fascinating. Her latest book, STRICTLY OFF THE RECORD - ON THE TRAIL OF WORLD RECORDS WITH NORRIS MCWHIRTER (SUMMERSDALE) is great fun, recounting extraordinary stories about extraordinary people from THE GUINNESS BOOK OF RECORDS and ANNA's life with TGBOR's founder, MR MCWHIRTER, now sadly deceased.
This book is an hilarious read and makes a great presy.
Plus the lovely ANNA hosted a fab book launch at the glitzy JUMEIRAH CARLTON, attended by HENRY KELLY, NICHOLAS PARSONS, LYNSEY DE PAUL, JEFFREY ARCHER, et al where some of the world record holders balanced speedboats on their heads, walked over broken glass and did hundreds of push ups with huge weights = phew!


SUZAN ST MAUR's excellent 'how to' book, THE A-Z OF WEDDING WISDOM - EXPERT ADVICE ON PLANNING YOUR WEDDING (HOW TO BOOKS) is invaluable if you're thinking of getting married. You will, of course, want to do it all properly and the lovely SUZE is here to help you. This little paperback tome covers everything from inter-faith weddings, civil partnerships, what to wear, animals at weddings, invitations, entertainment, food and anything else you could poss wish to know before your big day.
My contribution, 'Hangover Tips' (I wonder why SUZE asked me this!) is on page 3, btw.
So get engaged and get cracking, couples, safe in the knowledge that you now know how to do it correctly!


And on that oh - so - happy note, I must sign off. Thank you for reading my page.

Please email me at:


[email protected]


and do check out my other websites at:
www.sallyfarmiloe.com
www.kazzyandsally.tv