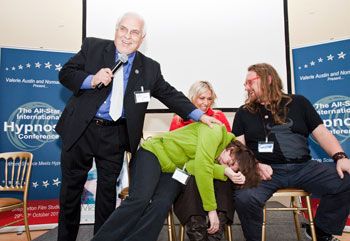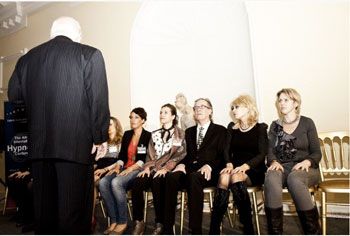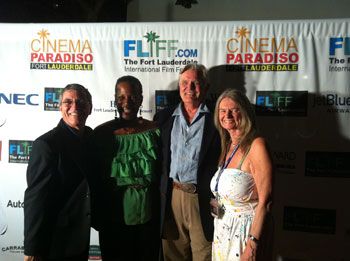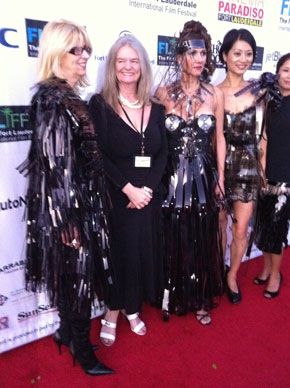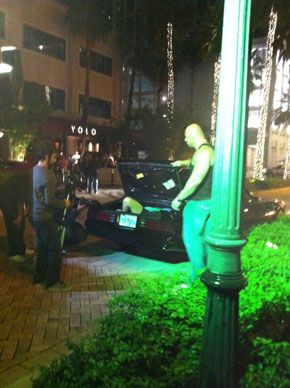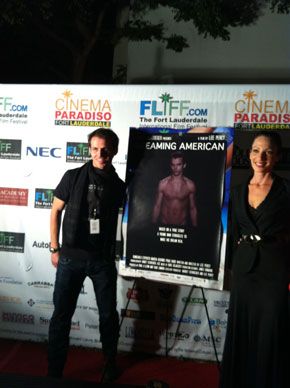 1. USA's Celebrity Stage Hypnotist Jerry Valley at My International Hypnosis Conference held at Shepperton Film Studios
2. Sally Farmiloe and Bill Sheppard (film producer) being good sports at the Hypnosis Stage show
3. With Mr. Gregory Von Hausch, President and CEO of Fort Lauderdale International Film Festival (FLIFF), Pamela Poitier and Peter Ford
4. With designer and boutique owner of Bohemian showing clothes designed out of film
5. Thug throwing girl in boot filmed at press party
6. 'Dreaming American' with actor/writer and stripper Prao Rado fighting to get to the top without a work permit


Film Glamour meets Trance

Well, what a summer this has been, head down and finding out the complications of putting on my first International Hypnosis Conference while still attempting to organize my feature film. Unfortunately the film lost and had to be postponed. Since earlier this year my Cannes Film Festival experience of having my (and my attorney friend's) short film documentary screened in competition at the famous film festival it gave me the confidence to attempt to go full throttle on a feature film. However, fate got in the way and I was lunged head first into setting up my first conference. I had thought that after designing the conference and having it ready to sell tickets that I would be just overseeing but through illness of the key people around the company that was not to be. Getting me to do administration with a memory loss is not a good idea but through hard work and some dedicated associates we got through and had a wonderful conference. The setting was perfect at the Shepperton Film studios, yes, I did get the film industry link in.

We sat in the 'Old Manor house' part of the Shepperton lot (once owned by the "WHO") and realized that world famous stars like Elizabeth Taylor and Richard Burton were just a few of many that would walk the corridors to their rooms. New stars like al Pacino, George Clooney, Julia Roberts were just a few of the many that roamed the studios.

A new Johnny Depp film was being shot at the same weekend and the actors could be seen in their costumes in the parking lot. A great theme venue for a conference.

The extraordinary venue brought the added excitement to the learning and at the end of the conference I received lots of hugs and congratulations saying what a wonderful conference it was. With this type of venue, that is closed to the public, it is a little like hiring a vintage Bentley there may be a few problems that you wouldn't get with a new ford with all the mod cons, like air conditioning, but you take that risk for the prestige and fortunately it worked a treat.

An extraordinary Russian hypnotist was flown in and gave instructions of new work behind the iron curtain. Using special guttural sounds to send psychic messages to the subconscious. Since he didn't speak a word of English he would mentally instruct the person in hypnosis to do things like lose their ear. Quite extraordinary.

We had Stage Celebrities fly in from the US to train and do their Los Vegas stage show and over 25 presenters through the two days in multiple rooms presenting all what you needed, or wanted, to know about hypnosis for the beginner to the advanced. And to top it off we had a celebrity VIP Champagne party with our very own Sally Farmiloe-Neville, whom I met many years ago when I was a publisher of my own 'London Weekend' Magazine, she was then starring in 'Howards Way'. She brought her friends to the party, Lord Mereworth, and WALTER BAMFORD, the producer of THE FAMILY RULES which Sally will star in later this year with her daughter and model Jade. Bill Sheppard, award winning producer of 'Mrs. Dalloway', Roger Layton who plays Father Christmas in East Enders, Al Pillay from 'Eat the Rich' Tv series and several other actors plus Tv and film extra Susie Silvey. She has an amazing past walking on mainly on TV with celebrities like Dick Emery, Les Dawson, Two Ronnies, Mel Brooks, Cannon & Ball, Little & Large, Kenny Everett, Harry Enfield and Terry & June.

I hope you will join me on my next conference 2012 it is due be held in a castle and will show you just how powerful the mind can be - with a little help, that is.


Film festival 'Magic' on my doorstep

On arriving back to the US the night after I flew in from the London I was whisked off by my co-producer Inger Garcia to interview the celebrities at the Fort Lauderdale Film festival (FLIFF).

My first interview at the festival was with Glen Ford's son Peter, who was having a book signing for his book on his father's life called simply, 'A life' . We talked about what it was like to have neighbours like James Mason and Charley Chaplin living next door, who incidentally mistakenly killed his dog when he was a child.

My next interview was with Pamela Poitier, daughter of Sidney Poitier, I was so impressed with the sophisticated natural beauty of the this film icons daughter. He was known for his marvelous acting ability and his incredible good looks. His roles in 'Guess Who's Coming to Dinner' and 'To Sir, with Love' were landmarks in the breaking down of social barriers between blacks and whites. Pamela is member of the cast in 'Islands o Life', a documentary that shows the results of Bahamians' conservation efforts and when she talks about making the public aware how important this is her face lights up. She certainly has her fathers integrity and drive.

The next night was the red carpets awards ceremony. The winning film was 'Like Crazy', a fascinating love story set in the USA and the UK . It showed what can happen when two people fall in love and the chaos it can cause when they cannot get visas. It satisfyingly tugs at the heart -strings as it has a very unusual ending, a little sad that I think most people can associate with. Very good acting from all but the young lead, Anton Velchin, is a star in the making if ever I saw one. The film had already been picked up by Paramount at the Sundance festival and was being heavily advertised and showing at main cinemas.

A couple of nights later I was again whisked off by Inger to yet another film party celebrating securing the finance and distribution called, 'Exposure'. As we arrived they were filming a very large evil looking man throwing a pretty girl into a car. Pretty cool as she just folded herself in without getting hurt. It's all about steeling body parts....


Farmers fight back

A note from the farmers. "The tables have turned on Monsanto. Usually the ones suing farmers over patent infringement, the chemical giant is now being sued by a group of farmers and agricultural businesses. The pre-emptive suit is meant to protect the farmers from being charged with patent infringement. Monsanto wants to claim their corn is the same as other corn, but if it's the same, why do they get a patent? If they have a patent on it, it's different. They can't have it both ways. With alfalfa and sugar beets added to the list of GMO crops being spread across the nation, it is time we not only fight back, but also take a stand. It's a new day for modern organic agriculture" the message is, "Farm organically, eat organically and support research that offers alternatives to chemical-reliant agriculture".

Please support organic food as getting cheap supermarket chemical ridden food could be very expensive in the long run. It comes with the illnesses that will make your life miserable. Don't forget food was never cheap it used to take up a major part of your take home salary. It is only now the food has been doctored for shelf-life that it can be so inexpensive.


TIPS

NHS Direct's mobile app has provided trusted and reliable health advice to over one million patients in its first six months.

The app was released for Android™ or iPhone® smartphones at the end of May 2011. In its first week it gained the number one spot on the iTunes chart of top free apps and it has gone on to receive excellent patient reviews on the iTunes and Android stores, including: Sounds useful.

National Novel Writing Month got underway - 1st - 30th November – with more than 250,000 people from around the globe setting out to become novelists. Participants pledged to write 50,000 words in a month, starting from scratch and reaching the end by November 30.

It is well known that writing can be extremely cathartic and healing; indeed Tennyson, Edith Wharton and Henry James all exorcised their demons through the written word. If you want to write a novel get writing.


Self-Help books and iPhone APPS

I have two free apps 'Stress Buster' and "How to Hypnotize you Bank Manager' you can get in for the iphone/ipad. I also have all my books to read and in audio just type in my name. Right after the software developer designed the software for Hypnotize Your Bank Manager (and of course having to listen to the hypnotic recording several times) he got the backing for his company to go public so hypnotizing the bank manager worked for him. Also available are 'Grief', 'Fear of Flying', 'Attracting the Right partner' and 'Stop Drinking' which had a good review in the iPad Apps Directory.




Eds Note: VALERIE AUSTIN is an author of six successful self-help books including SELF HYPNOSIS (Thorsons), journalist and trainer with an international reputation in the field of hypnosis. Her best-selling books and training help people achieve their full potential. She founded the Austin Corporate Stress Management Company focusing on reducing stress and anxiety amongst executives and CEO's. She is also founder of UKRAH (1992) The UK Register of Advanced Hypnotherapy. Valerie has also worked as a consultant in hypnosis at the Priory Hospital, the UK's equivalent to The Betty Ford Clinic, which specialises in food addiction and alcohol abuse. Her work in the film industry (Hollywood) interviewing movers and shakers, producing TV news segments and publishing celebrity magazines in London gave her invaluable experience for her current Harley Street practice.