Motcombs Restaurant & Wine Bar
26 Motcomb Street, London SW1X 8JU Ph 020 7235 6382 www.motcombs.co.uk

Owner Phillip Lawless presides over all parts of this upmarket establishment offering drinks to the regulars and those not so regular. A charming and most welcoming way to have one's first drink anywhere!

Perfect location in fashionable Belgravia and walking distance to well known shopping in Knightsbridge.

Start at the Bar – its friendly atmosphere is conducive to meeting people or relaxing with your friends and colleagues. When in season, some oysters and champagne could be the perfect starter before going to the Restaurant and enjoying good quality British food. Beautifully decorated tables, large paintings, crisp tablecloths, flower arrangements -- all contribute to give this basement area a warm homely feeling.

The Brasserie with indoor and outdoor seating all year round is a perfect venue for Sunday brunch. We had Chicken Curry, fishcakes with lobster sauce, chocolate cake, a liqueur coffee and a bottle of their house Rose wine (£22.70). The bill inclusive of service and 2 bar cover charges of £1.50 each was £81.68 for two. A most entertaining venue to watch and be seen.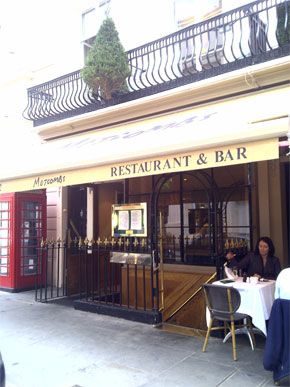 Daquise Restaurant
20 Thurloe Street, South Kensington, London SW7 2LT Ph. 020 7589 6117

Polish food at its best. Their menus change daily and so it is recommended that you phone them if you want something in particular.

Located at a corner – Boujis is almost opposite -- when you enter the restaurant there is a table with some starters on the left hand side facing tables for 2 and 4. Large mirrors. The long room has windows towards the back. The walls are whitewashed but the chandeliers give it a richer environment that it may not have had otherwise. The thin winding staircase takes you downstairs where you can view the kitchen.

A very friendly place with a lunch menu priced at £ 9.95. Excellent value. It consisted of beetroot soup (bortsch), bread and butter, followed by golabki: delicious cabbage rolls with minced pork and veal, mashed potatoes in a rich tomato sauce. Each table has a decanter with crystal clear water and a fresh flower. Charming. The food is brought from the kitchen in cooking pots and served by a chef assistant and the waiter. A glass of house wine at £3.00 is also excellent value. So whether you are planning to drop in at Boujis for a night cap or just out for a good meal Dquise stands out amongst the many restaurants in this busy part of London.


Gallery Mess
Saatchi Gallery, Duke of York HQ, King's Road, London SW3 Ph 020 7730 8135

A bit of a mess: on the Sunday afternoon we visited we arrived at 1 pm planning to go to see an exhibition at 3.30 pm. next door at the Saatchi Gallery-- the two and a half hour lunch turned out to be a three and a half hour affair due to a long wait for the table and a longer wait for the main course. So we enjoyed each other's company and missed the exhibition.

They were a bit in disarray. Perhaps too many people? We wanted to sit in the terrace overlooking the square and as you cannot reserve it is first come first sat. So eventually we were given a table: my belief that the best restaurant is where they know you did not work here. A long wait despite one of us being a regular and a well known customer.

Back to brunch. The Home cured beef carpaccio (£8.50), Ceviche of Scottish salmon (£7.50) and Devonshire crab bruschetta (£8.50). All beautifully presented and excellent in taste. We wanted a bottle of the Rose Wine Via Nova 2009 (£22) only to be told that the 2 rose wines on the menu were sold out but they could recommend another one. Luckily we asked how much that one was. £36 came the answer. Not good practice: substitutions should be of comparable value and quality. We settled for a Viognier Vina Edmara 2009 from Switzerland at £21.

We ordered a homemade beef burger (without a bun) which arrived with the bun (£13.50) and as they had ran out of the pan fried fillet of hake we had instead Fillet of Cornish bream (£17.00) that looked rather lonely in the large white dish. Reminded me of my friend Larry Adler's cartoon: I have always wanted to order fish in a restaurant and have it a long time in coming so I can say to the waiter: Long time no sea bass.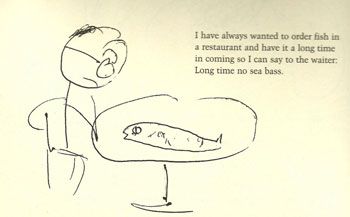 By now it was tea time and so we were tempted by the afternoon tea which at £12 included a mini sandwich selection, warm scones with clotted cream and shortbread and homemade cakes. Instead we had coffee and asked for petit fours and although we were told they did not have any they did materialise and were complimented for the long wait we had had. Desserts at £6.50 include Coconut panna cotta, chocolate and praline cheesecake and rhubarb crumble.