Hi Everyone,

Two months is a long time in my world, as I am sure it is in yours too.
There's a lot to cram, so apologies for me taking you on a photographic whirlwind retrospective journey.

Let's start with the continuing Olympic build-up of which I covered two relevant events of interest: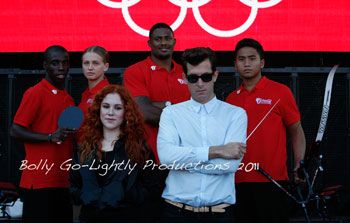 THE COCA COLA OLYMPIC LAUNCH - STRATFORD

Money seemed no object at this photocall as you can imagine from such a famous sponsor. A fully kitted out concert stage awaited us on the banks of the canal next door to a fish smokery and with the Olympic Stadium as an impressive backdrop. Awaiting us on stage was MARK RONSON playing keyboards. Talented MARK has been commissioned to create an Olympic theme with a difference.

He has been recording the sound of athletes as they compete. Be it the sound of an archery bow, a ping pong darting across a table, or the rhythmic sound of a runner breathing as they sprint. Athletes from different parts of the globe were on hand who have been recorded whilst in training. This is a cool commission for any creative being. The thought of travelling around the globe, with access to all 2012 competitors to create such a unique piece is enviable.

If this idea is a small reflection of the creative work coming out of this global event, it is going to be fascinating to see what DANNY BOYLE'S final artistic creation will be at the opening and closing ceremonies. I just pray that it will be a millions time better than the double decker bus in Beijing which was easily surpassed by the scale of the then host nation's mind blowing production.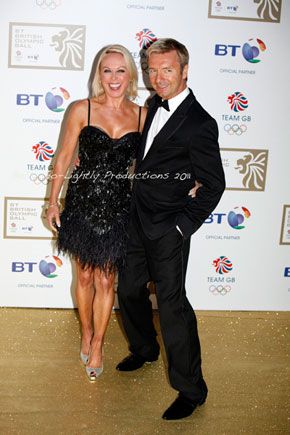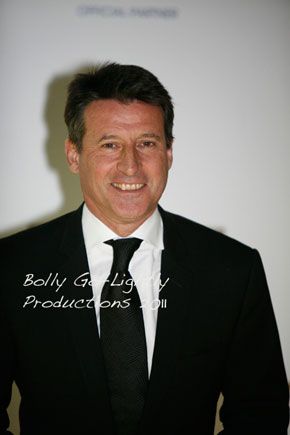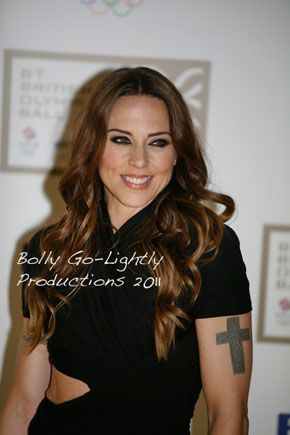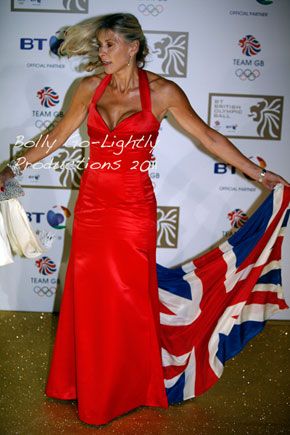 BRITISH OLYMPIC BALL - KENSINGTON OLYMPIA

On a freezing October evening the gold carpet glistened as past GB Olympians and those shouldering 2012 promise sauntered down it in all their finery. It was a nostalgic evening crammed with faces of our historic sporting success...I had forgotten how many there were: Seb Coe, Duncan Goodhew, Sally Gunnell, Tessa Sanderson, Gareth Edwards, Ben Ainslie and so on. Even Sporty Spice MEL CHISHOLM was there. A multitude of Royal Protection officers and wagging sniffer dogs suggested a VIP was coming...but PR remained tight lipped. Was it WILLIAM and KATE?
or DAVID CAMERON coming straight from the Conservative Conference in Manchester?
We were assured that ZARA PHILLIPS was no longer attending ( amazing what happens when your new husband's indiscretions, innocent or not, are published all round the world. )
The police escorted our only Royal Olympian to the entrance for the no stop arrival of HRH PRINCESS ANNE.
Fingers crossed that 2012 is both golden as well as diamond.

I mention diamond as 2012 will also mark 60 years since PRINCESS ELIZABETH became QUEEN. Like the Olympics, big plans are also forming across the country for this massive royal event next June. Only QUEEN VICTORIA has ruled longer over our nation longer ( 5 months shy of 64 years ).

One retail store with entrenched historical royal connections has already announced its massive celebratory plans: FORTNUM & MASON.


FORTNUM & MASON DIAMOND JUBILEE BREAKFAST

I have very fond memories of this beautiful store. Having been to see the famous TUTANKHAMEN exhibition across the road at THE ROYAL ACADEMY as a child, I was equally spellbound by this elaborate store and it's exotic wares. Sadly I had very little pocket money, but I treasured my chosen jar of Leatherwood Tree Honey back in Huddersfield just as I imagine PADDINGTON BEAR would have done if he had visited with MR GRUBER.

I was very fortunate to be invited by this quintessentially English retail outlet of all things edible for their press launch breakfast for next year's Diamond Jubilee celebrations. I look forward to seeing the Musical Royal Beasts in their Piccadilly windows, and the store festooned in scented flowers...just as it was during the Second World War when there was very little to sell due to rationing.
The Jubilee range is great..my favourite's are this year's Christmas Pudding and the Consort's Marmalade with Rose Brandy is delicately sublime...yum!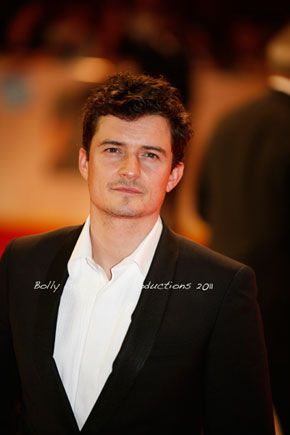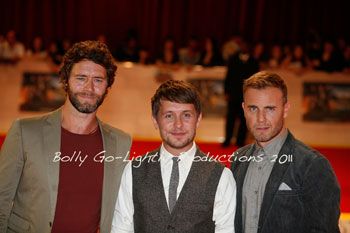 THE THREE MUSKETEERS - WESTFIELD WHITE CITY

I am not sure how well this film has done at the box office, but the fans at the premiere only had one thing on their mind...to catch a glimpse of ORLANDO BLOOM. Some had travelled literally across the globe. ORLANDO is good looking there is no doubt, but does the chance of meeting him for a few seconds really warrant in the personal expenditure of $5,000 AUS dollars?
Still, nearly all of TAKE THAT attended as they wrote the score...so maybe it was worth the hassle.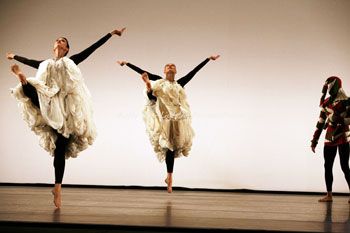 MERCE CUNNINGHAM - BARBICAN

Anyone who loves modern dance really should check out this brilliant American dance company some time. Over the years that I have taken pictures of the company, the dancers/choreographers have always delivered something that is innovative and striking whilst exuding quality and substance. This photocall was no exception. Thumbing through their back catalogue they had discovered some gems of quirkiness and humour for this season. I loved the 3 sleeved jumper sketch with the dancing ostriches ( well that's what I thought they were ).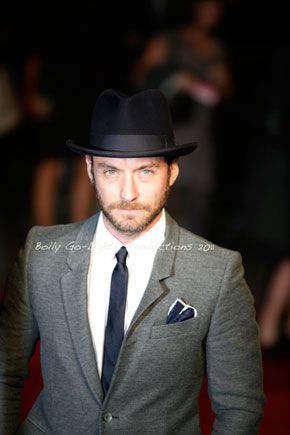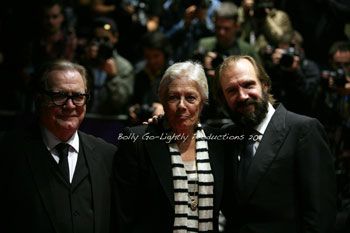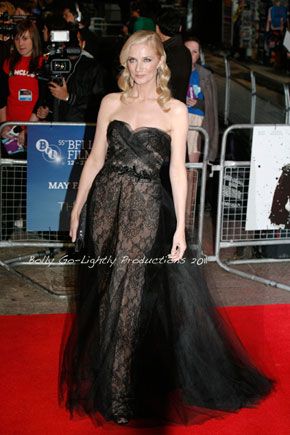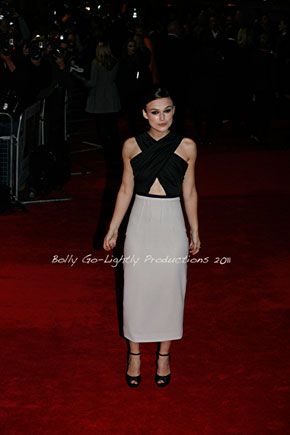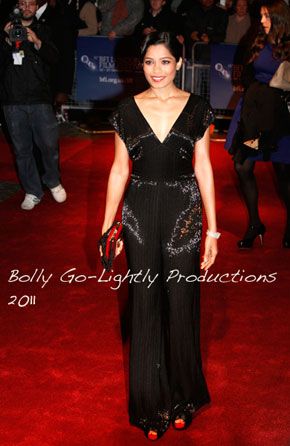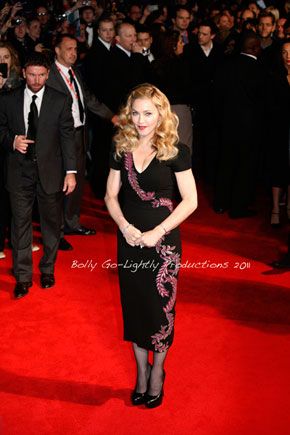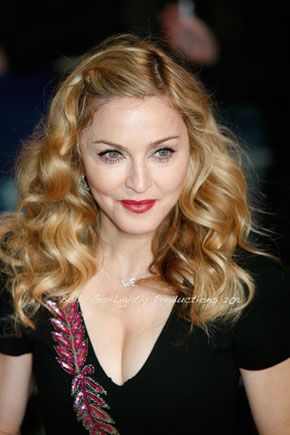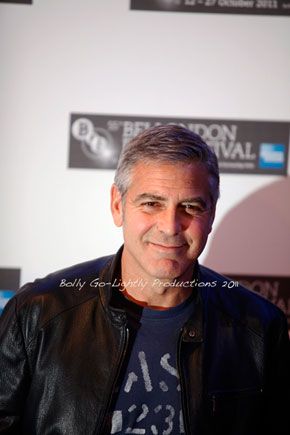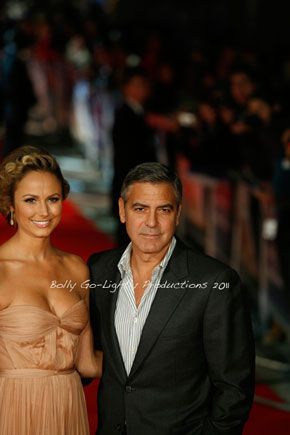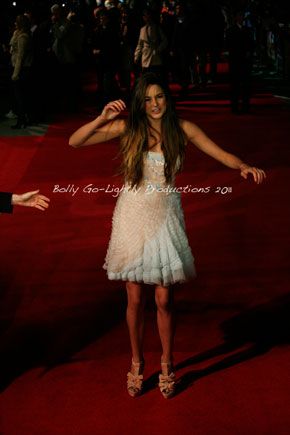 THE 55th BFI LONDON FILM FESTIVAL - LEICESTER SQUARE

A large chunk of my energy over the past month was spent covering what has become our segment of the international pre OSCAR film diary. I have to say that during the fortnight my 4 step ladder always seems to morph into my shoulder from its overuse.

Many days incorporated a lunchtime photocall followed by up to 4 back to back premieres in the evening.
Fortunately for me, I didn't have to cover every single event, just the ones that the agency deemed to be of significance. Their perception of importance takes many forms, some of which are not immediately obvious. It goes without saying that box office pulling power of the actors and or directors is a primary consideration when prioritising coverage. However, it could also be their historic performances, the rarity of their appearances, the inclusion of peer perception of future stars, rumours of Oscars or even the premiere guest list.

This cocktail of celluloid prioritisation meant me covering the following "must not miss" festival events:

The BFI fortnight opened with the film "360". Unlike the closing night's film which lacked high profile cast attendance ( no MRS DANIEL CRAIG - RACHEL WEISZ ), this film attracted a dapper JUDE LAW. A bowler hatted LAW reminded me of his chilling role in SAM MENDES' underrated "ROAD TO PERDITION" which I never get tired of seeing.

STEVE MCQUEEN'S new film "SHAME" looks interesting and MICHAEL FASSBENDER appeared for his first of two premieres.
The "RAMPART" premiere was small but of interest. Not only did WOODY HARRELSON attend but he brought an impromptu friend along: MICHAEL STIPE in a hat no less.

Although this is the biggest British film awards ceremony outside the BAFTAs in February, big home grown talent didn't dominate. There were a few notable exceptions: RALPH FIENNES with his directorial debut of "CORIOLANUS". A bearded FIENNES taking time off from his stage performances was accompanied by the matriarch of English acting: VANESSA REDGRAVE ( currently treading the boards around the corner in DRIVING MISS DAISY ) and the original HANNIBAL LECTER, BRIAN COX. Two other films stand out: the new earthy version of the much loved EMILY BRONTE's moorland classic "WUTHERING HEIGHTS" and another film with a Shakespearean connection: "ANONYMOUS". Maybe we will never know whether The Bard or EDWARD DE VERE wrote the plays that are a constant worldwide phenomenon. It was VANESSA REDGRAVE'S second film to be shown, but not the second to attend. Instead her daughter who plays the young QUEEN ELIZABETH I stole the show which was also attended by RHYS IFANS, JAMIE CAMPBELL-BOWER and DAVID THEWLIS.

However, there were three leading women that surpassed JOELY RICHARDSON: KEIRA KNIGHTLEY who attended in a classic ROKSANDA ILINCIC dress for DAVID CRONENBERG's unsurprisingly controversial "A DANGEROUS METHOD" with VIGO MORTENSON and MICHAEL FASSBENDER. Another was our most "in"dian actress FREIDA PINTO in a drop waisted all black RALPH LAUREN jumpsuit at the 'TRISHNA" premiere.

But the queen of the two weeks was the Queen of Pop: MADONNA. As always controversy follows this icon in everything she does. Her directorial film "W.E" is no exception. This period of our royal history still receives kid gloves treatment in respect to our reigning Monarch.
Reviews indicate that sadly MADONNA has tampered with history to the film's detriment.

Like the 54th BFI, the mega star in attendance was Gorgeous GEORGE CLOONEY with 2 photocalls and premieres.
I love George ( I still wouldn't spend thousands of dollars to see him though ). He is charming, good looking, a great actor, very funny and fights for good causes. However, George, if you are reading this ( chance would be a fine thing ), can I make one request...PLEASE...can you stand still whilst we take your picture. Apart from the last night for the premiere of `"THE DECENDANTS", when he escorted his new escort: a smiling STACY KEIBLER, it was a mare to take his photo.

Mind you, not having a bit of decent lighting magnified the problem, especially for the premiere of "THE IDES OF MARCH". It would be so refreshing if PR ticked all our basic requirements to make our jobs easier. Press photographers spend a lot of time waiting for things to happen in press pens, and to pass the time we sometimes discuss the logistics of a job. These two premieres generated the most concern for the reasons already mentioned. When you add in the pressure of delivering, it's immense. I don't think anyone really appreciates this when reading THE METRO the following morning.

Other notables who walked the red carpet were ANNA KENDRICK ( "50/50" ), MINNIE DRIVER ( "HUNKY DORY" )
To balance out the best dressed category, my prize for the best shoe malfunction award goes to SHAILENE WOODLEYclosely stumbled by GILLIAN ANDERSON.


TINTIN PREMIERE - ODEON WEST END

Talking of pressure. How about massive premieres back to back?
That is exactly what happened on the last Sunday of the BFI.
Everyone had to stand ( most on ladders...me included ) on uneven ground due to the continued major works in Leicester Square, and shoot the arrivals of this premiere. I really want to see this film. I love SPIELBERG films as a rule and I can sadly admit to my own guilty pleasure of possessing a pristine DVD collection of all the original TINTIN cartoons.

Sadly, I think the grey stubble ages recently married DANIEL CRAIG considerably. Still, I am sure it will erased during the filming of the 23rd ( is it really that many? ) Bond film "SKYFALLl". I would never have thought of SAM MENDES as a bond director...so I look forward to seeing how he interprets this amazing franchise. No doubt amazing crowd scenes will pop up and it will be laced with symbolism.

Anyway, I digress. We left the arrivals early morphing into a mass exit of steel ladders and big bags to rush across the square for the "W.E" draw at The Empire. I am sure that the sight of 70 photographers charging across Leicester Square must have been quite an intimidating sight for unsuspecting tourists ambling across the concrete slabs.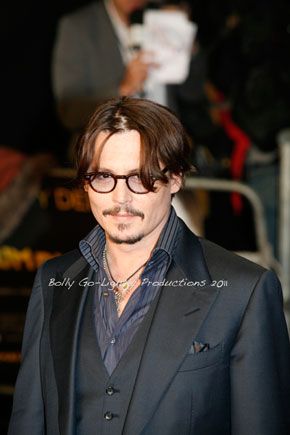 THE RUM DIARY premiere - ODEON KENSINGTON

I presume that Leicester square building works impacted on the location of this premiere. If it hadn't have been JOHNNY DEPP, I think most of us would have given this a miss, as it was dark, a tight working space and pouring down with rain.
Unlike GORGEOUS GEORGE, JOHNNY is a past master in giving us eye line. We love him!

JOHNNY has to be one of the best character actors of all time. Sadly, it looks like this film, however personal the attachment of the subject matter is to him, will lie at the bottom of his CV. MR DEPP has to be the only star I know who could wear a bin bag and get away with it. His taste is slightly quirky, and this evening was no exception as he wore multi coloured nail varnish applied by his daughter. How many men do you know would get away with that if they came home to meet the family?
Job done, JOHNNY whizzed off to appear on the GRAHAM NORTON SHOW.

Talking of whizzing....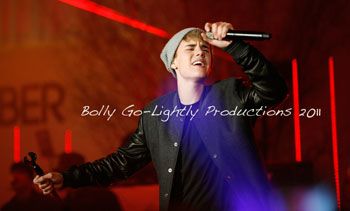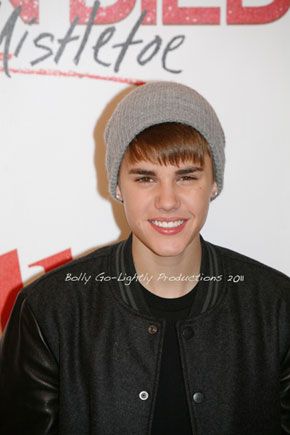 JUSTIN BIEBER TURNS ON THE CHRISTMAS LIGHTS - WESTFIELD - WHITE CITY AND STRATFORD

You, have to give it to the teenage heartthrob. Not only did he appear for a photocall, but sang 4 songs at each shopping centre with a helicopter ride in between to make it all happen. With the controversial paternity issue, you would think that this might have been cancelled. But no, he is clearly a true pro and the show goes on.

Personally, I don't get the BIEBER effect. But then, I'm not a teenager prone to massive crushes any more.
I preferred DONNY OSMOND and DAVID CASSIDY in my day.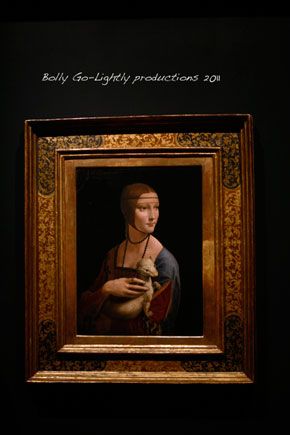 LEONARDO DA VINCI. THE COURT OF MILAN - THE NATIONAL GALLERY

Regular readers of this column will know that I always try to include a cultural slot. So, here it is. I strongly recommend that you make an effort to look round this impressive, once in a lifetime exhibition. Seeing 9 of the surviving world famous 15 paintings in one place is well worth the ticket price. I have always admired his work. His portraits are amazing, and I have never seen anyone who paints/draws hands so well.

I was lucky to go to the press view, so I appreciated the time we were allowed to immerse ourselves in this great master's work ( as best you can when there are probably a hundred of you plus media equipment ). Sadly, due to ticket sales, I hear that public viewings will have a time limit.

My favourite room was the second, and not the third that the majority prefer. Above is a famous painting from room two. Enjoy this piece of history.


Finally, it's becoming increasingly obvious that the festive season is creeping up on us.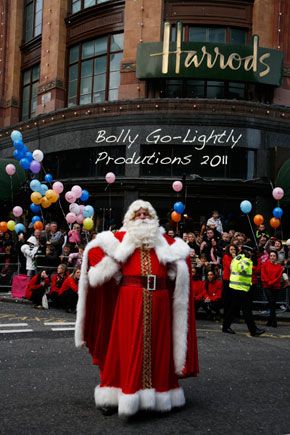 HARRODS CHRISTMAS PARADE - KNIGHTSBRIDGE

Not only have I recently shot the toy industry's predicted Christmas best sellers ( "DOGGIE DOO" the defecating dog...no! and my favourite "MILKY THE BUNNY"...a cute interactive rabbit ), but also the annual Saturday morning event for this world famous department store.

I am always amazed too see so many children gathered very early in the morning to watch this parade. I can see why. It is a technicolour spectacular announcing the arrival of FATHER CHRISTMAS coming to open the store's grotto.

What I loved was the announcement to promote the sale of grotto tickets, followed by the announcement that the grotto is fully subscribed! Reminds me of the ROWAN ATKINSON sketch about the train announcement. If you don't know it, highly recommended, along with the "Father of the Bride's speech" and "The Devil". Old, but timeless!

Anyway, as the cold nights draw in and the festive lights glisten, it remains for me to wish you all a very early "Merry Christmas" and I will report back in my next column in the New Year.

Stay safe and enjoy.

Best

Bolly