HUSH 8 Lancashire Court, Brook Street, London W1S 1EY Ph 020 76591500 hush.co.uk

HUSH is anything but hush unless the gossip amongst its famous clientele must be kept hush-hush.

Set in a private courtyard off Bond Street, almost next door to Claridge's, HUSH was assured success by the notoriety of one of its owners: Geoffrey Moore none other than Sir Roger's son and the public relations efforts of the renowned PR firm of Max Clifford Associates. However it takes high standards in food and service to remain a major player in London's competitive restaurant scene. And this they have achieved with excellent food and friendly staff within the variety of areas housed in their deceptively roomy premises.

The Courtyard has been fenced in and now is one of the most sought after areas to dine al fresco and where special events are held. I have lunch once a month at their private dining room on the second floor where members of the Lunch Club (a must for people with interests in film and TV) meet the last Friday of every month. The food is of the highest standard: Usually: Fillet of salmon, roast chicken or quail accompanied by salad and either Cous Cous or roast potatoes. For dessert: sticky toffee pudding with crème fraiche and mint tea.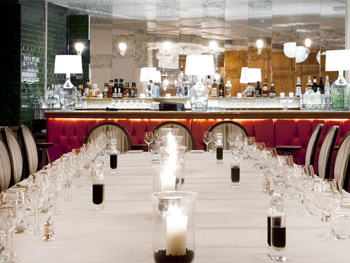 Second Floor Private Dining Room

The bar and brasserie, HUSH GROUND and restaurant HUSH UP offer an ingenious menu – my favourites: the large whole globe artichoke with a red onion confit which I often have for lunch. Highly recommended. A good choice for fish and meat eaters – from an excellent HUSH hamburger to a fillet of seabass with creamed celeriac mash and truffle dressing.

According to Owner Jamie Barber: "We believe that service is just as important as the food. To us being a waiter is a profession and the service at Hush reflects that." Well said. Isn't it then time for the whole of the UK to view it that way? The service charge would disappear and be replaced by a proper salary to all concerned.


Royal-Exchange Restaurants, Royal Exchange, London EC3V 3LR
Ph. 0207 618 2480 www.royalexchange-grandcafe.co.uk

The unique atmosphere is there regardless of which of the three areas you choose to dine in. Destroyed first by the great fire of London it was rebuilt in the reign of King Charles II only to be destroyed by another fire in 1838. Queen Victoria opened the new magnificent building in 1844. Though it survived World War II it had an extensive refurbishment in 2001.

A fabulous place to visit in the City whether you are there for business or just on your quest to see the landmarks of London. Worth a visit just to feast on the surroundings so having such excellent food of the highest quality was an added attraction.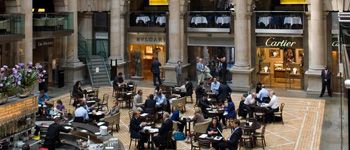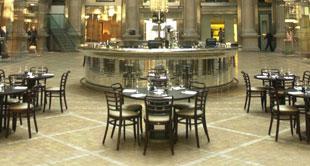 The Grand Cafe

I would suggest sitting at Mezzanine level (left hand side of the picture below) which overlooks the Grand Cafe. Excellent signature cocktails and a well thought wine list. The modern French food is exquisitely presented and I can recommend the seared gray mullet, the 12-hour cooked pork belly served in red wine sauce with celeriac puree and savoy cabbage. The hazenut parfait made it one of the best 3 course menus being offered in London at £23.50.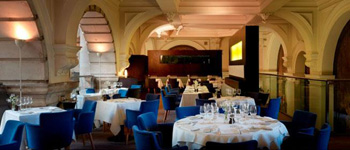 Sauterelle and Mezzanine Restaurants


Tatiana has reviewed restaurants for The International Herald Tribune, Camden News Journal, Islington Tribute and West End Extra