It's BREAST CANCER AWARENESS MONTH at the moment and please support all the cancer charities who are giving various special offers on products, including CANCER RESEARCH UK, which I am endorsing - if you buy a bouquet of flowers from ASDA or INTERFLORA, the whole of your purchase money will go to CANCER RESEARCH UK.
www.cancerresearchuk.org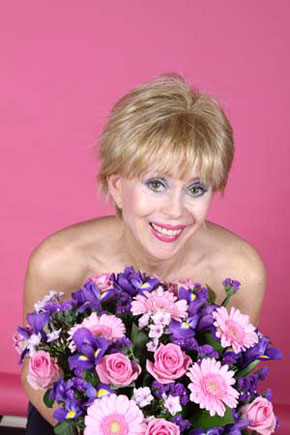 SAL CANCER RESEARCH UK pic. c.r.: R. KAZ.



BTW my fab feathery lashes in this pic are by the one and only JINNY LASH (0207 495 83 85).
www.jinnylash.com



BREAST CANCER CARE, BREAKTHROUGH BREAST CANCER, MAGGIE'S, THE HAVEN and YES TO LIFE are also excellent causes to support if you can.
BREAKTHROUGH BREAST CANCER - www.breakthrough.org.uk - have a fab look book of exclusive pink products, all carrying a donation to the charity, from stores such as M AND S, ADIDAS, COAST and LAURA ASHLEY:
http://www.breakthrough.org.uk./lookbook/


BREAKTHROUGH BREAST CANCER was also the benefiting charity at the recent INSPIRATION AWARDS FOR WOMEN at Cadogan Hall where I was honoured to present the Inspirational International Award to the extraordinary AUNG SAN SUU KYI. Sadly AUNG was in Burma so I nearly got to go home with the award myself!
The fabulous evening was organised by STELLA BROCKWAY and PAMMIE SHARROCK, anchors were ANDREW CASTLE and DONNA AIR and fellow presenters included INGRID TARRANT, JO WOOD and BRENDAN COLE.
Sponsors for the glitzy champagne fuelled event included BY BIEHL, exclusive and unusual jewellery by CHARLOTTE BIEHL LAURSEN who kindly donated chic bracelets to all the presenters,
www.bybiehl.com
and LOVELITE, a great new company who specialise in introducing new and exciting cosmetic beauty products and treatments to the UK, such as the latest teeth whitening and lash extension techniques.
LOVELITE is fronted by DEBRA and DONNA and I'll be reviewing their fab treatments in the next issue, beauty fans.
www.lovelite.co.uk

My pic shows moi and my date, MISS JADE arriving at the event. My breast cancer pink evening frock is by MAX AZRIA and JADE's slinky cocktail drrss is by PUCCI.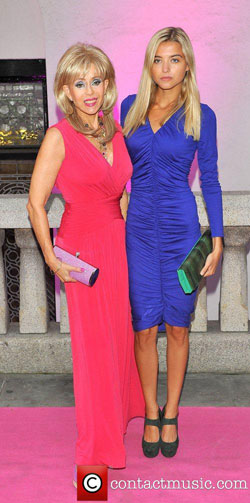 SAL and JADE / INSPIRATION AWARDS. cr: CONTACT MUSIC.



One of the best Breast Cancer Awareness Month products is the fab new scented candle which my favourite scented candle manufacturers, YANKEE CANDLE - The World's Best Loved Candle - has created specially: Pink Blush with a delish and delicate rose fragrance.

The YANKEE CANDLE glass bottle is very attractive and the beautifully packaged candle makes a gorg gift. For the whole of October YANKEE CANDLE will give £1 from the sale of each Pink Blush candle to BREAST CANCER CARE.
www.breastcancercare.org.uk
www.yankeecandle.co.uk



And best congrats to NAILS INC who are 'painting their pinkies pink' for the month.Their sparkly pink nail polish is sensational, not just for October and not just on your pinkies.
I get my nails done, now with my New Best Friend VIVIEN, at the fab NAILS INC Champagne and Nail Bar in HARVEY NICHOLS. It's defo the most efficient, most comfortable and most fun nail bar in London, doing pedis as well as manis and with some great polishes and products, including their sexy GET LASHED false lashes
Here I am with gorgeous manager LAUREN who does my nails, showing off our pink pinkies!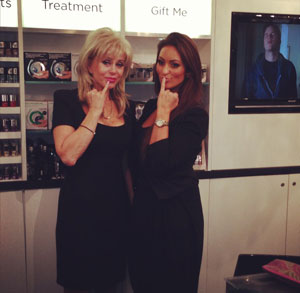 NAILS INC / SAL AND LAUREN.



www.nailsinc.com
020 7235 5000, x 2553.



BEST NEW DVD:

HELLO QUO, ALAN G. PARKER's fab feature length docu about the evergreen and enduring STATUS QUO is excllent, with interviews with all the band, past and present and featuring lots of their greatest tracks including ROCKING ALL OVER THE WORLD and THE WANDERER (not to mention THE 2 RONNIES' great spoof version, I'M FOND OF HER !) With interviews from other musical stars and friends such as SIR CLIFF RICHARD, JIM DAVIDSON and PAUL GAMBACCINI it's a fascinating piece of pop history and the band's legion of fans will love it.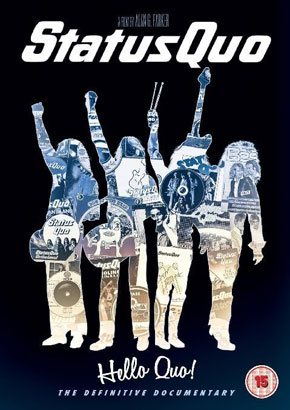 BEST NEW FILM:

Well, hello! It's got to be SKYFALL, the new BOND pic celebrating 50 years of JAMES BOND, 007.
The Royal prem in the presence of THE PRINCE OF WALES and THE DUCHESS OF CORNWALL was the biggest and best film prem the UK has ever known with a gigantic red carpet stretching around the whole of the back of THE ROYAL ALBERT HALL, full to the brim with the BOND casts, current and previous, gorg celebs and glittering frox. And the film wasn't bad either! Possibly the Best Bond Ever - with a shocking ending - can't tell you - go see it!
We literally did rub shoulders with the so fit and so talented DANIEL CRAIG and the BOND Boys n Girls and here's a pic of moi with JADE and CHANTELLE PIDGLEY, one of JADE's best model friends - and oh yes, another so fit and so talented Bond Boy in the bg - RALPH FIENNES!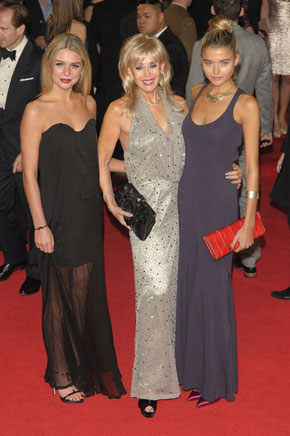 SKYFALL prem . CHANTELLE, SAL, JADE. cr: ZIMBIO.



Btw, my divine sparkly silver dress is from the stunning AFTER 6 range by MEDICI - 17 - 18, Margaret Street, W.1. / 020 7436 28 82
and my equally sparkly silver nail polish gripping JADE's tiny waist so firmly is by NAILS INC, as above.



BEST PARTIES:

ANDREW RODGERS' amazing birthday drinks and dinner at SIR BENJI SLADE's stunning pile, MAUNSEL in Somerset. West Country legend ANDREW was on terrific form, as were BENJI and guests, including PRINCESS KATARINA OF YUGOSLAVIA, ALEXANDER (MARQUESS OF) BATH and his numero uno socialite wifelet TRUDIE JUGGERNAUT SHARMA. The weather held out for champers in MAUNSEL's beautiful garden before a delish dins in the ballroom. KATARINA and I stayed the night and were very comfortable in the lavish 4 posters! I was pleased to meet BENJI's lovely PR, NAOMI who is a real live wire.
My gorg blue chiffon trouser suit is by SEROUSSI, btw.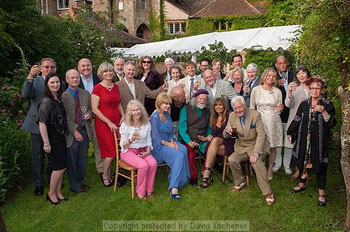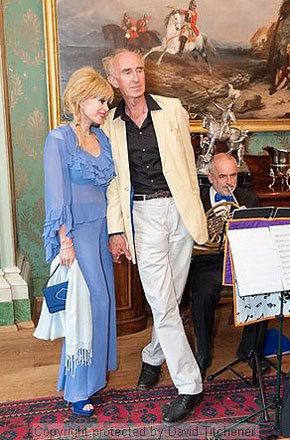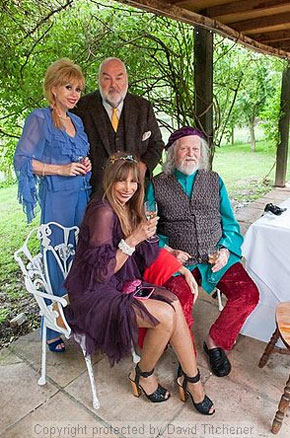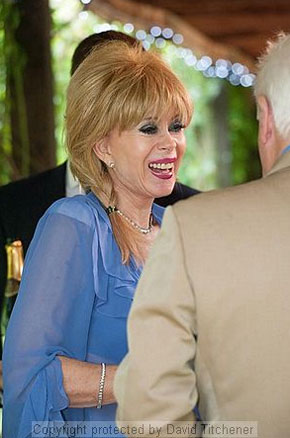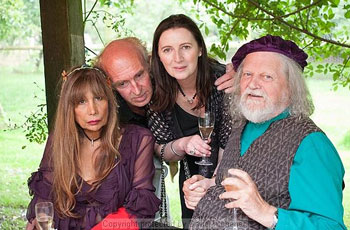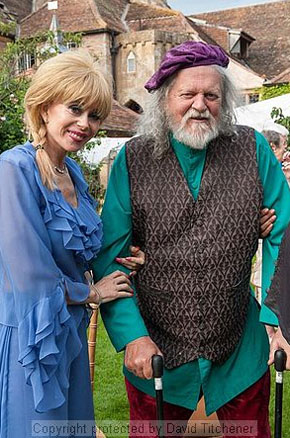 ANDREW BDAY PARTY Maunsel. cr: DAVID TITCHENER.





The LEAVE IT ON THE FLOOR prem at the fab LEICESTER SQUARE THEATRE where I have happy memories of appearing in WHERE THE LILAC BLOOMS, MY LOVE in 2010, was a hoot. The film is well lively and the after party was at MADAME JOJO'S which was hilarious! Guests included lovely ladies ROSE-MARIE and INGRID TARRANT and celeb crimper STEVEN SMITH.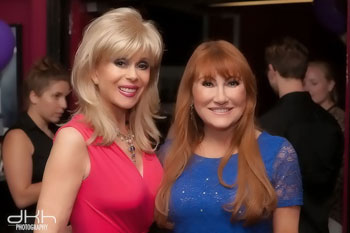 SAL AND ROSE-MARIE.
INGRID TARRANT. cr: DILIP.





Beautiful model and heiress CHANTELLE PIDGLEY, 21 and former PLAYBOY Bunny Girl JO COLLERAIN, 71 celebrated their respective big birthdays at trendy AVISTA BAR at the MILLENNIUM HOTEL. The fun bash was organised by dynamic duo, CHANTELLE's mum DENIZE and CHANTELLE's PR CHARLOTTE ELLIS and was covered by suave EDWARD LLOYD fron OK! Magazine.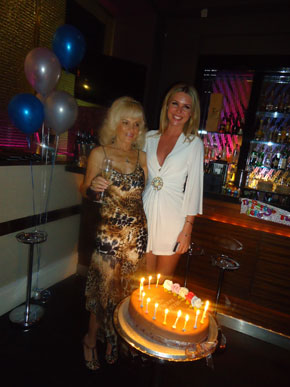 CHANTELLE and JO / birthday cake.

cr: CHARLOTTE ELLIS.




The award winning SPA AT DOLPHIN SQUARE's launch of their new SULTANE DE SHEBA anti-ageing skincare range with 23 carat gold, cedarwood and patchouli was delightful. Apart from the actual products comprising cream, scrub, mask and elixir, which all feel rich, creamy and soft as a whisper on the skin, the canapes were yummy and the champagne had real gold flakes in it!
www.lasultanedesaba.com



HEATHER BIRD's fun dinner after her Anti-Ageing conference at the COPTHORNE TARA Hotel in Kensington. HEATHER, owner of HB HEALTH, is an inspirational health and anti-ageing guru. Guests included anti-ageing experts from all around thre globe, local consultant physician DR JOHN KEET and dynamic telly star and etiquette expert LIZ BREWER.
Here's a pic with beauteous blondes LIZ and HEATHER.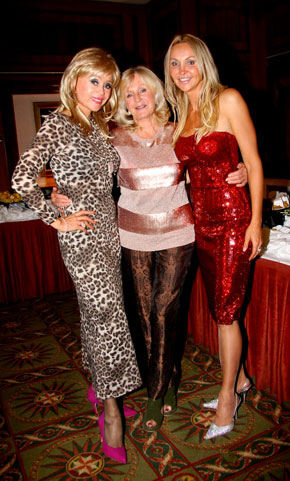 cr: GABOR SCOTT.




VOGUE's FASHION NIGHT OUT for LFW at BURLINGTON ARCADE which houses all sorts of gorgeous up - market shops such as the divine HARRY'S OF LONDON (gents' shoes for the uninitiated!)
My pic shows KEVIN MARTEL, Creative Director of HARRY'S OF LONDON and GORKA ARRARAS, Design assistant.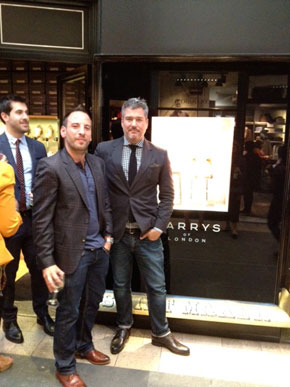 HARRY'S SHOES - Vogue's Fashion Night Out .- Burlington Arcade.



Check out www.harrysoflondon.com






FASHION: COUTURE / my 2012 / 13 all time favourites:

Daytime:

My new favourite is ROHMIR, one of the designers JADE modelled for at LFW this season.
ROHMIR's designer is the fabulous OLGA ROH and here she is, rocking one of her ladylike daytime creations at her flagship shop in Maddox Street.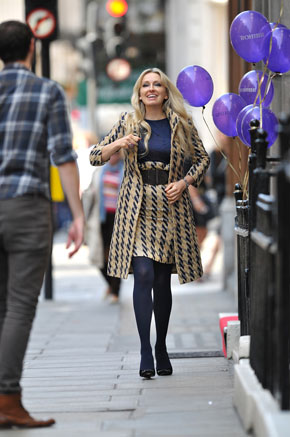 OLGA ROH cr: KEN LI.



I just love the ROHMIR dusky pastel colours, vibrant patterns, fitted coats and drainpipe trousers and her Little Black Suit is sheer perfection.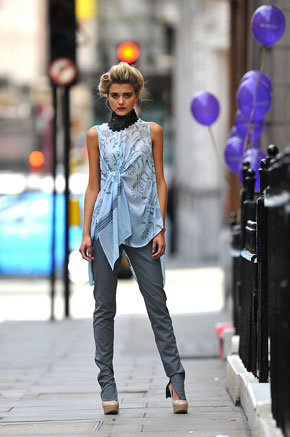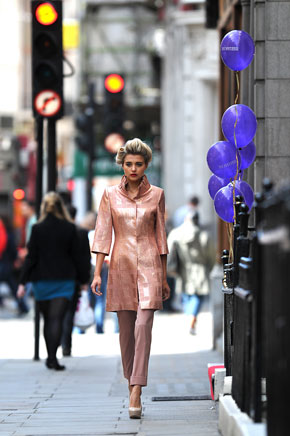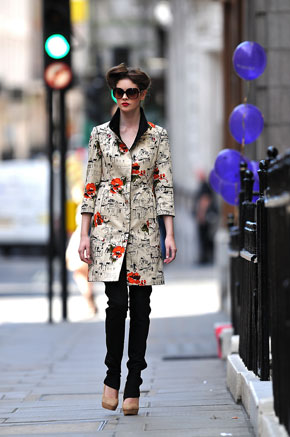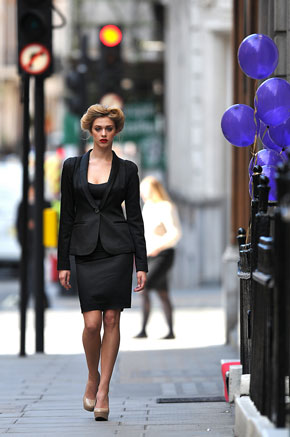 ROHMIR cr: KEN LI.





Evening Wear:

RACHEL COUTURE's luscious lilac floaty.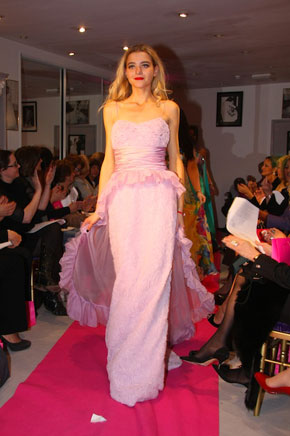 JADE showing RACHEL COUTURE.



I suggest that you team lilac, one of this season's hot fashion colours along with midnight blue, pillarbox red and patterns of all descriptions, with LANCOME's Rouge Absolu Creme in Mauvette and CETUEM'S No 239 (pearlised mauve), nail polish.


Cocktail wear:

SETHI COUTURE's pillarbox red lacy look, seen here on MARIA SHARAPOVA.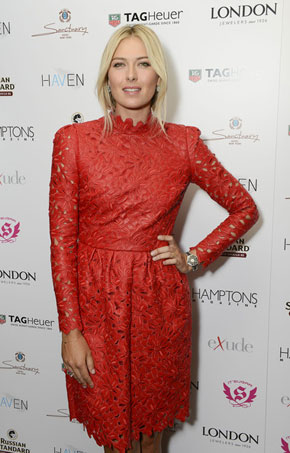 MARIA SHARAPOVA. cr: SETHI COUTURE.






Menswear:

COLCCHI, as shown by handsome TWO AND A HALF MEN star and naughty hubby, ASHTON KUTCHER, aka the ex (or maybe never was?) MR DEMI MOORE: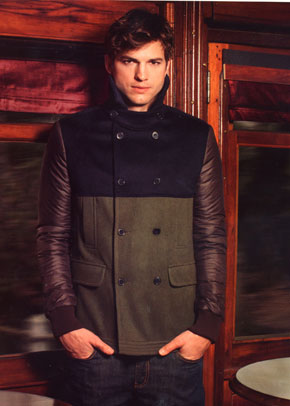 ASHTON KUTCHER. cr: COLCCHI.





BLAST FROM THE PAST:
Someone recently alerted me to an old 70s advert of MARSHA HUNT and moi, modelling jewellery. I can't remember which jeweller it was, one of the big ones like GARRARD I think, but I do remember they had to have security guards to accompany us to the loo when we were draped in the expensive pieces!
Where's the lovely MARSHA now? Would love to catch up with her.
Here's the pic: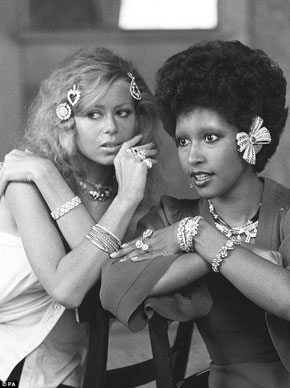 SAL, MARSHA HUNT, GARRARD






BEAUTY:

Thank you for all your emails about CETUEM, the brill skincare range which JADE and I endorse.
Apart from the Serum, Creme De Lite radiance cream and Eye Gel which we are totally hooked on, I've now started using some more CETUEM prods to help me with my current 'helff' issues. Namely CETUEM's Anti Blemish Balm which is very soothing and healing on the dry patches on my hands and feet and their Hair and Scalp Multi Vitamin Shampoo, Conditioner and Spray which are making the most of my severely diminished hair follicles!
It's very important to keep pampering yourself whilst ill and I am continuing my trips to CETUEM.
You are not allowed to have masages whilst undergoing chemotherapy but I still enjoy facials, manis and pedis with CETUEM's delightful MARIA and MARIA. Usually I go with my pal PRINCESS KATARINA OF YUGOSLAVIA and we take our daughters, JADE and VICTORIA - you're never too young to start pampering, girls!
www.cetuem.com


PRODUCT NEWS;

MAKE-UP: NEW JANE IREDALE PRODUCTS:

JANE IREDALE is simply the best on the natural mineral make-up front and GLORIA trialled their latest products, Powder Me SPF Dry Sunscreen and Glow Time, Full Coverage Mineral BB Cream.
GLORIA says "I am very keen to protect my skin from the sun and the Powder Sunscreen with SPF 30 is ideal,you just fluff it on all over, face and body, and it gives you a wonderful glowing colour whilst completely protecting you from the sun. I used the colour Golden, it looked beautiful in the evenings on holiday while the sun was still out.
I also tried the Glow Time SPF 25 which is completely covering and water resistant so great for swimming. it covered my wrinkles perfectly and I can see that it would also be completely covering for young blemished skin. Excellent products, I will keep using them."
www.janeiredale.com


CINQ MONDES SPA PRODUCTS:

Luxe label CINQ MONDES have brought out a beautiful gift package of 3 stunning products: Huile Sublime for nourishing, regenerating and silkening both the body and the hair, Gommage Sublime (Body Scrub) 'for a skin like new' and Baume Sublime, nourishing, regenerating and sublimating body balm.
Trialler FIONA says " these products really are sublime! I kept the oil for my hair, which has been very dry but now no more! and the scrub and body balm have made my skin just feel so soft and silky after regular use over a month, I am thrilled. The products are nicely packaged and would make a great present."
www.cinqmondes.com


And best congratulations to MINERS, the UK's leading independent fashion cosmetics house for make-up and beauty accessories with great value products and the most amazing nail polish colours, for being 75 years old this year! Keep giving us great products, guys.
www.minerscosmetics.co.uk




BEST NEW DVD:

My fave new DVD for the autumn is FIRST NIGHT starring RICHARD E. GRANT and SARAH BRIGHTMAN with a great supporting cast including TESSA PEAKE-JONES.
FIRST NIGHT is a delightful rom-com which you will love. It's the story of a wealthy aristo (GRANT) who can sing opera and puts on COSI FAN TUTTI at his stately pile, starring himself and a cast of pro opera singers. Needless to say life imitates art and the host, cast and crew all fall in and out of - hetero and homo - love with many misunderstandings and attacks by a vicious doggy along the way but with the requisite happy ending. The music and singing are glorious, whether or not you are an opera buff, the performances are excellent and it's an all round feel-good movie. Great fun. I watched it with my musical pal, DR ANNA, LADY BROCKLEBANK and she also loved it.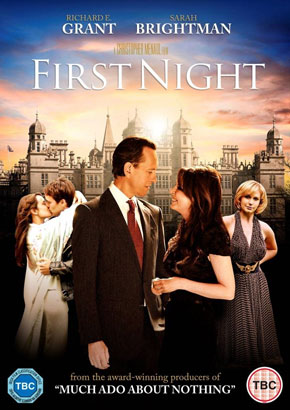 FIRST NIGHT cover.




BEST TV:

I am loving COMEDY CENTRAL's new CHARLIE SHEEN vehicle, ANGER MANAGEMENT on Wednesdays,
Of course we all know that I just love CHARLIE SHEEN but that's another story.
Plus his old show 2 AND A HALF MEN with new boy ASHTON KUTCHER is still excellent.
and have you seen the new DALLAS? Great to have LARRY HAGMAN and PATRICK DUFFY (a lovely gent whom I met at one of LIZ BREWER's dos some years ago) back on our screens, not to mention LINDA GREY and the new cast of young lovelies, male and female. CHANNEL 5 on Wednesdays.
THE REAL HOUSEWIVES OF BEVERLY HILLS is back on BRAVO and their latest housewife BRANDI GRANVILLE is the one to watch, with her various business ventures including a new clothing line, BRAND B. and a book to be published next year by publishing giant SIMON AND SCHUSTER.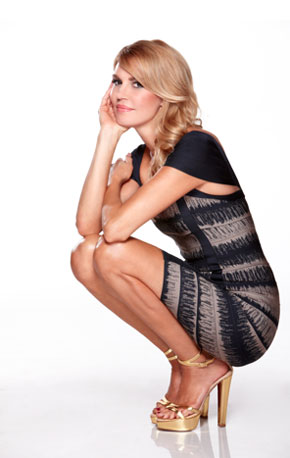 REAL HOUSEWIVES OF BEVERLY HILLS: BRANDI GRANVILLE.




Then of course there is everybody's favourite, the one and only DOWNTON ABBEY, back with a bang, bigger and better than ever. JULIAN (LORD) FELLOWES is just so brilliant, his show has captured the hearts of the nation. Of course the always charming JULIAN is also a talented actor so knows how to write lines that actors can actually say with conviction! Who can forget him as a BOND Boy?
It's great to see OSCAR winner SHIRLEY MACLAINE sparring with our very own DAME MAGGIE SMITH and all the DOWNTON actors are marvellous, especially HUGH BONNEVILLE (LORD GRANTHAM), a MACREADY'S ON THE RIVER stalwart from the good ole days and my new best friend LESLEY NICOL (trusty cook MRS PATMORE).
Unmissable - Sundays, ITV, 9pm.




BEST BOOKS:

I've ploughed though lots of books on breast cancer recently but was thrilled to find 'BREASTS - A NATURAL AND UNNATURAL HISTORY' by FLORENCE WILLIAMS (W.W. NORTON AND COMPANY).
This book is not just about b.c. but everything to do with breasts and is totally fascinating, as well as easy to read. Did YOU know that men can get breast cancer? Or what 'dense' breasts are? Or why a bag of blood inspired a cosmetic surgeon to create silicone implants?
Written by a mom who sent her breast milk off to be analysed and thus opened a whole can of worms, BREASTS is very well written and also makes a great gift for men as well as women - they need to know how we suffer with our bazookas, don't they?!


Best congrats to the dynamic ROBIN ANDERSON on his latest outrageous MIZ M AND MIZ K tale, WOW! POW! & PERSUASIONS (SILVER PUBLISHING), which to my mind is his best yet. (But then I may be biased as dear ROBIN has kindly dedicated said brill novel to moi!)
ROBIN's comic deadly duo MIZ M AND MIZ K have moved on from private sleuthing to - deliberately - Kabuki theatres and - inadvertently - nuclear missile manufacture in this hilarious and rather naughty tome and they have their work cut out swanning from London to the Lochs to Singapore and various parts of Japan, narrowly missing out Lyons and Abu Dhabi. Of course they are alwasy dressed to kill by the best designers including our very own CHARLES SVINGHOLM, festooned in bling and sparkling with wit. Apart from the regulars, ROBIN introduces some new and exciting characters including stunning Japanese twins and East End toughies, 'The Bray Twins' - now, who can they be based on, we wonder?!
Great stuff and unputdownable - I read it in a sitting - more, please, ROBIN!
Here's the divine ROBIN with another of his fave ladies, IVANA TRUMP.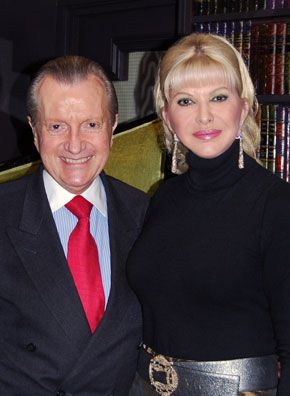 IVANA. and ROBIN cr: LOUCAS KROULIK




THE ANTI-AGEING BEAUTY BIBLE by JO FAIRLEY and SARAH STACEY (KYLE BOOKS) is the best beauty book I've read in ages. The writers are both very experienced beauty gals and MAIL ON SUNDAY YOU Magazine editors and really know their stuff. They have gathered together a huge team of triallers aged 35 - 70 to review all the best age-defying products and treatments at all prices. And the best thing is that they have graded all the products in order out of 10 and given awards to the very best ones.
Contributors include BOBBI BROWN, TRISH MCEVOY, BARBARA DALY and LAURA MERCIER with quotes from MARIE HELVIN, JANE BIRKIN, ELEANOR ROOSEVELT, DIANA VREELAND, JOANNA LUMLEY, DIANE VON FURSTENBERG, CHRISTY TURLINGTON, PENELOPE CRUZ and SUSAN SARANDON.
Products and treatments include for cellulite (naturally!), eyes, busts, brows, lashes, feet, hair, hands, nails lips, stretch marks, teeth, veins and sleep. There's all you need to know about scrubs, cleansers, foundations, concealers, night treatments, non surgical face lifts, sunscreens and all types of make-up.
Truly a must-have book and makes a great presy.


Dynamic and prolific authoress extraordinaire ELEANOR BERRY threw a fun book launch for her latest oevre, THE KILLING OF LUCINDA MALONEY - A BLACK COMEDY (BOOK GUILD) at the fab JULIE'S restaurant in Notting Hill, owned by TIM AND CATHY HERRING. The party was organised by brill PR, CHARLY SPRY, all the books were sold and it looks like ELEANOR has another best seller on her hands.
LUCINDA is the dark, quite intellectual, semi autobiographical and sometimes downright hilarious tale of author Joshua Flinton's gradual descent into madness. Joshua creates a heroine, Lucinda in the image of his gorgeous but sadly dead Aunty Rita and becomes enslaved by her. Battling with OCD, bipolar disorder and epilepsy and high as a kite on Dexedrine, Joshua tries to kill off Lucinda. But will SHE be the death of HIM?
With an interesting twist at the end, ELEANOR is on top zany form with Lucinda.


And now for the one you've all been waiting for: FIFTY SHADES OF GREY by E.L. JAMES (ARROW BOOKS) which has been reviewed everywhere, including in my very intellectual MENSA Magazine!
Personally I loved it and think it's a great read, on hols or tucked up on these autumn nights. It's the story - as if we didn't all now know - of a gorgeous kinky billionaire who corrupts a beautiful virginal young student by introducing her to the joys of BDSM. Yes, it's erotic but not filthy and the BDSM bits are really not particularly scary or disgusting. Above all it's a love story, a romance and, I think, well written. Reviews of the 2nd and 3rd books in the trilogy in the next issue.




OBITUARY:
My heart goes out to incredibly brave director TONY SCOTT, brother of RIDLEY, who tragically committed suicide by jumping off the Vincent Thomas Bridge in L.A.
TONY's longtime pal TOM CRUISE said 'Tony was a creative visionary whose mark on film is immeasurable'.
I did a couple of commercials directed by TONY when I was a young thing in the 70s. A truly talented director.
Sincerest condolences to all his family.

Thank you for reading my page. Please write to me at:
sally@hotgossip.co.uk
and check out my personal website at:
www.sallyfarmiloe.com



PS:"Not a lotta people know this" (SIR MICHAEL CAINE) …………………

The Gaming Preferences of Hollywood Celebrities
 
Summer in full swing and entertainment central – a.k.a. Las Vegas – is reeling in the crowds. The world's premier adult entertainment resort is bubbling over with big-money gaming tournaments, spectacular shows and 5-star accommodation. And within each of these superb establishments lies a plethora of riveting casino games. In fact, many of Hollywood's A-list celebrities can be found enjoying blackjack games. It's nice to know that the folks we admire from the big screen and on network TV are also right there in the thick of it with us at the tables. And believe it or not, these guys are not immune to the house edge either. Just because they've got a little bit more cheese to play with doesn't mean that winning comes easily.
 
Imagine sitting at a blackjack table pondering whether you should split a pair of 8s, while Sean 'P. Diddy' Combs is dropping hundred dollar bills like they're going out of fashion? This rap music mogul is pretty skilled in the blackjack department. Harrah's of Atlantic City knows all too well of his card gaming prowess. But he's not the only celeb who loves to gamble at the blackjack tables. The world's most famous socialite – Paris Hilton – has made plenty of money playing her favourite card game – blackjack. When she celebrated her 31st birthday she made a cool $30,000 playing at the Wynn in Las Vegas. And even though she doesn't need the cash, it certainly made for some nice pocket change for her and her friends that evening.
 
Not many people know this, but British royalty has a particular penchant for blackjack too. That's right, Prince Harry may not have lost a lot of money playing the game ($300), but he had a terrific time in Las Vegas too. Erica Schoenberg, the wife of superstar poker player Erick Lindgren, is yet another celebrity who is pretty adept at playing blackjack. But all the accolades for blackjack prowess most certainly go to the one man who single-handedly won more money in blackjack in one year than anyone else – Don Johnson. It is estimated that this blackjack superstar raked in $15.1 million during the year. Lol, his appetite for booze is as big as it is for blackjack. Atlantic City casinos quickly learned this player's name and it cost them millions in the process. To find out more about celebrities and blackjack, take a look at 777.com!