Isola bella
45/46 Red Lion Street, Holborn, London WC1R 4PF 020 7405 6830 www.isolabellarestuarant.co.uk

As producer of the forthcoming film Summer Night, Winter Moon I am somewhat partial to Italian cuisine – the film takes place in Capri and London so I share with you some gems:

I have meant to review this restaurant since Alfredo, the owner, invited me to its opening – and the opportunity presented itself when I had to attend a meeting at the offices of well known Mishcon de Reya Solicitors whose offices are 200 yards from Isola Bella.

Very popular with the locals who had no problem in pointing me in the right direction when I asked for Isola Bella's whereabouts from Red Lion Square.

Whilst the usual assortment of Italian favourites are present in the Pizza, Risotto and Pasta sections I particularly recommend the Gamberoni picante £ 7.95 to start followed by a paillard of veal (not in the menu) or the delicious grilled Dover sole which at £19.95 is a bargain. Torta de miele a warm apple tart with vanilla ice cream £ 5.25 accompanied by a glass of limoncello £ 3.

Large mirrors decorate the walls giving the restaurant a cosy atmosphere.

Most importantly is the warm welcome and friendliness of the staff. Alfredo is a true professional and he has trained his personnel to offer that exclusive hospitality present only in the few establishments where one can genuinely say: Le patron mange ici.

Reservations are advisable. Wines from £14.95 to £ 45 are well chosen and all Italian. French champagnes: from £ 45 to £225.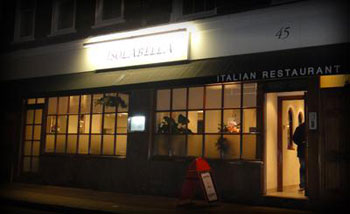 Isola Bella – highly recommended


And from London to New York:

If you are flying from Heathrow Terminal 4 stop at Caviar House & Prunier for a glass of their excellent Lizard Hill Sauvignon Blanc (£5.50) and their superb Scottish Smoked salmon £15.00.

Divino - Perfectly named as it is really a divine place: Superb food and a charming owner. Great pesto 1556 Third Avenue (between 80 and 81) 212 861 1096

Due - A secret amongst the connoisseurs – excellent food and service. Fabulous Pollo a la Contandina: juicy chunks of chicken with artichokes, sausages and much more. 1396 Third Avenue, 212 772 3331

Sardi's - 'the' place to be seen -- where the late Larry Adler's comment "The best restaurant is the one where they know you..." applies here more than anywhere else if you want to get a table. 234 West, 44th Street 212 221 8440

Scarlatto - 250 W 4th St. Betw Broadway & 8th Ave 212 730 4535 Huge portions -- can share $ 110.82 for 3 with bottle of wine! Excellent quality. Highly recommended. The shank of lamb is impressive and delicious.

Although not Italian...
Quatorze - Where everybody who is anybody meets – Matt holds court in the bar. Delicious French food: grilled goats cheese salad, roast duck. 323 East, 79th Street 212 535 1414